My family loves Asian cuisine. Chicken or Beef Stir Fry are those throw-it-all together recipes I love to make on a busy night or when I just don't really want to cook because they go together so fast.
I actually started making this recipe completely in the microwave as a meal for one over on my other blog, Just Microwave It. My kids loved it when I made it for them, so I decided to develop it into a dish I could make for the whole family at once.
This one isn't made in the microwave. Well that's not true. Part of it is made in the microwave, and the rest is made on the stove.
It's a delicious buttery dish perfect as a side or throw in some chicken or shrimp or steak and make it the entire meal.
Is it easy to make Fried Rice?
You bet! Going to eat hibachi made me realize just how easy it is to make fried rice. I think the secret to making it delicious is sauteing in butter and adding flavoring. It really takes no time at all to put it together.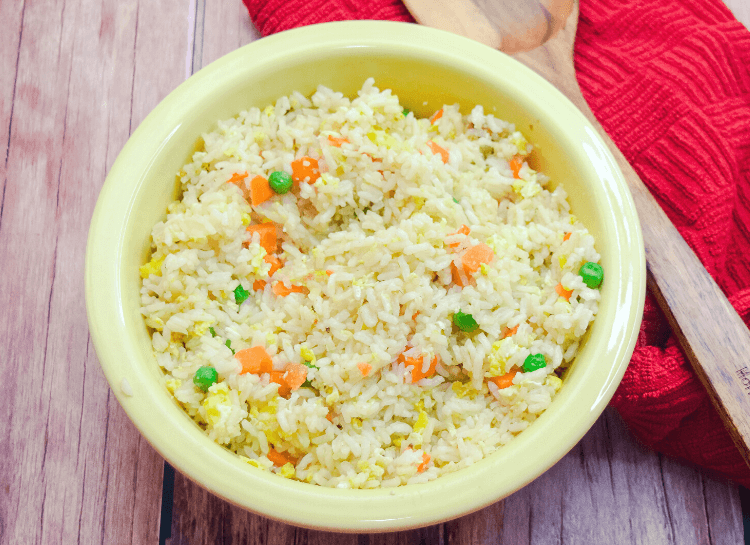 I use a sesame teriyaki marinade, soy sauce, butter, and salt and pepper for the flavoring.
How do you make the EASIEST Fried Rice?
I start with basic white rice. Sometimes I use basmati or jasmine or just plain white. It really depends on what's in the pantry. I think they all make delicious fried rice.
For the most part I make my rice in the microwave with some kind of quick minute rice. I make the rice ahead of time before I turn it into fried rice. You can even make the rice up ahead of time and have it in the fridge.
When I'm ready to start making the fried rice, I take about 1/2 a cup of frozen peas and carrots and steam them in the microwave. I place them in a microwave-safe bowl and put about 2 tablespoons of water in the bowl and cook it for about 3 minutes to soften them up.
While the veggies are steaming, it's time to get the frying pan hot. Then, scramble the eggs in couple of tablespoons of butter. When the eggs are almost ready, the veggies should be ready to come out of the microwave and straight into the pan along with the rice.
Then, it's just a matter of adding the seasonings, the soy sauce, and the teriyaki marinade to finish up. I remove it very quickly at this point and transfer it into a bowl. Then, you're ready to eat.
Wasn't that easy?
More Asian Recipes
Yield:

4 servings
The EASIEST Fried Rice
Ingredients
2 cups dry white, jasmine, or basmati rice
2 cups water
2 tablespoons butter
1/2 cup peas and carrots
2 eggs
2 tablespoons sesame teriyaki marinade
1 tablespoon soy sauce
salt and pepper
Instructions
Prepare the white rice your usual way. (I cook 2 cups rice, 2 cups water in the microwave for 8 minutes)
Set rice to the side.
Steam the peas and carrots in a microwave-safe bowl with 2 tablespoons of water for about 3 minutes.
Set the heat to medium high with a medium frying pan and add butter.
Add two eggs and scramble.
Add the peas and carrots, rice, marinade, and soy sauce.
Saute for just a minute or two until the eggs are cooked.
Transfer to a bowl and season with salt and pepper.
Serve immediately.
Nutrition Information:
Yield:

4
Serving Size:

1
Amount Per Serving:
Calories:

209
Total Fat:

8g
Saturated Fat:

5g
Trans Fat:

0g
Unsaturated Fat:

3g
Cholesterol:

108mg
Sodium:

738mg
Carbohydrates:

26g
Fiber:

1g
Sugar:

2g
Protein:

7g
Any nutritional information on thetiptoefairy.com should only be used as a general guideline. This information is provided as a courtesy and there is no guarantee that the information will be completely accurate.