I still think of myself as a kid sometimes. You know why? Because one of my favorite flavors is Bubblegum. I like to make bubblegum flavored desserts. I've made bubblegum cupcakes, ice cream, cream slushes, and even fudge. Ever since I found those frosting creations mix in flavor pouches, I will probably make bubblegum anything.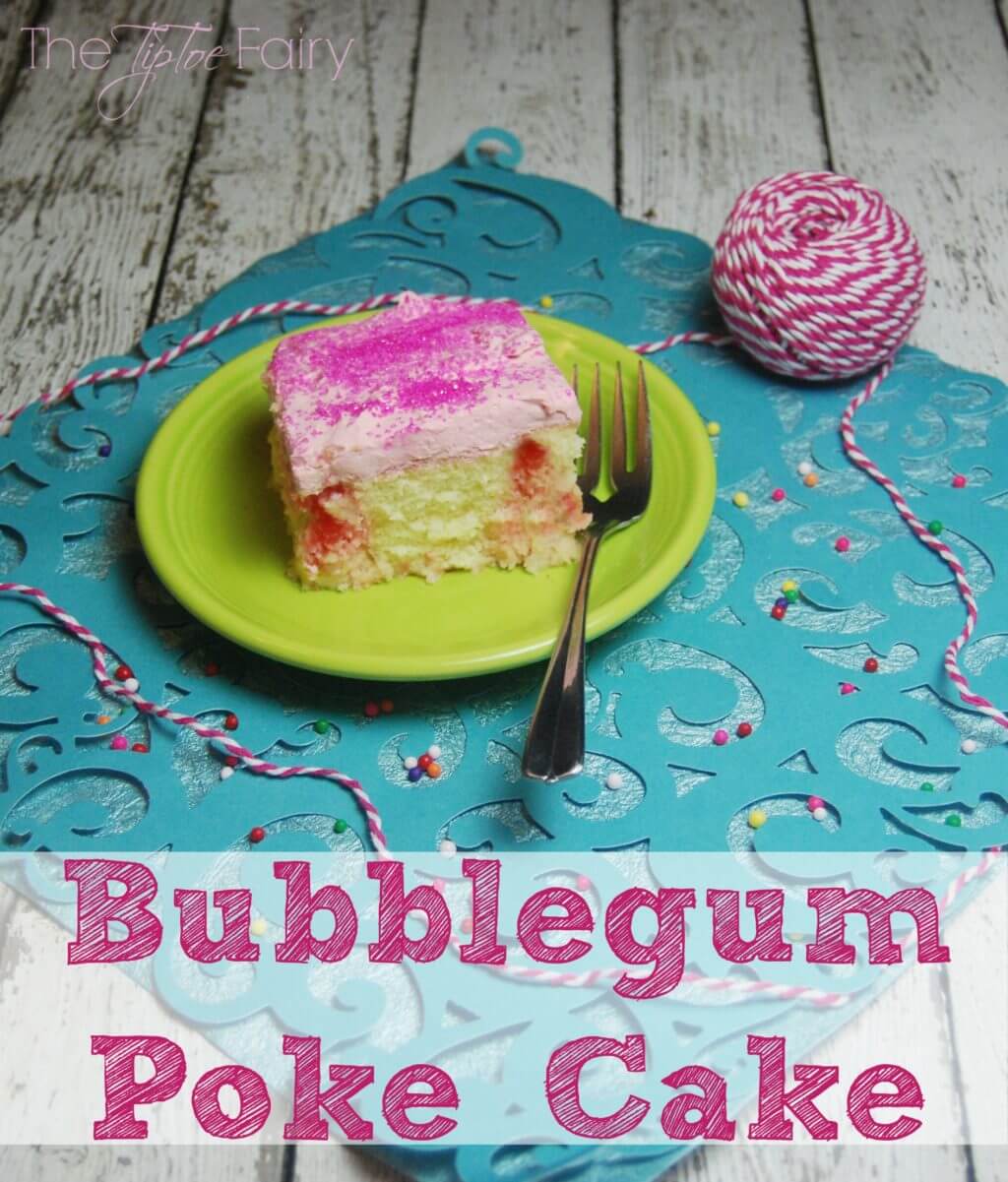 The other day I was grocery shopping and my 4 year old found bubblegum flavored gelatin mix. We both knew we had to buy it. I just didn't know what exactly we were going to make with it. I didn't want to make just plain ol' gelatin. How boring is that? So, I was looking for a recipe for something involving soft drinks the other day and saw this amazing cherry cola poke cake. Then, it hit me! Bubblegum Poke Cake would be perfect with the bubblegum gelatin.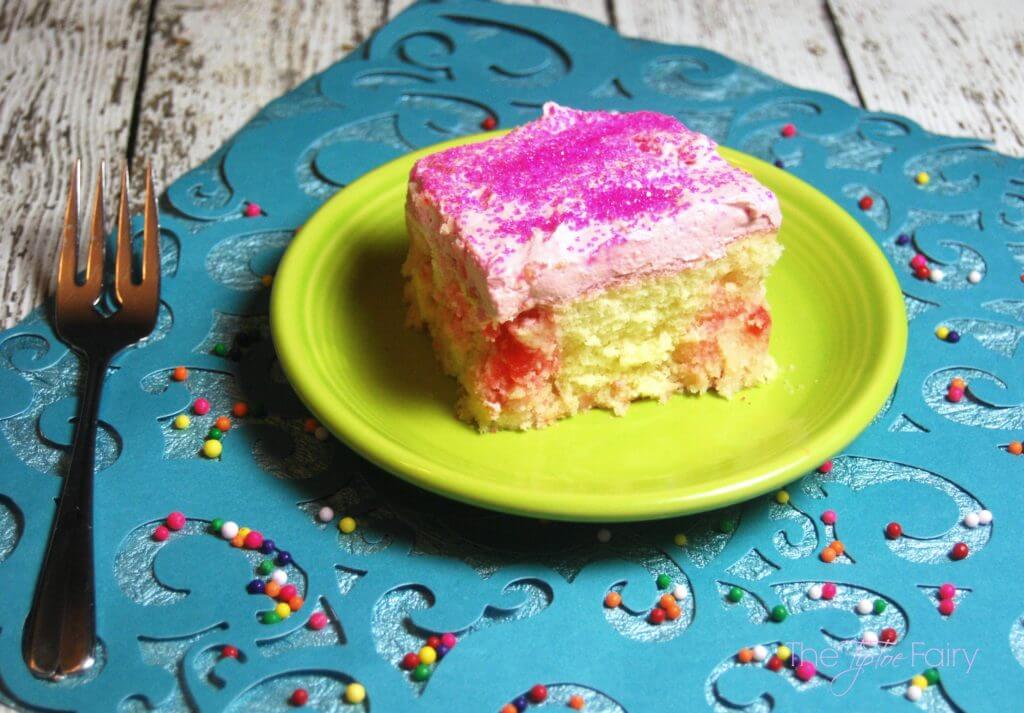 This is an easy dessert to make, and your kids will be thrilled. We were in the middle of an ice storm, so I had to use the ingredients I had on hand, which was a butter cake. You could use white or yellow cake mix as well. Just make the cake like the directions say.
Then, poke holes with the end of a wooden spoon or dowel all around the cake.
Next, mix up the gelatin with a can of ginger ale or maybe even a red cream soda like Big Red. I used Canada Dry TEN since it was all we had in the house. Once it's mixed, pour it all over the holes in the cake. Then, set it in the fridge for at least an hour. I found 2-3 hours worked best.
When the cake is ready, pull it out of the fridge and whip up the frosting. I used a fresh whipped cream frosting made with a couple tablespoons of vanilla pudding mix, whipping cream, and a pouch of bubblegum flavor creations.
After frosting the cake with the whipped frosting, I sprinkled hot pink sanding sugar. You can find it in the cake decorating aisle at Walmart or a craft store. If you use whipping cream for the frosting, make sure you wait until just before you're ready to serve the cake before whipping up the frosting.
A super easy and fun bubblegum flavored cake.
Ingredients
1 cake mix - yellow, white, or butter - made to directions
1 box bubblegum gelatin
1 can of ginger ale or cream soda or Big Red
2 cups whipping cream
1 pouch of bubble gum flavor creations - Duncan Hines
2 tablespoons vanilla pudding mix
Instructions
Bake the cake according to instructions in a 13 x 9 pan.
Allow to cool completely.
Poke holes with the end of a wooden spoon or dowel about 1 inch apart along the entire cake.
Mix the bubblegum gelatin and soft drink together. Then, pour over the holes of the cake.
Place cake in fridge and let sit for 1-2 hours.
When ready to frost the cake, pull it out of the fridge.
To make the frosting, whip together vanilla pudding mix, bubblegum flavor creations pouch, and 2 cups of whipping cream until just as hard peaks begin to form.
Frost cake and sprinkle with sanding sugar.
Nutrition Information:
Yield:

16 slices
Serving Size:

1
Amount Per Serving:
Calories:

259
Total Fat:

13g
Saturated Fat:

8g
Trans Fat:

0g
Unsaturated Fat:

4g
Cholesterol:

36mg
Sodium:

261mg
Carbohydrates:

35g
Fiber:

0g
Sugar:

22g
Protein:

2g
Any nutritional information on thetiptoefairy.com should only be used as a general guideline. This information is provided as a courtesy and there is no guarantee that the information will be completely accurate.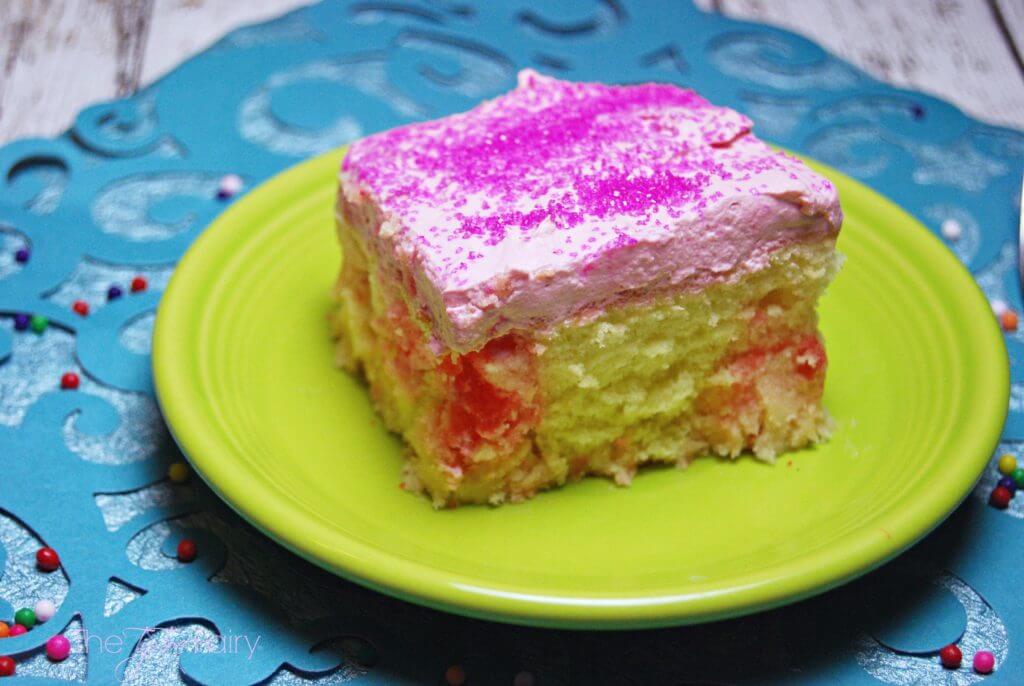 It really tastes like bubblegum! My girls loved it. My son hates bubblegum flavor, so he wouldn't even try it.
I definitely want to try it again with a white cake mix and double the gelatin. The bubblegum flavor only came in a small package, so I think doubling it will get even more of a bubblegum flavor into it. Plus, I want to try using a red cream soda like Big Red to mix with the bubblegum gelatin as well. Big Red already tastes like bubblegum to me, so I think it will really add to the flavor and the color.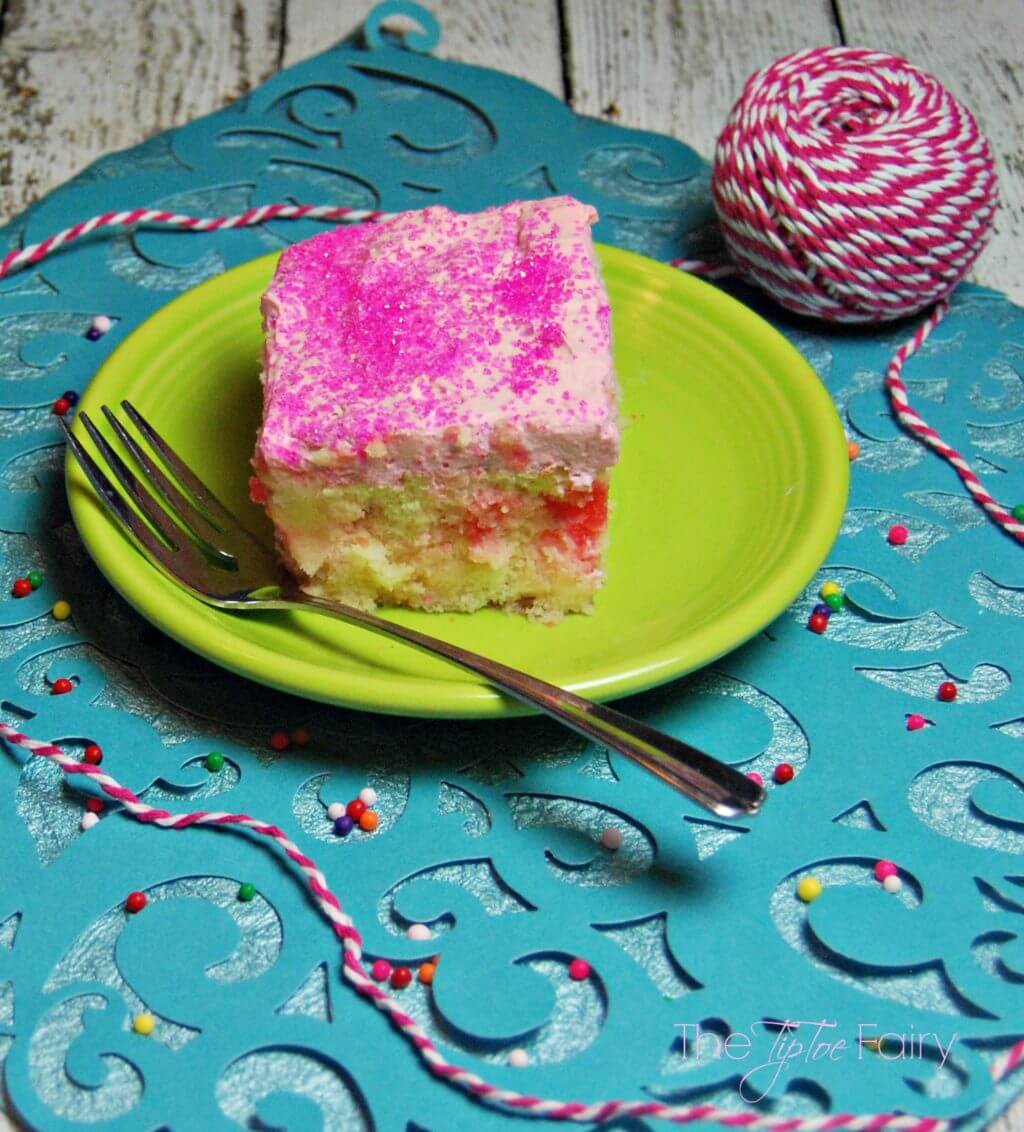 Looking for more Bubblegum flavored treats? Check these out below: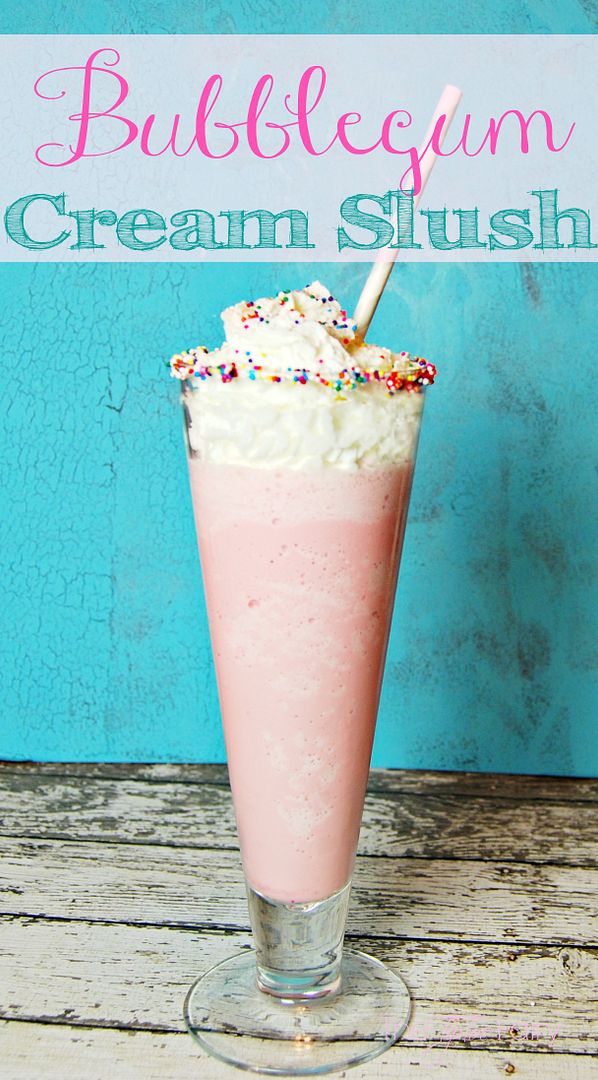 What kind of crazy cake flavors have you made before?