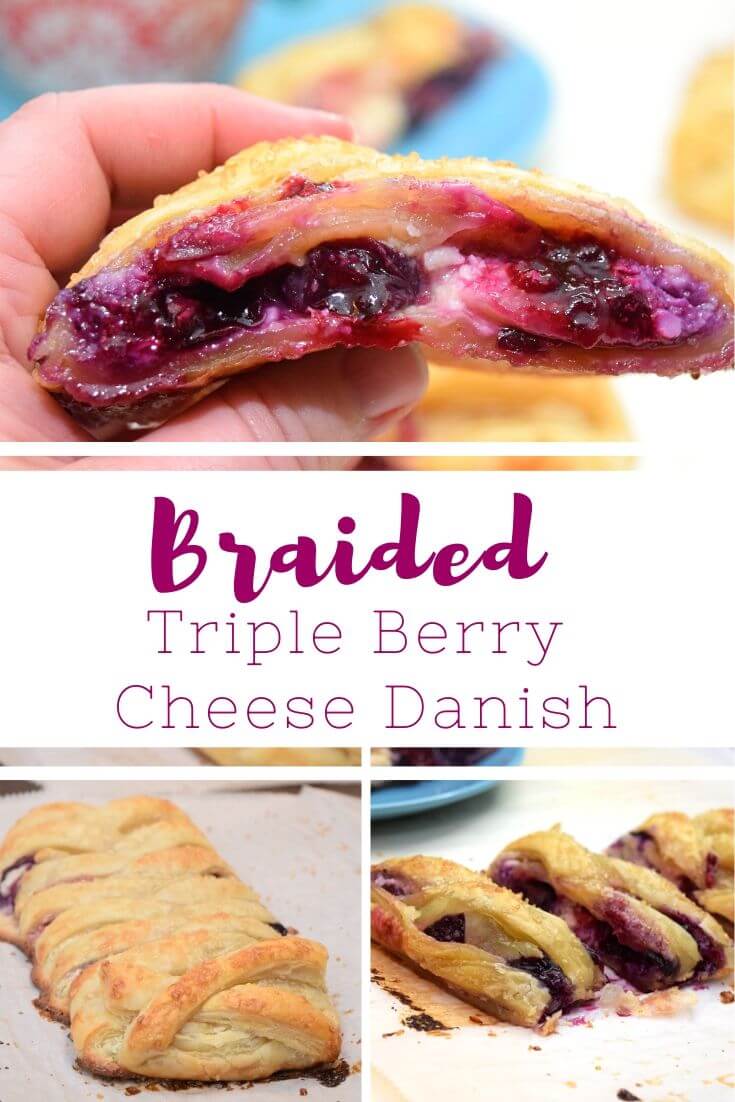 If you don't have a lot of time, but you want to make an amazing dessert, then keep a box of frozen puff pastry in your freezer. It is amazing what you can quickly make with some cream cheese, frozen puff pastry, and some berries. In fact, the berries can be frozen or fresh.
What do you do with sour or no flavor berries?
My family loves berries – blueberries, raspberries, blackberries, strawberries, so I usually keep a few containers in the fridge. We eat them all the time. My toddler and I frequently have them for lunch, and my 9 year old loves them in her school lunch. Recently, I bought some 1/2 pints of blackberries that were on sale, and they had no flavor. They weren't even sour. They were just sad. What can you do with sad berries?
You can macerate them. Put them in a bowl and add sugar or honey or even maple syrup. Stir it up and let them sit. Usually I let them sit for a few hours up to overnight, and the flavor is amazing.
You can bake with them. Add them to a cake or muffins or quick breads. Toss them in sugar and put them in a rustic tart or pie.
Put them in a smoothie. This is my least favorite way to use them up as I don't think it brings the flavor out very well. But, it's an option if you have other fruit to put in the smoothie as berries are a great way to help your blood sugar stay level.
My preferred method is to macerate and then bake with them, which is exactly what I did with this Braided Triple Berry Cream Cheese Danish.
How do you braid puff pastry?
This braided danish looks amazing when it comes out of the oven. Your family or your guests will think you are some kind of baking wizard. But…it's super easy to do.
Use a pizza cutter to slash diagonal strips all down both sides. You'll cut little notches at the top and bottom to fold the center inward.
Then, after you've added the cheesecake mixture and the berries, you'll fold the middle of the top down. Then, just alternative a strip from each side all the way down. Before you fold over the last two bottom strips, fold the bottom middle upwards, to keep everything inside, then add those two strips.
How do you finish off puff pastry?
I have two different methods for finishing off puff pastry. You can use an egg wash and brush it over the whole pastry. Or if you have a kid with an egg allergy (like me), you can use some heavy cream and brush over the pastry. Both help it brown while baking.
Then, I love to finish it off with turbinado sugar. It's the big crystals of brown sugar sometimes called raw sugar. After I brush cream or egg over the pastry, I sprinkle the turbinado sugar all over it. When it comes out of the oven, the turbinado sugar looks so pretty and sparkly.
Alternatively, if you are making a savory dish with puff pastry like these Sausage Meatloaf Rolls you can brush the puff pastry with egg or cream and then sprinkle poppy seeds, sesame seeds, or both.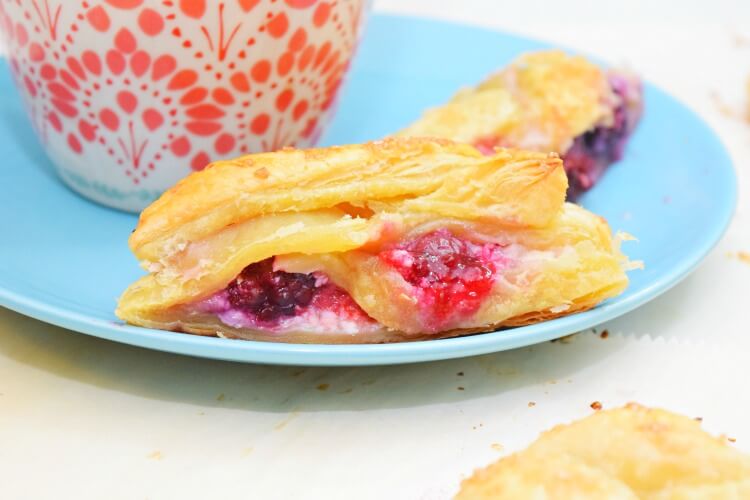 More Berry Recipes
Let's Make a Braided Triple Berry Cream Cheese Danish
Yield:

2 berry cheese danishes
Braided Triple Berry Cheese Danish
Additional Time:
10 minutes
Ingredients
1/2 pint blueberries
1/2 pint blackberries
1/2 pint raspberries
2 sheets of puff pastry
2 tablespoons turbinado sugar
4 oz cream cheese, softened
1/2 cup white sugar
1 egg
2 tablespoons heavy cream or 1 egg
Instructions
Preheat oven to 400 F degrees.
Mix 1 tablespoon of turbinado sugar and all the berries. Allow to sit as long as possible to macerate.
Layer a sheet of parchment paper on a baking sheet (One per sheet of puff pastry).
Combine softened cream cheese, white sugar, and egg and beat until smooth.
Open the defrosted puff pastry.
Cut notches in the top and bottom of the middle section of the puff pastry.
Slice strips of puff pastry diagonally on each side.
Spoon half the cheesecake mixture and spread out along the middle of the puff pastry.
Spoon half the berry mixture onto the cheesecake mixture.
Fold the top of the puff pastry down, about a 1/2 inch.
Begin folding strips inward, alternating once each left side and right side until the last two strips.
Before folding in the last two strips, fold up the bottom middle of the puff pastry about 1/2 inch.
Fold in the last two puff pastry strips.
Brush the puff pastry with heavy cream or an egg wash.
Sprinkle the top of each puff pastry braid with the second tablespoons of turbinado sugar.
Bake for 25 minutes until golden brown.
Allow to cool at least 10 minutes before serving.
Store leftovers in a container in the fridge for 3-4 days.
Nutrition Information:
Yield:

12
Serving Size:

1
Amount Per Serving:
Calories:

140
Total Fat:

7g
Saturated Fat:

3g
Trans Fat:

0g
Unsaturated Fat:

3g
Cholesterol:

43mg
Sodium:

55mg
Carbohydrates:

18g
Fiber:

2g
Sugar:

13g
Protein:

2g
Any nutritional information on thetiptoefairy.com should only be used as a general guideline. This information is provided as a courtesy and there is no guarantee that the information will be completely accurate.