This is a sponsored post on behalf of MARY's secret ingredients. All opinions are my own.
MARY's secret ingredients is a culinary subscription box of surprise ingredients and products that you've probably never heard of but need to try. They want to inspire your cooking with new flavors and bring lots of love into your kitchen! What's even better? Each box sold also contributes to eradicate hunger as they donate a portion of their profits to Feed The Children. When they asked me to review one of their boxes, I couldn't wait for it to arrive, and I wasn't disappointed!
I got a variety of full-size products from delicious Dijonnaise to a handmade cup, and I just love it all.
Scroll down and you can see what delicious treat I made with the Tangerine Marmalade I received.
One of their partners is 100cupsaday.com. Thy have created beautiful special edition handmade tea/sake cups exclusively for this spring box! 100 Cups A Day works with non-profit Caminos de Agua, who advocate for access to clean water in Guanajuato, Mexico. "The simplest vessel gifting the simplest need. Drink 100 cups of water from this cup and become aware of water in your life."
Sir Kensington's offer award-winning lines of ketchup, mayonaise, and mustard. Sir Kensington's Dijonnaise is a perfect blend of mayonnaise and mustard with slightly spicy notes of their own mustard mix, and it's paired with their tangy and smooth Classic Mayonnaise. My son just loves this one. He's been eating it on his sandwiches I send for lunch at school, and it's quickly become his favorite.
The Rocker 100 Stainless Steel Garlic Crusher is a game-changing kitchen gadget from Joseph Joseph. It lets you easily crush garlic by forcing the pieces through the mesh holes, so you don't get that garlic smell on your hands! I love using this when I cook Italian.

Just Jan's began with a batch of homemade fig spread and has now turned into all kinds of delicious jams and spreads. This one is a Tangerine Marmalade which is all natural and low in sugar! I made a dessert with it, but you can also put it in cocktails!
Savory Creations has all kinds of premium broth concentrates. This one is a Veggie Authentic Pho broth. My husband and I love eating pho, and I can't wait to make it at home with this!
The Tea Spot creates handcrafted whole leaf teas. These are Meditative Mind Sachets with calming effects as well as a natural anti-depressant — perfect to relieve the tension of a stressful day.
I love all these high-quality products and have already started using most of them. I don't know how they knew I loved garlic so much, but that tool is just perfect. The handmade cup is so beautiful and sparked a really great conversation with my kids about how lucky we are to have water come right to our home and how others are not as fortunate.
When I saw the Tangerine Marmalade I knew instantly I needed to make a galette, like a rustic tart. I picked up some fresh raspberries and mascarpone cream to go along with it. This galette will take you no time at all.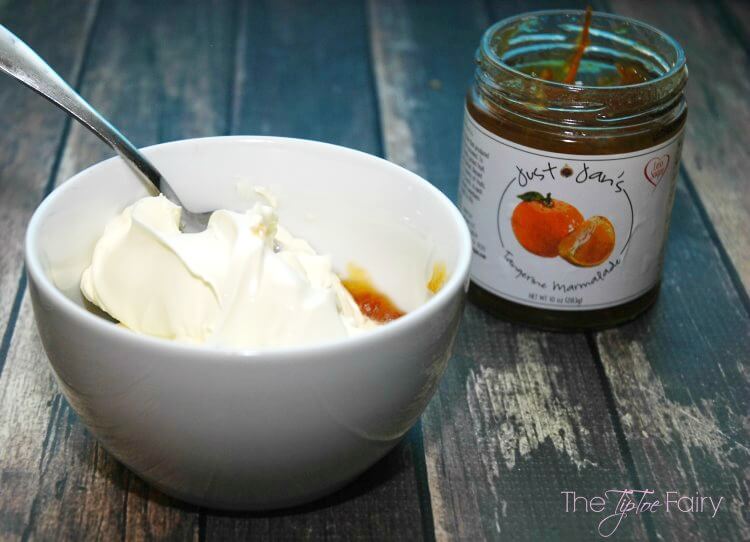 I mixed 1/4 cup of Just Jan's Tangerine Marmalade with 8 oz of softened mascarpone cream.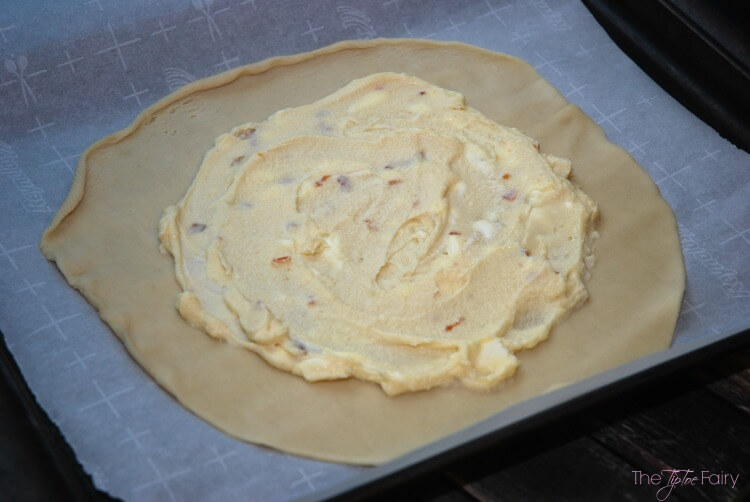 Then, I spread it out in the center of the pie crust. Make sure you leave 2-3 inches around the edge to fold inward.
Then, I added a cup of fresh raspberries on top of the cream and sprinkled turbinado sugar on them.
I folded in the edges of the pie crust and brushed it with an egg wash. Then, I sprinkled turbinado sugar all over the pie crust.
Bake until the crust is golden brown and the berries are bubbling. My galette was done in about 30 minutes.
Print
Raspberry & Marmalade Cream Galette
---
1

refrigerated pie crust

1/4 cup

Tangerine Marmalade

1 cup

fresh raspberries

8 oz

mascarpone cream

1 1/2 tablespoons

turbinado sugar

1

egg
---
Preheat the oven to 375 degrees.
Lay out a piece of parchment paper on a cookie sheet and roll out the pie crust.
Mix together the marmalade and mascarpone cream and spread it around the middle of the pie crust. Make sure to leave 2-3 inches around the edges of pie crust.
Add the berries to the center and sprinkle with 1/2 tablespoon of turbinado sugar.
Fold the edges of the pie crust inward.
Beat 1 egg and brush it on the outside of the pie crust and sprinkle with the last 1 tablespoon of turbinado sugar.
Bake for 30 minutes or until crust is golden brown and raspberries are little bubbly.
Allow to cool before slicing and serving.
Recipe Card powered by
I love that this box has a mission and goal to make the world a happier and healthier place. Mary even emails delicious recipes using box ingredients directly to you to give you meal ideas and suggestions! This season they even did a special golden ticket giveaway for members only! 10 lucky members got a Joseph Joseph Elevate knife.
If you use the code tiptoe25, you can get 25% off any purchase! Click HERE to check it all out! When you receive your box, make sure to call the number on the front of the box! It gives you extra info about all the wonderful goodies in your box!
MARY's secret ingredients is also having a Twitter party (@msifoodiesbox) at 1pm EDT on Friday April 22nd. You can RSVP at https://maryssecretingredients.com/twitter-rsvp/ for a chance to win a spring box! The spring box is worth over $55- their best value yet!
There's also a GIVEAWAY! You can win a summer box! Click HERE to enter the giveaway!!