Yesterday I shared with you the side dishes for our #GameTimeGrub. Check out my Bacon & Blue fries and some delicious onion ring dips HERE. Today, I'm sharing our main dish — Cheddar Garlic Meatball Sliders. Or as my kids like to call them, "Meatball Hamburgers." This post contains affiliate links.
These are always a fun treat to snack on while we play games, and when we have game night, we like to make sure the kids can play as well. Here's a few of our most recent favorites:
Whenever I make hamburgers or meatballs, I like to buy 85/15 ground beef. They stay moist and cook up better than when I buy 90/10 or 96/4. One pound will make about 6 sliders.
A delicious mini hamburger for game time!
Ingredients
1 pound of 85/15 ground beef
30 whole cloves of roasted garlic
6 teaspoons Worcestershire sauce
1/4 teaspoon salt
1/2 teaspoon garlic powder
1/2 teaspoon onion powder
2 slices of cheddar cheese cut into quarters
Instructions
Preheat oven to 350.
Mix ground beef, salt, garlic powder, and onion powder.
Form 6 large meatballs. Then flatten them just a little.
When you lay them in the baking pan, press your thumb into the center of each one to form a well.
Pour 1 teaspoon of Worcestershire sauce in the well.
Place 5 cloves of garlic on top of the well.
Bake for 22 minutes or until inside temperature reaches 160 degrees.
Immediately put a cheese slice quarter on top of the garlic to melt.
Place on slider buns after cooling for a minute or two.
Serve and enjoy!
I make the meatballs for sliders with the same size scoop as a cupcake batter scoop. It seems to make the perfect shape. Then, I shape them with my hands and when I set them into the dish for baking, I put a thumbprint into the middle so they don't puff up too big.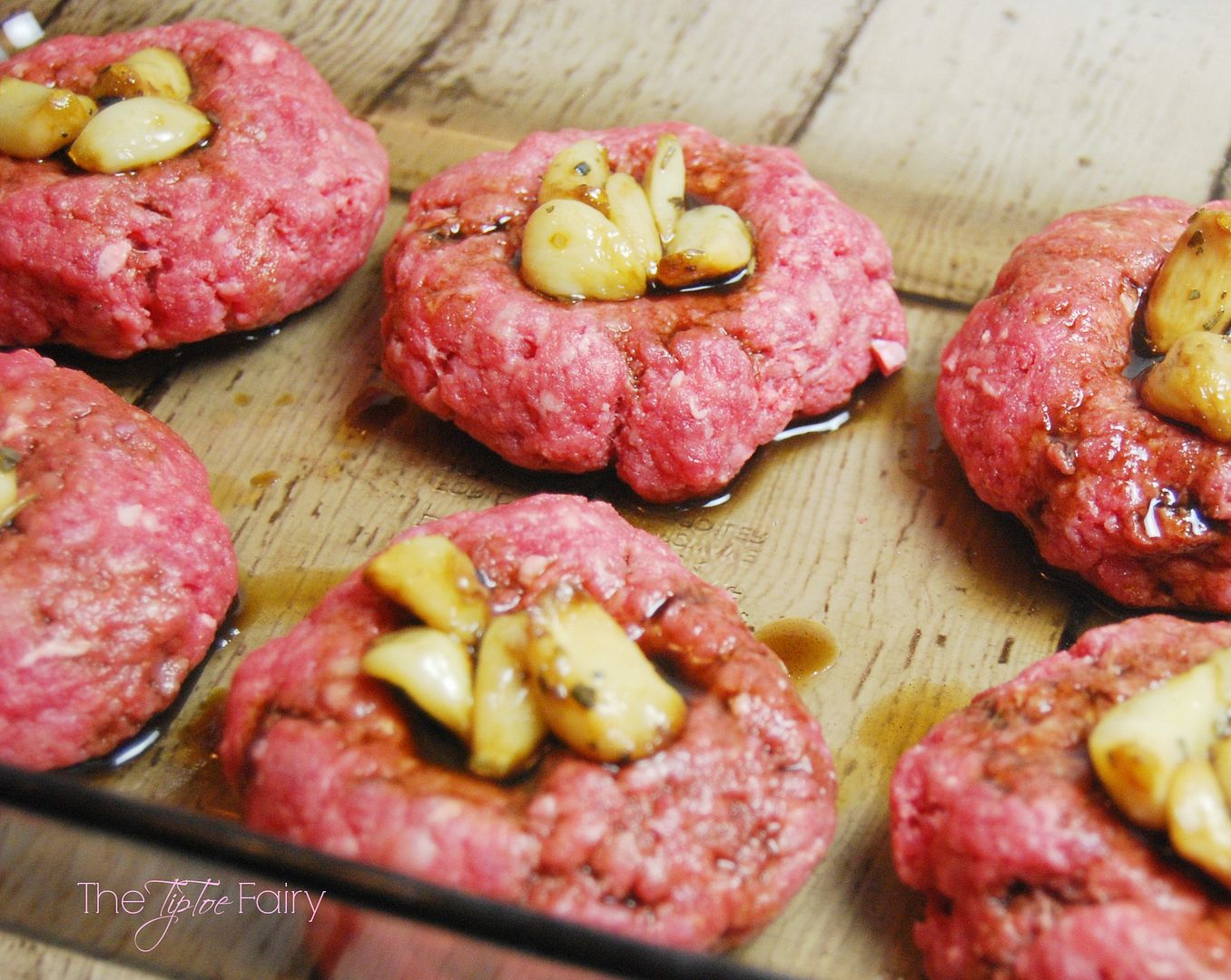 Next, I drizzle the Worcestershire sauce over the well I've made and a little off the sides. I usually do about 1 teaspoon per meatball. Then, I place about 5-6 whole garlic cloves into the well. I love garlic, and I love a lot of it on my burger. If you don't, you can skip this step or use less.
A lot of grocery stores have a relish bar in the deli department, and you can often find whole roasted garlic cloves by the pound there. Kroger has this now, and I love it. But, it's also fun to make roasted garlic yourself. I shared my method for roasting garlic over at Texas Women Bloggers last year. You can check it out HERE.
Since I add the garlic at the beginning, I don't flip the sliders. Next, after about 22 minutes and they've reached 160 degrees internally, then pull them out of the oven and slap the cheese over the garlic and let it melt for another minute or two before transferring them to buns.
Then, stuff your mouth and enjoy! These are my favorite way to eat sliders. I love the combination of the cheddar and tender garlic. And, these are perfect for little hands. Molly gets such a kick out of eating a meatball hamburger.