Disclosure: This shop has been compensated by Collective Bias, Inc. and its advertiser. All opinions are mine alone. #LeggoMyEggo #HearTheNews #CollectiveBias
Have you heard the delicious news? Eggo Waffles now have colors and flavors from natural sources! Eggo Waffles have always been our family favorites. Even when I was a kid it was always my go-to breakfast, so I was thrilled to learn this for my family.
This is so easy to make and perfect to whip up on the weekend or make ahead for breakfast before school or work. I like to bake one of these on Sunday nights. Then on school mornings, I just cut a slice for each kid and heat it up in the microwave.
Combine softened butter and brown sugar and spread it all along the bottom of the casserole dish. Over my years of making these, this is the best way to prevent burning and sticking.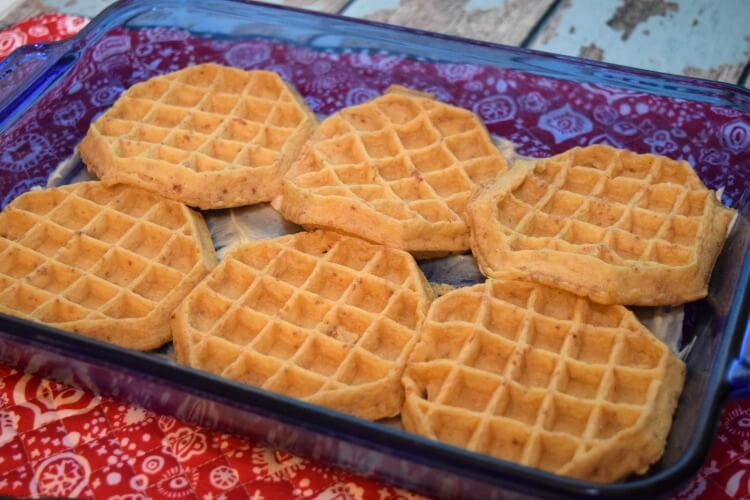 Next, layer the first six waffles. I pull the waffles out of the freezer and let them thaw a few minutes before I put the casserole together.
Spread the softened cream cheese all over the waffles.
Then, add a layer of berries. You can use any kind of berries from fresh to frozen. They were completely out of fresh berries when I went shopping for these ingredients, so I just picked up a bag of frozen mixed berries that I let thaw for a little while. You could really use any fruit, even peaches in the summer time.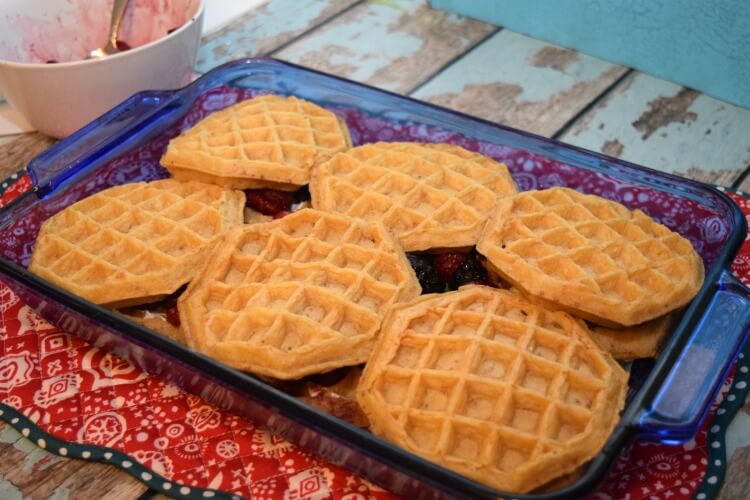 Now layer the second six waffles on top. Feel free to make this with any Eggo Waffles variety.
Combine the milk and eggs and beat until well combined.
Pour the milk mixture all over the waffles.
Top the waffles with brown sugar and cinnamon. This adds a little crunch to the top when it's done baking.
Cover it with foil and let it sit for at least an hour in the fridge, preferably overnight. Then it's time to bake! Don't forget to remove the foil for the last 5 or so minutes of baking.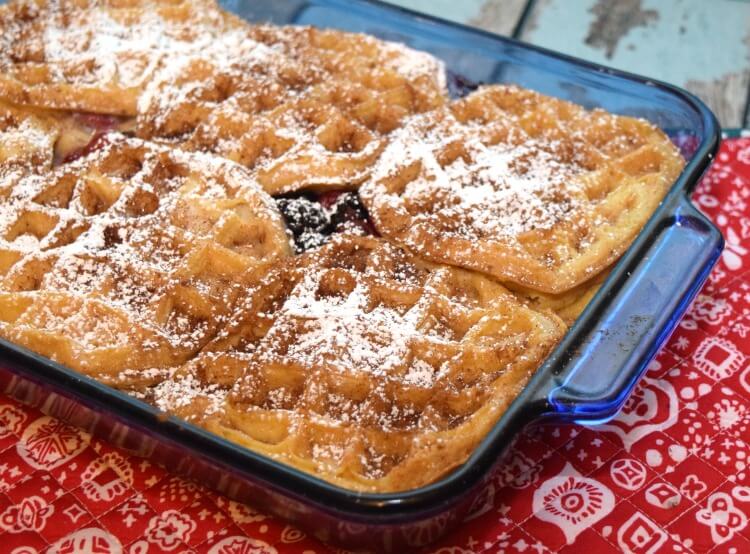 Let it cool for a few minutes. I also like to add a dusting of powdered sugar before serving it warm.
Usually we eat our Berry Cream Cheese Waffle Bake without syrup because the waffles and fruit are sweet. But, sometimes my kids like to add syrup. Occasionally, I make a special batch of cream cheese syrup to drizzle over it. It's simple and takes less than five minutes to whip up while the Waffle Bake is cooling. I usually make a small batch so it doesn't last more than a couple mornings. I keep it refrigerated and heat it up the next day to drizzle.
More Breakfast Casseroles
Berry Cream Cheese Waffle Bake
Ingredients
Berry Cream Cheese Waffle Bake
2 boxes of Kellogg's® Eggo® Thick & Fluffy Cinnamon Brown Sugar
4 oz cream cheese, softened
2 cups mixed berries
3 cups milk
4 eggs
1 teaspoon cinnamon
1/4 cup butter, softened
1/4 cup brown sugar, divided
Cream Cheese Syrup
4 oz cream cheese
1/4 cup maple syrup
1/4 cup powdered sugar
1-3 tablespoons milk
pinch of salt
Instructions
Berry Cream Cheese Waffle Bake
Combine half the brown sugar and the butter into a paste and spread it on the bottom of the casserole dish.
Layer 6 Eggo Waffles on top of the butter mixture.
Take 4 oz of cream cheese and spread it over the waffles.
Next, spread the berries over the waffles.
Cover the berries with the second set of 6 Eggo waffles.
In a separate bowl combine the milk and eggs and beat until well mixed.
Pour the milk mixture over the entire casserole.
Sprinkle the top with the rest of the brown sugar and the cinnamon.
Cover with foil.
Allow to sit in the fridge for at least an hour, preferably over night.
When ready to bake, allow it to sit for a few minutes out of the fridge while the oven preheats to 350 F degrees.
Bake for 45-55 minutes. Remove the foil the last 5 minutes of baking.
Cool for 5-10 minutes before serving.
Cream Cheese Syrup
Combine the cream cheese, maple syrup, salt, and powdered sugar.
Mix up just a bit and heat for 15-30 seconds in the microwave.
Beat until smooth.
Start with a tablespoon of milk and slowly add more as necessary to thin it to the consistency of drizzling.