I received free PlayTape products in exchange for a review. All opinions are my own. This post contains affiliate links.
Are you looking for great play ideas for bad weather days with rain and snow? I have just the thing – a DIY Road Trip foam board with PlayTape!
PlayTape comes in two widths, 2-inch and 4-inch, and is perfect for any die-cast cars and more! There's even curved pieces, too. It can be used on any flat surface, is easy to tear, and is easy to re-position. Plus, it comes up with no residue. and it's recyclable! It would work great on a smooth floor like linoleum or maybe even wood flooring.
We only have carpet and ceramic tile in our house, so there wasn't a smooth service to apply it. I thought foam board would work great.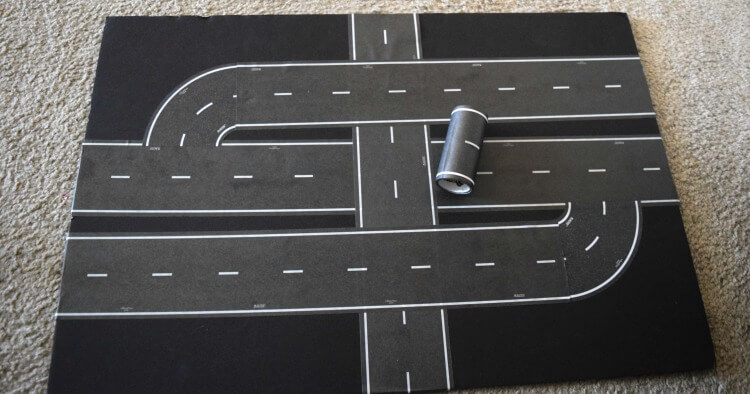 My little girl LOVES dolls, and she loves cars, too. She's always creating ramps out of books and boxes to send her Paw Patrol cars on a mission to save someone. When InRoad asked me to check out their PlayTape, I knew exactly what we had to do — make a DIY Road Trip she can use with her cars. This is so easy and will get hours of play!
She was able to easily help me tape the board. Then, once it was finished, she created herself a whole city on the foam board with extra parts from a old train set like stop signs, trees, and more. She even pulled out a roll of duct tape and made sidewalks for the people.
Where can you find PlayTape?
You can even take PlayTape along with you in your purse to pull out and let your child's imagination come to life! It's for ages 3 and up, including adults, too! It's also made in the USA. PlayTape® from InRoad Toys is now available on Amazon and in over 3,100 Walmart stores across the USA. Check to see if your local Walmart carries PlayTape.