Does anyone ever have enough hot pads or pot holders or trivets for the kitchen? I know I never do. I'm always having to fold up kitchen towels to put hot dishes on the table or the counter.
I came across this Pin to make a ball of continuous t shirt yarn and this Pin to make a woven trivet. I decided I was going to combine both ideas and do it as cheaply as possible. (Look at my vintage Pyrex asparagus dish! It was 50% off, I think I got it for a $1.50 or less. I love vintage Corning ware and Pyrex. My cupboards are stocked with it.)
In the Pinterest tutorial for the trivet, she used stretcher frame. I'm not even sure what that is. I decided to go buy an ugly but sturdy wooden picture frame. I paid about a $1.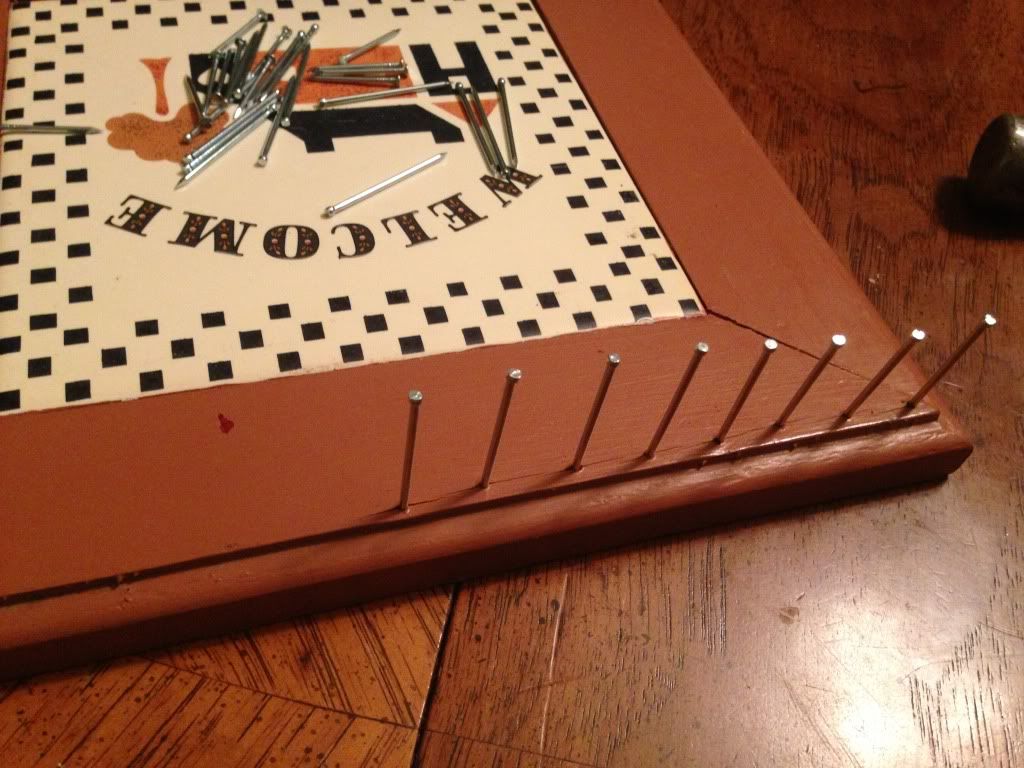 I bought a pack of nails at the Dollar Tree, and hammered them in every 3/4 inch or so. I eyeballed it.
I did this on both the top and bottom of the frame. Now my frame was ready.
On to the t-shirt yarn. I regularly use t shirts in my crafting, so I have one of those XL Ziplock bags stuffed full of old t shirts from home and 50 cent tshirts from thriftshopping.
I choose two t shirts to use — a brick red one and a dark heather gray. Our kitchen is white and black with some red thrown in. I thought they'd go well together.
First, only use t shirts that have no side seams. Surprisingly, I had these in my stash without side seams — it's not something I even considered when I bought them. To make a good amount of t shirt yarn, get as large of a t shirt as you can find, preferably solid with nothing printed on it.
I folded the t shirt in half lengthwise and then cut a line across the width just under the arms and just above the hem. I wanted to keep as much of the t shirt as I could.
Once it was cut, I positioned the t shirt so that one side seam was about 2 inches below the other, as seen in the picture below.
Cut 1 inch strips, but DO NOT CUT ALL THE WAY THROUGH. At the top, leave about 3/4 or 1/2 of an inch. This is very easy to do if you have a plastic quilter's ruler and a rotary cutter.
One inch strips might seem really wide, but the stretchiness of knit makes them turn almost tubular into half or less of the 1 inch width.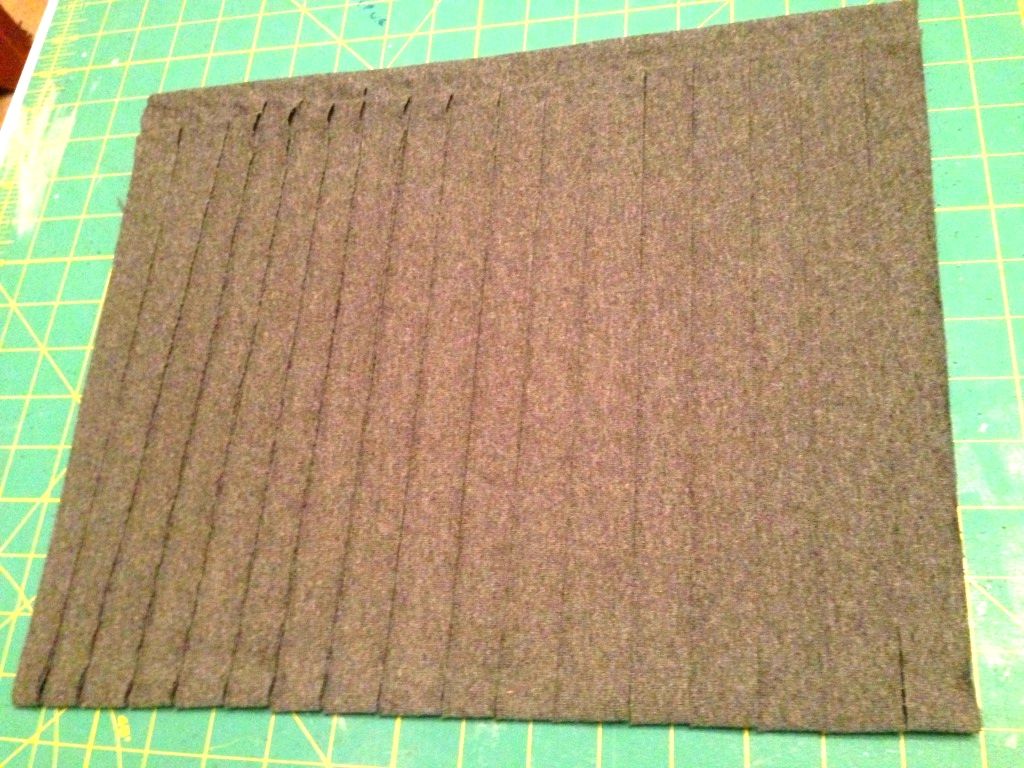 Here is what it looks like at the top where you didn't cut all the way through.
This is the part I did not understand until I did it. Take your scissors, and cut diagonal to the beginning of the next cut. I tried to demonstrate in the picture. It's almost like a mobius strip. The first one, will cut off diagonally and make the end. The next diagonal cuts will create the lengths of yarn. Be very careful, I did end up messing myself up and cut a loop and cut my yarn a wee bit shorter than it could have been.
If you just cut straight up and down, it will just create loops of t shirt material. By cutting diagonally to the next row each time, it creates the continuous strips of t shirt yarn.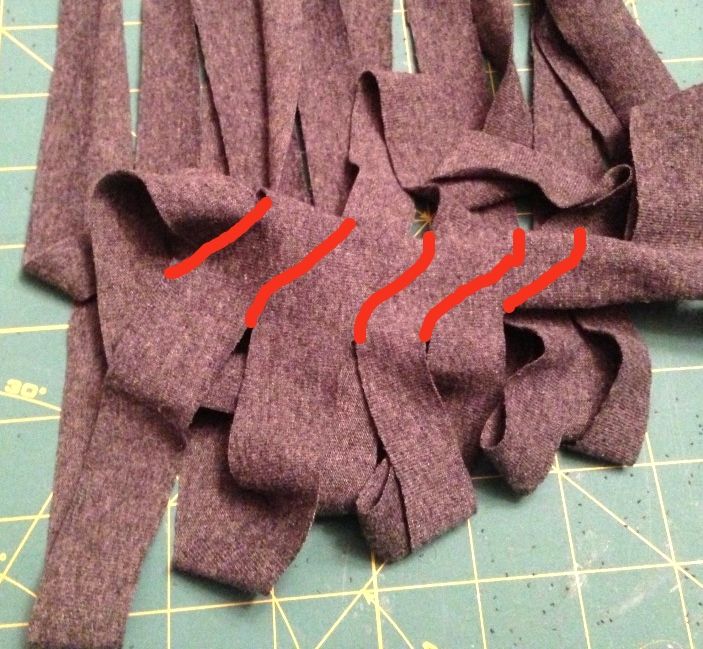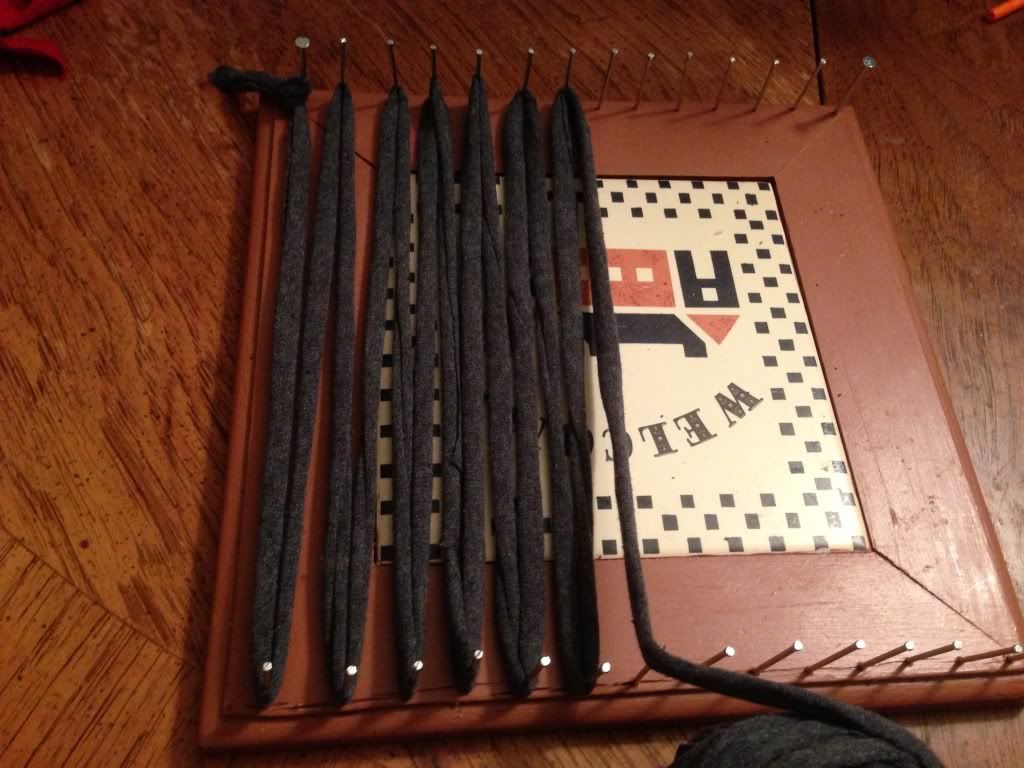 Tie the loose end of yarn from your shuttle to the piece of yarn on the first nail. Then, begin weaving in and out.
I made two trivets and did both a little differently. For the gray one below, I wove in and out of two strips of yarn. For the red one under this picture, I wove in and out of each piece of yarn. The end result was the gray one ended up a bit thicker than the red one. But I like how both came out.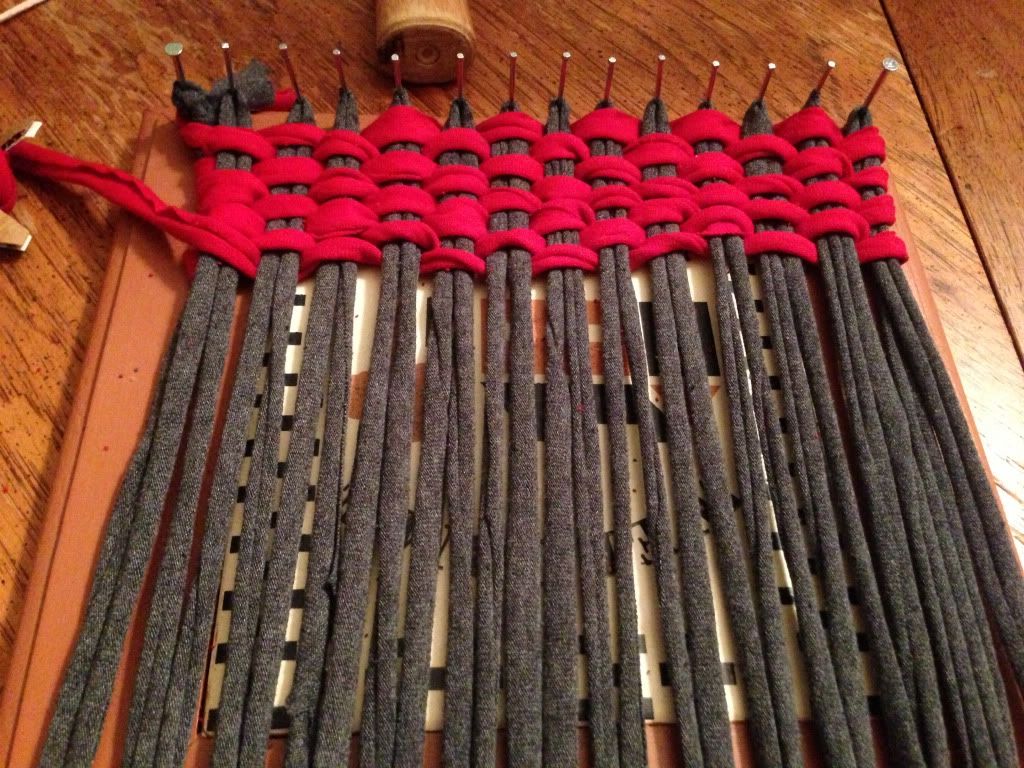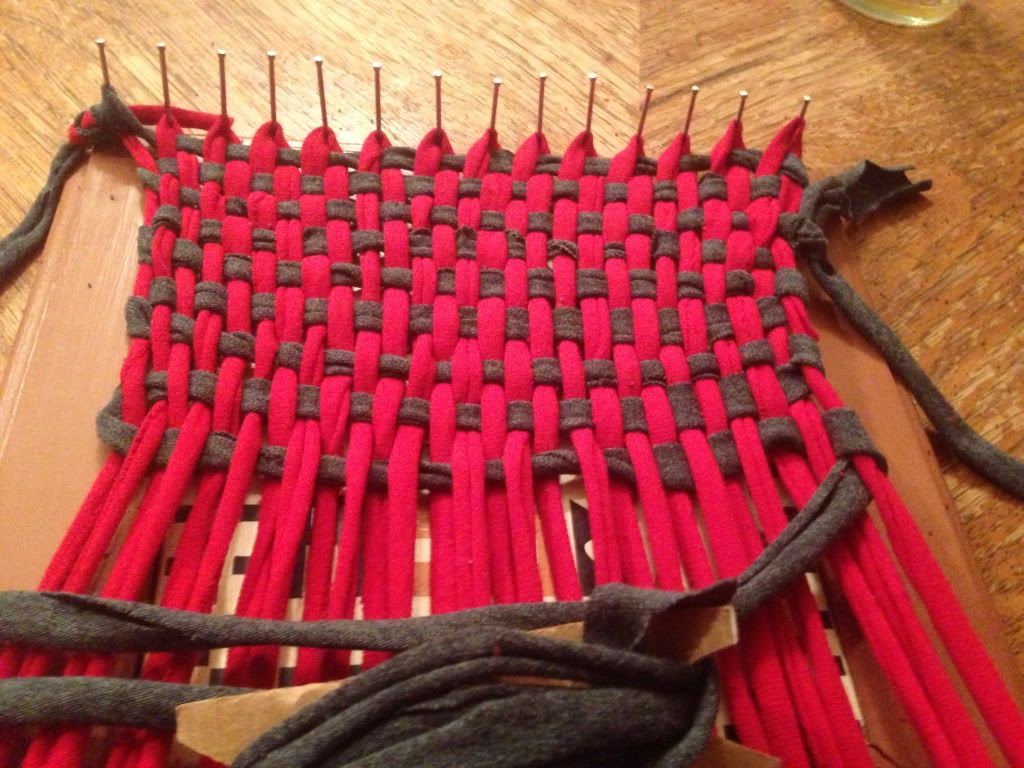 Just keep weaving…..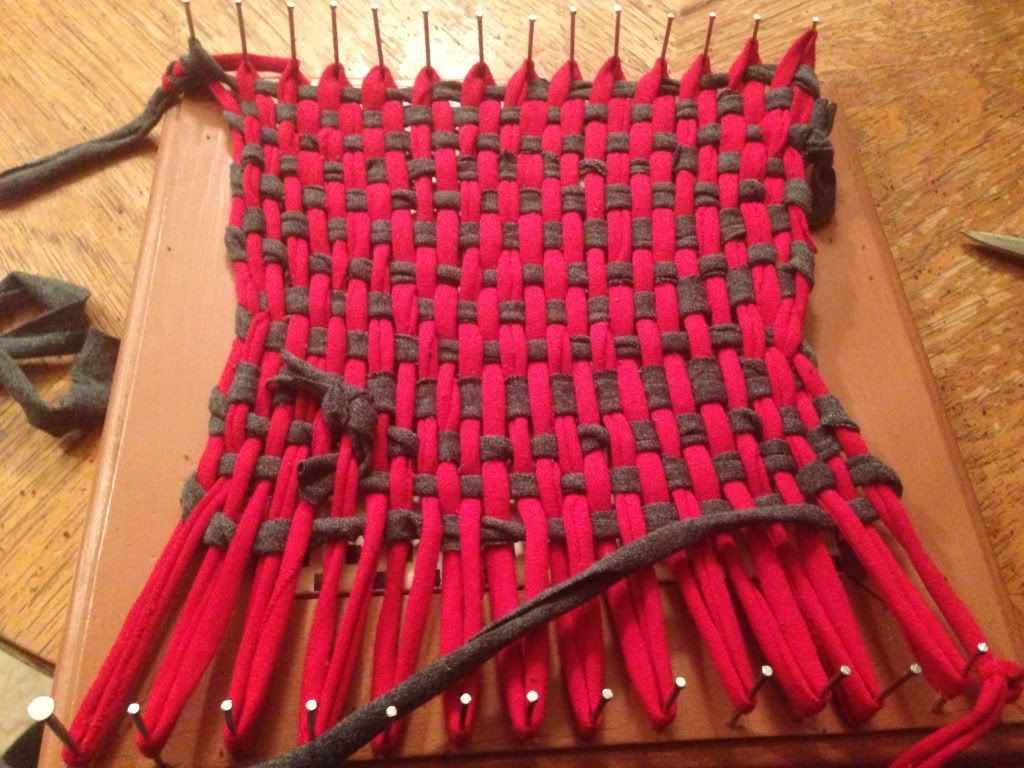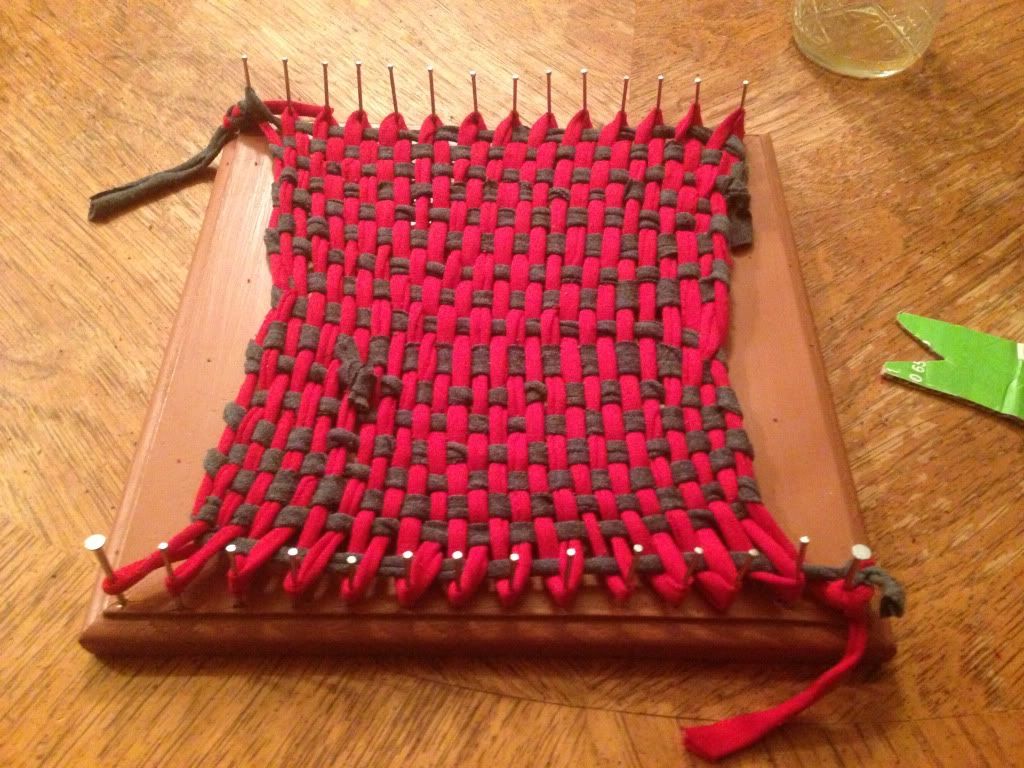 When you are completely finished, pull it off the top nails gently. And, then the bottom nails.
At this point, you'll twist and stretch it to get it to the right shape you want. I tied all the knots smaller and cut off excess as well.
That's it! You're done!!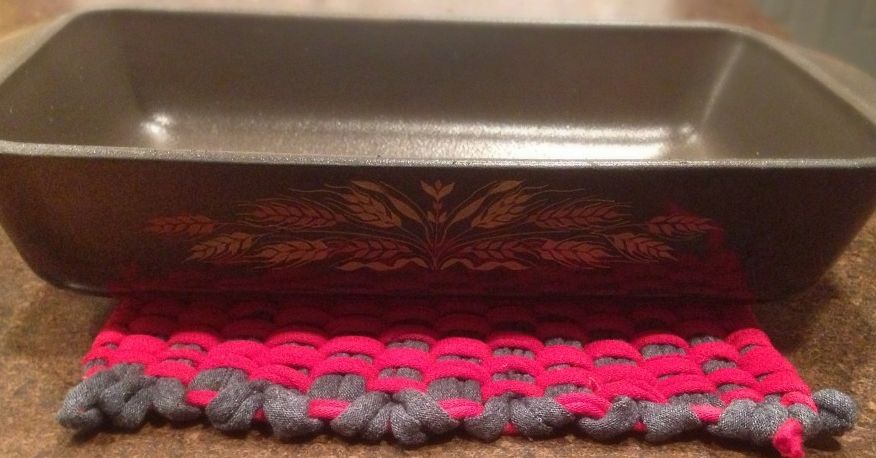 That app is so worth the money! I think it's around $2.99. You can listen to every single This American Life episode ever in the app included with that price. Otherwise, you end up buying individual episodes on iTunes, unless you get them the week they come out.