My teenage daughter is going to be Medusa for Halloween this year. Yesterday I showed you how to make Medusa's Snake Headband. Today I've brought you a Medusa Face Painting Tutorial using Tulip Body Art with my secret to getting that scaly look for Medusa. Let's get started!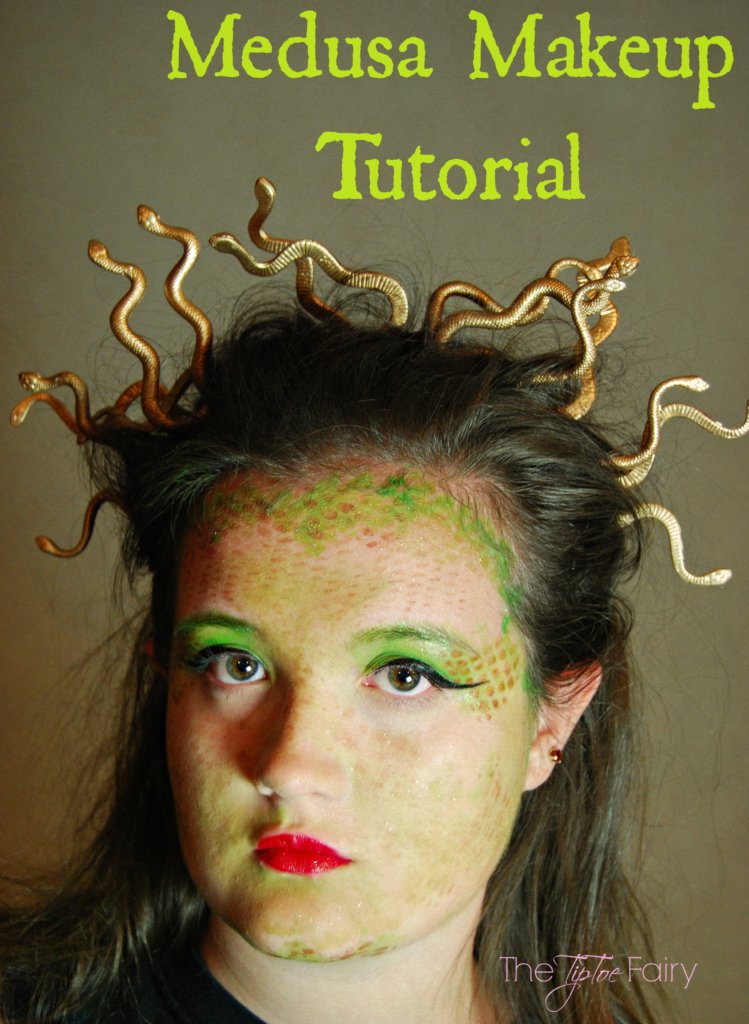 Do you know the myth of Medusa? She thought she was more beautiful than anyone in the world, including Athena, the goddess of wisdom and beauty. To punish her, Athena turned her into a monster with the body of a snake and her hair into snakes. Anyone who looked in her eyes, including if Medusa looked at herself in a reflection, would immediately turn to stone.
Because Medusa was a snake monster, I thought a look of scales around her face would go well with a Medusa look.
Medusa Makeup Tutorial
Supplies:
Silver and gold glitter from the Glitter Tattoos to achieve this look.
Black felt tip eyeliner
Black mascara
Red lipstick
The secret to getting the makeup to look like scales is by putting a fishnet stocking on your head. This would work well for a mermaid, too.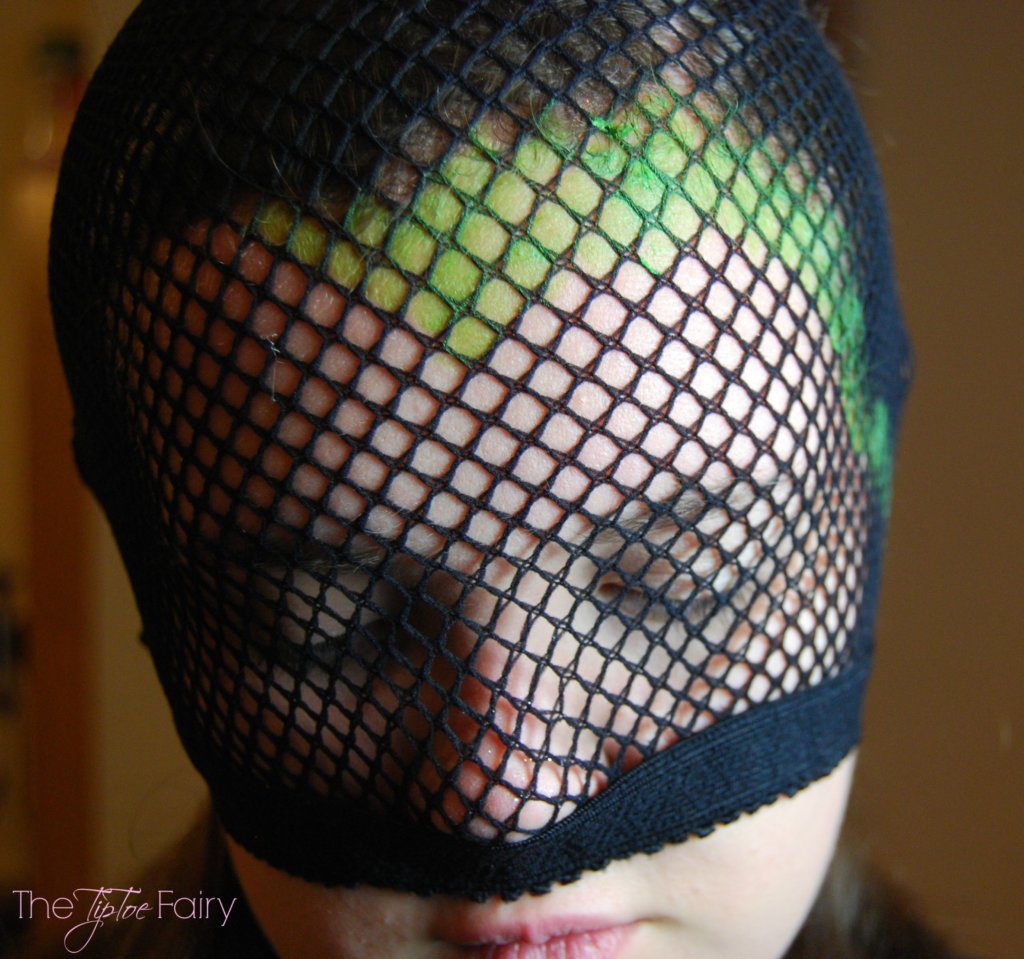 To get the scale look, use either a wet sponge or your fingers. Mix a little water into the paint, and then dip the sponge or your fingers and dab around the hairline all the way down the ears. I gave an exaggerated widows peak, too. Then, I added sprinkles of glitter here and there while it was still wet.
Next, it was onto the eyes. I used one of the brushes that came with the paint and applied it to the eyes all the way up to the eyebrows and on the sides all the way to the stippled scales at the hairline.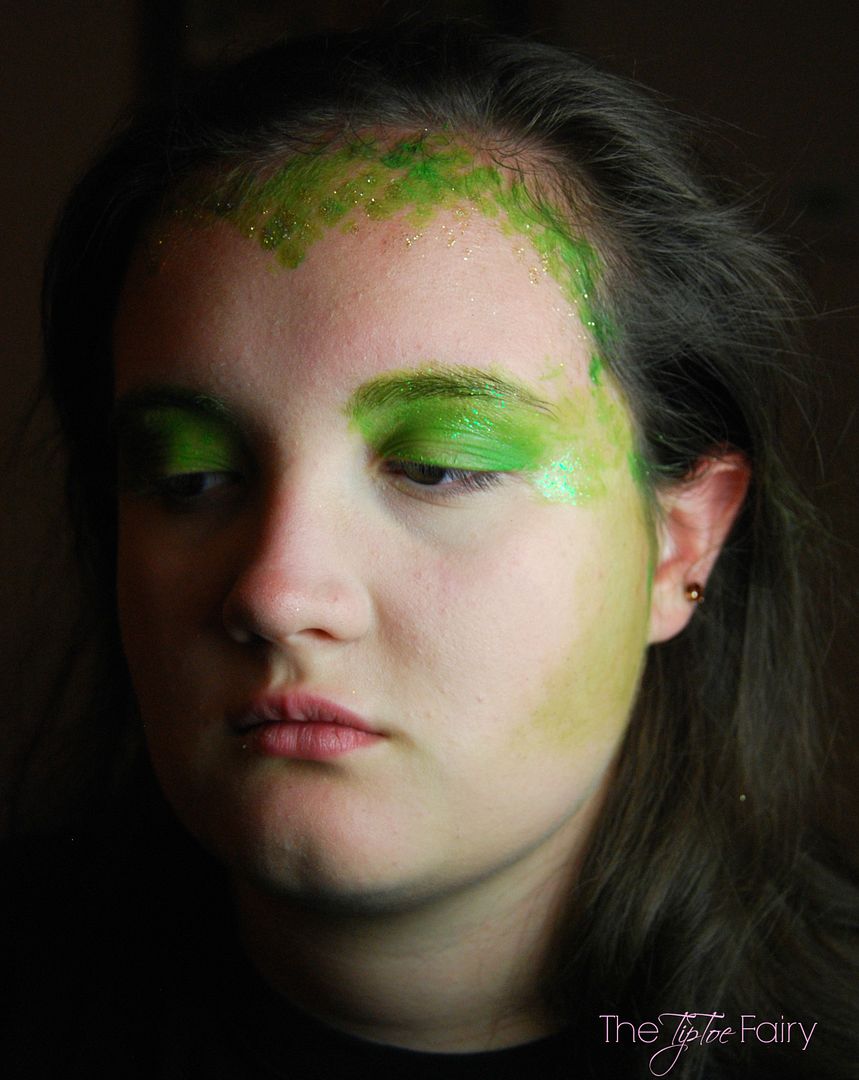 Then, I had her suck her cheeks in and blended the green with my fingers through the hollows of the cheeks. I went over it with some watered down brown to darken the green a bit.
Next, We used the fishnet again as my daughter held it up to each cheek, I dabbed glitter over the area to give a layering of scales.
At this point, my daughter added her own eyeliner in an exaggerated cat eye look along with mascara. We also started stippling brown color over the green of her forehead with the fishnet to add some dimension.
At this point, I added highlights of green with a touch of brown around her nose and cheeks, up above her eyes on the lower forehead and around her lips. Then, we began stippling brown all around her face for added scale dimension.
This is when I got the bright idea to cut a square of fishnet so that she could just easily hold it up to her face. This worked wonderful! We began adding both green and brown stippling at her eyes and at her chin.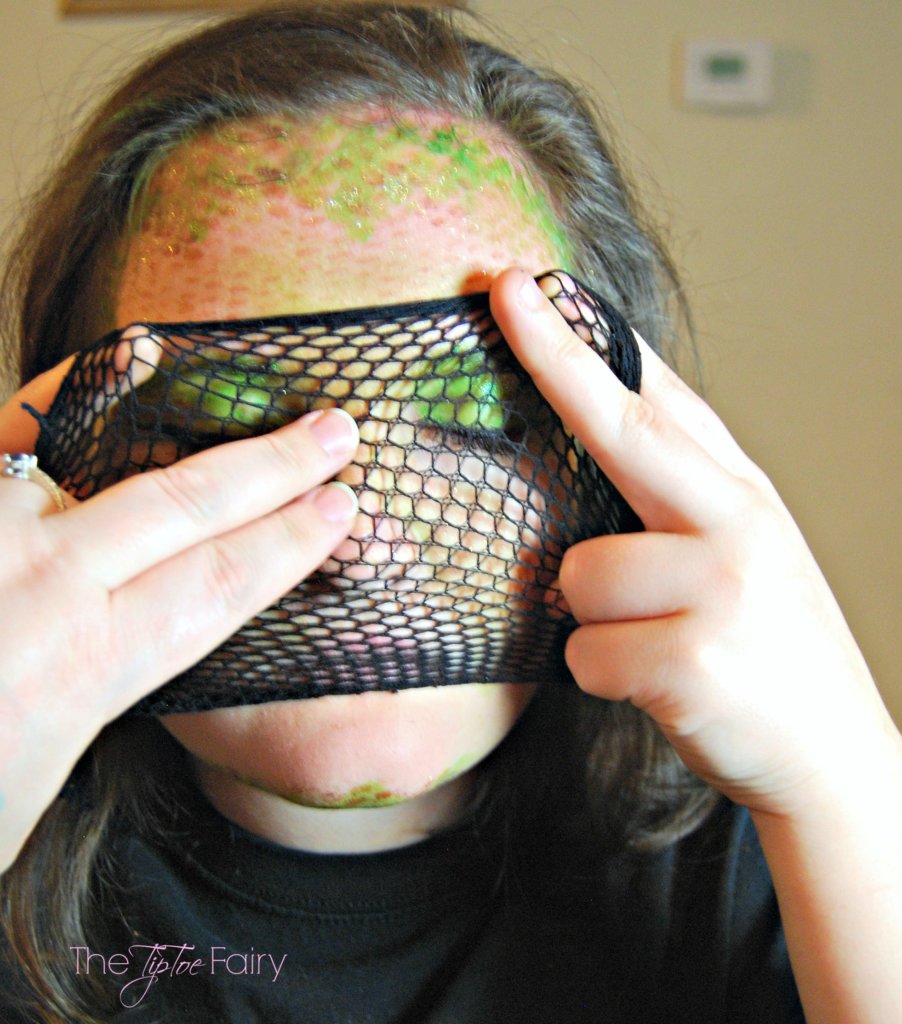 Here's the square of fishnet in action. While she holds it, I'm able to dab brown stippling with my fingers over her nose. Have the makeup-ee stretch it out where you are wanting to add stippling.
This is the finished side view. She completed the look with red lip color. Since Medusa lives in a cave with the blind Gorgon sisters, we wanted to make her look scaly and a little dirty.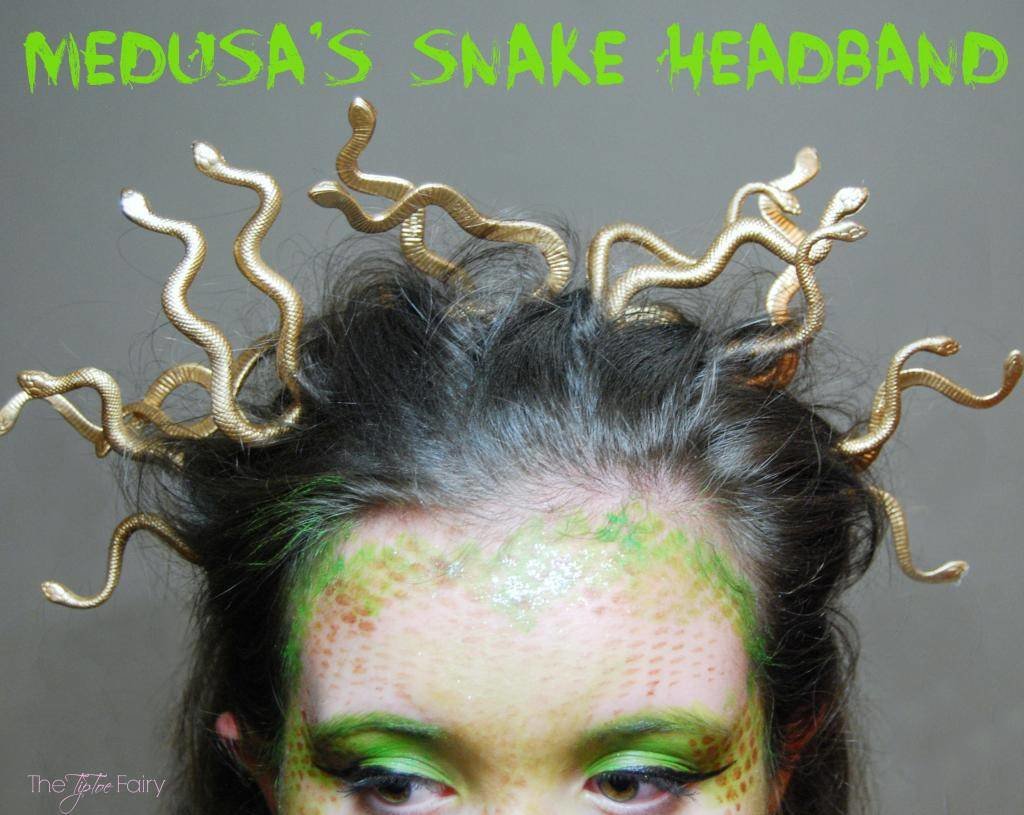 To complete the look, we added the Medusa Snake Headband. To do this, part the hair from ear to ear and pull the front half of her hair to hang forward (basically in her face). Next, place the headband on the head at the part. Now take the front hair and tease it up in sections to make it big. Then, insert it in sections through the snakes to hide the headband.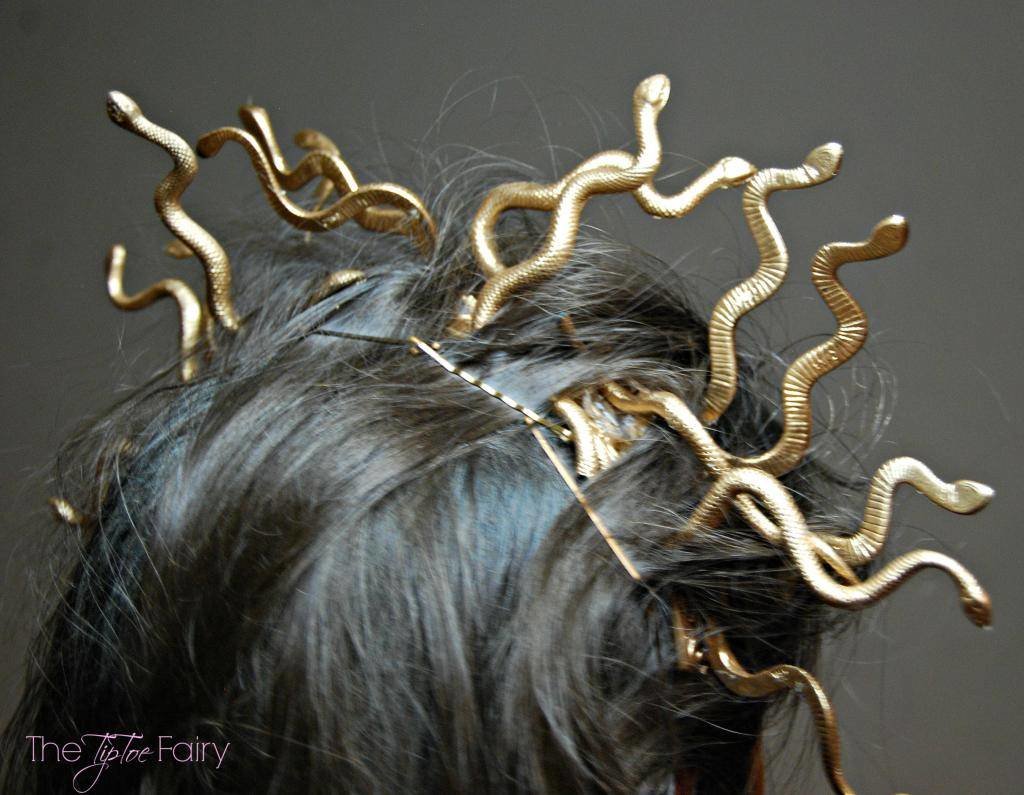 Secure the sections of hair just behind the headband with bobby pins. Hairspray with a strong spray as you smooth the front of the hair toward the back. Scrunch and spray the back hair to give it a wild volumized look.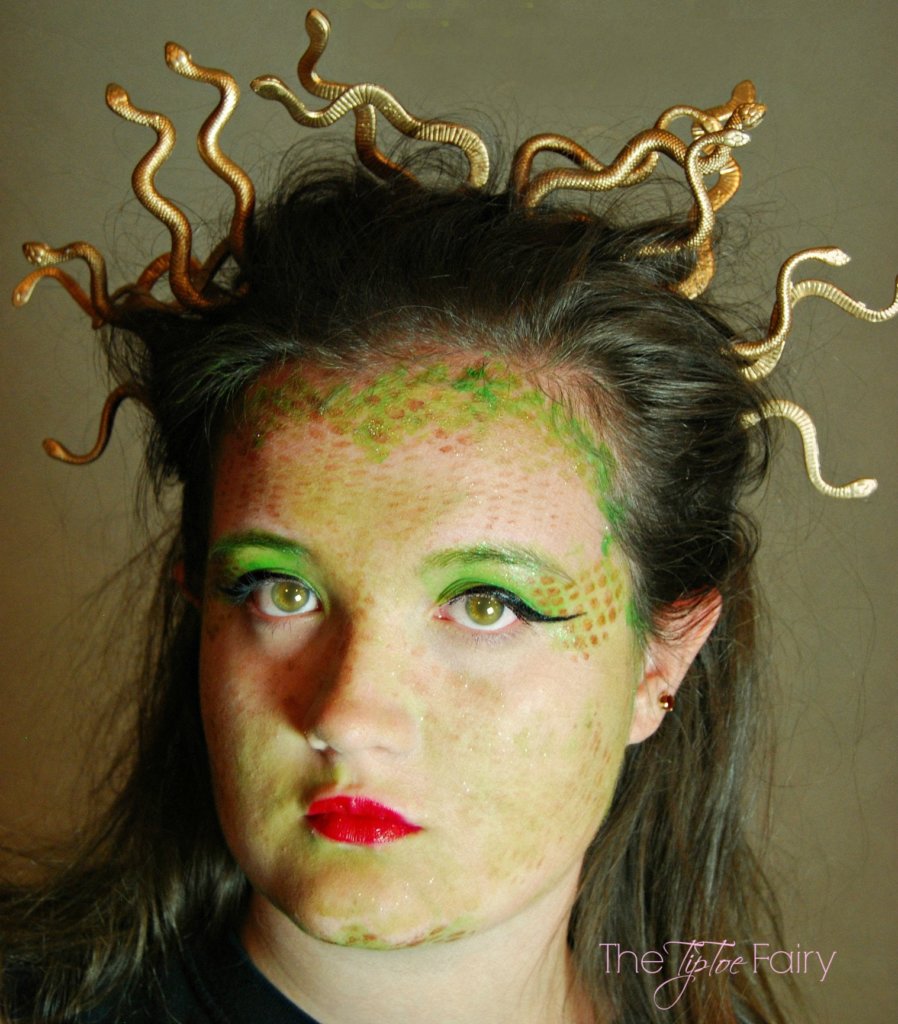 Now we just need to complete this costume with a stylish toga dress…coming soon!
Whether you're going for cute or creepy, complete your Halloween look with Tulip® Body Art® which offers an extensive variety of professional-quality paint, glitter, hair and even black light products for Halloween and so much more! Not good at freehand? No problem! Stock up on Body Art Stencils and brushes that make it easy to create artful designs.
I received product and payment via The Blueprint Social for this post, however, opinions are 100% my own.