Need a brunch casserole recipe? Try this Breakfast Shepherd's Pie for a dish with breakfast all in one!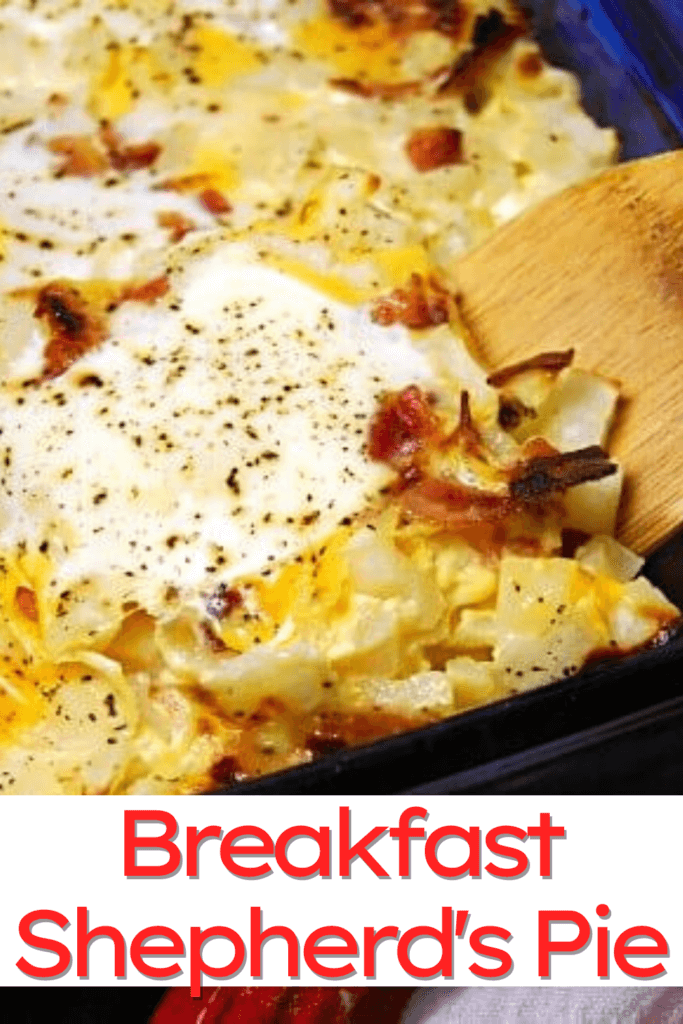 This is a family favorite that only has five ingredients (if you don't count the salt and pepper!) including Liquid Gold – VELVEETA. It's just hash browns, bacon, milk, VELVEETA, and eggs. How much easier can it get?
More Velveeta Recipes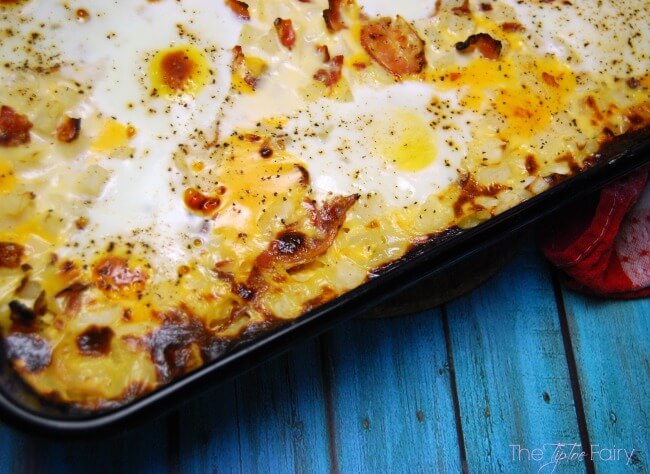 Let the hash browns defrost from the freezer for 30 minutes to 1 hour.
I usually forget this step, so I throw the hash browns in the casserole dish and put it in the preheating oven while I'm grabbing everything else. After a few minutes, they're defrosted, and it's good to go!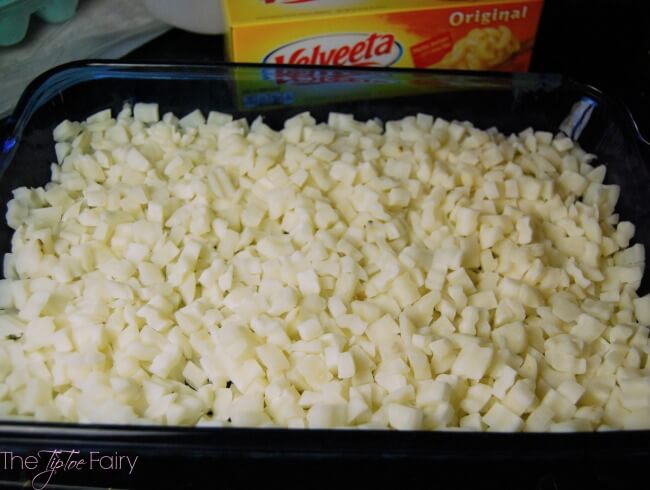 Next, cube about 16 oz of VELVEETA® and heat it in the microwave for a couple of minutes. Then, stir and add milk, and heat it for an additional minute or so. You want to be able to pour it over the dish.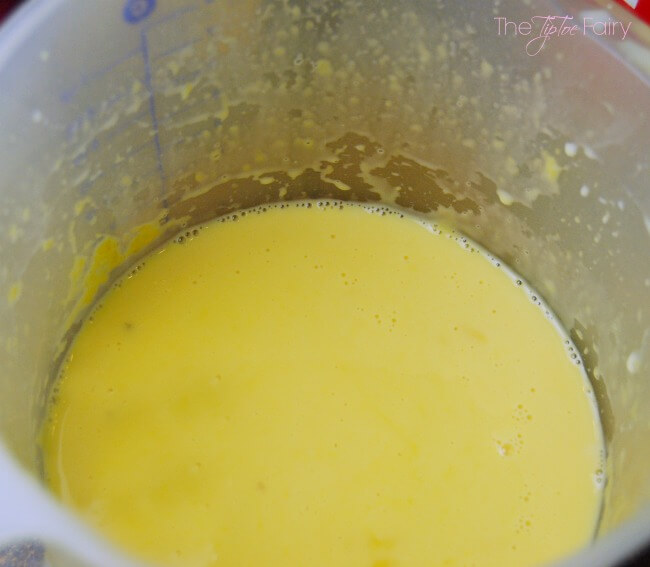 I've started buying packs of precooked bacon just for dishes like this, so I pull out about 10-12 slices of precooked bacon, heat them in the microwave for about 30 seconds to get them good and crispy. Then, crumble over the hash browns.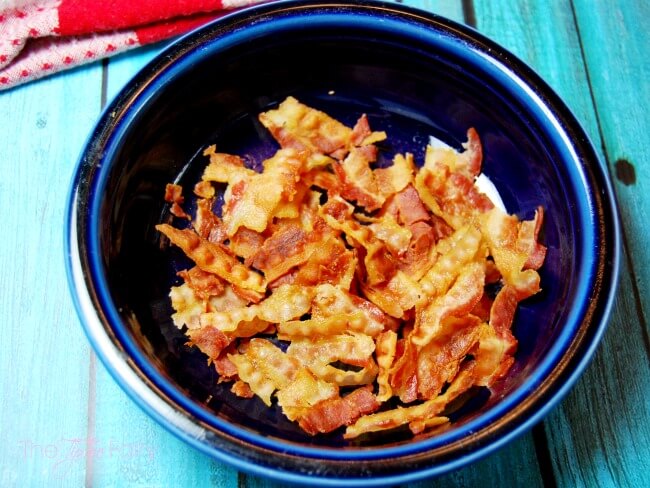 Next, make small little wells around the dish and drop in the eggs. Now add some salt and pepper and it's baking time. Easy, right?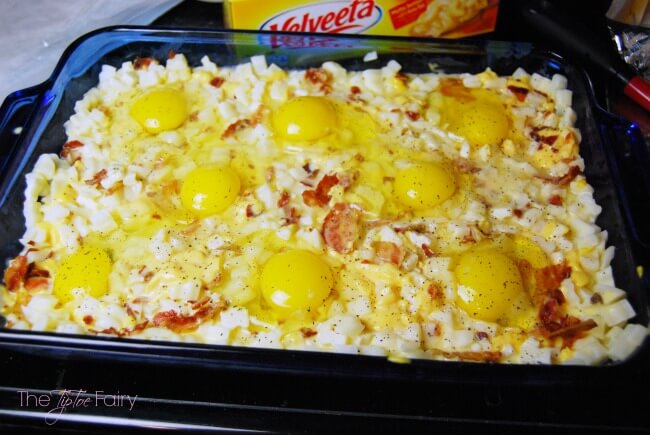 More Breakfast Recipes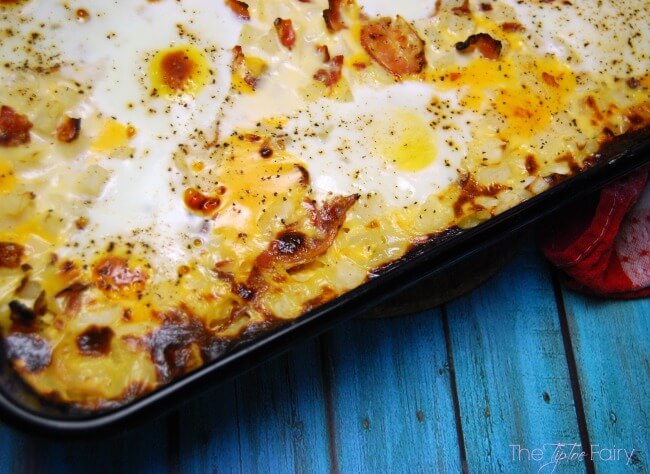 Yield:

10 servings
Breakfast Shepherd's Pie Casserole
Additional Time:
30 minutes
Ingredients
1 pkg of hash browns (diced)
8-9 eggs
16 oz VELVEETA, cubed
1 cup of milk
10-12 precooked bacon slices, crumbled
salt and pepper to taste
Instructions
Defrost hash browns for 30 min to 1 hour before preparing.
Preheat oven to 400.
Cube VELVEETA and microwave for 1-2 minutes to melt.
Add milk to VELVEETA and stir. Then, cook for an additional 1-2 minutes until smooth and creamy.
Pour over the casserole and mix it up just a bit.
Cook precooked bacon in the microwave on a paper towel for about 30 seconds to crisp it up.
Crumble bacon over hash browns.
Make small wells in the casserole dish.
Drop a egg over each well.
Sprinkle with salt and pepper and bake for about 35-40 minutes.
Turn on broiler and bake for an additional 2-3 minutes until eggs are done.
Allow to cool before serving.
Nutrition Information:
Yield:

10
Serving Size:

1
Amount Per Serving:
Calories:

291
Total Fat:

20g
Saturated Fat:

10g
Trans Fat:

0g
Unsaturated Fat:

6g
Cholesterol:

219mg
Sodium:

1039mg
Carbohydrates:

8g
Fiber:

0g
Sugar:

5g
Protein:

19g
Any nutritional information on thetiptoefairy.com should only be used as a general guideline. This information is provided as a courtesy and there is no guarantee that the information will be completely accurate.
Come Join Us!
Liked this article and want more? Follow along on Instagram, Facebook, Twitter, Pinterest, TikTok, and YouTube!
Come over and join us on Facebook in the group Recipes, Crafts, and more with TipToe Fairy or Sewing and Crafting with The TipToe Fairy!
Visit Our Other Blogs!