Did you know you can make your own Easy Homemade Buttermilk Pancake Mix? This mix is so simple to make, and it requires no eggs. You just add water and make delicious pancakes. I've been making this mix since the pandemic, and my kids LOVE it! This post contains affiliate links.
I have a kid with an egg allergy, so I have to be extra careful when buying pancake mix. There is only one brand I could find in any of the grocery stores with no eggs in the ingredients.
It was often hard to find, and sometimes you could only find the small box that would pretty much feed my family of 6 in one sitting.
So, one day I ran out and decided to make my own and never looked back.
What do you need to make Easy Homemade Buttermilk Pancake Mix?
What I love about this mix is that all you need to do is add water. You don't need any eggs at all, and they come out delicious!
We love the flavor of buttermilk pancakes, so I use powdered buttermilk. But, you can substitute and use regular powdered milk for this recipe.
You'll also need flour, white sugar, salt, baking soda, and baking powder.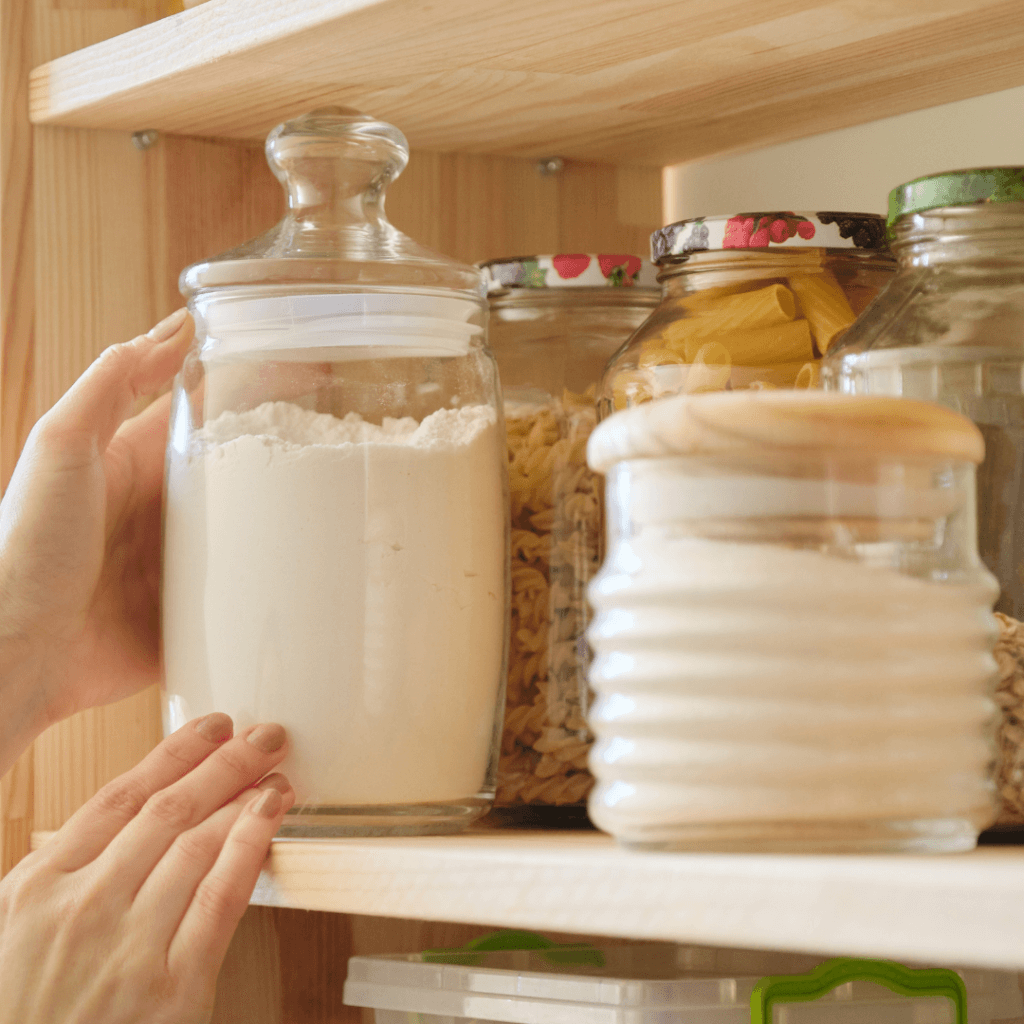 How do you make Easy Homemade Buttermilk Pancake Mix?
I usually make a double batch at a time because this mix goes fast with 6 in your family. My kids love pancakes, so this is an easy breakfast, lunch or dinner!
Combine all the ingredients and blend with a whisk. That's all there is to it!
Then, I transfer it to gallon-size ziplock bag and label the bag with how to mix it up which is 1 Cup Mix + 3/4 Cup Water.
I just recently got a wide mouth 1/2 gallon size mason jar to use instead of the ziplock bag since it's on the counter so much from use!
Get the Label
How do you cook pancakes from the Easy Homemade Buttermilk Pancake Mix?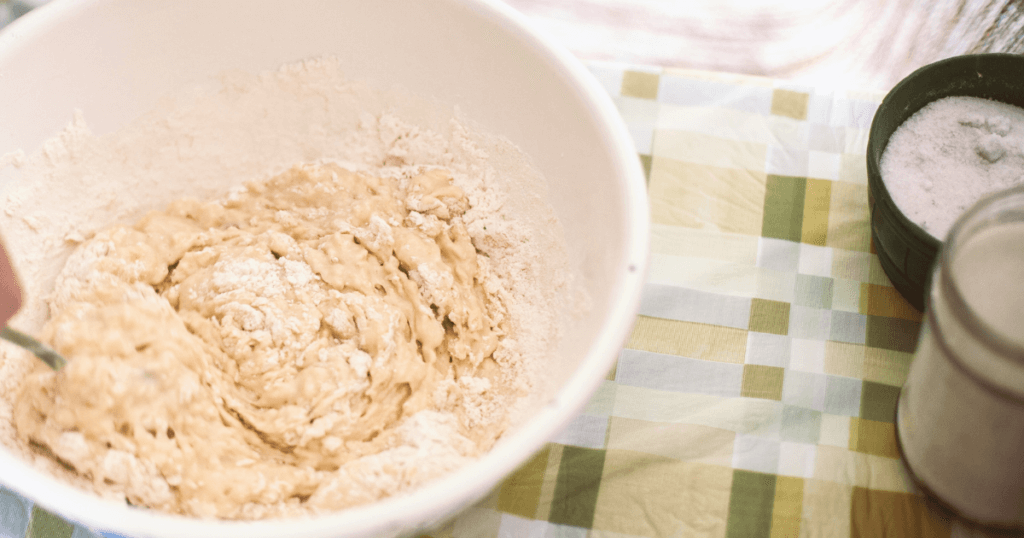 To make a batch of pancakes, you'll need:
1 Cup of Pancake Mix + 3/4 Cup of Water
This amount will make about nine 4-inch pancakes.
I like to use a nonstick skillet and cook 3 pancakes at a time.
Use a nonstick oil spray and set the skillet on medium heat. While it's warming up, mix up your batter. This is usually the perfect timing to make the skillet hot and ready.
I only need to use the oil spray on the very first set of pancakes, and then the pancakes don't stick at all for the rest of the batch.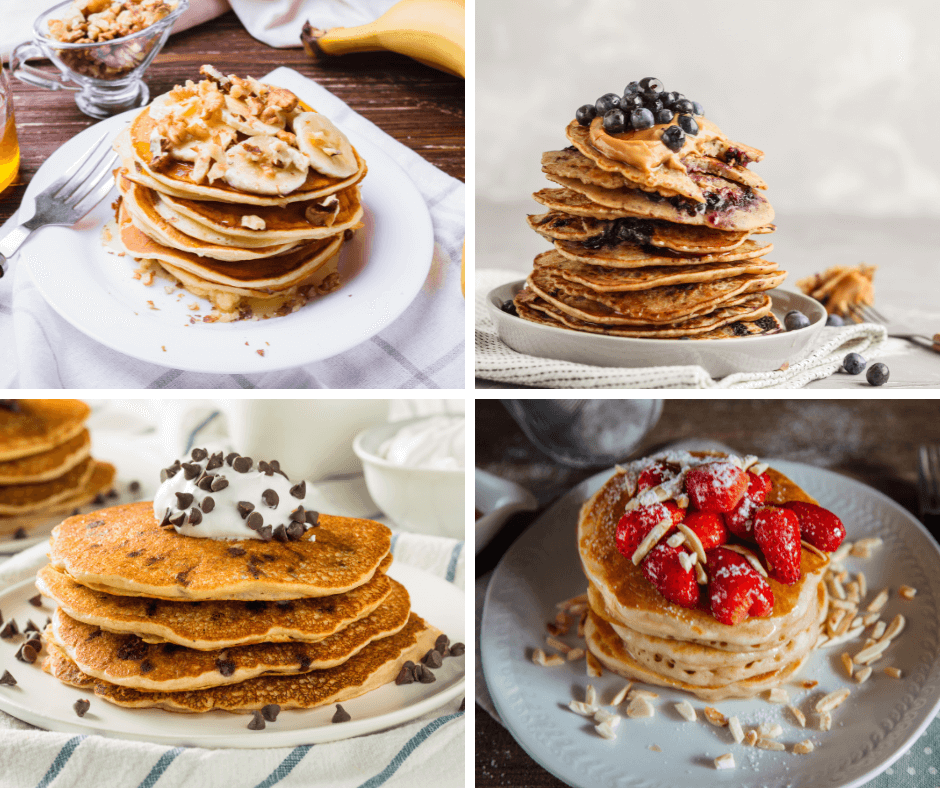 Can I add mix ins to these pancakes?
Absolutely! We add chocolate chips to the batter all the time. Here are a few other ideas to add to the batter:
Can I add milk instead of water to the homemade buttermilk pancake mix?
Yes you can! They are deliciously fluffy pancakes, too!
How do I store extra pancakes?
I put them in a ziplock bag in the fridge and just reheat a few on a plate for 20 seconds. They taste great to my kids!
You can even freeze the pancakes in ziplock freezer bags and reheat in the microwave. Depending on your microwave, they might reheat in 30-45 seconds on a plate.
Recipes to go with Pancakes
More Breakfast Ideas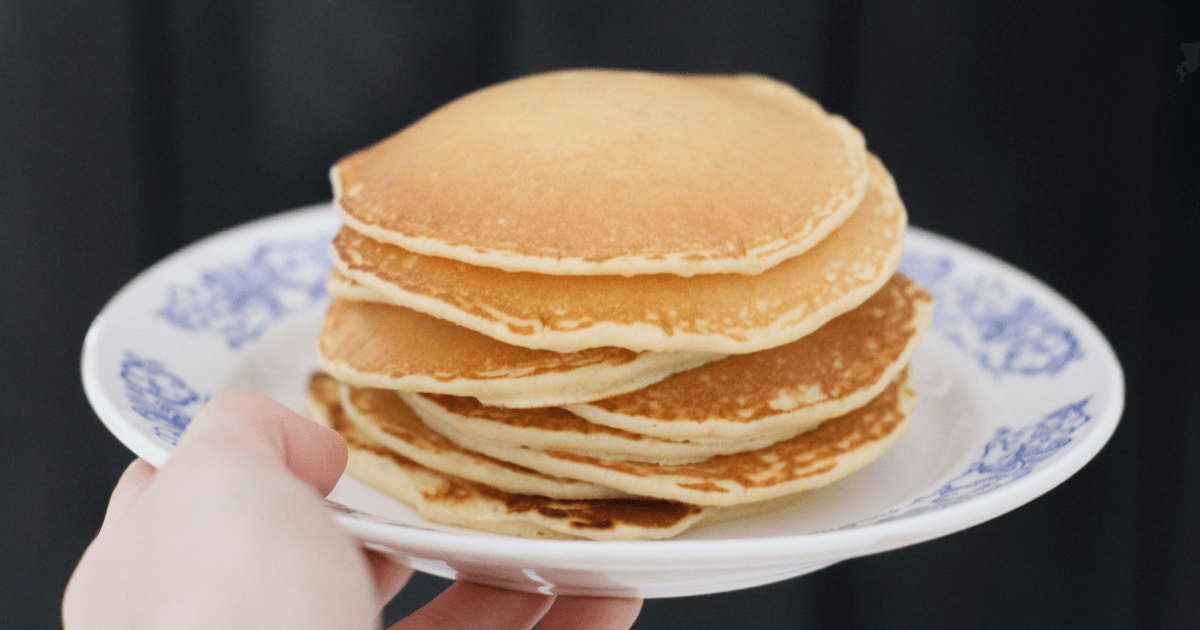 Yield:

9 pancakes
Easy Buttermilk Pancake Mix
Ingredients
4 1/2 cups flour
3/4 cup buttermilk powder
2 tablespoons baking powder
1 tablespoons baking soda
1 1/4 teaspoons salt
Notes
Making the Pancake Mix
Combine all ingredients and whisk together.
Keep in a sealed container up to a month.
Making the Pancakes

Combine 1 cup of pancake mix with 1 cup of water.
Preheat the skillet to medium and spray with nonstick oil spray before the first batch only.
Nutrition Information:
Yield:

9
Serving Size:

1
Amount Per Serving:
Calories:

268
Total Fat:

1g
Saturated Fat:

0g
Trans Fat:

0g
Unsaturated Fat:

1g
Cholesterol:

7mg
Sodium:

1091mg
Carbohydrates:

53g
Fiber:

2g
Sugar:

5g
Protein:

10g
Any nutritional information on thetiptoefairy.com should only be used as a general guideline. This information is provided as a courtesy and there is no guarantee that the information will be completely accurate.
Come Join Us!
Liked this article and want more? Follow along on Instagram, Facebook, Twitter, Pinterest, TikTok, and YouTube!
Come over and join us on Facebook in the group Recipes, Crafts, and more with TipToe Fairy or Sewing and Crafting with The TipToe Fairy!
Visit Our Other Blogs!