A few months ago my husband and I went on a trip to San Francisco. I was in sourdough heaven! One of my favorite breakfast casseroles to make is a Sourdough S'mores Breakfast Casserole with sourdough bread. So, so good! This is a sponsored post.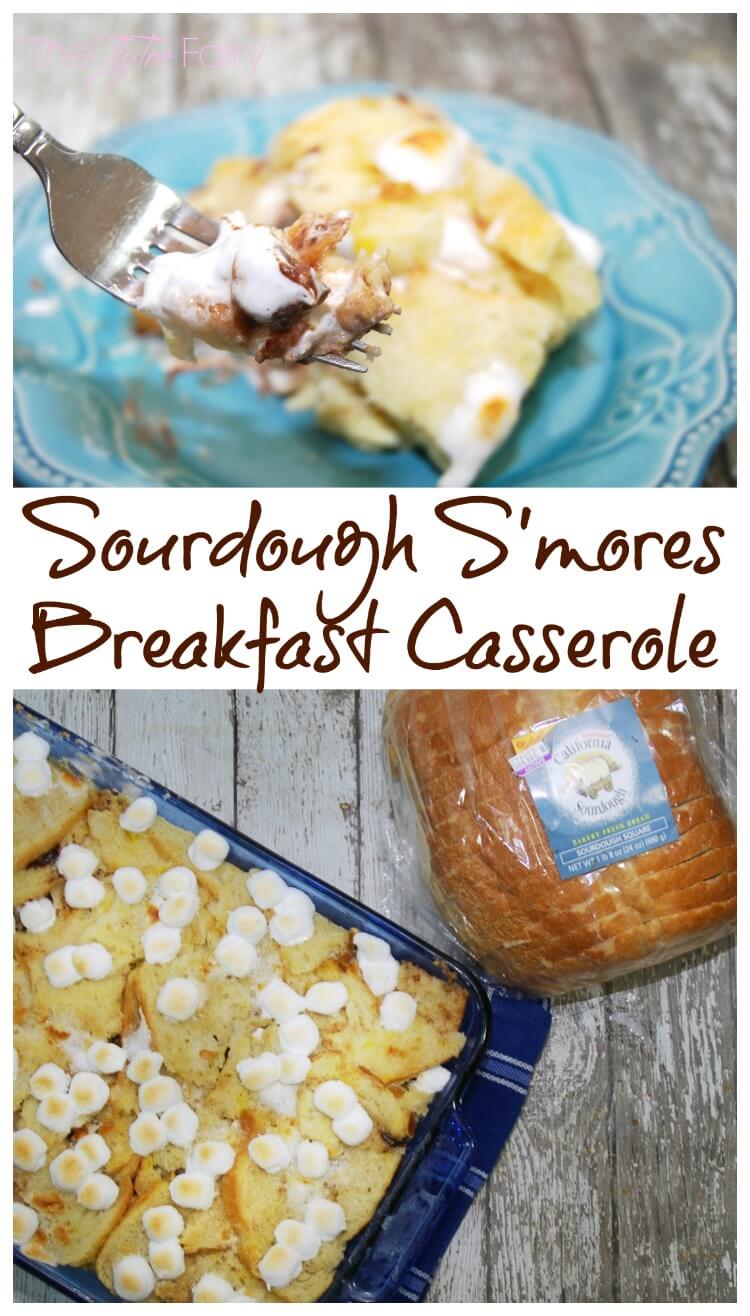 I just love sourdough bread – the smell, the taste, the flavor. My absolute favorite sourdough bread is California Goldminer Sourdough Bread because it's baked fresh in the grocery store bakery every day.
We tend to go through a loaf in about a week as everyone enjoys it. Sourdough cheese toast is a favorite snack for all of my kids.
Every week I head to Kroger to grab a new loaf. You can find it in the bakery with all the other freshly made breads.
I've made sourdough bread before, but I can never get it to taste as good as California Goldminer Sourdough Bread. Did you know when they make sourdough bread they always save a bit of the dough as a starter for the next batch? This starter is called the "mother dough." There are starters that are more than a hundred years old that are kept under lock and key! You could be eating a piece of history. You could be eating dough that was mixed during the Civil War or when George Washington was alive. I just find that so amazing.
Sourdough bread is so versatile. Not only can you use California Goldminer Sourdough Bread for sandwiches, but also for so much more. I tend to have a a slice of sourdough cheese toast or avocado toast for breakfast after I drop the kids off at school. Sometimes I'll use it to make a sourdough turkey sandwich or a cottage cheese danish for lunch as well. By the weekend, when it's starting to get a little hard, I use the rest of the loaf up in a few ways:
making croutons
as the stuffing in a chicken and stuffing casserole
for french toast
or a french toast casserole for my family like this recipe for my Sourdough S'mores Breakfast Casserole
How do you make Sourdough S'mores Breakfast Casserole?
I love making these breakfast casseroles with sourdough. I think it gives them a great flavor, and I can use up any leftover bread. This particular casserole is a family favorite because my kids love s'mores.
Here's how I like to make it:
Mix brown sugar and butter to cover the bottom of the pan to prevent the milk from burning.
Next, take half the loaf of bread and break it into small pieces to cover the pan. Then, mix up the milk batter and pour half of it over the bread.
Drop spoonfuls of marshmallow cream all over and then sprinkle with chocolate chips. I used dark chocolate chips.
Use the second half of the loaf and tear it into pieces and cover the marshmallow cream and chocolate chips. Then, pour the second half of the milk batter all over the bread.
Cover with foil and then place in the fridge overnight so that the bread soaks up all the milk batter. Or you can just pop it in the fridge for an hour or so before baking.
One it's cooked through, remove it from the oven and turn the oven to broil.
Then, sprinkle the top with marshmallows and broil for just a couple of minutes. Make sure you watch it, or the marshmallows will burn before you know it.
More Breakfast Recipes
Sourdough S'mores Breakfast Casserole
Cook Time:
35 minutes
30 seconds
Total Time:
35 minutes
30 seconds
Ingredients
1 loaf of California Goldminer Sourdough Bread
4 eggs
4 cups of milk
1 teaspoon cinnamon
7 oz marshmallow cream
1 cup of chocolate chips
1 cup marshmallows
1/4 cup butter, softened
1/4 + 1 tablespoon brown sugar
Instructions
Mix together 1/4 cup butter and 1/4 cup brown sugar.
Spread along the bottom of a 9 x 13 pan.
Tear up 1/2 a loaf of California Goldminer Sourdough Bread and place in the pan.
Mix together milk, cinnamon, and eggs.
Pour half the milk mixture all over the bread.
Spread the marshmallow cream all over the bread.
Then sprinkle the chocolate chips over the marshmallow cream.
Take the second half of the bread and tear of and cover the chocolate chips and marshmallow cream.
Sprinkle the tablespoon of brown sugar over the top.
Cover with foil and refrigerate for at least an hour or overnight.
When ready to bake, preheat to 350 degrees.
Bake with foil for 30-35 minutes.
Remove from oven and turn oven to broil.
Sprinkle marshmallows over the top, and broil for just a minute or two.
Allow to cool for a few minutes before serving.
Want some more great ideas for California Goldminer Sourdough bread? Check them out on Facebook, Pinterest, and Instagram!
Do you enjoy Sourdough Bread? Head over the California Goldminer website to learn about its history!