Just the other day, I was reading the news when a little video popped up of Kylie Jenner sharing crispy French toast. I'm not one to follow the Kardashians, but it looked seriously yummy. Since we have been on a little French Toast kick in this house lately (hello Aldi Brioche bread!), I had to try making my own version.
Ever since we've been staying at home, I've done most of my main grocery shopping at Aldi. I don't know why I never was a big Aldi shopper before, but the prices and the products are amazing! It's really helped me lower our grocery bill.
What's the best bread for French Toast?
The best bread is one that is not going to get soggy in the batter. I find that regular cheap sliced sandwich bread is not the best choice because it will get soggy and tear after it's dipped in the batter.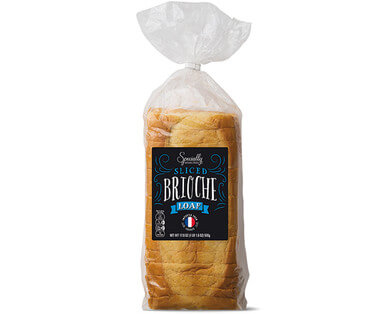 My current personal favorite is the sliced brioche bread from Aldi. It's so perfect for French toast. It's thick and doesn't fall apart. You want to make sure you get the sliced loaf because they do have twisted versions that are more like a loaf cake.
Whenever I make french toast, I tend to use thick sliced breads. I really like using sourdough bread. My other favorites are Pepperidge Farms breads.
How do you make Crispy French Toast?
It's shockingly easy! Make your normal French Toast batter and then after dipping the bread in the batter, you'll dip the bread in crushed up cereal.
Corn Flakes or Rice Krispies, or even Frosted Flakes work well. You'll just crush the cereal before dipping the bread into it. We like Frosted Flakes the best.
Next you'll basically fry it in some butter. When I make regular french toast, I just spray the pan with non-stick spray. But, as someone who has fried her fair share of chicken fried steaks and fried chicken with similar coatings, I knew this would not be good for making french toast with a cereal coating.
I found using a tablespoon of butter per slice of bread was best. When I make this, I mostly stick with using a very small frying pan and doing one slice at a time.
It's easier to watch the French Toast when cooking just one slice because, in my experience, crispy French Toast is less forgiving than regular French Toast. The cereal can turn black pretty quickly.
I don't own an Air Fryer, but I suspect this might work well in one of those, too.
How do you prevent French Toast from being soggy?
First, you don't want to soak the bread in the batter dip. You just want to dip it on each side very quickly, shake off the excess over the bowl before dipping into the crushed cereal.
Second, this is all about having the pan hot enough. If it's not hot enough, it's slower to fry the french toast, which will make it soggy and not crisp.
How do you cook Crispy French Toast?
While I'm making the batter, I go ahead and turn the fire on and get my pan hot. All stoves are different, but I usually set my burner just slightly above medium.
When I'm ready to start cooking, I first melt the butter and then quickly dip the bread in the batter, shake off excess, and then dip in the crushed cereal. Then, it's ready to fry.
I cook the French Toast on one side for about a minute and then flip it for another minute.
Another secret I have is to make sure you slide the spatula under the toast quickly, especially if making the crispy French Toast. If you do it slowly, you'll get squished french toast with the cereal falling off of it.
Yield:

6-8 slices
How to make Crispy French Toast
Ingredients
6-8 slices brioche bread
2 eggs
1 cup milk
1 tablespoon flour
1 tablespoon Maple syrup
1 teaspoon vanilla
6-8 tablespoons of butter
1 1/2 cups of crushed cereal (Frosted Flakes, Rice Krispies, or Corn Flakes)
Instructions
Set the burner to just above medium.
In a medium-sized bowl combine milk and flour.
Add eggs, Maple syrup, and vanilla and mix until well combined.
Crush about 1 1/2 cups of Frosted Flakes (or Rice Krispies or Corn Flakes) in a ziplock bag.
Pour the crushed cereal into a bowl for dipping.
Melt a tablespoon of butter in a small skillet.
Quickly dip the bread into the batter on each side.
Then dip each side into the crushed cereal.
Immediately drop the bread into the skillet.
Flip the bread after 1 minute. It should be a golden brown.
Flip the bread one last time to make sure both sides are a golden brown.
Then repeat with the rest of the bread.
Dust with powdered sugar.
Serve immediately with warm Maple syrup.