The other day we had hot dogs out on the grill, and I decided to whip up some Grilled Cheesy Broccoli Baked Potatoes. The best part is that they only have 5 ingredients!
They start out as baked potatoes and then instead of being "twice baked," we grill them to finish them off. My family really enjoyed them, skins and all! They love baked potatoes.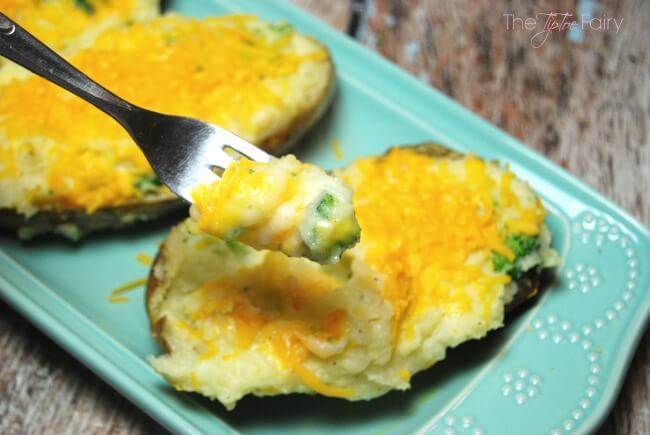 To avoid the oven, I cook baked potatoes in the microwave. It doesn't heat up the house, and it takes less than 15 minutes to make them.
For this recipe you can bake potatoes like you normally bake them, or you can try my microwave method. I wash the potatoes, pierce them several times with a fork, and wrap each one in wax paper. Then, I cook them in the microwave together for about 6-7 minutes. After checking them, they usually continue baking for another 5-8 minutes until they are soft — depending on the size of the potatoes.
After you remove the potatoes from the microwave, use the microwave to steam about 1 cup of frozen broccoli for 6-7 minutes until tender.
Next, slice the potatoes in half and gently remove the mashed potato from the skins. Set the skins aside for now.
Add sliced butter, sliced cream cheese, milk, salt and pepper to the bowl of potatoes and let it melt while you grate 6 oz of a VELVEETA® brick.
Once they have melted significantly, start mashing and combining the potatoes. Then, while the potatoes are still hot add 1/4 cup of the grated VELVEETA® brick and continue mashing until it's thoroughly mixed.
Lastly, add the broccoli and continue mashing until it's in fairly small pieces.
Now it's time to spoon the mixture back into each potato skin. I fill them all up to the edges and then go back and top off where it's needed.
Lastly, top each potato half with about 2 tablespoons of the grated VELVEETA®. (Each potato half has 1 oz of VELVEETA® which is 1 serving)
Next it's time to grill them! Lay out a piece of foil over the grill plate to avoid any VELVEETA® or potato dropping down. Grill each potato about 7 minutes until VELVEETA® starts to melt and potato skins crisp up a bit. You can also bake them or microwave them if you don't have a grill.
Allow them to cool before serving. Here's the recipe:
More Potato Recipes
Recipes to go with Grilled Cheesy Broccoli Baked Potatoes
Yield:

6
Grilled Cheesy Broccoli Baked Potatoes
Do you love twice-baked potatoes? How about grilled twice-baked potatoes full of cheesy broccoli goodness?
Ingredients
3 large baked potatoes
1/4 cup milk
4 oz cream cheese, softened
1/3 cup butter
6 oz VELVEETA brick, grated
1 cup steamed frozen broccoli
1/2 tsp salt
1/4 tsp black pepper
Instructions
Bake the potatoes your usual way. I do mine in the microwave.
Start the broccoli steaming as soon as the potatoes are done.
Slice each potato in half and carefully scoop the insides out into a bowl. Keep the skins intact.
Add butter, cream cheese, and milk to potatoes and mash until well combined.
Next, add salt and pepper and continue mashing.
Grate 6 oz of a VELVEETA® brick.
Add 1/4 cup of the grated VELVEETA® brick and continue mashing.
Add the broccoli and keep mashing until the VELVEETA®, potatoes, and broccoli are all well combined.
Scoop the potatoes back into the skins, carefully.
Then top with 2 tablespoons of VELVEETA® on each potato.
While grilling the rest of your meal, lay a piece of foil on the grill where the potatoes will go.
Grill for about 7 minutes until VELVEETA® starts to melt.
Remove from grill and allow to cool a few minutes before serving.