This is a sponsored post written by me on behalf of Faultless/Bon Ami Company for IZEA. All opinions are 100% mine.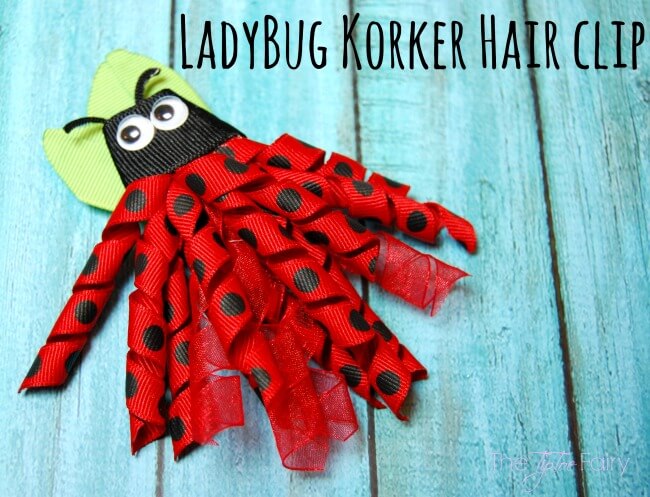 Hair bows are so much fun to make, especially korker bows. I have a secret to how I keep them staying nice and curly — Faultless Premium Starch! Before and after they've finished baking, I give a quick spray of starch. I swear it prevents grograin ribbon from fraying. I love using Faultless because it doesn't clog, flake, or stick, and it has a great light, fresh scent.
My littlest one loves to wear hair bows, and today I'm bringing you a cute one. It's a korker ladybug on a leaf. Here's to make it.
Ladybug Korker Hair Clip – on a leaf
Supplies
3-4 yards red with black dot grosgrain ribbon
1 yard red sheer ribbon
8 inches 1-inch black grosgrain ribbon
6 inches 1 1/2-2 inch green grosgrain ribbon
black elastic cording
4 1/4-inch dowel rods (12 inches long)
8 clothespins
1 alligator hair clip
hot glue gun
adhesive googly eyes
Directions:
1. Preheat the oven to 275 degrees.
2. Next, fasten one end of the ribbon with a clothespin to the end of the dowel rod and roll it all the way down the dowel rod. Cut it off and clothespin it to the dowel rod. Do this for 3 dowel rods of the red with black dots and for 1 dowel rod of sheer red ribbon.
3, Next, spray each dowel rod with Faultless Premium Starch on the top and then flip over and on the bottom. Don't soak them, just give them a good misting.
4. Now, bake for 15 minutes. At 15 minutes, remove from the oven, give them one more little spray of starch and let them cool for 15-20 minutes. Make sure they are completely dry before removing from the dowel rods.
5. Slide the korker off each dowel rod. Trim the ends and cut each korker and cut them into fourths. You should have a total of 12 red with black dots and 4 sheer red korkers.
6. Lay out a piece of black cord elastic. I usually cut it to be about 12 inches, so I have plenty. Next, lay all the korkers together on one side, so that there's about 1/2 and inch of the korkers over the black elastic, with two sheer on one side and two on the other side. Then, pull the elastic up, and tie a knot as tightly as possibly.
7. Trim the korker ends at the elastic as close to the tie as possible. Then, add some hot glue to keep them together.
8. Now take the piece of black 1-inch grosgrain ribbon and cut off a 2-inch piece and set aside. Now you'll use the 6-inch piece to cover the korker raw ends and form the head of the lady bug. Hot glue it and then fold over the raw edges and glue them in the back.
9. Now take the 2-inch piece of black ribbon and cut it like the picture. This will form the antennae. Take fray check and run it along the cut parts so they don't fray and the antennae with it wet, you can start to curl them inward.
10. Cut the antenna piece in half, and glue each piece so the antenna curls outward on the back of the ladybug head.
11, Add the googly eyes to the ladybug's head. Trim any of the bottom of the korker ribbons so they are even.

12. Take the green ribbon and cut it in 2 pieces, each 3 inches. (I could only find polka dot in my ribbon box, so I used the backside for the leaves). For each piece, fold it in half lengthwise and hot glue just at the fold. Then, take one side of the ribbon and fold it back on itself and hot glue it open. This forms the look of a leaf. Next, round the edges and use a fray check to seal the round edges.
13, This step is optional. Line the alligator clip with hot glue and a scrap of ribbon.
14. Glue the leaves together like the picture. Then, glue the ladybug to the leaves.
15. Attach the ladybug to the clip.
Now you're done!
There are so many uses for Faultless Premium Starch. It doesn't flake or clog, and it will keep you clothes looking new – it's the starch that performs and by looking your best, you will perform your best! You can find it in the laundry aisle of major retailers – find a store!
Right now Faultless Premium Starch is giving away $1,000 along with a year's supply of Faultless Premium! You can enter to win! All you have to do is visit the Faultless Starch Giveaway page and enter to win, watch the video of Ironing Board Sam singing the "Wrinkle Blues," and enter your information!
For more tips & tricks visit Faultless on Facebook. Don't forget to grab a Faultless Premium Coupon for $0.55 off Faultless Premium Starch!
Do you ever use Faultless starch for your crafting? How do you use it?