It's always nice to have some alternatives when having a barbecue. One easy idea is to make Spinach Portabella Mushroom Patty Melts. Mouthwatering portabella mushroom caps stuffed with spinach queso – made with VELVEETA Queso Blanco. This is a sponsored post.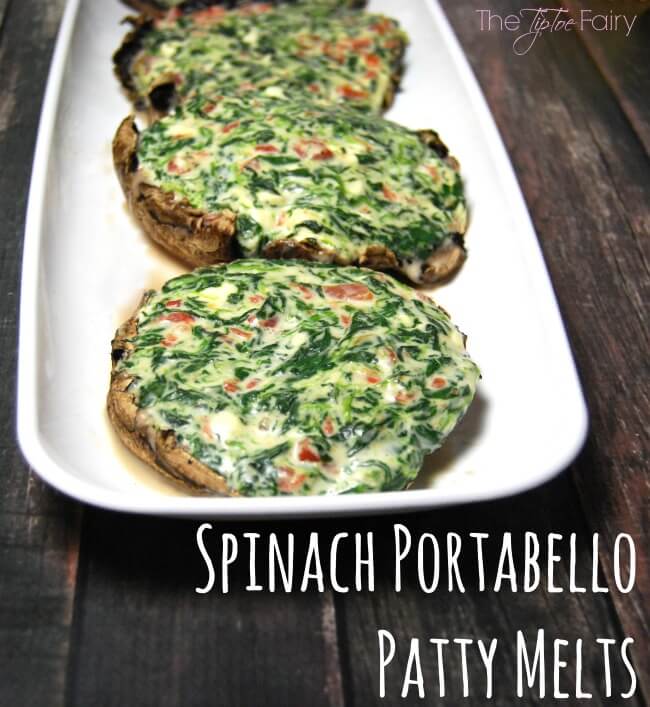 To create this recipe, I wanted a thicker sauce so that it wouldn't easily run out of the mushrooms, and this one seems to work perfectly. I used less VELVEETA® and more spinach to get it just right.
My family really enjoyed them when I served them for dinner. In fact, Mr. E thought they would be great as a burger with a bun, too.
What ingredients do you need to make Spinach Portabella Mushroom Patty Melts?
How do you make Spinach Portabella Mushroom Patty Melts?
For this recipe, I used 4 portabella mushroom caps. Before getting started, make sure to remove the stem and clean the gills out of the cap with a spoon.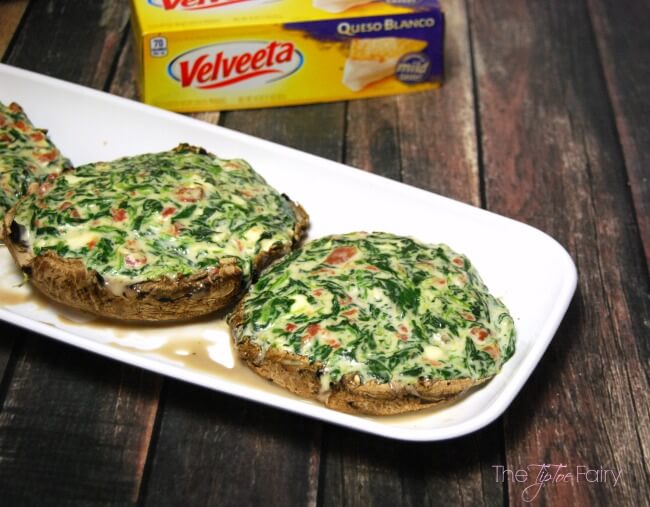 First, you can easily pop the stem out with your fingers, and then just run a spoon around and it will remove them.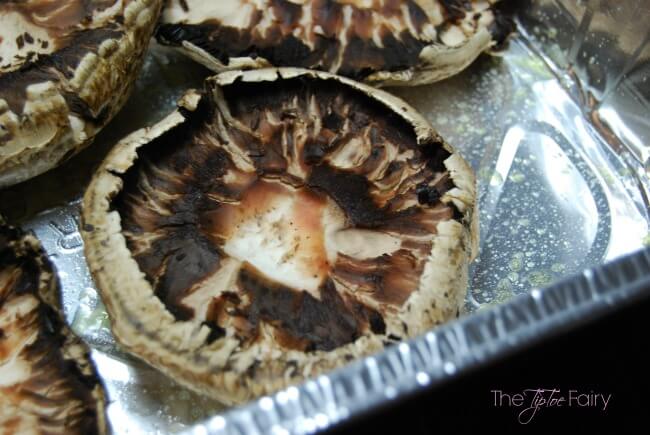 Make sure to heat up the grill to about 400, so it can preheat while you're working. Then, defrost the chopped spinach in the microwave on high for about 5-6 minutes.
While that's defrosting, cube the cream cheese and VELVEETA Queso Blanco. Then drain the can of tomatoes and chilies.
Once the spinach is ready add the tomatoes and chilies, cream cheese, VELVEETA® Queso Blanco, and garlic powder. Mix it all together.
Then, microwave for 3-4 minutes on high, and stir it up. Microwave again for an additional 1-3 minutes until it's all smooth and melted.
Spray a metal pan with olive oil spray to prevent the portabellas from sticking. Spoon the dip into each mushroom cap, about 4 tablespoons. (Each mushroom cap has 1 oz of VELVEETA® which is 1 serving.)
Once all the mushroom caps are filled, take them out to the grill. Just place the pan directly on the heat and shut the lid. Let them cook for about 7-10 minutes. Check them after 6-7 minutes.
The spinach queso will look a little darker, and it will have thickened up just a bit. The portabellas should be a little darker and a bit wrinkled on the sides. Also, there should be brown liquid in the pan where the water has escaped out of the portabellas.
Remove them from the grill and serve immediately.
More Recipes for the Grill
More Velveeta Recipes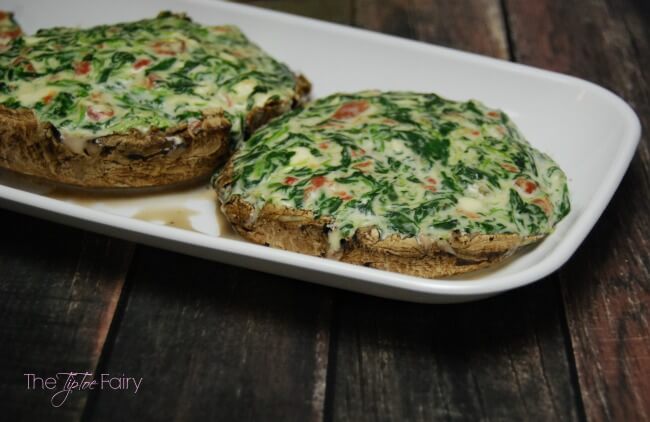 Spinach Portabella Mushroom Patty Melts
Ingredients
4 portabella mushrooms
4 oz VELVEETA® Queso Blanco brick, cubed
8 oz cream cheese, cubed
10 oz frozen chopped spinach
1 can of chopped tomatoes and chilies, drained
1/2 teaspoon garlic powder
Instructions
Preheat grill.
Defrost frozen spinach for 5-6 minutes on high in the microwave in a large bowl.
Cube the cream cheese.
Cube the VELVEETA Queso Blanco brick.
Drain the can of tomatoes and chilies.
Add the cream cheese, VELVEETA Queso Blanco, tomatoes and chilies, and garlic powder to the spinach and mix until combined.
Microwave on high for 3-4 minutes. Then stir.
Microwave again on high for 1-3 minutes until cheese is completely melted. Stir until smooth.
While the spinach queso is in the microwave, wipe the tops of the portabella caps with a damp paper towel to get any excess dirt.
Then, pull out the stems, and use a spoon to gently remove the gills.
Spray a metal pan with olive oil.
Fill each portabella cap with spinach queso - about 4 tablespoons.
Place each portabella in the metal pan. Then place the pan directly onto the hot grill. Shut the lid.
Allow the caps to cook for 7-10 minutes. Checking every 5 minutes or so.
Remove from pan and serve immediately
Nutrition Information:
Yield:

4
Serving Size:

1
Amount Per Serving:
Calories:

329
Total Fat:

27g
Saturated Fat:

15g
Trans Fat:

0g
Unsaturated Fat:

8g
Cholesterol:

77mg
Sodium:

435mg
Carbohydrates:

11g
Fiber:

3g
Sugar:

5g
Protein:

14g
Any nutritional information on thetiptoefairy.com should only be used as a general guideline. This information is provided as a courtesy and there is no guarantee that the information will be completely accurate.
Come Join Us!
Liked this article and want more? Follow along on Instagram, Facebook, Twitter, Pinterest, TikTok, and YouTube!
Come over and join us on Facebook in the group Recipes, Crafts, and more with TipToe Fairy or Sewing and Crafting with The TipToe Fairy!
Visit Our Other Blogs!