I was given complimentary admission for my family in exchange for an honest review. All opinions are 100% mine.
Along the seawall in Galveston, there's a boardwalk amusement park called the Pleasure Pier. We spent one of our last days in Galveston there after battling Tropical Storm Bill.
We arrived in Galveston with the storm, so the first day we tried to go the Pleasure Pier, they actually recommended we come back another day since most of the rides were not open due to the weather. The next day the rain was gone, so we headed out for our visit.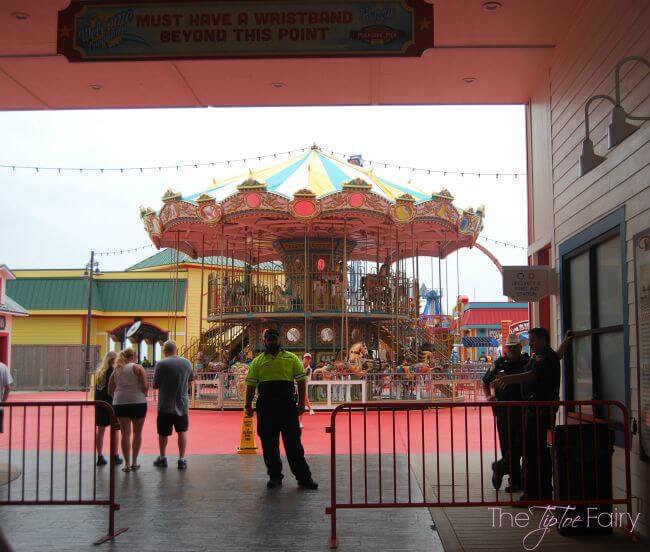 There is one price for those 48 inches and taller and a cheaper price for kids under 48 inches. If you purchase the wristband to ride all day long, you can leave and come back as you like.
When you first enter, you see this double decker carousel. None of us had ever seen one, and it looked so fun. There were dragons and dolphins and unicorns to ride. My 5 yr old couldn't wait to get on.
At the front of the park are a few kiddie rides. My 5 yr old had a blast riding the cars and the teacups. My teenager didn't realize she had to ride with her, but she made the best of it!
There's even a small bumper car ride for little kids, and a big one for the big kids and grown ups. It was my son's first attempt driving a bumper car, and he wasn't sure if it was okay to run into people, LOL!
When we arrived my older two saw the Rock n Roller and couldn't wait to try it. It goes super fast forward, then it stops and goes super fast backward. They loved it!
At this point, it was very humid, and being in the middle of all the rides, there wasn't a whole lot of wind. So, we headed down to the very end of the pier with the ferris wheel. Our family of 5 could all ride together.
The ride is fairly long as they have to load everyone and then it goes around 3-4 times. We all enjoyed it, and it was great to cool off.
There was another family ride, which was a log ride called Pirate's Cove. However, it had to be shut down while we were there, so I didn't get a good picture. They had a pirate on the bench my 5 yr old had to grab a picture with.
My son saw the Iron Shark rollercoaster and couldn't wait to get on. My teenager and I took my 5 yr old to ride the carousel again.
The Revolution was a little too scary for any of us to ride, lol.
They have the typical amusement park food – hot dogs, popcorn, etc. There is also a Bubba Gump Shrimp restaurant at the front of the property. If you eat there, you also get your parking for free. We chose to eat there for lunch. It was our first experience. My husband and I challenged each other on the Forrest Gump movie trivia from the waiter.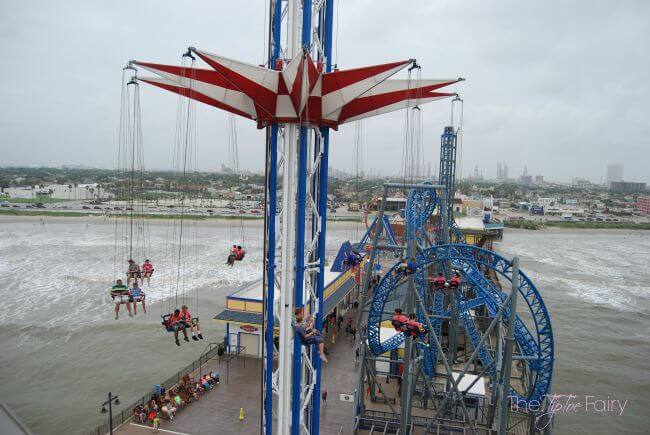 This is a view of the Texas Star Flyer from the ferris wheel. It's a swing ride that goes way, way, way up high. I had ridden one of these at our local amusement park, and it scared the heck out of me. With the line so short, my kids decided to give it a try. My son loved it. My teenager was terrified.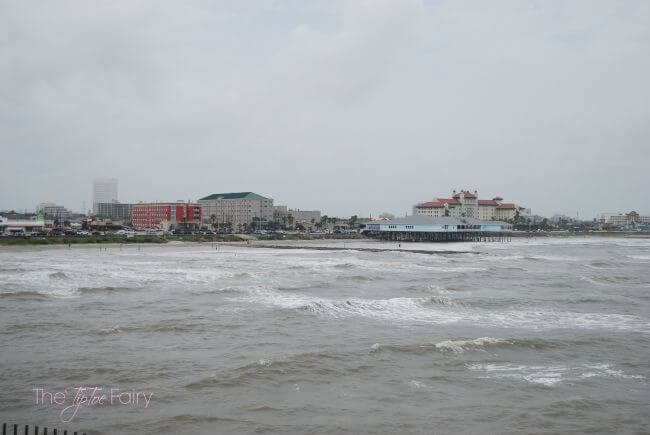 One of my favorite things was they had an area full of rocking chairs out toward the back of the pier. The breeze was perfect, and you could watch surfers down at the beach. While Nate and Mr. E rode the Iron Shark, the girls and I had some ice cream while we watched the surfers.
There were a few other thrill rides such as the Sea Dragon, which was a swinging boat, and the Cyclone which was a looping roller coaster type ride. You can check out all the fun rides HERE! There was a lot of fun things to do, and it kept us busy most of the day.
If you're visiting Galveston, Texas, check out the Pleasure Pier for a fun-filled adventure! Be sure to check out their ticket deals for packages and specials!