This is a sponsored post for Blog Meets Brand and Sony Pictures. All opinions are my own.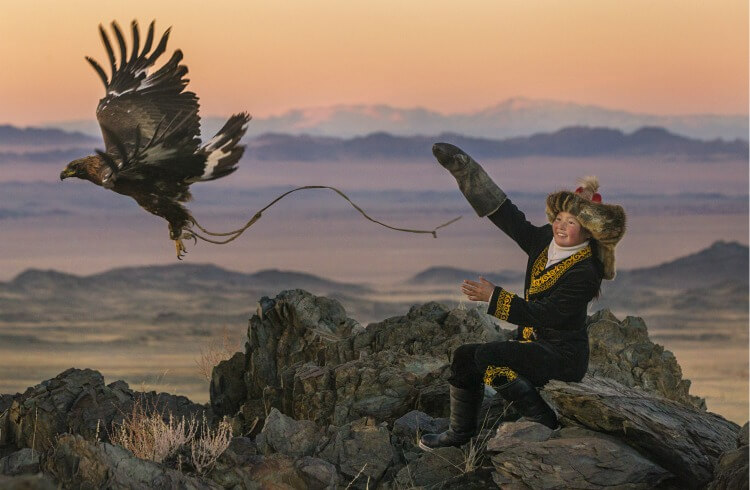 Recently, my teenage daughter and I watched The Eagle Huntress. It's an amazing story of female empowerment in an unlikely place. It follows a 13-year-old girl named Aisholpan from a Kazahk family as she trains to become the first female eagle hunter in her family in 12 generations.
It's a beautiful documentary with striking cinematography. I'm never one to notice such things, but the vast expanse of Mongolia is just amazing when Aisholpan and her father are traveling through it.
We were both surprised at the support from her family because they come from a place steeped in tradition. Her family totally stands behind her and believes in what she can do. They completely support their daughter to be anything she wants. It was also sweet to see her with her big group of girlfriends, and they were all excited for her, too. In fact, most everyone seemed to be accepting of her dream to be an eagle hunter.
Neither my daughter nor I had ever heard of the tradition of eagle hunting. The hunters are usually always men and their sons. They each raise an eagle they catch in the wild as a young eaglet for 7 years. During this time, it helps them hunt food to survive the cold winter months. After 7 years, the eagle hunter sets the eagle free to live in the wild again.
Aisholpan's story begins as she climbs down a dangerous cliff to get her eaglet and then begins training to become a successful hunter. She convinces her father to let her attend the big Eagle Hunter festival and compete in a competition with other eagle hunters who are mostly all grown men. She's just 13 years old and the only girl in 70 competitors.
When she arrives at the competition, you can feel the stares as all the men see that there is a girl competing. I don't want to give it away, but it's inspiring to watch her grow in the competition. You definitely see the gender bias come out when they interview a few older eagle hunter men who scoff at the notion that a girl could ever be a successful eagle hunter. When she's successful in the competition they STILL scoff at her that she'll never be a "real" eagle hunter out in the cold desolate wilderness. By this time my daughter was really invested in the movie, and their comments drove her nuts.
After the movie ended, my daughter could not wait to research if more girls were becoming eagle hunters now that Aisholpan was successful. It really moved both of us to see a girl succeed in something that is traditionally so male dominated. It might have been my pregnancy hormones, but I definitely had to fight the tears back when she worked so hard in the hunt with her dad.
As a bonus, Sia sings the closing song. When the credits began to roll, my daughter was excited to hear the ending song by Sia – Angels by the Wings.
This is the perfect movie to show your daughters true girl power! You can get your own copy of The Eagle Huntress on Blu-ray, DVD & Digital.