This is sponsored post for SheSpeaks/Beth Kobliner.
I grew up with a mom who loved retail therapy and still does. While she could afford to be that way, it led me to not think much about finances as a kid or teen. I wasn't a big spender even as a kid, but I also didn't realize the importance of money and finances.
However, I got a hard lesson in money management when I married someone who was completely financially irresponsible. He hid it from me while dating and in the early years of marriage, so I had no idea what I was in for until I got a notice in the mail of a loan he got in my name. It was a very scary lesson. I had to pick myself up and quickly learn to be financially responsible so I could clean up the mess he had done to my credit.
Now I am in a completely different marriage with a wonderful man who works in finance for a living. When we were dating he was a bankruptcy counselor who helped people learn to budget. Now he works at a large brokerage service helping people grow and manage their money.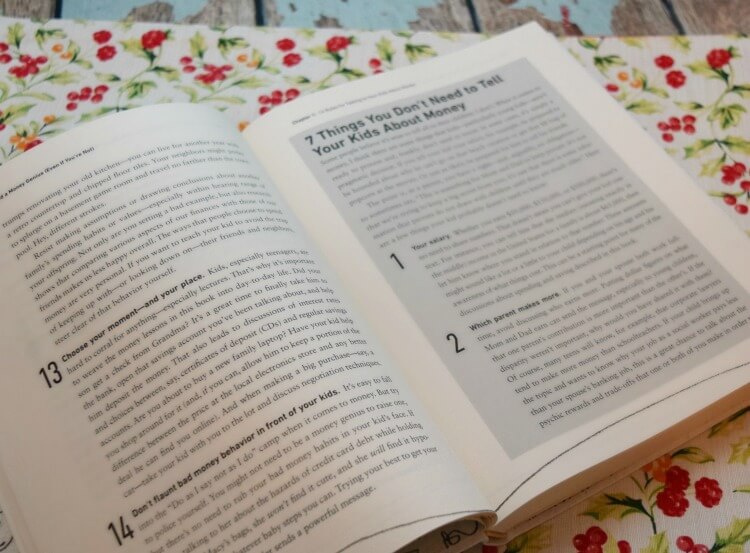 Over the years, we have tried to teach our children the importance of making good choices, saving money and being frugal. Our oldest is about to go off to college next year, and I do not want her to have the pitfalls that can trap college kids into debt.
When I first cracked open the spine of Make Your Kid a Money Genius (Even If You're Not) I was a bit nervous to see if the advice would be anything like what we are doing with our kids. It's by the personal finance expert, journalist, and bestselling author Beth Kobliner and is based on the latest research from the fields of psychology, child development, and behavioral economics.
I was pleasantly surprised with the easy step-by-step guide this book provides to teach kids about money. There's even advice on what NOT to talk to them about when it comes to money. One thing I loved about this is book is that it easily breaks down how to talk to your kids about money at different ages from toddlers all the way up to college and young adults.
I found we are already doing very similar things with all three of our kids, who range in age from elementary age to high school. It also had some really great helpful advice for our soon-to-be college kid — things I hadn't even thought about it. These were topics like when to get a credit card and insurance issues, such as if your homeowners policy includes your child's things in their dorm room.
Another thing I really liked was the guide for your child's first paycheck. Last year our oldest had her first summer job, and while I explained her taxes, this book does a great job showing her exactly what is being taken out of her paycheck each week. Plus, it had some great common sense ideas to get them thinking about putting money away into savings with each paycheck.
I was curious to read the author's viewpoints on allowances, chores, and even paying for good grades. We do not give our children allowances nor do we pay for chores or good grades. I was excited to see the author talk about chores as necessary because you are part of the family. This is something we stress with our kids all the time.
Finances are so important to teach even at a young age. Make Your Kid a Money Genius (Even If You're Not) is an easy, enjoyable read with a great common sense approach to teaching your kids about money, even if you feel like you have no idea what you're doing. It's a great reference for every stage of your child's life with teachable moments for important aspects of life like self control and weighing choices carefully.
You can get your own copy of Make Your Kid a Money Genius (Even If You're Not) at Amazon and Barnes & Noble as well as most local bookstores or large retailers such as IndieBound and Books-A-Million.
For more money and financial advice and tips, make sure to follow Beth Kobliner on Facebook, Twitter, Instagram and Pinterest.