This shop has been compensated by Collective Bias, Inc. and its advertiser. All opinions are mine alone. #AuthenticSalsaStyle #CollectiveBias
I was at the store the other day picking up ingredients for fajitas because sometimes I just get a craving for them. While I was over by the tortillas, I saw naan bread. On a whim I decided that instead of regular fajitas we were going to have fajita flatbread.
I was able to pick up everything I needed from Walmart in one trip, from beef skirt steak to HERDEZ® Salsa Casera. It's one of our favorite salsas because it tastes so fresh, delicious, and has authentic flavors.
Have you ever marinated steak in salsa? It adds a little kick and makes it taste amazing! Check out how to make this amazing meal!
I like to use skirt steak for fajitas. Some people like flank steak, but I just find skirt steak better. When I'm not in a hurry, I make up my own fajita seasoning, but often, I will just buy a packet of fajita seasoning and rub the skirt steak down on both sides with it, quick and easy!
Then, I like to marinate the steak in a plastic baggie with a citrus juice and salsa to tenderize it. I like using pineapple juice because it's a bit sweeter than orange juice. Add the steak to the juice, and then pour the HERDEZ® Salsa Casera over the steak. Seal up the bag and try to remove as much air as possible, and then shake it up. Let it sit in the fridge for just a couple hours.
I've read that when marinating steak in something acidic like citrus juice and salsa, you should only marinate it for 2-3 hours or the steak can actually do the opposite of tenderizing and become tough from the acid.
While the skirt steak is marinating, get your other ingredients ready. Chop up brightly colored bell peppers and onions. I also chose to use shredded queso quesadilla cheese because it melts more evenly and quicker. Other favorites are sliced up fresh avocados and pickled jalapenos. This gives everyone lots of choices for preparing their fajita flatbread.
When you're ready to grill, get the grill as hot as it will go. We had it reach 550 F degrees. Pour off the liquid from the steak and pat the steak dry. Then, sear the skirt steak for 1 minute on each side — this gives it those great grill marks. We prefer our steaks cooked medium, so we left it on the grill for an additional 4-5 minutes. "Beef. It's What's For Dinner." has a great chart for grilling times you can check out.
Once it's cooked, let it rest for about 5 minutes before slicing it into small pieces for the flatbread. I cut ours into 1-inch chunks.
Turn the grill down to about 300 F degrees and keep the grill lid open. Next, it's time to prepare the fajita flatbread! Instead of tomato sauce, we used a second jar of HERDEZ® Salsa Casera as the base, and then added cheese, fajita meat, and veggies.
After we had added all our toppings, we grilled them for about 8-10 minutes until the naan bread was crispy and cheese was gooey and melted. About half of that time we had the grill closed to allow the cheese to get good and melted.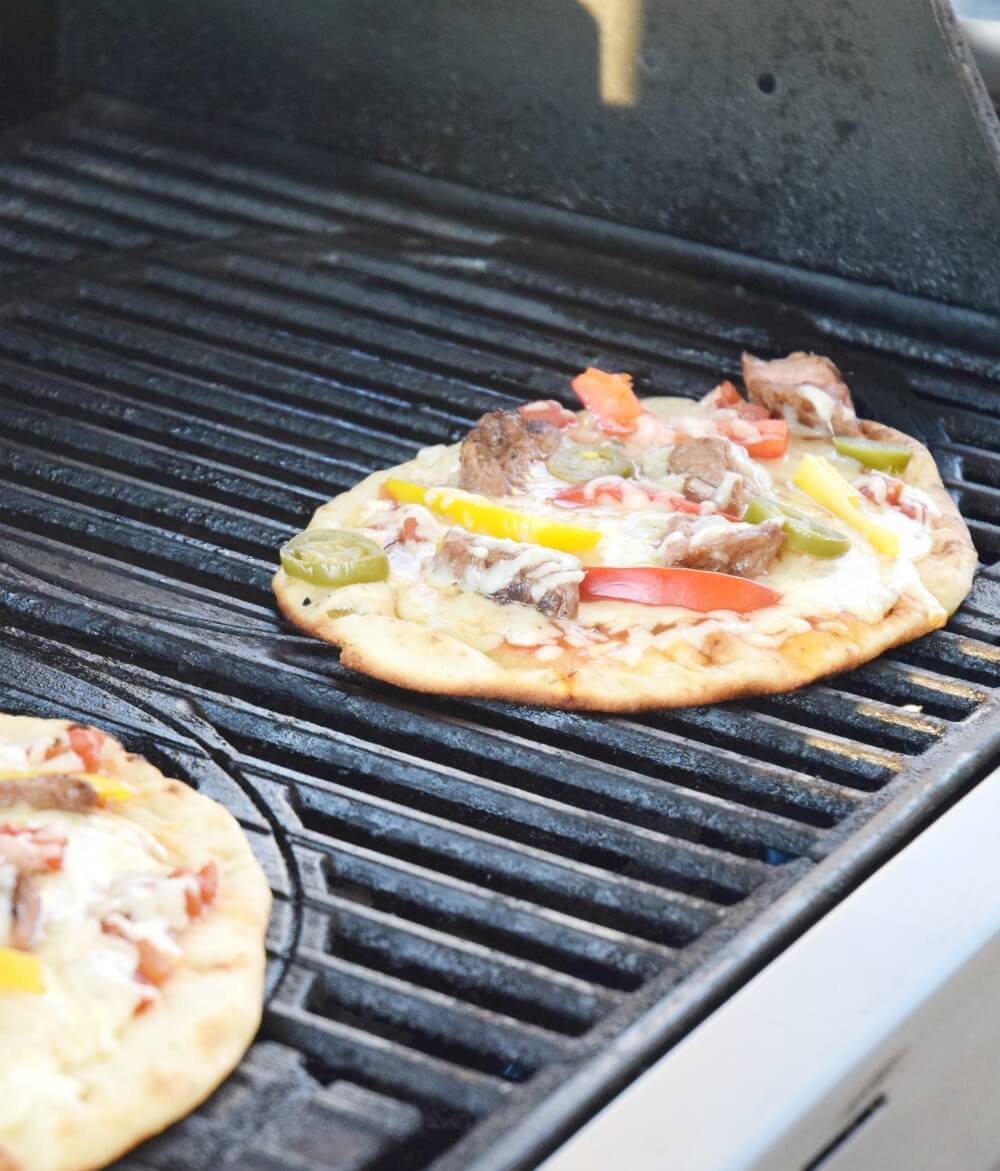 Print
Grilled Fajita Flatbread
---
1

beef skirt steak

1 1/2 cups

pineapple juice

1

package fajita seasoning

2

jars HERDEZ® Salsa Casera

6

naan bread

16 oz

queso quesadilla cheese

1

small onion, chopped

1

red bell pepper, sliced

1

yellow bell pepper, sliced

1

large avocado, cut into chunks
jalapenos
---
Instructions
Rub both sides of skirt steak with fajita seasoning.
Place the skirt steak into a large plastic baggie with the pineapple juice and 1 entire jar of HERDEZ® Salsa Casera.
Marinate for 2 hours in the fridge.
In the last 30 minutes of marinating prepare the vegetables — slice onions, chop peppers, slice and cut avocado into chunks.
Fire up grill and get it as hot as possible, close to 550 F degrees.
Pour out juices and remove skirt steak from baggie. Pat dry.
Sear the skirt steak for 1 minute on each side.
For medium, cook steak an additional 3-4 minutes. Longer if you want the steak done more.
Allow steak to rest for 5 minutes before slicing and cutting into 1-inch pieces.
Turn grill down to 300 F degrees.
Prepare fajita flatbread with a base of HERDEZ® Salsa Casera, then queso cheese, and topped with veggies and fajita meat.
Grill for about 10 minutes or until naan bread is a little crispy and cheese is melted.
Serve immediately.
Recipe Card powered by
Then, it was time to slice them up and dig in! This was an amazing meal! We had leftover meat and had more fajita flatbread the next day. The combination of the crispy bread and the salsa and fajita meat were just wonderful together!
This is such an easy meal and perfect for fall tailgating. You can easily set up a buffet for family and friends to make their own fajita flatbread just how they like it! Plus, one skirt steak can be cut up to feed a lot of people if you're on a budget.
HERDEZ® Salsa is perfect for enjoying time with your family and friends. Get recipe inspiration and beef nutrition information at "Beef. It's What's For Dinner."