This post may contain affiliate links in which I make a small commission if you purchase from that link. This helps me keep the blog content free.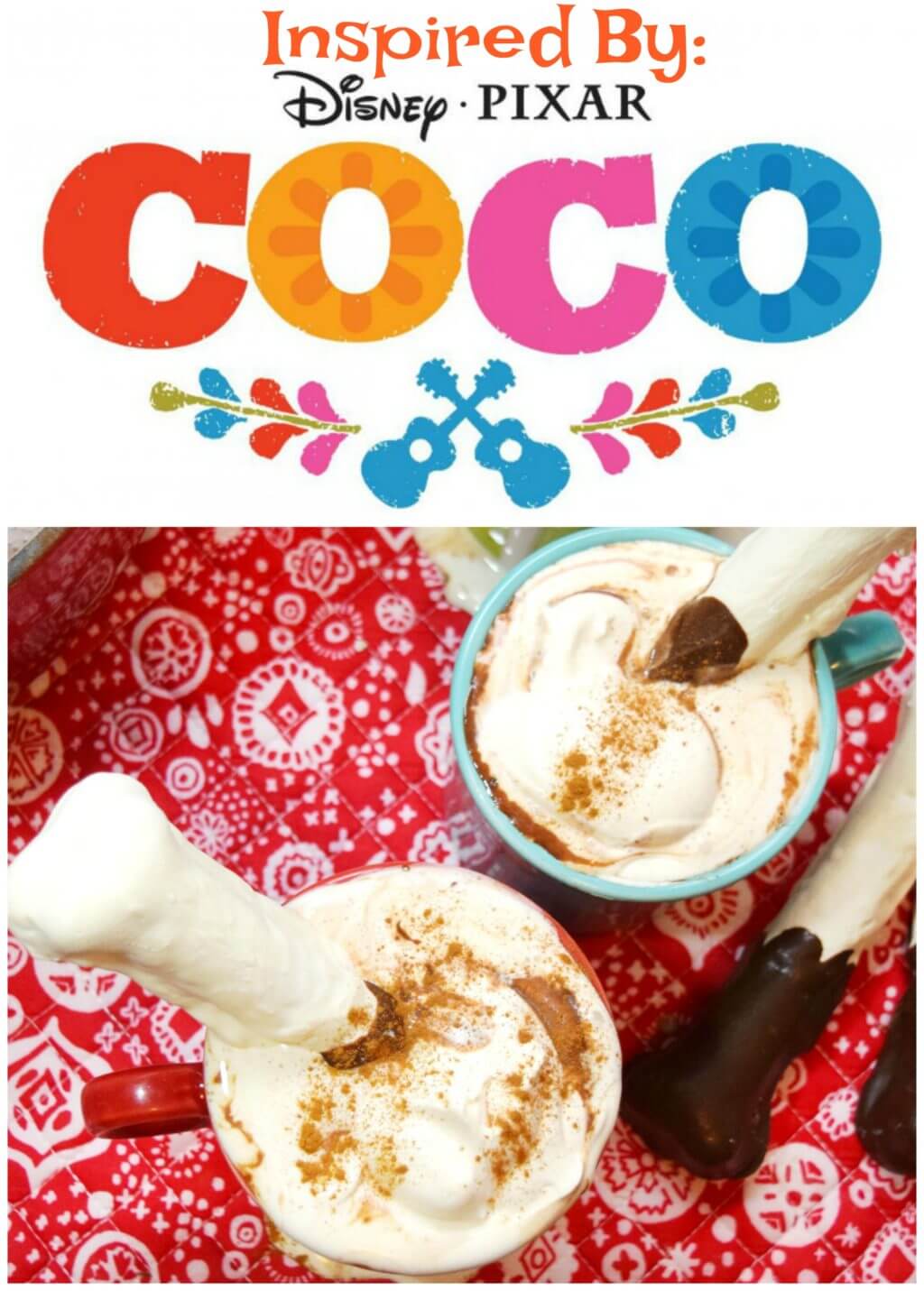 For Thanksgiving, we went to see the new Disney Pixar Coco movie. It was a wonderful story about the importance of family. It was not scary for little ones. My husband thought it was the best movie he's seen in a long time, and he cannot wait to go back and see it again. Living in Texas, the Mexican culture is all around us, so this movie was a beautiful reminder of Dio de los Muertos – the Day of the Dead.
You can download these fun Disney Pixar COCO activity sheets here.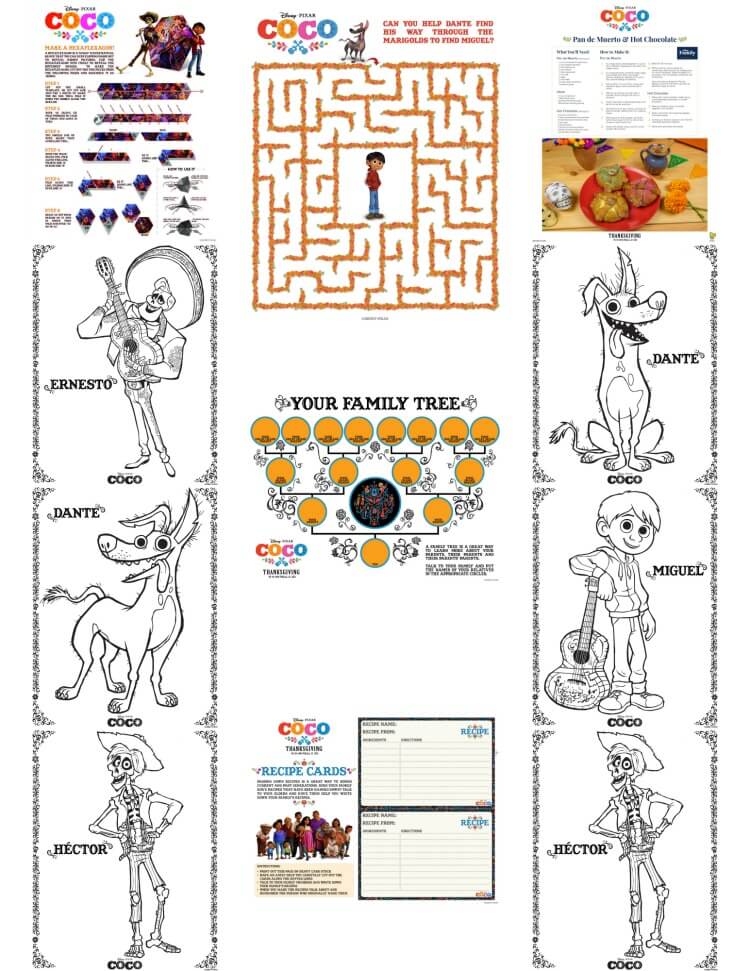 To celebrate this amazing film, I whipped up a large batch of Mexican Hot Chocolate. It's thick and rich and usually made with melted chocolate bars instead of cocoa. Plus, it has the addition of cinnamon and cayenne pepper. My middle daughter and I are both wimps when it comes to spiciness, so we left off the cayenne pepper in our Mexican Hot Chocolate.
Mexican Hot Chocolate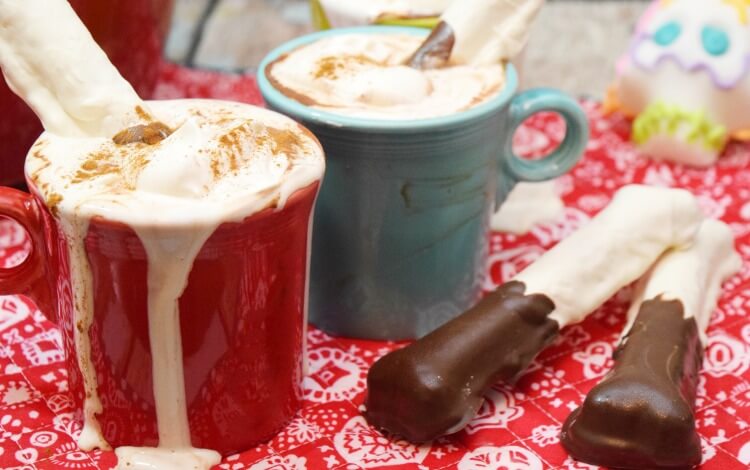 If you're wanting to serve some thick, rich and creamy hot chocolate this winter season, this makes a batch to feed a big family. You can easily half or quarter the recipe for a smaller crowd. If this comes out too rich for you, you can add additional milk or water to thin it out.
Once you've made the hot chocolate, you can keep it on the warm setting on the stove for awhile. But, prior to finishing it up, I recommend stirring often to prevent any chocolate from dropping to the bottom of the pan.
To top off our Mexican Hot Chocolate, I whipped up a batch of Dulce de Leche Whipped Cream and added a Sugar Cookie Bone Dipper and a dash of cinnamon.
Because this movie was full of bones, I also made some Long Bone Sugar Cookies dipped in chocolate to stir into our hot chocolate. My kids LOVED this. We actually had it for breakfast, and it was delicious. Scroll down for the recipe and easy directions.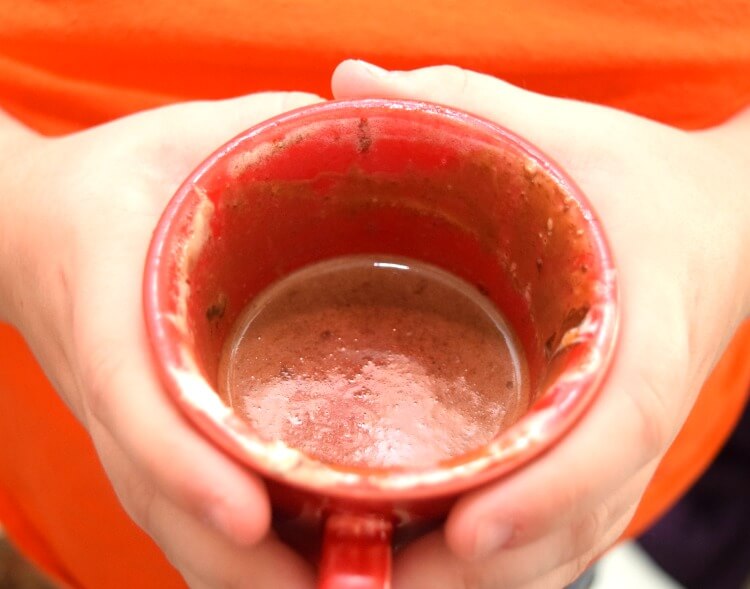 Sugar Cookie Bone Dippers
For the bone sugar cookies, I just used a package of sugar cookie mix from the store. After chilling the dough, I put it into this Wilton Bone pan.
I found this pan on eBay for cheap with free shipping, and you can probably find it for a steal there as well since it's more of a "Halloween" type item.
I learned a lot while making these sugar cookies.
Only fill the bone part about 3/4 full because cookies grow and you want it to just be the bone shape.
Let them overcook just a bit until they are golden brown. Otherwise, they'll be soft and chewy and the bones will just break apart in the middle.
Freeze the bones prior to dipping in the chocolate.
If you want to skip the bone pan, I found this method to make the bones by hand!
I let the bones bake until they were golden brown so they would be a bit crunchier and sturdier. Then, I put them in the freezer for 10-15 minutes before the chocolate dipping.
I melted bright white candy melts in a mug and dipped them. I put them in the freezer for 10 minutes to harden the white chocolate and then dipped them in dark chocolate and put them in the freezer again.
They kept nicely for a few days before we used them as "bone dippers" in the hot chocolate.
Print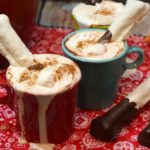 Creamy Mexican Hot Chocolate
---
20 oz

bittersweet chocolate chips

1 quart

of heavy whipping cream

3 cups

milk

2 tablespoons

dulce de leche

3 teaspoons

cinnamon

1/2 tsp

cayenne pepper (optional)
---
On medium low heat in a large pot begin to melt the chocolate chips.
When they start to melt, add 1 cup of heavy cream and stir often as the chocolate continues to melt.
Add a teaspoon of cinnamon and continue stirring.
Add the rest of the quart of cream and keep stirring until the chocolate is smooth.
Add the other 2 teaspoons of cinnamon and the rest of the cream.
Stir until everything is well combined.
Add the dulce de leche sauce and optional cayenne pepper. Keep stirring.
Add the milk slowly as you stir it in. Once it is all well combined, turn fire to medium, stirring often, and let it keep warming until you see steam rising for about 3-5 minutes.
Remove from fire and ladle into mugs and top with some dulce de leche whipped cream and a dash of cinnamon.
Recipe Card powered by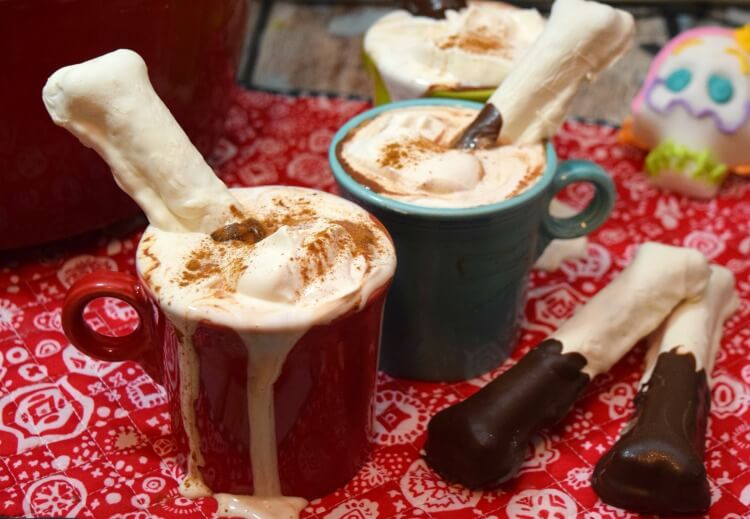 Don't forget to get to the movie before the previews so you can see the new Frozen short – Olaf's Frozen Adventure! Olaf is so adorable!

Have you seen Disney Pixar COCO yet? I'd love to know what you think about in the comments!