Everybody knows that women tend to get a bit emotional during pregnancy. At nearly 30 weeks, I totally admit I'm a crazy person some days.
This past weekend, I literally dumped out the entire linen closet and made my husband help me put it back together. I had organized that closet about a year ago with under shelf baskets and cleaned out the old stuff, so everything would fit. And what do my kids and husband do? They just shove stuff where ever it will fit. This drove me insane, and I finally had enough this past weekend.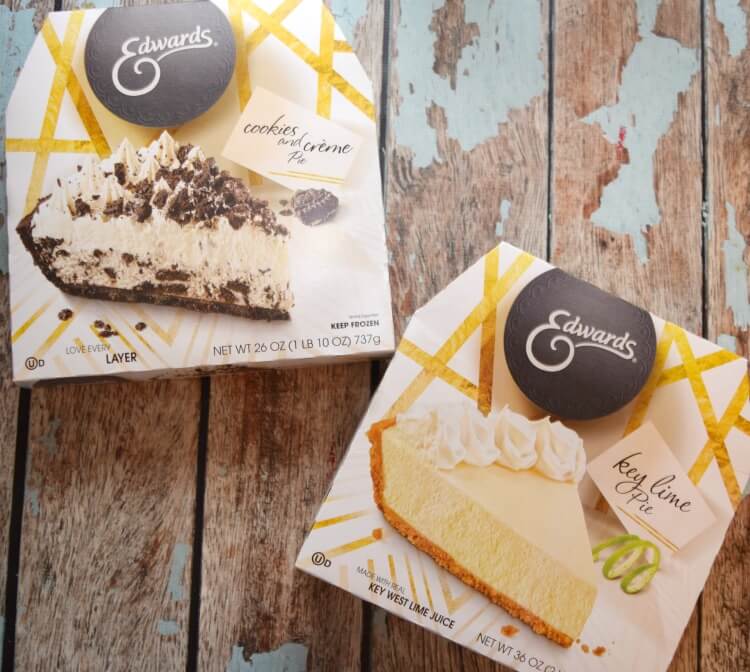 Then, I made my husband and the kids help me clean up our bedroom — like trash bags for donations and take furniture outside to give away clean up kind of day. It was totally cluttered, and we hadn't dusted in awhile. Plus, we have to make room for the new baby's crib and dresser as our babies stay in our room for the first two years before we move them into their own bedroom.
After being on a bit of a rampage or you could call it nesting, I decided for Pi Day today, they all needed a "piece" offering from me. I picked up their favorite EDWARDS® pies — Key Lime Pie and Cookies and Crème Pie.
Everyone picked a slice of their favorite. Key Lime Pie for my husband, Cookies and Crème Pie for my 6 year old, and a little slice of each for my teen. Our oldest teen had to miss Pi Day as she has been on a marching band trip to Florida this week.
EDWARDS® pies have been a family favorite for years. Just look at that pie! They taste absolutely amazing and delicious with a fresh-from-the-oven cookie crumb crust, and they are always filled with velvety layers of creamy richness and dusted with decadent toppings.
Did you know their best selling pies are the EDWARDS® HERSHEY'S Chocolate Crème Pie and EDWARDS® Turtle Pie? They are definitely popular in our family.
Celebrate Pi(e) Day with your family and friends with a "Piece" Offering! They'll love you for it!
No matter what disagreements happen in my family, I know we'll agree on one thing: Edwards Pie is absolutely delicious. Follow @EdwardsDesserts on Facebook for the latest updates and a Pi Day surprise!