This is a sponsored post on behalf of Soapbox Insights + Influence and The Women Bloggers. All opinions are my own.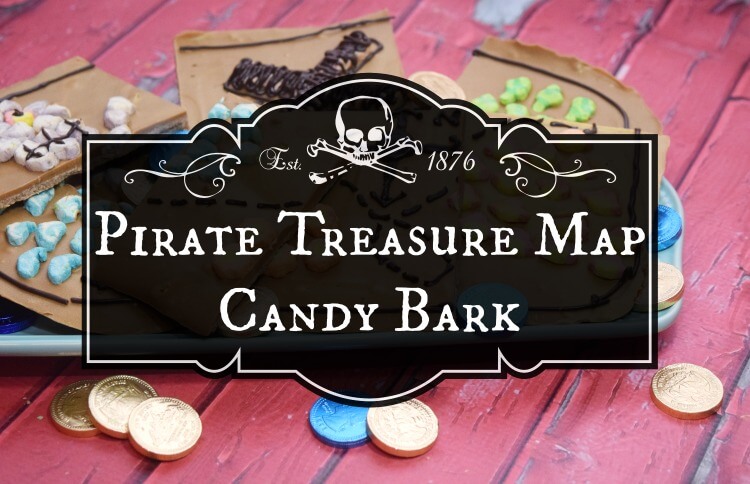 Breakfast is always the most important meal of the day. Cereal is our favorite go to for most school mornings and many times for after school snack, too. We've even had cereal for dinner, too. It's quick and easy, and it tastes great.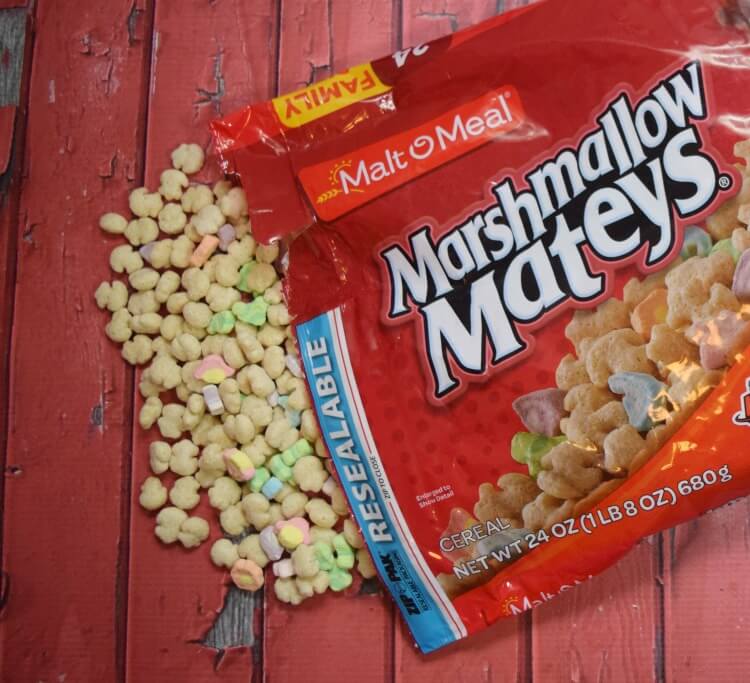 I just love Post and Malt-O-Meal cereals. Most Post Cereals feature whole grains, essential vitamins and minerals and no high fructose corn syrup. You can find them at Walmart. I like Malt-O-Meal cereals because they actually have a zipper seal (yay!). They are also easier to put in my pantry since they aren't in a box, and the best part is they're so inexpensive!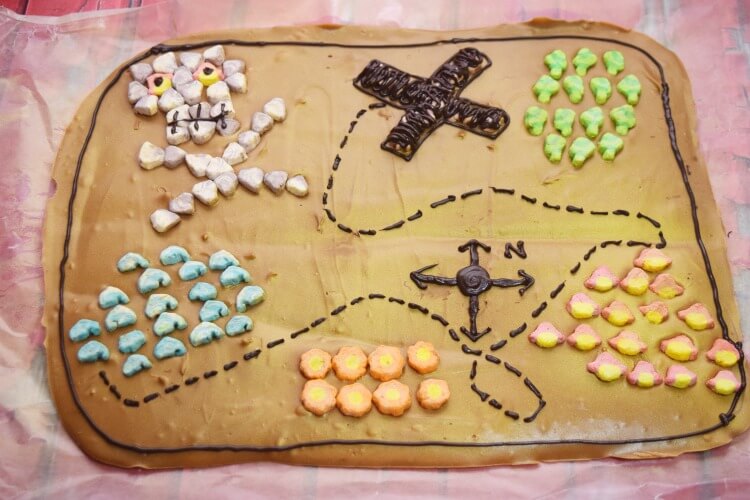 Cereal is one of the best ingredients to use to make fun treats. When we picked up a bag of Marshmallow Mateys, I got the cutest idea to make a Pirate Treasure Map Bark made with the marshmallows! This is so easy, your kids can totally help create the map. It's just perfect for that pirate themed birthday party. You can customize this so many ways, but here's how I made ours: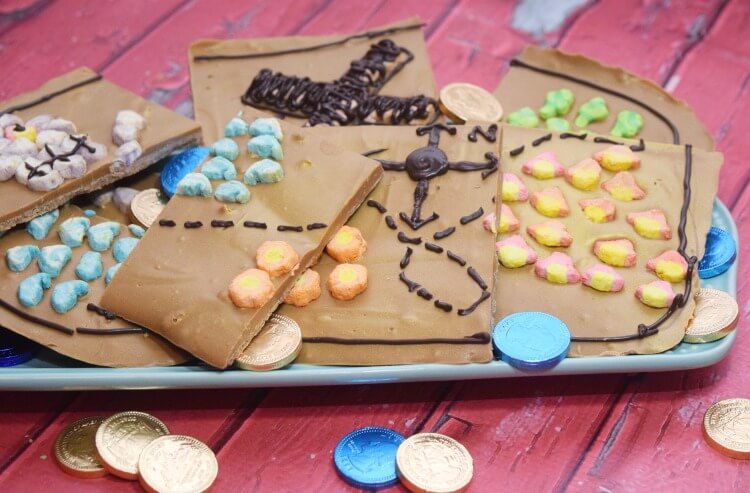 First, lay out a piece of wax paper on a cookie sheet.
Then, it's time to separate the marshmallows from the "mateys." I did this while watching the latest Barbie movie with my daughter. It was about mermaids, so it definitely put us in the mood for a pirate treasure map.
Next, you'll further separate the marshmallows into their own kind. I discovered that you should do this right when you're going to make the pirate treasure map bark because the marshmallows tend to stick together and shrink a little after being handled.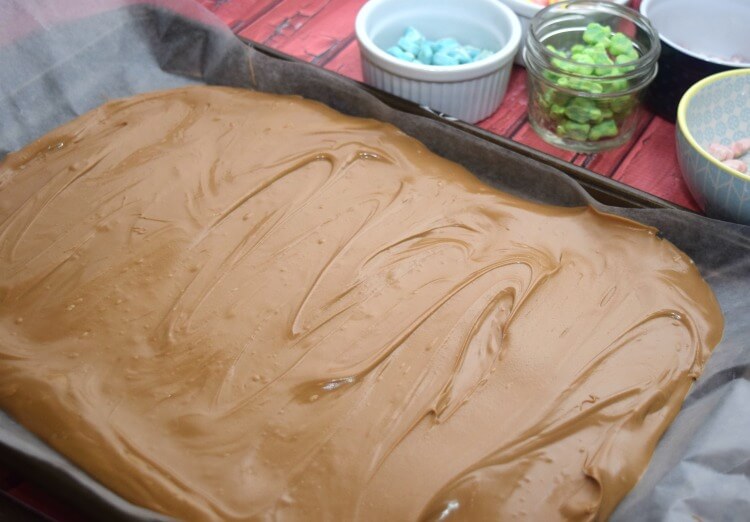 I went on a hunt for sand-colored chocolate melts. There were two flavors I thought would work, light cocoa and peanut butter, and we went with peanut butter. Melt them according to the package directions in the microwave. I used two bags of candy melts to cover one cookie sheet.
Once the candy melts are smooth and creamy, pour the entire contents onto the wax paper and spread it and smooth it out with a spatula or knife.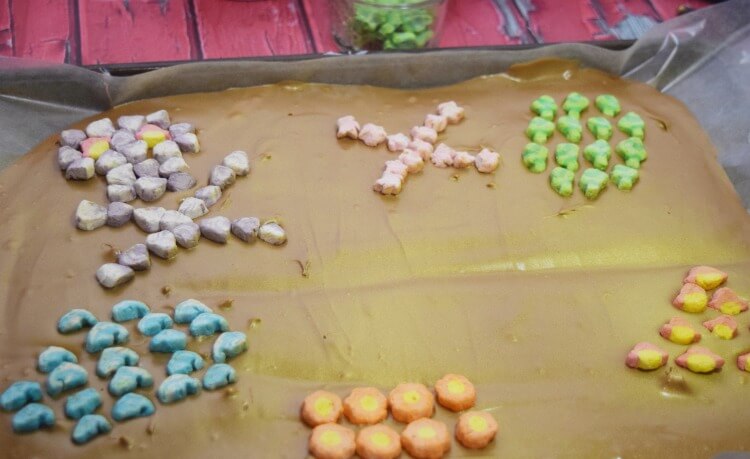 Now you've got to work fast adding various land markings like with the marshmallows. Marshmallow Mateys has quite the variety of marshmallows, so I was able to create a few land markings. I did a forest with green marshmallows, a water area with blue, and my favorite was that I was able to create a skull and cross bones with some diamond-shaped marshmallows. Make sure you add an "X" made from marshmallows because pirates always have an "X marks the spot."
Once you're satisfied with the land markings, put the bark in the freezer for 10-15 minutes.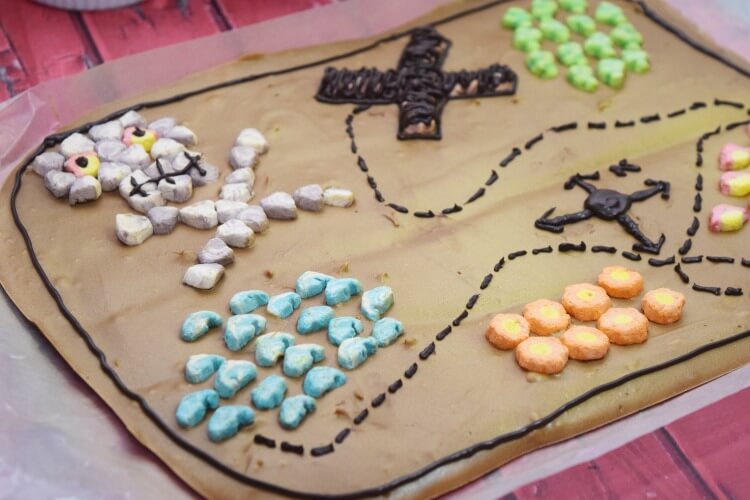 Take half a bag of dark chocolate candy melts and melt them in the microwave according to instructions. When they are smooth and completely melted, transfer them into a small piping bag. Cut just the very tiny tip off the bag.
Pipe a dotted line that meanders all across the treasure map from land marking to land marking until you arrive at the "X." You can also add other things like a compass rose, outline the map or other things like the "X."
Once you're satisfied with your pirate treasure map bark, you can add a little sparkle with some edible gold spray paint. You can find it in the baking aisle. Next, pop your treasure map back into the freezer for a few minutes.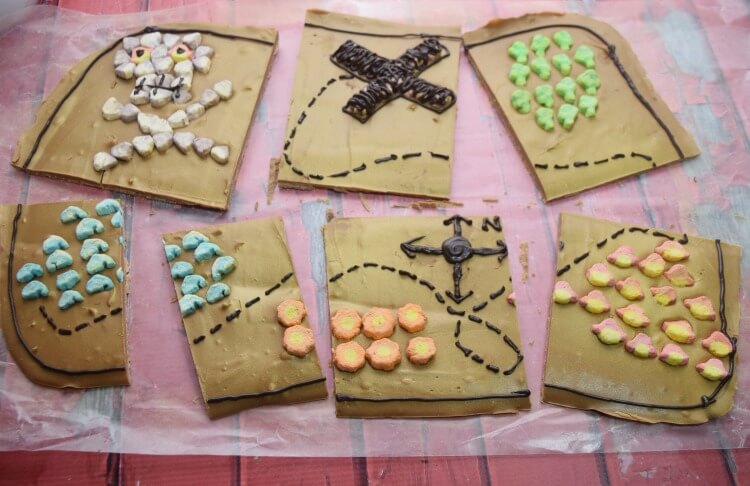 Then, using a large knife, cut your treasure map into pieces for everyone to share.
Ingredients
2 bags light brown/sand colored candy melts
1/2 bag dark chocolate candy melt
1 bag of Malt o Meal Marshmallow Mateys
Optional: Edible Gold Spray
Instructions
Sort the marshmallows from the cereal.
Then sort each marshmallow type into small bowels.
Cover a cookie sheet with wax paper.
Pour the two bags of sand colored candy melts into a large microwave bowl.
Follow the package directions for heating in the microwave.
Stir the candy melts until they completely melted and smooth.
Pour the melted candy onto the wax paper and using a spatula or knife smooth it out into a rectangular shape.
Work quickly and begin adding the different marshmallows to the map such as ones for water, one for trees, or one for mountains.
Make sure to create an "X" marks the spot with some marshmallows.
Freeze the bark for 10-15 minutes until hard.
Next, melt half a bag of dark chocolate candy melts according to directions.
When they are melted and smooth, pour the contents into a disposable frosting bag and cut off just the tiniest part of the tip.
Pipe a dotted line all over the map leading to the "X marks the spot."
Add additional piping for outlining the "X" or a compass rose, etc.
For a little sparkle spray some edible gold spray paint gentle on the map.
Freeze for an additional few minutes.
Break into pieces and serve.
Looking for other recipes and ideas for Post and Malt-O-Meal cereals? Check out all these great cereal ideas!