This shop has been compensated by Collective Bias, Inc. and its advertiser. All opinions are mine alone. #GoldfishGameTime #CollectiveBias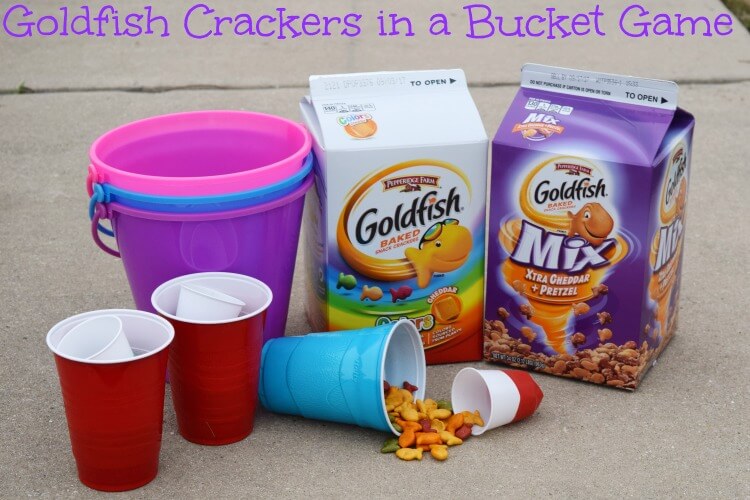 My kids have always loved Goldfish® crackers as a snack, and they still do even now. I always get our Goldfish crackers at Walmart. They were happy to see me bring home a couple different varieties the other day. Then, I told them about my plan to turn their favorite snack into a game. Surprisingly, they were excited! Win-win!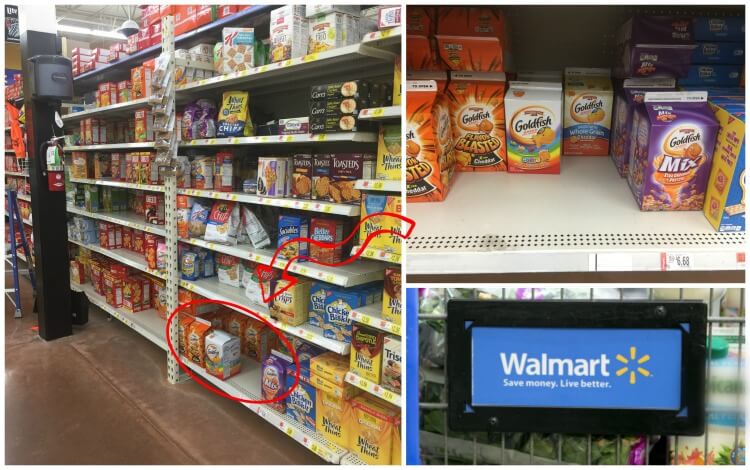 My kids also love to be competitive with one another, so we enjoy making up fun games together. We end up giggling and having such fun with each other. They love tossing food in the air, so I thought a game of Goldfish Crackers in a Bucket, might be a fun and silly thing to do. The Snack That Smiles Back®
You can find everything to create this game at Walmart! Here's what you need:
1 small cup per person

1 large cup per person

1 "bucket" per person — We used small sand pails.

balloons

scissors

Goldfish

® crackers – We used the

Goldfish

Colors, but you can use any variety.
I found those little plastic bathroom cups worked best for our Goldfish cracker shooters. We tried wax paper cups, but they folded inward from the tension of the balloons. Styrofoam cups might work well, too.
Cut the bottom off each cup.
Tie a balloon closed without blowing it up.
Cut the end off the balloon. Make sure you cut enough off that you can pull it over the bottom of the cup, but also don't cut too much so that it's too loose on the cup.
Then, pull the balloon over the cut off end of the cup like this.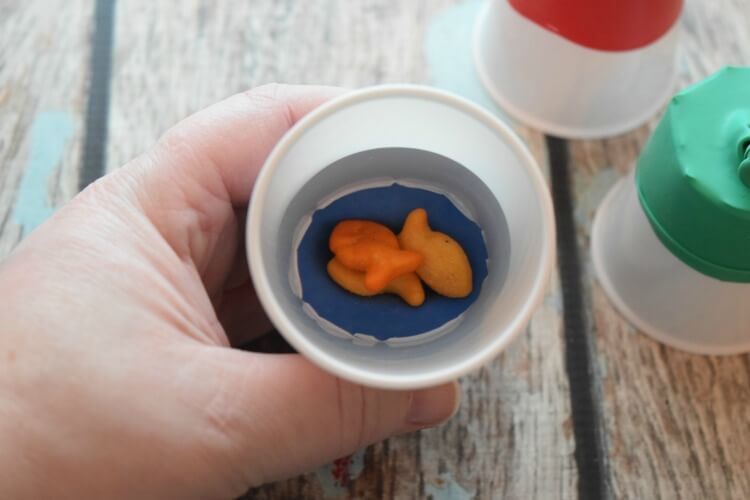 When it's time to shoot, the kids will add Goldfish crackers to the cup like this. They can add just one at a time or a few to shoot.
We headed outside to play the game, but you can do this inside as well. Just be prepared to clean up a few Goldfish crackers from missing the buckets.
When they're ready to shoot, each kid will pull back the tied part of the balloon and gently let it go to shoot the Goldfish crackers.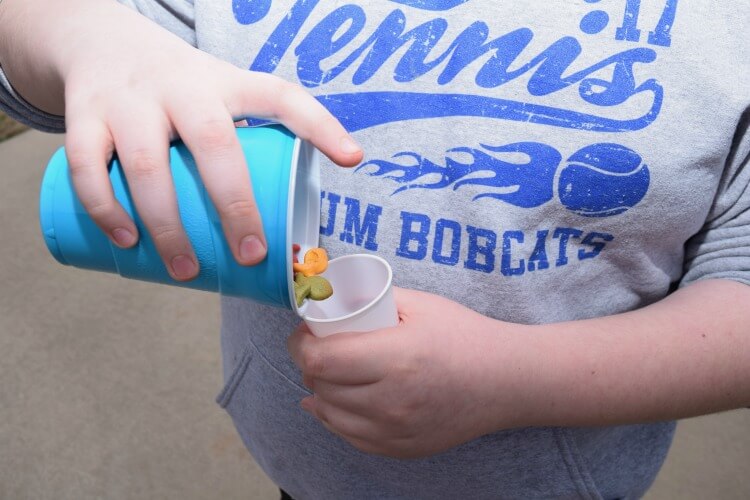 I filled larger cups with Goldfish crackers so they could easily transfer them into the shooter.
Then, I used my phone as a timer and each kid had 1 minute to get as many Goldfish crackers into the bucket. We played this game a couple of ways. We did a side by side competition where everyone had the same minute, and we also took turns and just gave each person a minute. I think they preferred the side-by-side competition.
After experimenting with using the buckets on the ground and someone holding it, we found a two-person set up was most fun because the person holding the bucket can move around to catch the Goldfish crackers in the bucket.
This was totally fun for both of my teens, and it challenged them! My youngest, who's 6, preferred holding the buckets and trying to move around and catch the Goldfish crackers for her siblings.
Who won? Ethan was the winner with the most Goldfish crackers in a bucket!
Once we were done, it was time to snack on some Goldfish crackers.
What other fun games can you play with Goldfish crackers? Check out these awesome Goldfish cracker ideas!