This shop has been compensated by Inmar Intelligence and its advertiser. All opinions are mine alone. #BacktoSchoolwithMission
One thing I love to do is encourage my kid's creativity in so many things. One of those ways is with foods. I love when they try new foods or want to try a new recipe or new food combinations.
Mini Foods
There is just something about "mini" food that makes my kids so excited. Are your kids like that? I think mini foods are just so cute and fun to eat, like Mission® Street Tacos Flour Tortillas.
Mission® Street Tacos are delicious tortillas in a mini size perfect for kids' breakfasts, lunch boxes or for an easy peasy after school snacks. Our whole family loves them.
Not only do we love them for taco night, we have them at breakfast and snack time, too, especially using Nutella® Hazelnut Spread. Mission® Street Tacos and Nutella Hazelnut Spread make it easy to give kids something different and delicious.
Mini Fruit Pizzas
One of our favorite ways to eat them for a meal or a snack is making Funny Face Mini Fruit Pizzas. They're perfect to get kids in a good mood at breakfast before school or for an after-school snack after a rough day.
What's great about it is these mini fruit pizzas take no time at all to make and require no cooking!
How do you make Funny Face Mini Fruit Pizzas?
I spread the Nutella on the tortillas and give one to each kid. Then, they can decorate however they like.
I usually keep fresh berries washed and ready to eat in the fridge for easy snacking. We pull those out of the fridge, and then I slice up other fruits like bananas, oranges, grapes, etc.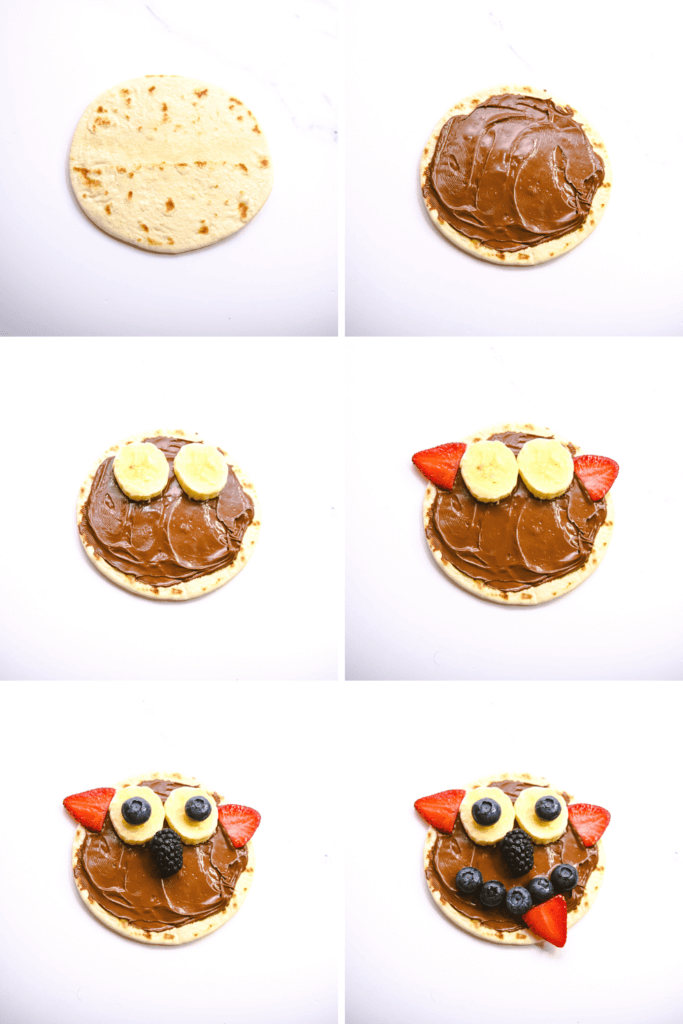 Here's a few ideas to add to your Funny Face Mini Fruit Pizzas:
sliced strawberries perfect for mouths or tongues
julienne strawberries work great for "hair"
sectioned clementines for mouths or wings
sliced bananas for eyes or cheeks
blueberries for eyes, hair, or smiles
blackberries for eyes or noses
sliced grapes for noses
How do you eat Funny Face Mini Fruit Pizzas?
Sometimes they like me to slice them up into pizza slices, or they just fold the mini tortilla in half and just eat it as it is.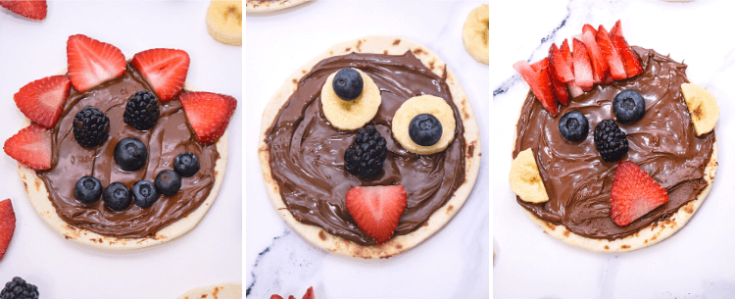 Yield:

12 mini pizzas
Funny Face Mini Fruit Pizza with Nutella
Ingredients
13 oz container Nutella Hazelnut Spread
1 pint of blueberries
1 pint of strawberries
1 pint of blackberries
3-4 bananas sliced
5-6 Clementines, peeled and pulled into slices
Nutella & Mission® Street Tacos – Perfect for Snacking!
The mini size of the Mission® Street Tacos make them so versatile with endless possibilities. They're just perfect for breakfasts and snacks for the kids along with Nutella to make breakfast and snack time a special time.
Be sure to follow Mission® Foods on Facebook, Instagram, Twitter, Pinterest, and YouTube.
Come Join Us!
Liked this article and want more? Follow along on Instagram, Facebook, Twitter, Pinterest, TikTok, and YouTube!
Come over and join us on Facebook in the group Recipes, Crafts, and more with TipToe Fairy or Sewing and Crafting with The TipToe Fairy!
Visit Our Other Blogs!