I saw a video to make a shark cheese ball. It inspired me to make my own, and then I had to show y'all. It's Shark Week, and what better snack than a Shark-Cuterie Board full of goodies while you watch?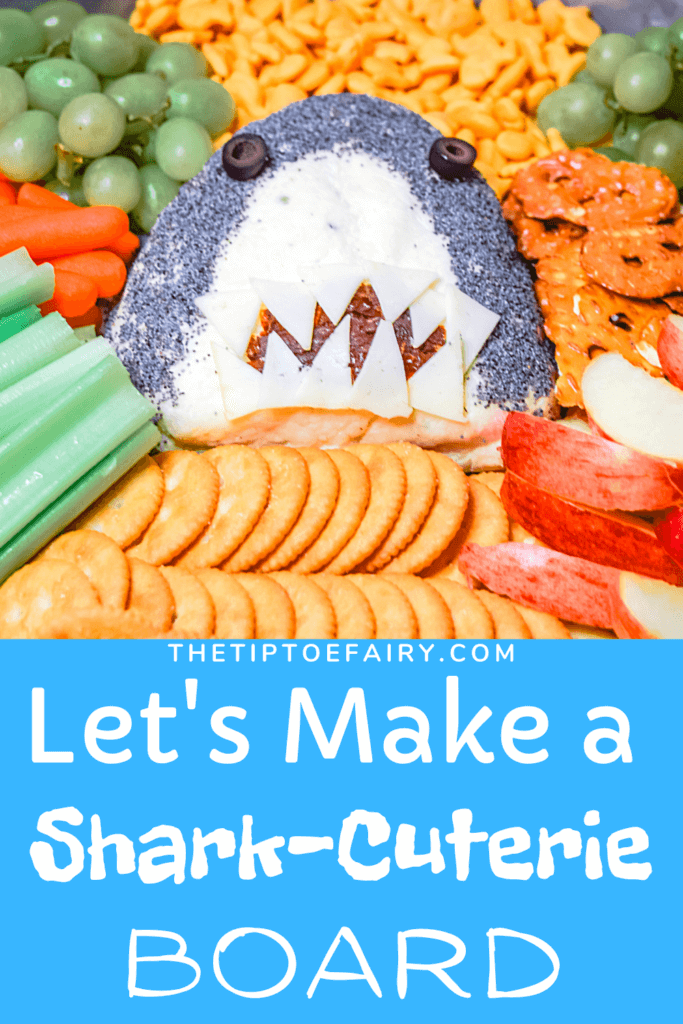 How do you make a Shark-Cuterie Cheese Ball?
You don't have to be a food artist to make this one. It's very simple to make.
Mix up all the cheese ball ingredients with an electric mixer. Then, lay out a piece of plastic wrap and transfer the mixture to it. Use your hands to shape the cheese ball into a giant flat thumb shape.
Once you're happy with the shape, wrap it entirely in the plastic wrap. Let it chill in the fridge for a few hours.
Now the fun can begin! We're going to turn that cheese ball "thumb" into a shark head. I recommend putting it on a piece of wax paper, so you can easily put it in the middle of the charcuterie tray or board.
Cut a piece of cardstock similar in shape to the cheese ball thumb that leaves about 1 inch around the two side edges. Lay the cardstock on the cheeseball and shake the poppy seeds all around the edges for the dark shark skin. Remove the cardstock.
If you can find sun dried tomato halves, I recommend those to form the mouth since they are rounded. Also, if you can find sun dried tomatoes that are dry and not in oil, they are a better choice.
Our grocery stores have been sold out of those for weeks, so I had to work with julienned sun dried tomatoes in oil and blot it off. Just form a mouth at the lower center using the tomatoes.
Use white cheese slices and make small triangles for the teeth about 1 inch in size. I used muenster cheese, but you can use mozzarella, provolone, white cheddar, etc. Lay the triangles around the sun dried tomatoes to make the shark teeth.
Lastly, add two black olive slices for the eyes.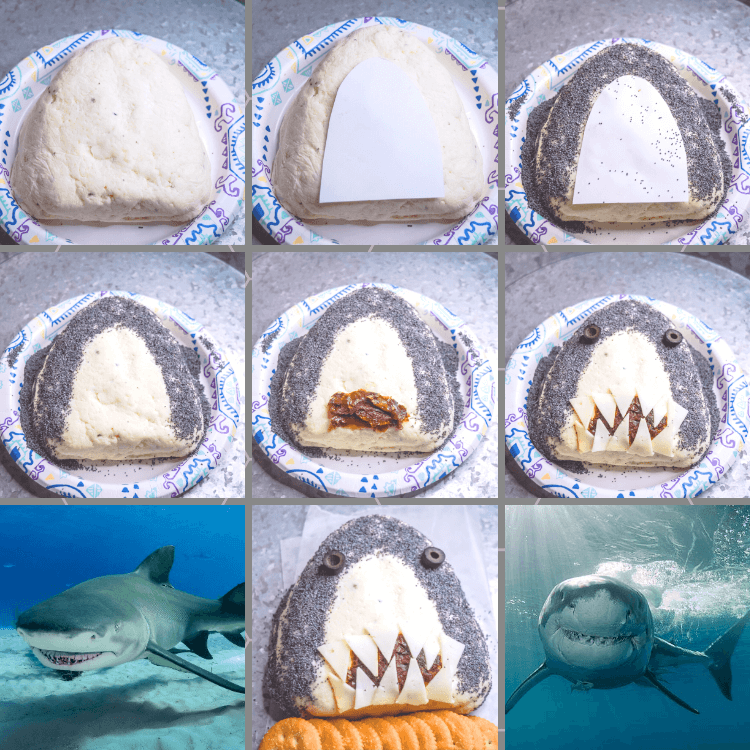 What do you put on a charcuterie board?
I like to put cheeses, crackers, pretzels, fruit, maybe some dips, sun dried tomatoes, veggies good for dipping into a cheese ball. You can add meats like salami and turkey and ham and crusty bread.
There are no hard and fast rules for making a charcuterie board. You can even make one with candy!
More Snacking Ideas
Looking for some easy appetizer or snack ideas? Check out these recipes: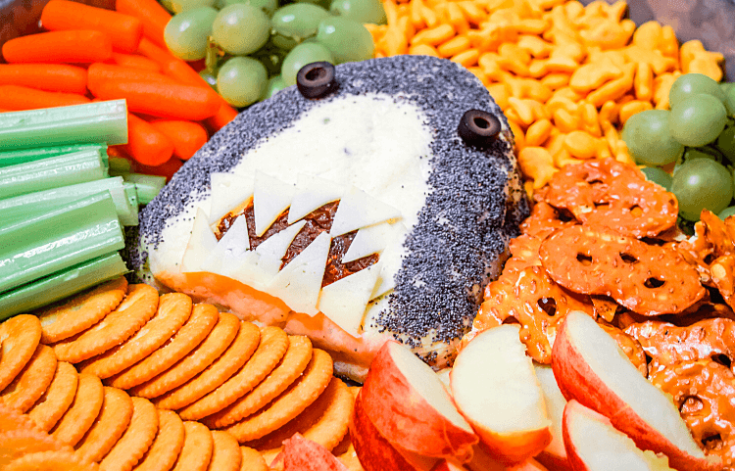 Yield:

1 cheese ball
Shark-Cuterie Cheese Ball
Total Time:
4 hours
10 minutes
Ingredients
8 oz cream cheese, softened
4 cups white cheddar cheese, shredded
1/2 tsp onion powder
1 tsp Worcestershire sauce
1/4 tsp salt
1/4 tsp seasoning salt
1/4 tsp black pepper
1 tsp finely chopped chives (or freeze dried)
gray/black poppy seeds
2 olive slices
1 slice of muenster cheese
sundried tomatoes
Instructions
Combine cream cheese, shredded cheddar, onion powder, salt, Worcestershire sauce, seasoning salt, chives, and black pepper.
Beat with an electric mixer until well combined.
Lay out a piece of plastic wrap and transfer the mixture to it.
Shape the mixture into a shark head shape.
Wrap in plastic wrap and refrigerate for at least 4 hours.
Transfer to wax paper when ready to decorate.
Take a piece of card stock and cut into a small triangular shape that is about 1 inch smaller on each side of the cheese ball shaped shark. Check the photo for example.
Lay that cardstock on top of the cheese ball and shake poppy seeds along the exposed part.
Remove the cardstock.
Add the sundried tomatoes close to the bottom edge for the mouth.
Cut triangle shapes from the cheese slice and form the shark teeth.
Add an olive slice on each side for eyes.
Add crackers, apples, celery, carrots, and more for dipping!