This is a fun little drink you can make the kids in seconds. They'll love pouring the blood syrup into their Shark Bite Drink! This post contains affiliate links.
My kids LOVE this drink every time I whip it up for them. And, it really doesn't even take a recipe to make.
What do you need to make a Shark Bite drink?
This Shark Bite drink is perfect for Shark Week or definitely for a Shark or Ocean-themed birthday party. The little test tube and plastic shark are a wonderfully fun party favor to take home.
How do you make a Shark Bite drink?
Start by preparing the test tubes. The test tubes and sharks I linked above perfectly fit together. It took me a few tries to find test tubes small enough to fit in a shark and sharks big enough to hold a test tube inside their bodies.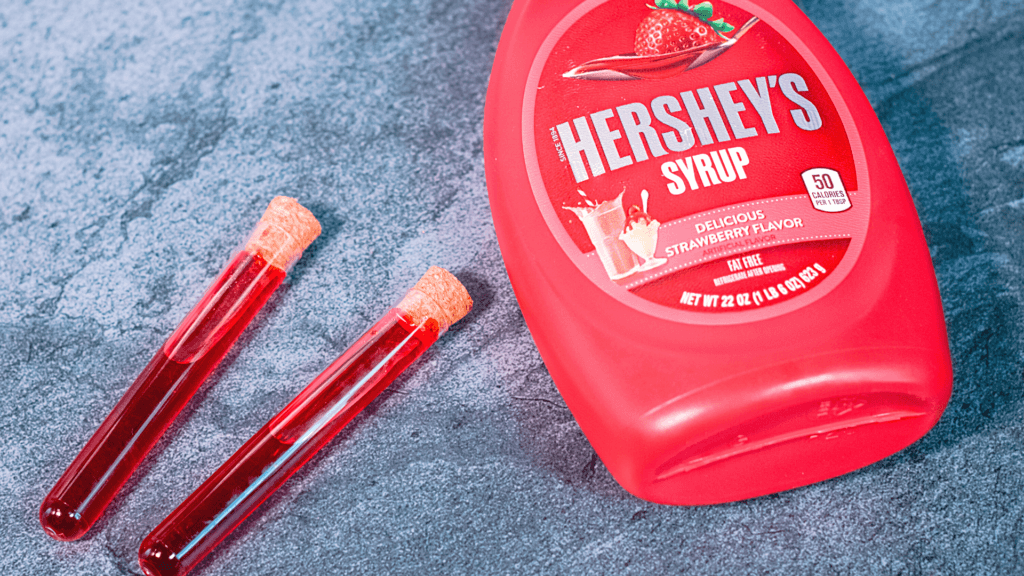 Start by filling each test tube with strawberry syrup. Leave about an inch at the top of each test tube, so you can easily close it with the stopper.
If you're preparing this for a party, you can make the test tubes of strawberry syrup up well before the party.
Place a test tube in the mouth of each shark.
When you're ready to serve the drinks, fill each cup with ice, but make sure to leave room that you can fit a shark in each cup.
Place a shark in each cup, and then fill each drink with blue Kool-Aid.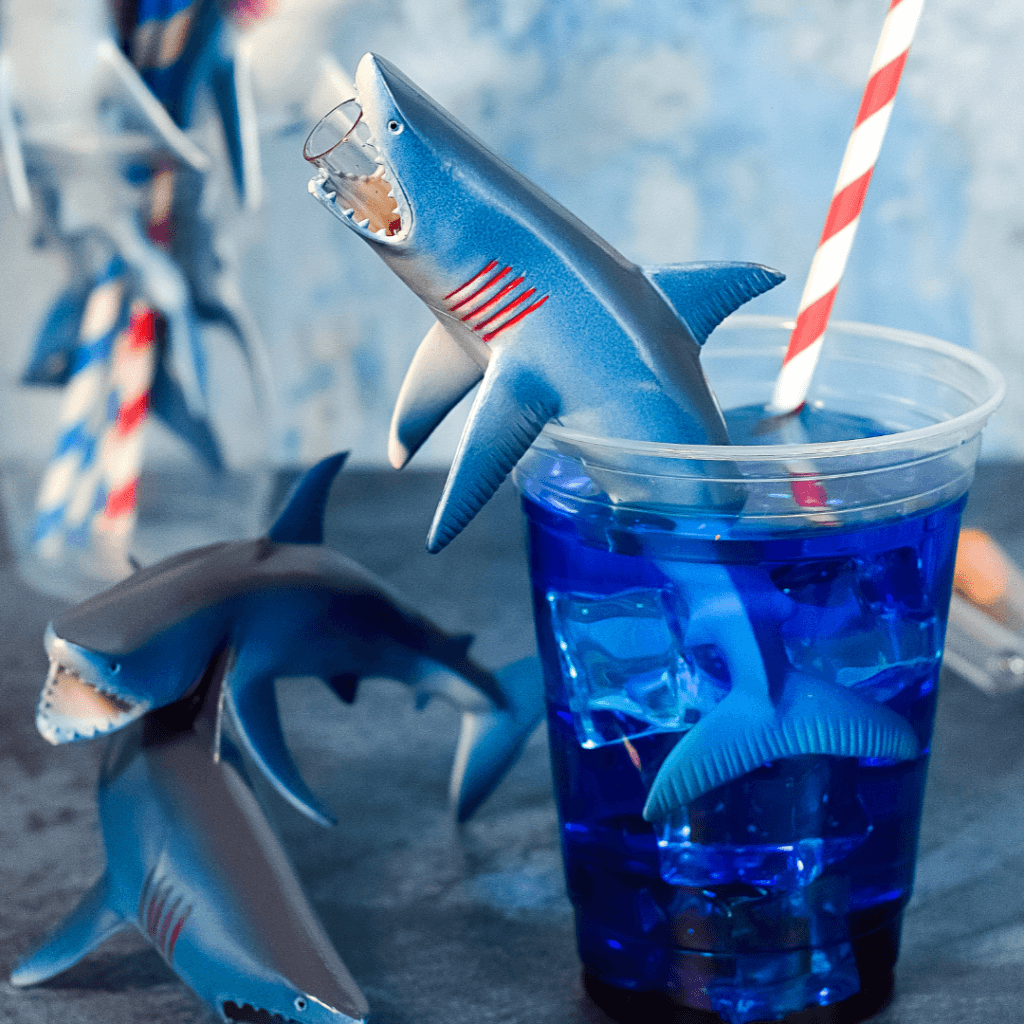 Have each child remove the shark from their drink, pull the stopper from the test tube, and pour the "blood" from the shark into their drink.
Then, enjoy the drinks!
How can I turn this Shark Bite Drink into an alcoholic drink?
If you want to change it up to an adult drink, you can make your favorite blue curacao cocktail and just add the shark with strawberry syrup or grenadine just like in this drink.
More Shark Fun
We've got even more Shark Week Fun! Here's a few ideas the kids will love — from printable puzzles to slime! Try a few of these ideas:
Shark Snacks & Treats
Make a shark or ocean treat to go with the kids' Shark Bite Drinks!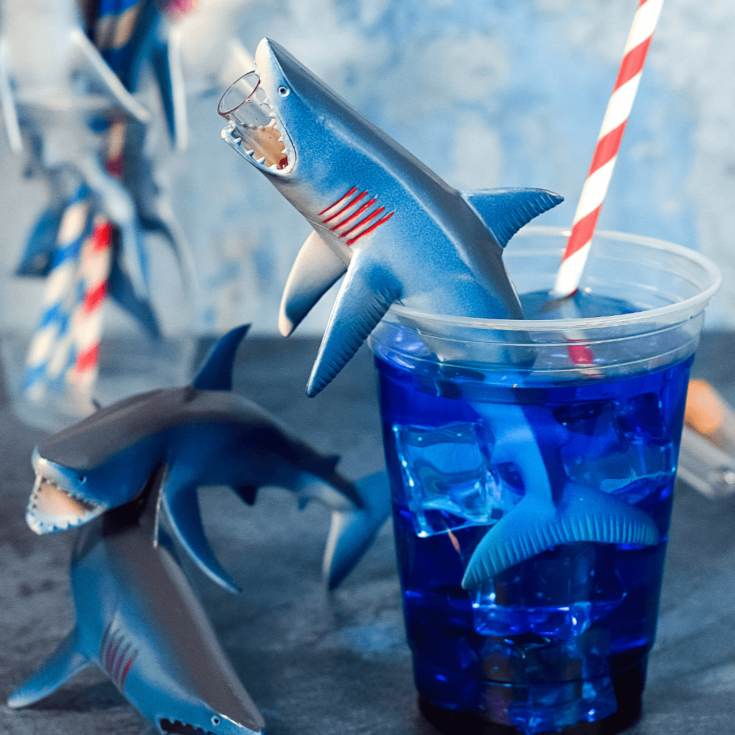 Yield:

1 cup
A Shark Bite Drink
Ingredients
10 oz blue Kool-Aid (blue raspberry or tropical punch)
Strawberry syrup
Ice
Instructions
Fill each test tube with strawberry syrup and seal up with the cork.
Insert the test tube into the shark toy.
Place the shark in the cup.
Fill each cup about halfway with ice.
Add about 10 oz of blue Kool-Aid to the cup. (About 1 1/2 Kool-Aid Jammer Pouches)
When you're ready, take the cork off the test tube and pour the syrup directly into the drink.
Swirl with a straw and enjoy!
Nutrition Information:
Yield:

1
Serving Size:

10
Amount Per Serving:
Calories:

180
Total Fat:

0g
Saturated Fat:

0g
Trans Fat:

0g
Unsaturated Fat:

0g
Cholesterol:

0mg
Sodium:

15mg
Carbohydrates:

45g
Fiber:

0g
Sugar:

45g
Protein:

0g
Any nutritional information on thetiptoefairy.com should only be used as a general guideline. This information is provided as a courtesy and there is no guarantee that the information will be completely accurate.
Come Join Us!
Liked this article and want more? Follow along on Instagram, Facebook, Twitter, Pinterest, TikTok, and YouTube!
Come over and join us on Facebook in the group Recipes, Crafts, and more with TipToe Fairy or Sewing and Crafting with The TipToe Fairy!
Visit Our Other Blogs!