This shop has been compensated by Collective Bias, Inc. and its advertiser. All opinions are mine alone. This post may contain affiliate links.
Are you and your kids excited about Disney/Pixar's Finding Dory? My kids can't wait, and neither can I!
These are Goldfish crackers in special edition colors just for the movie, and the colors are sourced from plants. We love the blue ones! Campbell's Soup is one of Molly's favorite lunches. She was so excited to find out about this special one for the movie. It has fun new pasta shapes of your kids' favorite characters!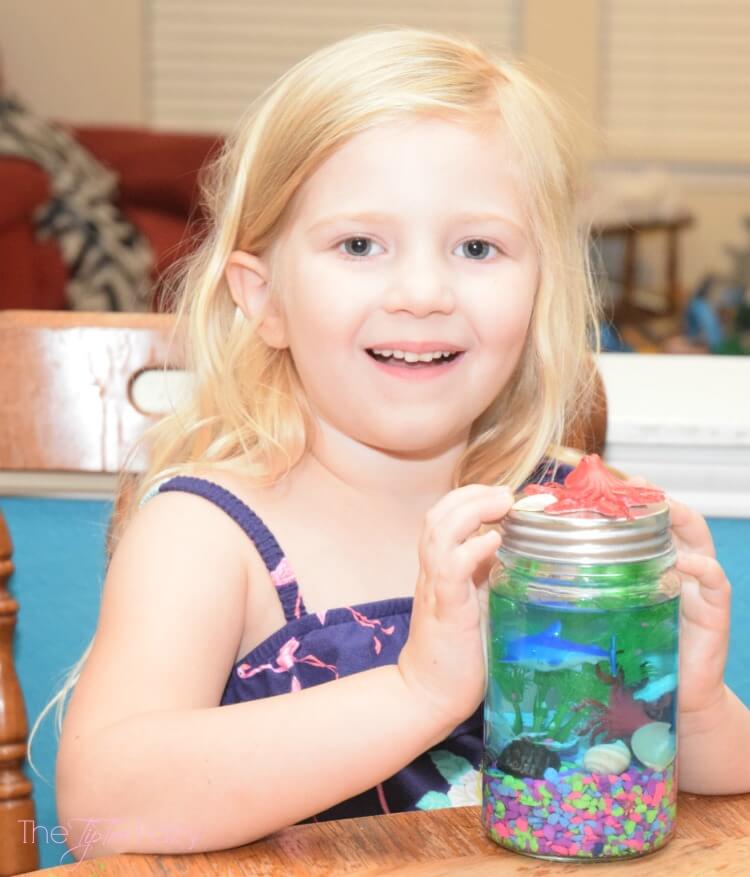 I thought a little "make your own" light up jar aquarium would be totally fun to celebrate the new movie with the kids. We were so excited to figure out a way to add underwater lights. Molly likes to put her little jar aquarium on her bookshelf at night with the light, and she brings it to the kitchen table for lunchtime, too.
Before we get started, make sure to check out my FREE Supplies Shopping List for this fun Light Up Mason Jar Aquariums craft. You can take it with you to the store!
Get the Shopping List
You can totally make these with your kids in an afternoon. It is so much fun!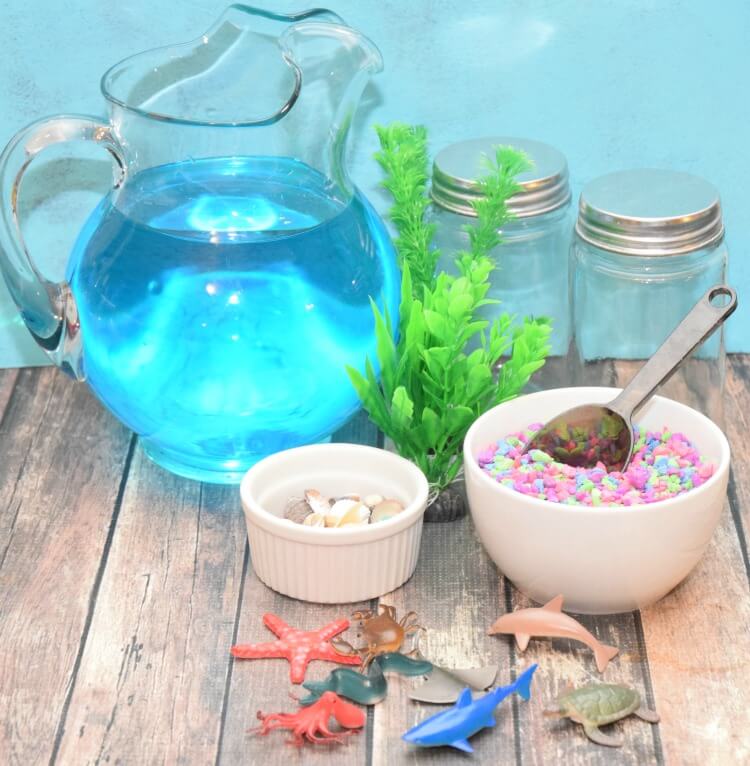 DIY Light Up Mason Jar Aquariums
Supplies: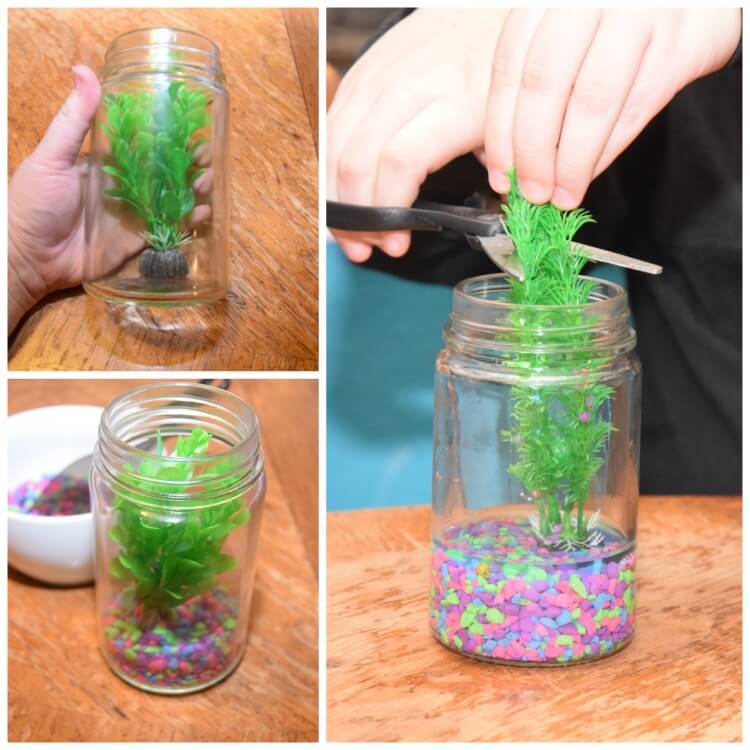 Start by adding the plant before the gravel. Push the plant to the side as you fill the jar with gravel. Do this in a circle, so that you cover all sides of the plant base. We filled ours about 1 1/2 to 2 inches tall. If your plant is too tall for your jar, just snip it off.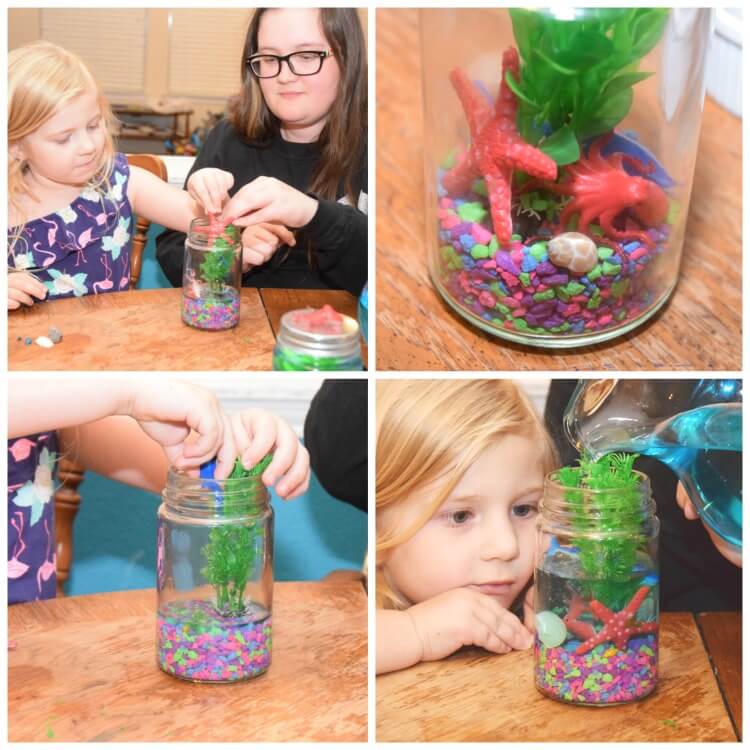 Next, it's time to add your sea creatures. Please ONLY use plastic sea creatures, not any real ones!
We found an octopus who reminded us a bit of Hank as well as a sea star who reminded us of Peach from the first movie. Next, we added a few seashells, and Molly hid a shark lurking in the plant.
Then, it's time to slowly fill the jar with water. We tinted our water with just a few drops of blue food coloring. I wanted to keep it light, so we could see all the fun things in the jars.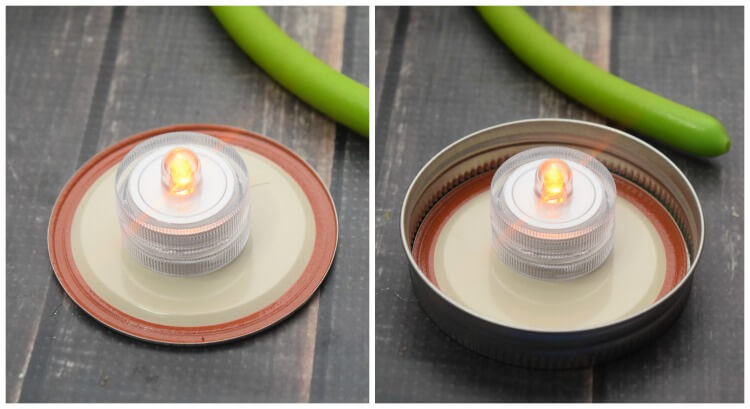 Now here's the fun part — the lights! You can find these at the craft store. They are submersible LED lights. I used E-6000 to attach to them to the inside of the lid. Add a dab of adhesive to the light and to the lid, then wait a couple minutes for both to get a little tacky. Then, stick them together. In just a few minutes they'll be stuck.
When you want to turn the light off, just unscrew the lid and twist the light. You can also replace the batteries as needed.
Screw the lid on, and your aquarium is ready to go.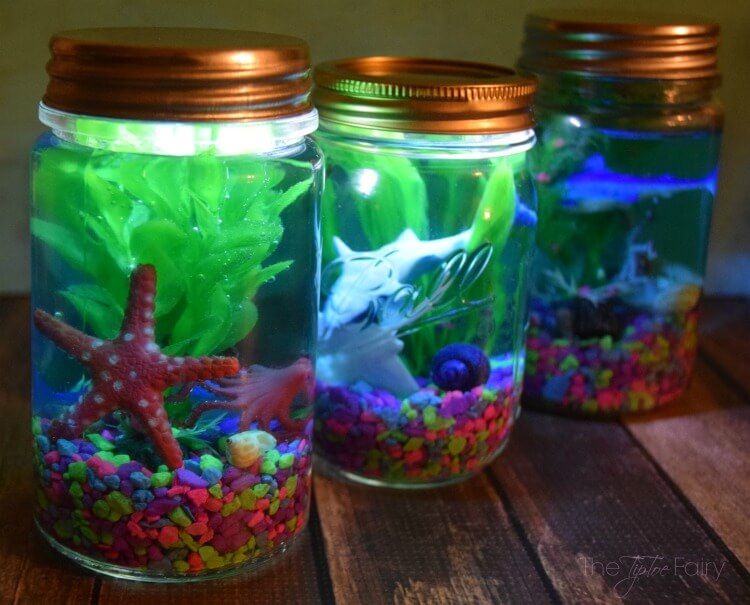 More Mason Jar Ideas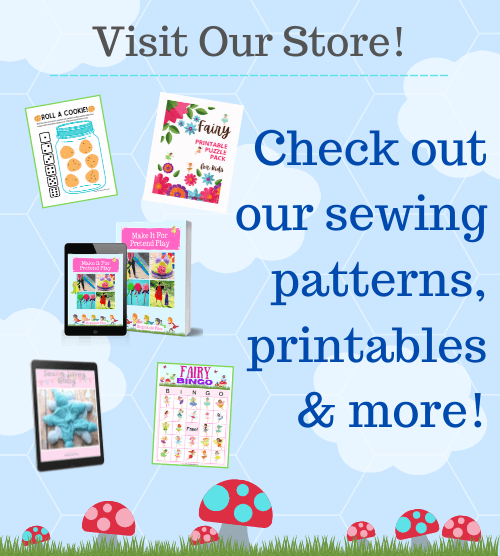 Come Join Us
Come over and join us on Facebook in the group Recipes, Crafts, and more with TipToe Fairy or Sewing and Crafting with The TipToe Fairy!
Liked this article and want more? Follow along on Instagram, Facebook, Twitter, Pinterest, TikTok, and YouTube!
Visit Our Other Blogs