This week we're having an Under the Sea Party on the blog! My kids start school next week, so this is a great way to say goodbye to summer. Stay tuned! Today is some easy peasy Under the Sea Party Pretzels.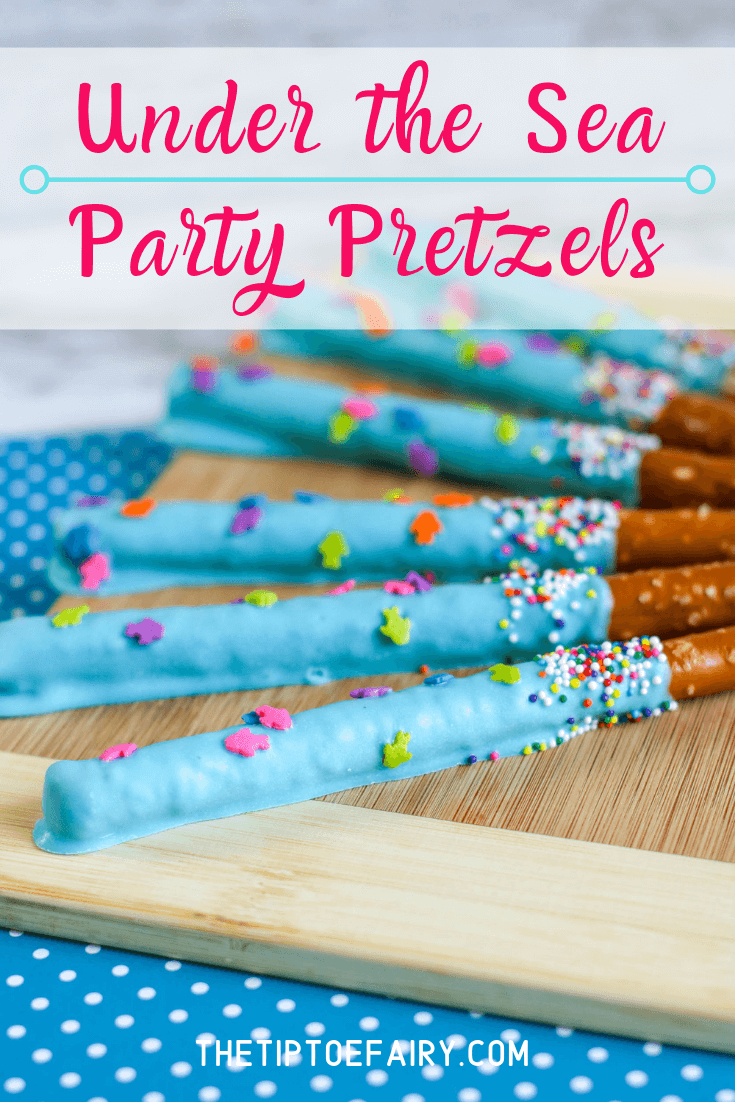 Keep coming back all this week because we're going to have party food and mermaid crafty things. This post contains affiliate links.
Under the Sea Party Pretzels
Don't you just love Fun Kid Food Ideas? They're just so…fun and exciting to make! These little treats are so simple, and with a little adult supervision, your kids can totally help make them. Not only are they good for parties, but they are perfect for bake sales!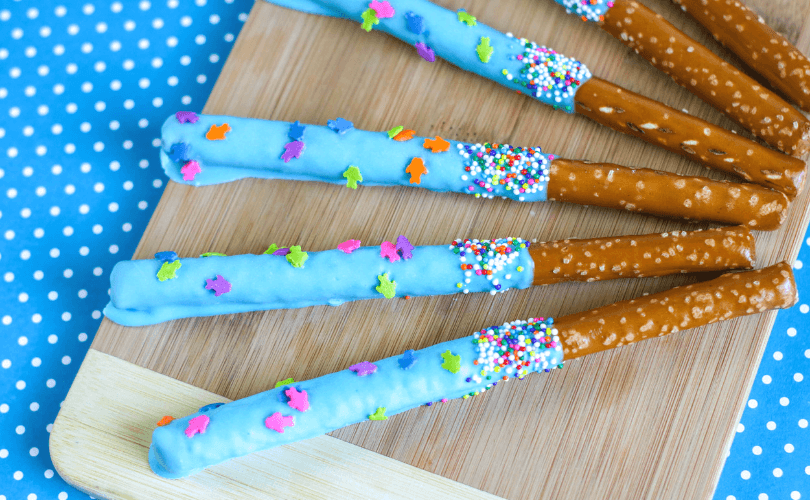 Melting the Candy Melts
Before you begin, lay out wax paper on a cookie sheet.
For the ocean blue color, I like to combine regular blue (not royal blue) candy melts and white candy melts for dipping the pretzels. You can also find pretty turquoise candy melts which will work great, too.
After you've combined the blue and white candy melts, melt them according to the package directions. You can use a double boiler method or some people love those special little melting pots. My favorite method is the microwave method. I microwave them for 30 seconds a time, then I stir, and then microwave again for 30 seconds. I keep doing this until the candy melt is completely smooth and melted. Most times it's less than 2 minutes to completely melt.
Candy Melt Issues
One thing I do recommend is not to use Fiestaware bowls to do this. I don't know what's in them, but they overheat my candy melts in the microwave every single time. When your candy melts get overheated, it stays really clumpy and thick and no matter how much you microwave, it will not melt correctly.
You want a gravy consistency to your candy melts. So, if you find it's still too thick, you can add vegetable oil or shortening. I start with 1 tablespoon and if it's still to thick, I add just one more tablespoon. My favorite product for thinning candy melts is EZ Thins. In my opinion, it works so much better than oil or shortening. Do not add water to your candy melt, it will ruin it.
How to Dip the Pretzels
Some people just hold the pretzel over the bowl of candy melt and just ladle it over the pretzel. I like to pour the candy melt into a tall thin glass so I can dip 2/3 of the pretzel rod into the candy melt without difficult. Then, I just hold it up and let it drip off for a few seconds.
Adding Sprinkles to Pretzel Rods
This is when you need to be quick. Before dipping the pretzels in the candy melt, get a small bowl ready with the non-nonpareil sprinkles and another bowl full of the little fishy sprinkles. Then, when you're ready to add the sprinkles to the pretzel near the middle of it, take a large pinch of sprinkles and as you turn the pretzel rod, sprinkle the sprinkles all over for about 1 inch into the candy melts.
Immediately set the pretzel rod onto wax paper. Take a little pinch of the fishy sprinkles and drop 1-2 at a time all over the rest of the candy melt.
Finishing the Under the Sea Party Pretzels
Let the pretzel rods dry completely for an hour or so at room temperature. You want that candy melt to be completely hardened before you package them up.
Don't put them in the fridge or freezer because that can actually make the pretzel rods get soft and no longer be crispy crunchy pretzels.
You can make these ahead of time for the party or bake sale and store them in an airtight container for a few days. Or you can also package them up in little cellophane pretzel bags for the big day.
More Fun Kids Food Ideas
More Under the Sea Fun
Need more ideas for your Under the Sea party? Check out these:

Yield:

24 pretzels
Under the Sea Party Pretzels
Make some Under the Sea Party Pretzels for your next party or just because! The kids can totally help, too!
Instructions
Combine the white and blue candy melts.

Melt the candy melts in a microwave-safe bowl for 30 second increments, stirring after each time.

Transfer the candy melt into a narrow tall cup.

Dip two-thirds of the pretzel rod into the candy melt. Then, shake gently to remove excess.

Immediately apply sprinkles as you rotate the pretzel rod to coat all sides. The larger fish sprinkles work best if placed individually after setting the pretzel rods down on wax paper.

Place the pretzel rods on wax paper to dry.

Let the pretzel rods dry completely before packaging up or serving.

Store in an airtight container at room temperature. Placing in the refrigerator may cause the pretzel to soften.
Notes
You can substitute almond bark for the white candy melts if needed.
Come Join Us!
Liked this article and want more? Follow along on Instagram, Facebook, Twitter, Pinterest, TikTok, and YouTube!
Come over and join us on Facebook in the group Recipes, Crafts, and more with TipToe Fairy or Sewing and Crafting with The TipToe Fairy!
Visit Our Other Blogs!