These Sausage Meatloaf Rolls with Puff Pastry are a savory appetizer that are also super easy to make. Your friends and family will LOVE!
Whenever I take my kids (and husband) over to grandma's house or when I'm in the middle of cooking a big holiday dinner at home, they are always starving. Appetizers are a must if I don't want to constantly hear "when is dinner?" or "I'm starving!" These sausage meatloaf rolls work perfectly to keep them busy while I'm working in the kitchen.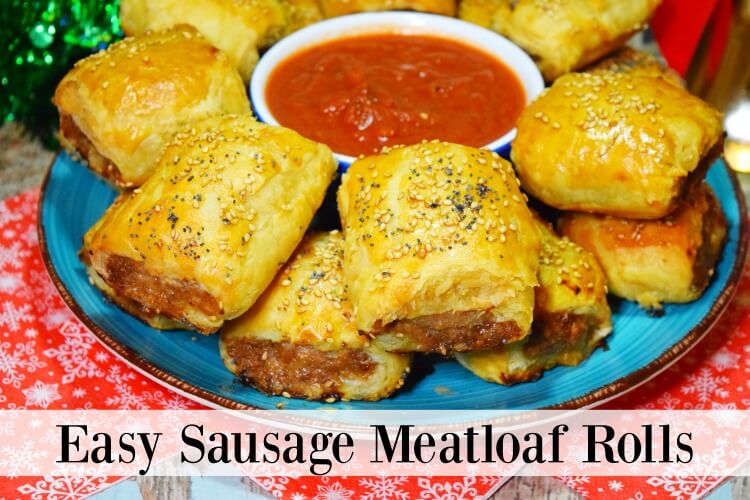 The secret to any of my meatloaf recipes is Ritz crackers. I used to just use bread crumbs or any crackers I had on hand, but when I started exclusively using Ritz, my meatloaf became a legend with my family. The buttery flavor of Ritz crackers just adds something that makes it taste so good.
I wanted to add an extra kick of flavor to this particular appetizer, so instead of ground beef I used ground pork sausage. My family prefers Jimmy Dean, but any brand will work.
If you prefer regular meatloaf, replace the sausage in this recipe with ground beef or turkey and it will work well, too.
They also work great for breakfast when it's a busy weekend morning and we are trying to get out the door to visit family or something fun and festive. I've also whipped them up on Christmas morning before the kids wake up.
My family loves to dip things, so I usually offer two different dips with our sausage meatloaf rolls. I usually warm up a bowl of some marinara sauce or spaghetti sauce, and I also make my "meatloaf sauce" which is essentially equal parts brown sugar and ketchup. This is my husband's favorite sauce for meatloaf.
More Appetizer Recipes
Yield:

16
Sausage Meatloaf Rolls
These easy Sausage Meatloaf Rolls are easy to make and a delicious savory appetizer to serve during the holidays, breakfast, or anytime!
Ingredients
1 pkg of Jimmy Dean® pork sausage
2 sheets puff pastry
1/2 sleeve of butter round crackers, crushed
2 eggs
1 tablespoon minced garlic
1 splash of Worcestershire sauce
1 tablespoon milk
2 tablespoons Parmesan cheese
1/2 teaspoon poppy seeds
1/2 teaspoon sesame seeds
Instructions
Preheat oven to 350 F degrees.
On parchment paper cut puff pastry in half.
Combine meat, crackers, 1 egg, garlic, Worcestershire sauce, milk, and Parmesan cheese in a bowl and mix with your hands.
Take 1/4 of the meat mix and lay it in a small loaf along the middle of the puff pastry.
Pinch the puff pastry sides together and roll it over so seam is down.
Cut the puff pastry long in half, then cut each half into another half.
Do the exact same to the other half of the puff pastry sheet.
Beat one egg and brush over each roll.
Then, top with poppy seeds and sesame seeds as desired.
Prepare the second puff pastry sheet the same way.
Bake for 15 minutes at 350 F, then turn heat to 375 F and bake for 20 minutes or until golden brown.
Allow to cool a few moments before serving.
Serve with a side of warm marinara sauce. Enjoy!
Do you have a favorite appetizer you serve during the holidays? I'd love to know in the comments!
Come Join Us!
Liked this article and want more? Follow along on Instagram, Facebook, Twitter, Pinterest, TikTok, and YouTube!
Come over and join us on Facebook in the group Recipes, Crafts, and more with TipToe Fairy or Sewing and Crafting with The TipToe Fairy!
Visit Our Other Blogs!