[disclaim]This shop has been compensated by Collective Bias, Inc. and its advertiser. All opinions are mine alone. #GoldFishMix #Walmart #CollectiveBias[/disclaim]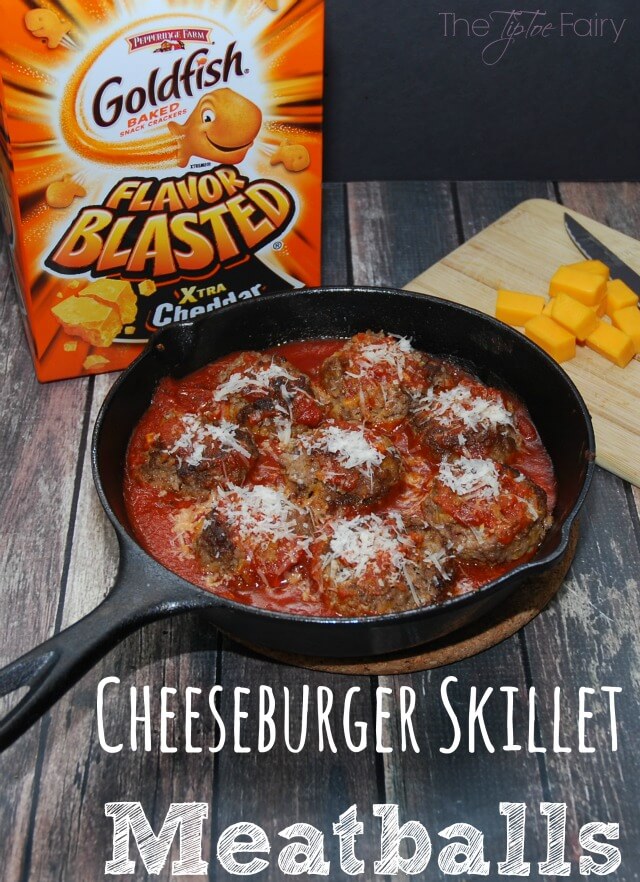 There are two things my kids love to eat — Goldfish® crackers and meatballs. Both will put a smile on their face faster than any other meal.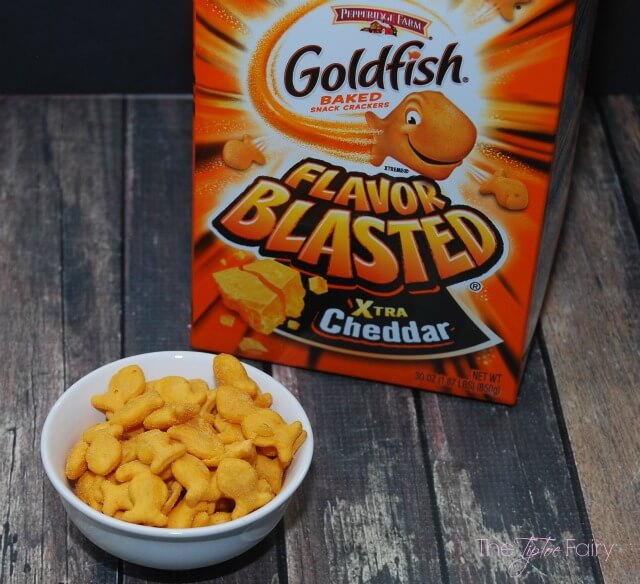 These Cheeseburger Skillet Meatballs are so easy to make. In just 30 minutes, your kids will be enjoying some delicious turkey meatballs with a secret center of cheddar cheese.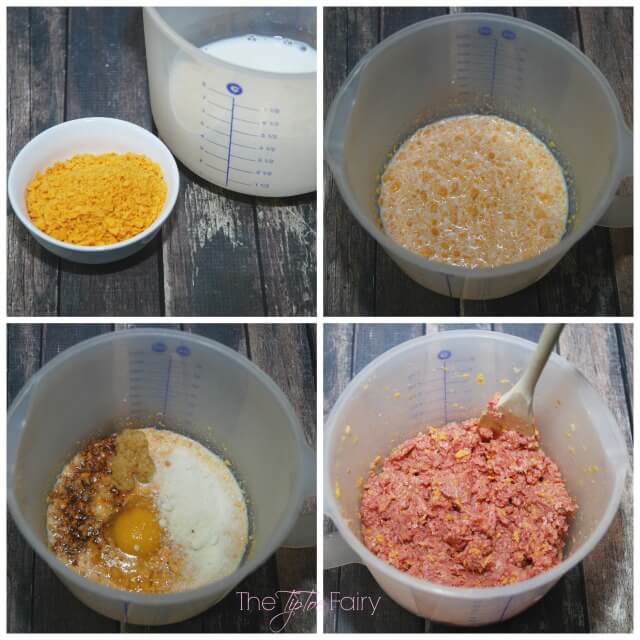 For my regular meatballs I use crushed up butter rounds crackers. But, for an extra boost of cheddar I used 1/2 cup of Goldfish crackers in Flavor Blasted Xtra Cheddar flavor. After crushing them, I mixed them with milk to soften them up. Then, I combined all the other ingredients to make the meat mixture.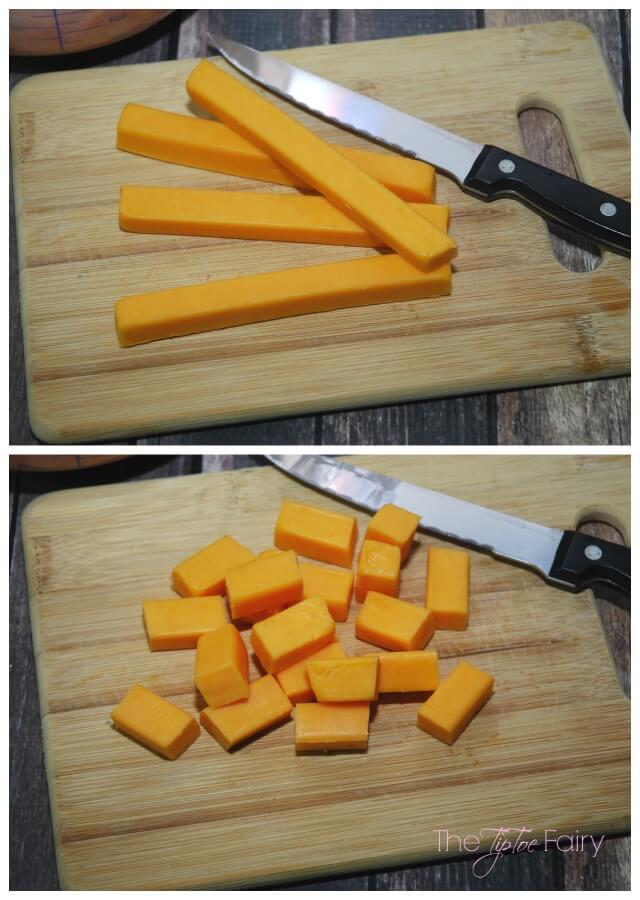 For the "cheeseburger" part of the meatballs, I cut up cheddar string cheese into fourths to hide in the center of each meatball.
I created patties that were about slider size and gently folded in the cheese in the center. Then, I rolled them up and put them in a baking dish. I found one pound of meat made about 10 meatballs.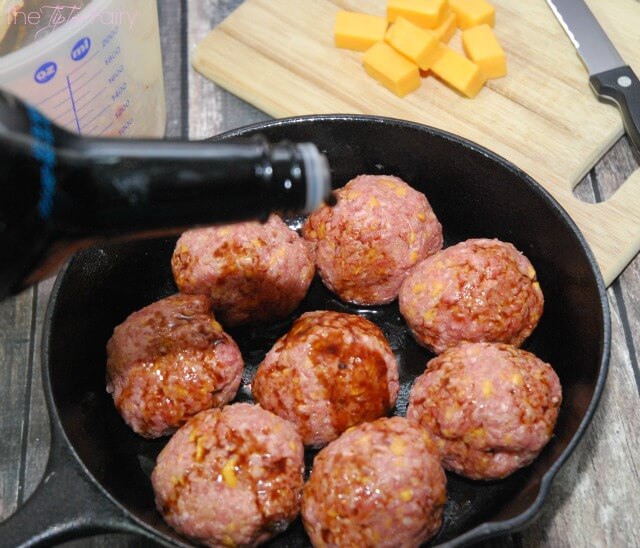 Next, I added an additional shake of Worcestershire sauce to each meatball. It really adds a wonderful savory flavor to the meatballs.
Then, it was time for baking. I baked my meatballs for about 15 minutes. I checked them at the 10 minute mark. When they register an internal temperature of 160 degrees for beef or 165 or turkey, I take them out of the oven.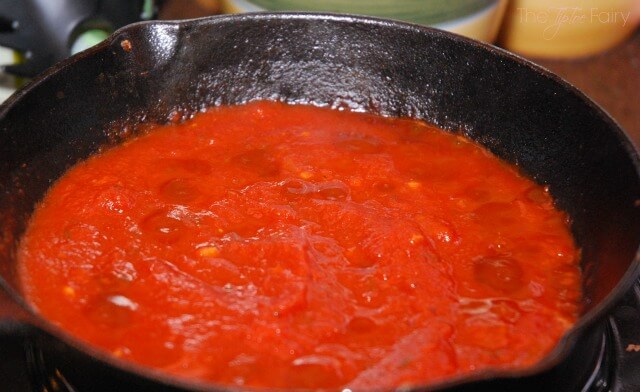 While the meatballs are baking, I whipped up the fire roasted sauce. I just combine the ingredients over medium low heat and let it simmer.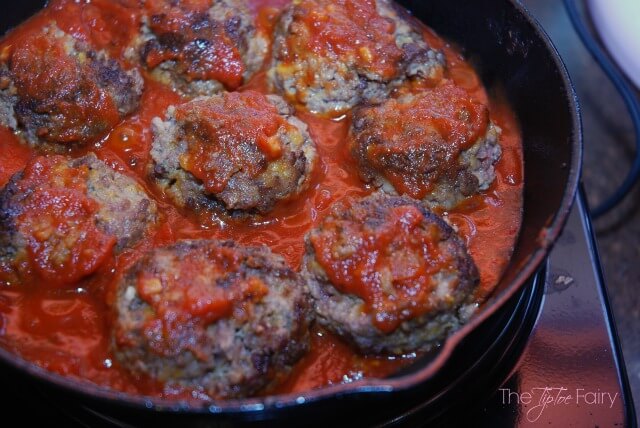 When the meatballs are ready, I add them to the sauce. I put about a teaspoon over each meatball for added flavor.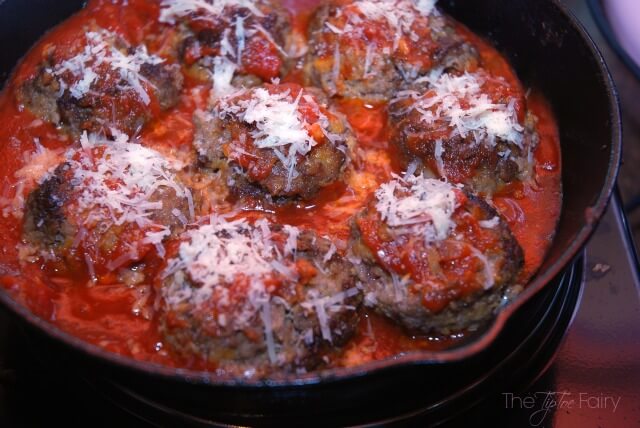 I let them simmer for about 5 minutes. When it's almost time, I add fresh Parmesan cheese to top off each one.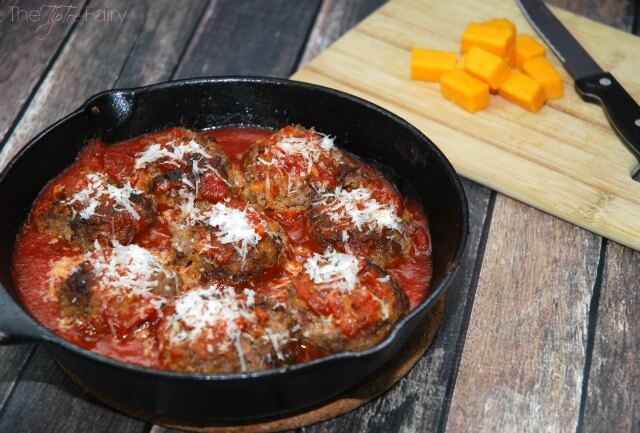 Look at that cheesy center! They are so tasty, and I love the cheddar flavor that the Goldfish crackers add to it. These have become my kids' favorite meatballs.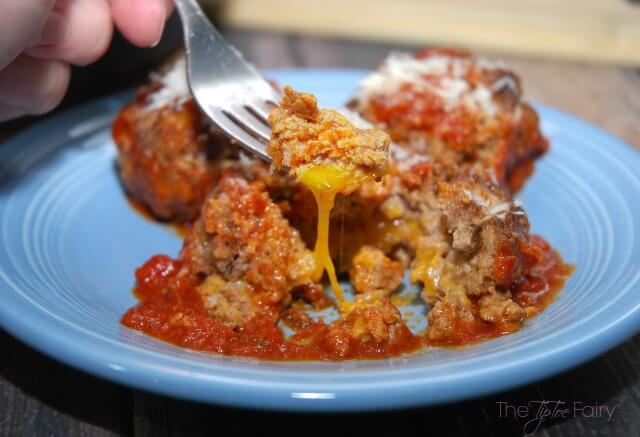 More Recipes You'll Love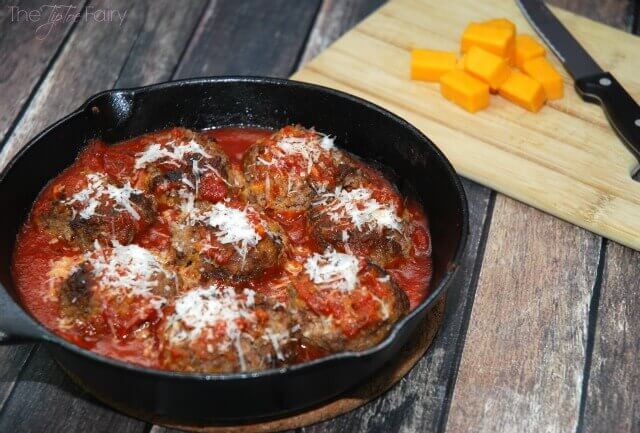 Cheeseburger Skillet Meatballs
A delicious meatball recipe full of cheddar cheese.
Ingredients
Meatballs
1 lb ground turkey or beef
1/2 cup Goldfish® crackers
1/4 cup milk
1/4 cup Parmesan cheese
1 egg
1 tablespoon minced garlic
1/2 teaspoon garlic powder
1/4 teaspoon salt
1 tablespoon Worcestershire sauce
4 sticks of cheddar string cheese cut into fourths
Fire Roasted Tomato & Garlic Sauce
1 can of fire roasted diced tomatoes
1 tablespoon minced garlic
4 oz can tomato sauce
Instructions
Meatball Instructions:
Preheat oven to 350 degrees.
Crush the Goldfish® crackers and combine with the milk in a large bowl. Then, wait a couple minutes while the milk softens the crackers.
Add 1 egg, Parmesan cheese, garlic, salt, garlic powder, and Worcestershire sauce.
Add the meat and mix up until well combined.
Cut the cheese into fourths
Take about 1/4 cup of the meat mixture and form it into a patty and then add the piece of cheese to the center and gently fold up and roll into a ball.
Continue rolling meatballs until the meat mixture is all used up.
Place in a baking dish and bake for about 15 minutes, until the temperature inside a meatball reaches 165 degrees for ground turkey, or 160 degrees for ground beef.
While the meatballs are cooking, make the sauce.
Sauce Instructions
Over medium low heat combine the fire roasted diced tomatoes, garlic, and tomato sauce.
Allow to simmer while meatballs are cooking.
Meatballs & Sauce
Gently move the meatballs to the skillet to simmer in the sauce for just a few minutes.
Add about a teaspoon to the top of each one.
Add fresh Parmesan cheese to the tops of the meatballs.
Remove from the fire and serve.
Looking for more fun recipes with Goldfish crackers? Check out more HERE! I'd love to know your favorite!