My favorite kind of casserole is one that is delicious when I make it but also taste even better the next day. That is what you get with this Cheesy Chicken Spaghetti Casserole. It makes perfect leftovers.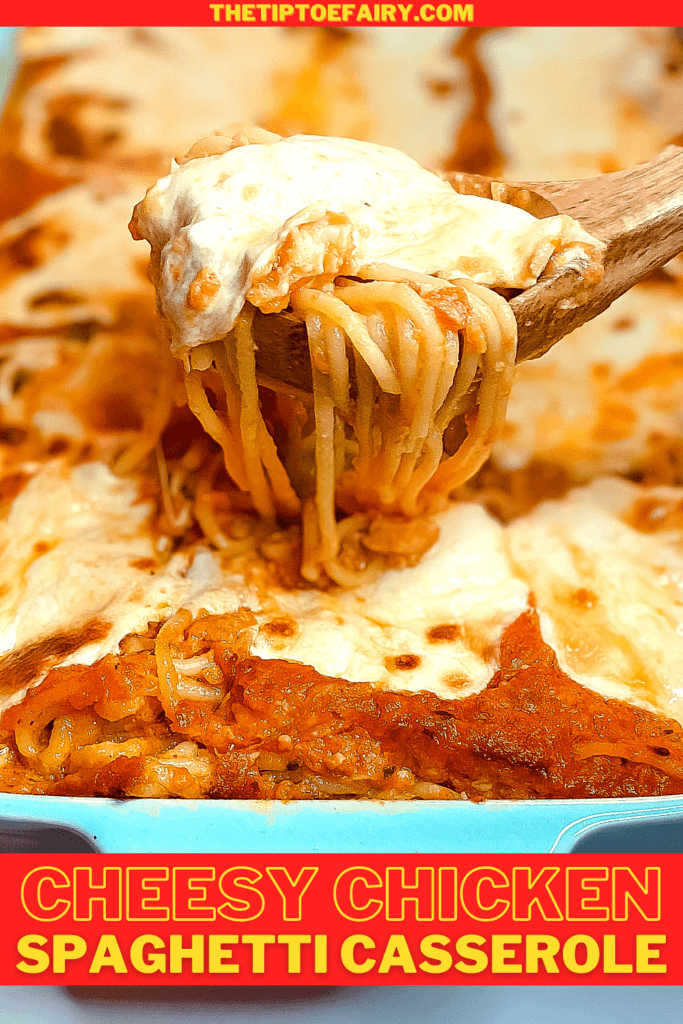 It's also a versatile dish. You can use leftover rotisserie chicken or canned chicken, or even a chicken breast you've cooked and chopped up.
What kind of cheese do you use in Cheesy Chicken Spaghetti Casserole?
The "cheesy" part of this casserole is ricotta cheese or sour cream mixed into both the pasta and the pasta sauce. It also is the fresh mozzarella slices on top of the casserole.
The fresh mozzarella is the best part of this dish. I would recommend you don't skip that part of this recipe. My family LOVES it, and they always fight over that melted cheese. You could substitute low moisture mozzarella, but it's just not as tasty.
What kind of pasta can you use to make a spaghetti casserole?
This casserole doesn't require you use spaghetti. You could use other pastas like elbow or farfalle or penne or even linguine. I would stay away from angel hair because you want the pasta to hold up to the baking in the casserole and not turn to mush.
How do you make Cheesy Chicken Spaghetti Casserole?
Start out by cooking the pasta first. If you don't feel confident in cooking pasta, this video by Gordon Ramsay is exactly what I do to make my pasta perfect.
However, when making the pasta to go into a casserole in which you'll bake it, make sure to cut about 2-3 minutes off the time for making the noodles. You want the pasta to be a little uncooked because it will continue to cook when it's being baked in the oven. This way it won't turn to mush into the casserole.
When the pasta goes into the boiling water, it's time to start making the meat sauce. You can also skip the meat in this dish and make it more vegetarian, and it will taste great, too.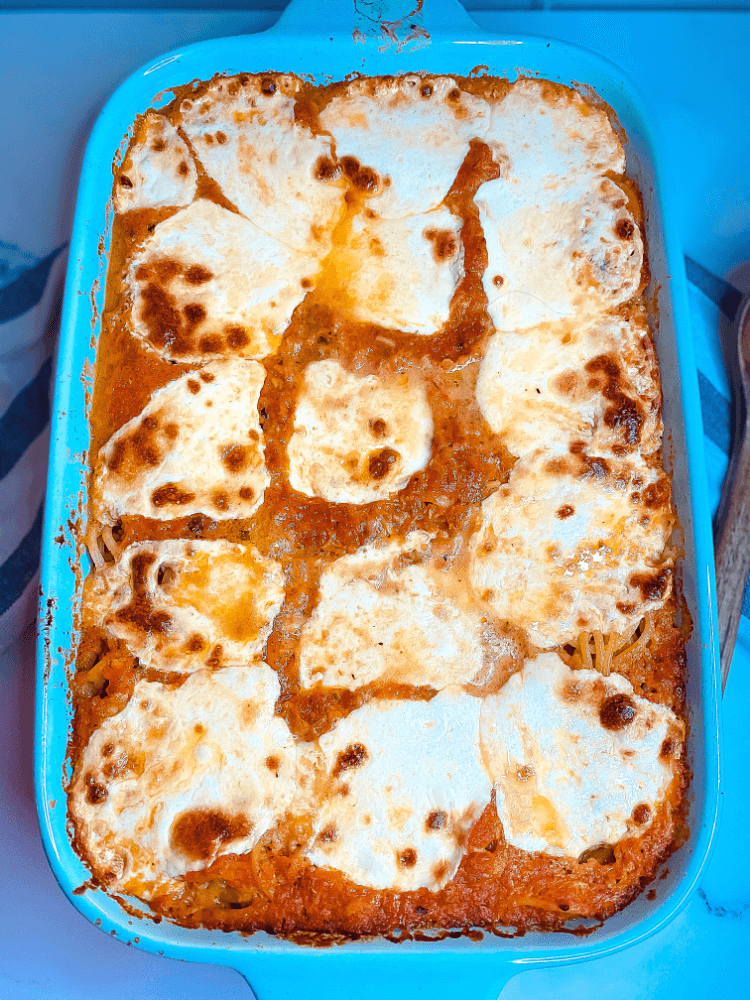 Saute the chicken in olive oil and minced garlic. Just before adding the sauce, add Parmesan cheese. Then, pour in the sauce, mix it with the chicken, and let it cook until it starts to boil.
This is when to add the sour cream or ricotta cheese or even Greek yogurt. I will use any of these interchangeably.
After the dairy is mixed well into the sauce, then turn the fire down to simmer until the pasta is ready.
When the pasta is ready, drain it and immediately add the butter that's been sliced up. Then, mix in the dairy (ricotta, Greek yogurt, or sour cream). Add garlic, salt, and Parmesan cheese to the pasta. Let that all melt together for a minute or so before mixing it up again to make sure the pasta is well coated.
It's time to start putting it all together. Make sure to spray a 9 x 13 pan with non-stick oil spray. Then, layer the pasta into the pan. Next, pour the sauce over the top of the pasta. It will work it's way down into the noodles as it bakes in the oven. Lastly, add slices of fresh mozzarella over the entire pan.
How long do you cook a spaghetti casserole?
Cook this casserole for about 30 minutes, uncovered. Then, turn on the broiler on high and let it cook for about 3 minutes to bubble and brown the cheese just a bit. Watch carefully and set a timer! The broiler will burn the cheese so fast if you don't keep watch.
Let it cool for about 10 minutes before serving. Store leftovers up to 5 days in a sealed container in the fridge.
More Easy Casseroles
Yield:

10 servings
Cheesy Chicken Spaghetti Casserole
Additional Time:
10 minutes
Ingredients
16 oz spaghetti or other pasta
12-16 oz canned chicken or shredded chicken
24 oz spaghetti sauce
2 tablespoons minced garlic
3 tablespoons Parmesan cheese
1 cup sour cream (or ricotta cheese or Greek yogurt)
olive oil
pinch of salt
16 oz fresh mozzarella, sliced log
Instructions
Preheat oven to 350 F degrees.
Boil water for the spaghetti - add olive oil and salt to water.
Add spaghetti to the pot when it reaches a boil.
While spaghetti is cooking, heat a skillet on medium high with a drizzle of olive oil and about a tablespoon of minced garlic.
Add 12-16 oz of shredded chicken and saute.
Add 1 tablespoon of Parmesan cheese to the chicken and saute.
Pour in the spaghetti sauce.
When it reaches a boil, add 1/2 cup of sour cream and gently mix into the sauce until combined.
Simmer on low until ready to add to the casserole dish.
Cook spaghetti about 7-8 minutes and drain it when it's not quite al dente.
Add a drizzle of olive oil and a pinch of salt and toss the spaghetti.
Slice up half a stick of butter and add to the pasta.
Add 1/2 cup of sour cream, 1 tablespoon of Parmesan cheese, and 1 tablespoon of minced garlic and mix in.
Let the spaghetti sit for a minute or two while the butter and sour cream melt into it.
Mix up the spaghetti until everything is combined.
Spray a 9 x 13 pan with non-stick spray.
Transfer the spaghetti to the 9 x 13 pan and spread it out throughout the dish.
Pour the sauce mixture over the top of the spaghetti. Don't worry about mixing it in. It will do that in the baking process.
Lay the slices of fresh mozzarella over the entire top of the spaghetti casserole.
Bake at 350 F degrees for 30 minutes.
Turn the broiler on high and broil for 3 minutes, until the cheesy is bubbly and brown. Watch carefully!
Allow to cool 10 minutes before serving.
Store leftovers in a sealed container for up to 5 days.
Nutrition Information:
Yield:

10
Serving Size:

1
Amount Per Serving:
Calories:

203
Total Fat:

11g
Saturated Fat:

5g
Trans Fat:

0g
Unsaturated Fat:

4g
Cholesterol:

30mg
Sodium:

420mg
Carbohydrates:

17g
Fiber:

2g
Sugar:

4g
Protein:

9g
Any nutritional information on thetiptoefairy.com should only be used as a general guideline. This information is provided as a courtesy and there is no guarantee that the information will be completely accurate.
Come Join Us!
Liked this article and want more? Follow along on Instagram, Facebook, Twitter, Pinterest, TikTok, and YouTube!
Come over and join us on Facebook in the group Recipes, Crafts, and more with TipToe Fairy or Sewing and Crafting with The TipToe Fairy!
Visit Our Other Blogs!