We've slowly been adding daily school work for my 3 year old. It is very important to her to have "school" like her older siblings. Recently, I put together an eBook to Teach Math to Preschoolers to go along with a fun kit I ordered on Amazon. This post contains affiliate links.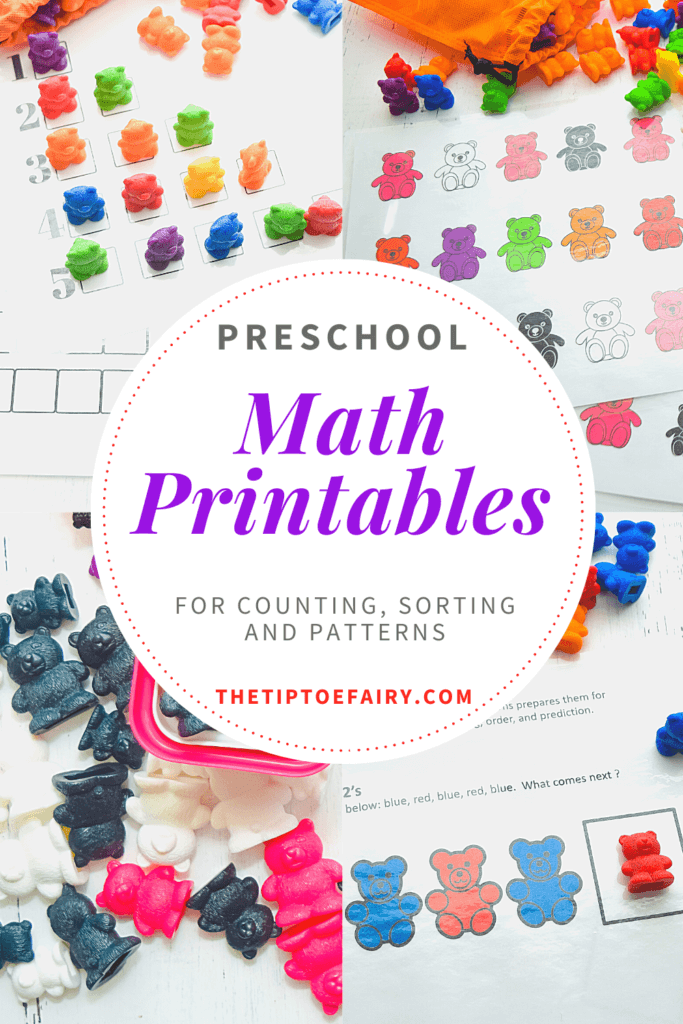 This free eBook works perfectly with plastic rainbow bears for counting, sorting, and other math concepts. It's fun and will keep your preschooler busy and engaged.
How to Teach Math to Preschoolers
When each of my kids was a preschooler, it seemed they always worked better with counting when they had actual things to count. This is definitely true for my current little preschooler.
She loves counting and colors, so we ordered this full rainbow set with the cups and tongs. I also ordered this pink, white, and black bear set with the cups and additional dice. When I ordered earlier this summer, they had an additional option to purchase both sets together as one, but now it seems you need to buy each one.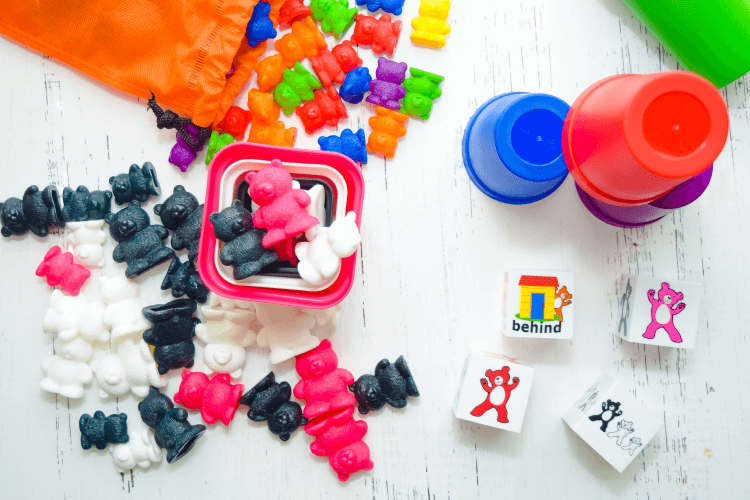 They each come with a little card that explains how to get a free eBook that you can print off from their website with basic stuff. When I tried to print it, the images printed off the pages for every single page. It was at that point, I decided to make my own printables and create more pattern options.
The Beary Fun eBook
My Beary Fun eBook is 11 pages full of counting, sorting, and patterns to use with these rainbow bears. You can also use them with other rainbow counting sets like these cute unicorns or these trains.
Counting with Bears
There are pages for counting the bears from 1 to 10. There is also a 10 block do learn basic addition and subtraction. My 3 year old loves counting the bears and putting them in the counting rows. She does not like the addition and subtraction part yet.
We don't do "school work" for very long, so we just play with the bears and make up counting songs as we go. We spend about 20-30 minutes a day doing some kind of preschool work. I try to vary this with the letter recognition games and several preschooler games I've collected. I'll be sharing our favorite preschool games in a new post soon.
Sorting with Bears
These rainbow bear sets also come with color coordinated cups. The pink, white, and black bears also come with big, medium, and small bears. We sort all these ways. My preschoolers favorite way is to sort the bears into the same color cup.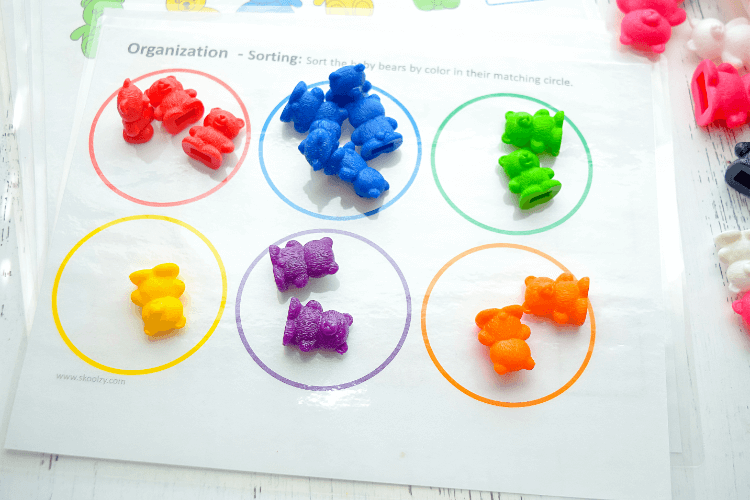 We also flip the cups upside down and see how many bears we can stack on top. We also build with the cups by themselves.
The basic rainbow bear set comes with one die that has each bear color on a side. We toss the dice, and that's the bear color she sorts into the cups
The pink, black, and white bears have three more dice that have all kinds of things to do from the colors to the size, to also in front of their house, behind their house, etc., which we use with the cups as their "houses."
Making Patterns with Bears
In the eBook there are several patterns to do based on just rainbow bears as well as just the pink, white, and black bears, and a combination of both.
Fine Motor Skills with Bears
A pair of nice plastic scissor-style tongs is included with the rainbow bear kit. They are perfect for allowing your preschooler to practice picking up and dropping the bears onto the surface or into color coordinated cups.
Free Beary Fun Preschool Math Printables
Enter your information below and you'll be taken directly to the Beary Fun eBook PDF to download, so you can teach math to your little preschooler.
Laminator the eBook
I highly recommend getting a Scotch Laminator and laminator pouches. I made our eBook reuseable doing this. Plus, you can use it for so many things. Make your kids their own flashcards, make tags, even dry erase sheets!