My 3 year old loves learning. She sees her big sisters and brother doing school work, and she just can't wait. So, we've been working on letter recognition for preschoolers this summer. This post contains affiliate links.
Recently, I purchased this alphabet magnetic letter set. It's a really nice set with little puzzle flash cards for the letters to fit. It includes both upper and lower case letters.
However, as we've started doing them, I realized we needed something a little more actionable for letter recognition. My preschooler loves to search and find things, so I thought something like Bingo or Memory would work.
I created two printable games with Alphabet Bingo and Alphabet Memory. We spend about 20-30 minutes a day doing these and various other activities right now.
Alphabet Bingo Game
This is the first set I created — Alphabet Bingo Cards. It comes with 10 different bingo cards and 26 bingo chips.
My preschooler saw me laminating this set and before it was even ready, she was already playing the game with me. She loved hunting down the letters I called out.
We use chocolate chips, cheerios, goldfish crackers, or M&Ms to mark off letters she's found.
Sometimes it works better if I don't use the little chips, but just call them out to her. When we first started, it was easier to call out the pictures, and she gradually learned to associate the picture with the letter.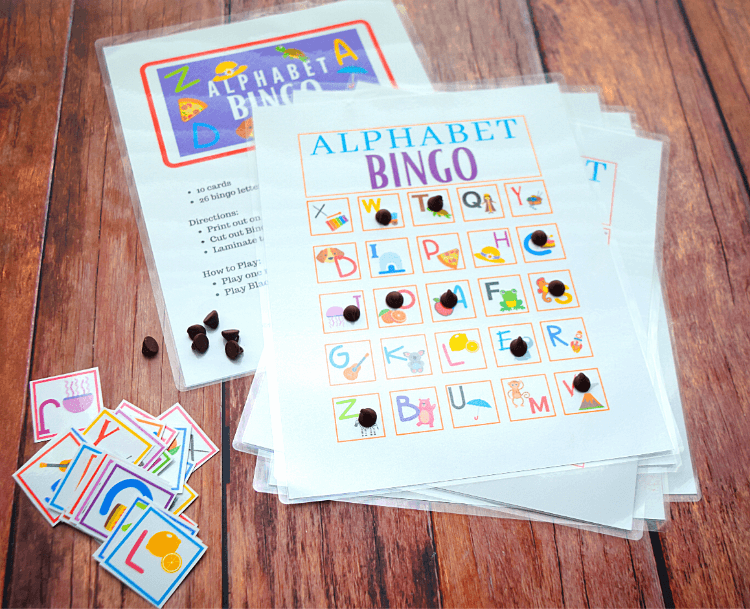 It really helped to add the picture description when she wasn't sure of a letter. Like she looked for the guitar and found the letter G. As we play this game over and over again, this is going to help her recognize the letters and associated them with the sounds as well.
Alphabet Memory Game
While I was cutting out the bingo calling chips for the Alphabet Bingo, I realized they would be perfect for a memory game for letter recognition. We've been playing this game for awhile now, and it's really simple to understand.
When we just started out, I pulled out just a few letters like A B C, so we would work on just a few at a time. Otherwise, it can be frustrating. We are slowly working up to more letters at a time.
How I organize my preschool letter recognition games
I printed out both sets on cardstock and laminated them with my Scotch Laminator and laminator pouches (seriously, one of the best things I've ever purchased. I use it all the time for homeschooling activities I want to reuse.) Then, I use these plastic pouches to keep all my preschool activities I've printed organized.
Get You FREE Letter Recognition Printables
You can download both of these free games right here. Just enter your information and you'll get a PDF eBook to save.
Preschool Math Printables
Looking for preschool numbers and math activities? Check out these free printables to go along with rainbow bears.
More Preschool Activities
Come Join Us!
Liked this article and want more? Follow along on Instagram, Facebook, Twitter, Pinterest, TikTok, and YouTube!
Come over and join us on Facebook in the group Recipes, Crafts, and more with TipToe Fairy or Sewing and Crafting with The TipToe Fairy!
Visit Our Other Blogs!