Does your family use up a lot of water bottles? We definitely do. We also live in a small town and a few times a year when you turn on the water, it can be orange or brown, so we don't drink much from the tap. This is a sponsored post. This post contains affiliate links.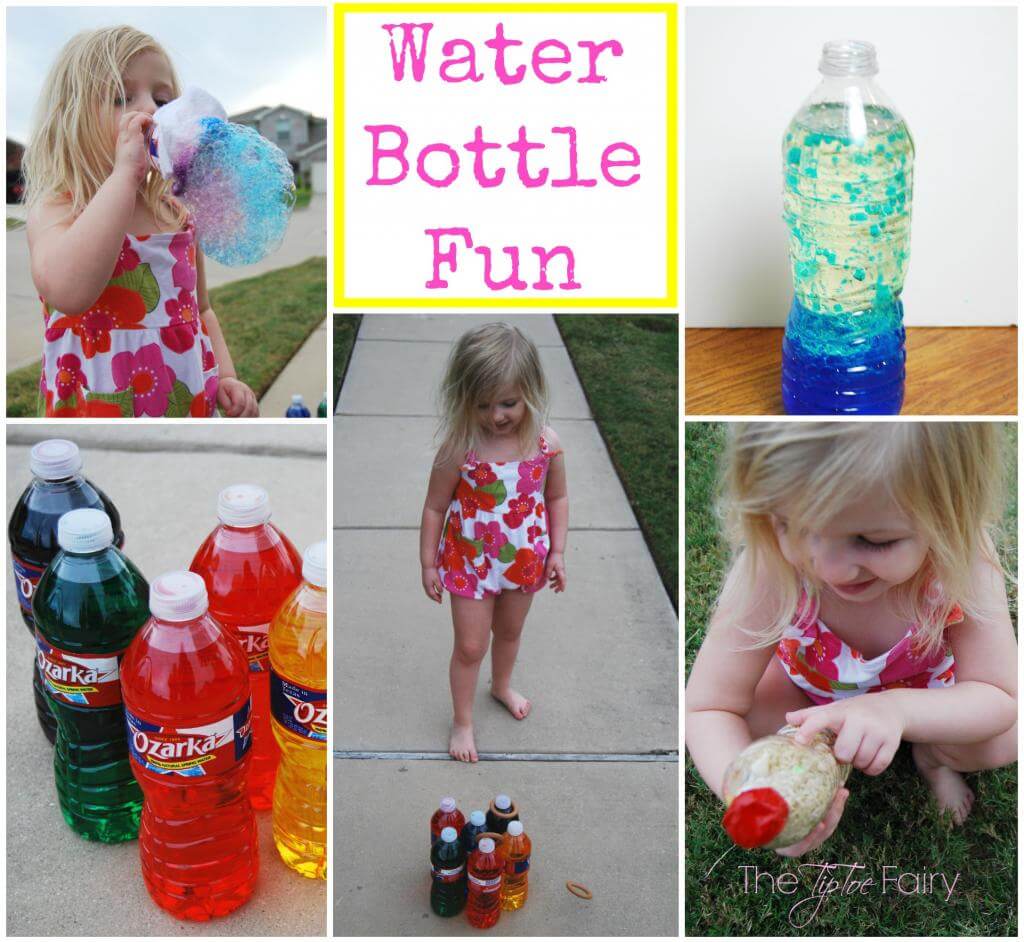 Between all six of us, we go through a lot of water. This means we also have a lot of empty water bottles. They can fill our recycle bin pretty quickly, so I like to find fun ways to reuse them.
Water Bottle Bowling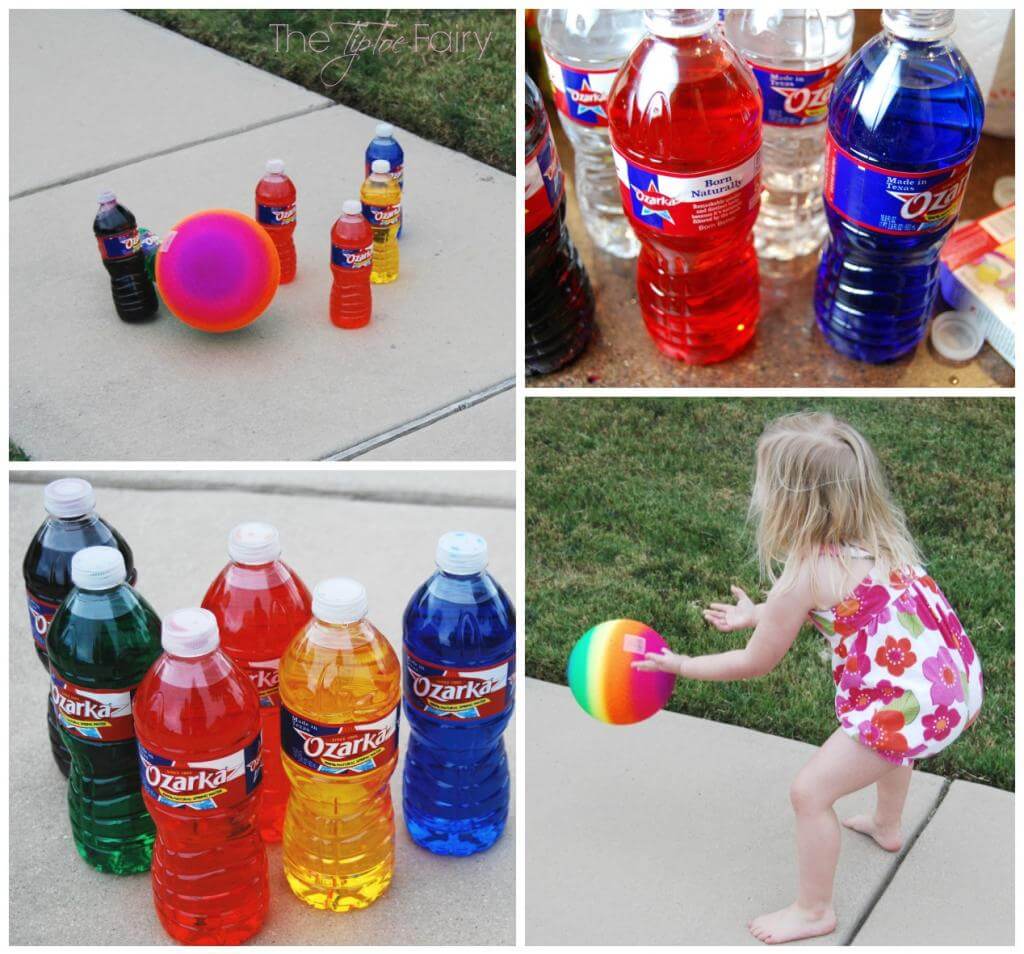 Water Bottle Bowling is one of my preschooler's favorite games. I refill empty water bottles, add a few drops of food coloring, and then we head outside. Sometimes when it's raining, we'll set it up in the living room, too. Molly just LOVES this game, and it's just so easy and simple to make! We've even played this one at parties, too.
I Spy Water Bottles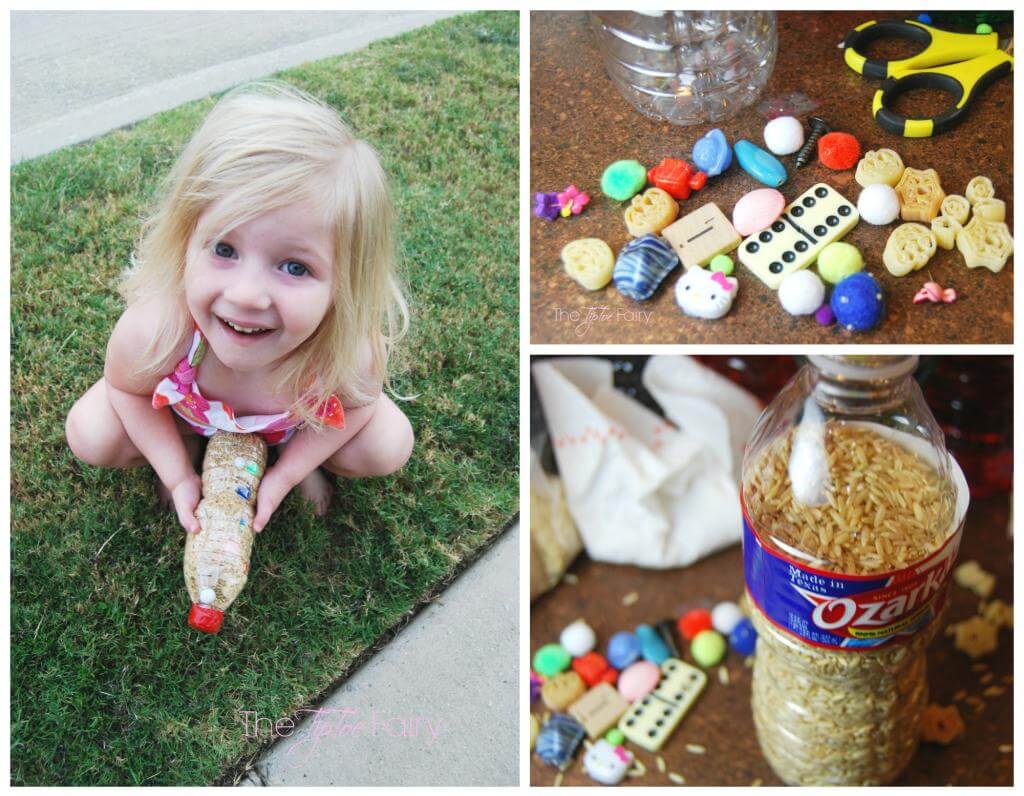 We also make I Spy Bottles. I have the kids find little trinkets around the house. It's mainly stuff they get from quarter machines or at school that's just lying around. Then, we fill the empty bottles with rice and the trinkets. I tape the caps shut, just so we won't have a big mess if it gets unscrewed, and shake it up. This is fun for my kids, especially on a long car ride.
Water Bottle Ring Toss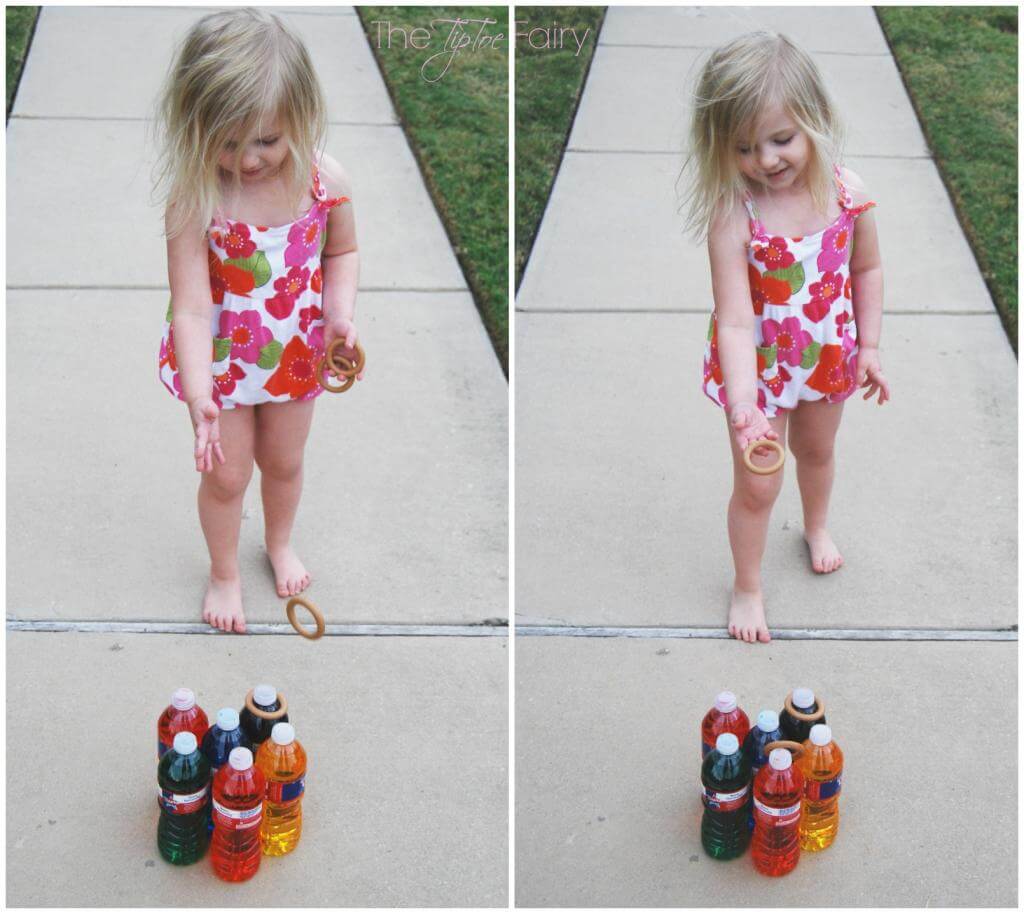 Like Water Bottle Bowling, Water Bottle Ring Toss is another fun one. I fill empty water bottles and use food coloring, too. Then, I pull out some wooden curtain rings and give them each a stack. This one is fun for older kids because it's quite the challenge. My 15 yr old is very competitive with this game. This particular game was not over until she finally made it.
We've been doing this one for years, and it is a hit with every kid at every age. Even adults love this one – Bubble Snakes!! This time we added food coloring for Tie Dyed Bubble Snakes.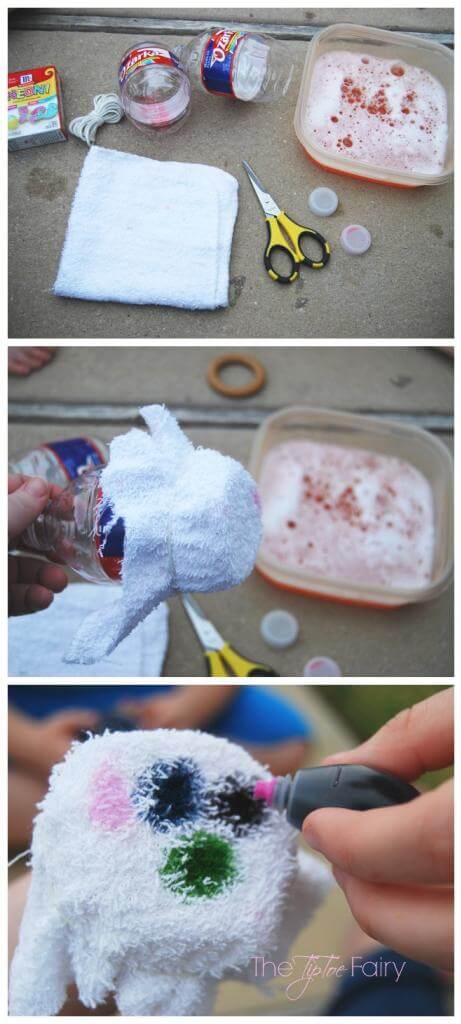 Tie Dyed Bubble Snakes
Supplies
Water bottles
Scissors
Old washcloth
Rubberbands
Container of soapy water
Food coloring dyes
1. Cut the end off a water bottle, and cut an old washcloth into four squares.
2. Next, rubber band the end of the washcloth piece onto the open end of the water bottle.
3. Make a small container of soapy water with dish detergent. Dip the wash cloth side of your bottle into it.
4. Then Add 5 drops of each color of food coloring to the washcloth. We usually stuck with just 2-3 colors.
5. Now Blow!! You'll make colorful snakes of bubbles.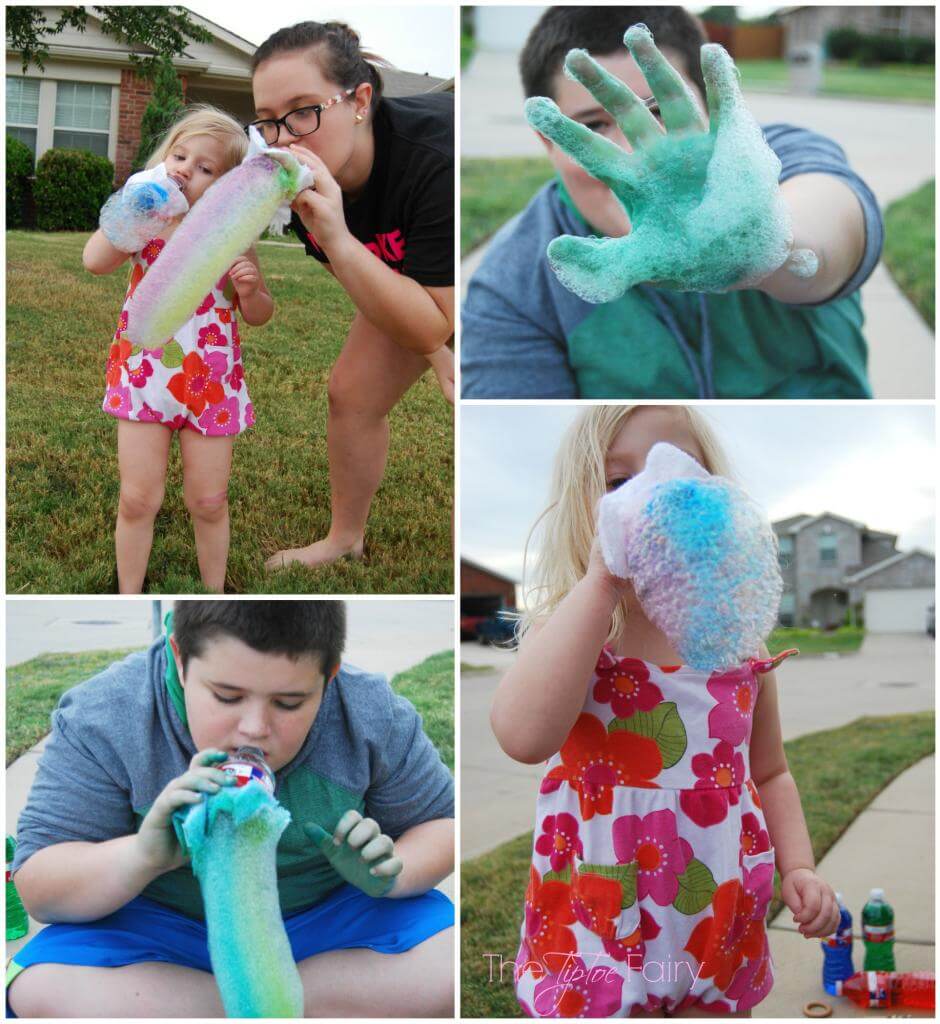 Be warned! This can be messy and is best done outside. My son gave himself green hands and both my daughters had rainbow feet, but it easily washed off afterwards. This fun is definitely worth the mess!
Make a Lava Lamp
This last one is our absolute favorite water bottle fun. It's a homemade Lava Lamp.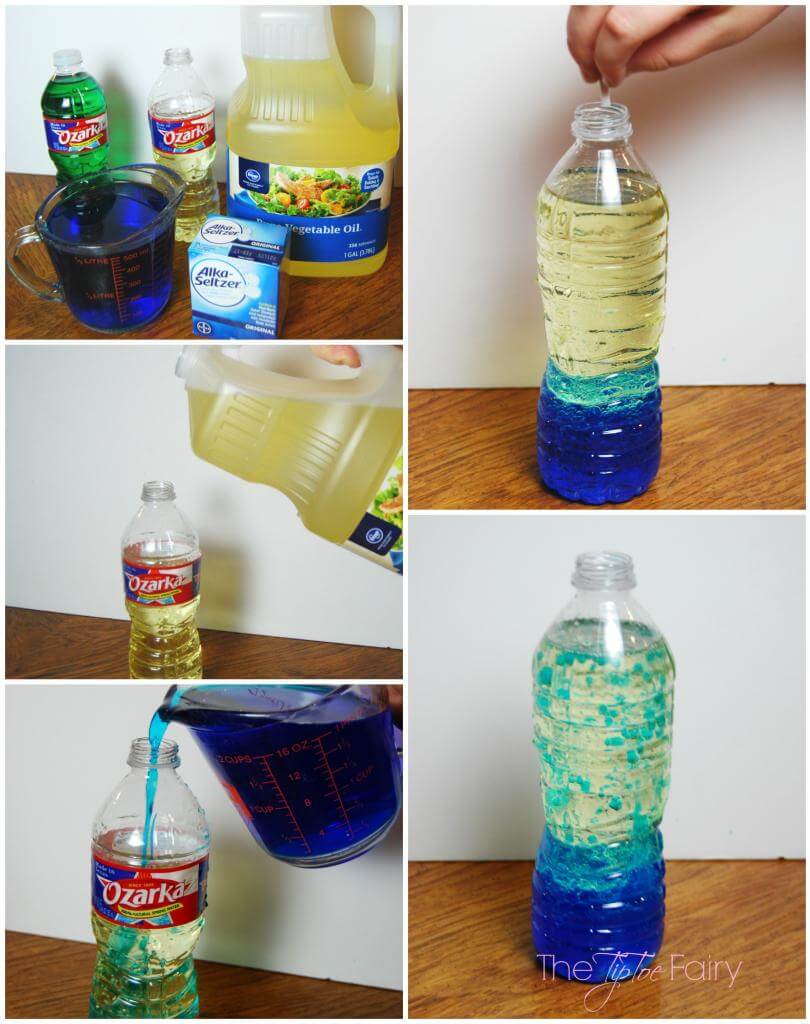 Supplies
Empty water bottle
Cooking oil
food coloring + water
Alka Seltzer tablets
1. Fill the water bottle with cooking oil until about 2/3 full.
2. With food coloring, dye about a cup of water.
3. Slowly pour the dyed water into the water bottle.
4. Here's the fun! Break an Alka Seltzer tablet in half and then add each half.
5. Sit back and watch the fun!
More Fun Kids Activities
Come Join Us!
Liked this article and want more? Follow along on Instagram, Facebook, Twitter, Pinterest, TikTok, and YouTube!
Come over and join us on Facebook in the group Recipes, Crafts, and more with TipToe Fairy or Sewing and Crafting with The TipToe Fairy!
Visit Our Other Blogs!