I love to encourage creative and imaginative play in my kids. It's like cultivating a garden that just continues to grow. Making something like these Paper Cup Puppets can lead to such imaginative play. This post contains affiliate links.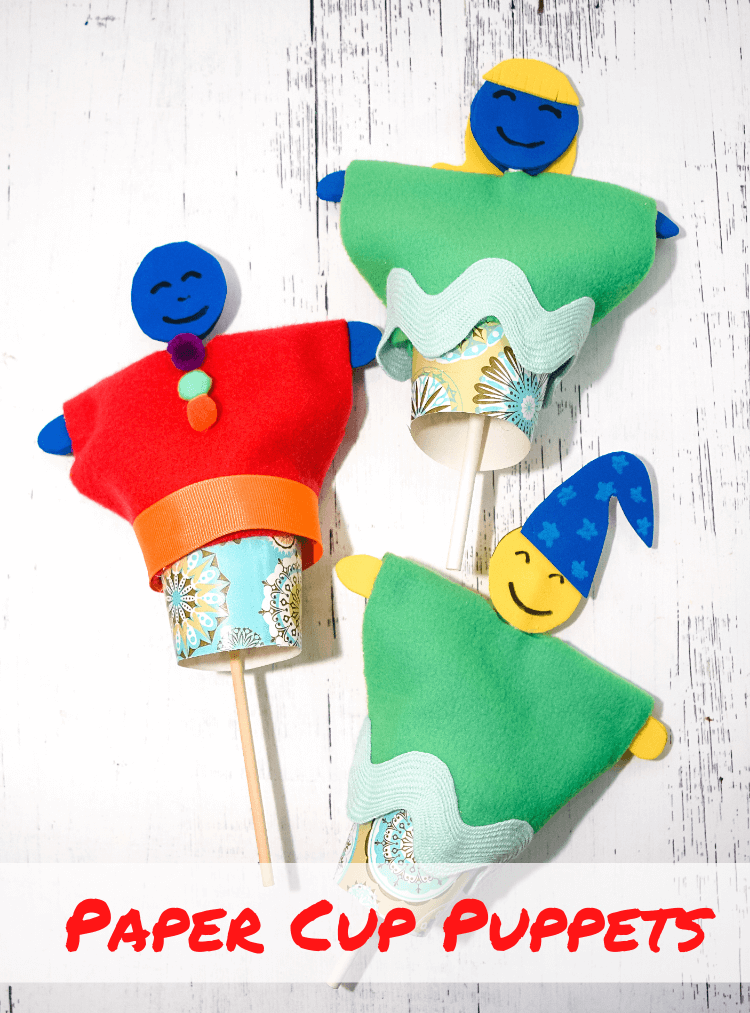 I grew up with a very active imagination. When I was a child, I was happiest in my room creating a world with my dollhouse or my Barbie dolls. Even now, I thrive on creativity, which is why I love what I do — sharing my creativity with all of you!
Making things and being creative is so good for your mental health. It's really like breathing for me. I can't imagine life without it. This is why I encourage my kids in their imaginative and creative play, especially now when we're all stuck at home.
How do you create Paper Cup Puppets?
These puppets are easy to make. I recommend an adult or teenager use a glue gun so they can be made very quickly.
If you want the kids to make their own paper cup puppets, you can certainly use regular glue or even glue sticks, but you will need to stop and allow for the glue to dry before moving onto all the steps to finish the puppets.
You can keep your little puppet heads bald or you can add hair or hats or whatever! We kept some of our puppets bald, but we also added hats and hair to others. I did not include any patterns in the cutting guide for doing this because it's so easy to free hand.
We created the hair and hats without a patterns. We made pigtails and curly hair and even a wizard hat. You can even bring out the yarn and have the kids make hair that way. My favorite is the wizard hat with the stars. We just cut the hat with scissors and then used a paint pen to make the stars.
What kind of cups should you use to make Paper Cup Puppets?
To make these paper cup puppets I used 3 oz bathroom cups. If you are using the glue gun, I would recommend using paper cups and not plastic as plastic cups might melt from the hot glue.
If you plan to use just regular school glue or glue sticks, then plastic cups would be just fine.
What kind of sticks should you use to make Paper Cup Puppets?
I use two kinds of sticks for our puppets. I used paper straws for some of the puppets we made, and they worked great. The only downside was my toddler tended to bend the straws from being a little too rough. However, this wasn't much of a problem, as the puppets still worked just fine. I would just straighten the straw out again.
I also used 10-inch dowel rods that were 1/4 inch in diameter. You can find these at so many places from craft stores to Target, Walmart, and Amazon and even sometimes at the Dollar Tree.
Download the Paper Cup Puppets Cutting Guide
More Kids Creative Play Ideas
Yield:

1 puppet
Paper Cup Puppets
Materials
1 paper straw or 10-inch dowel rod with 1/4 inch diameter
Stretchy fleece or knit scrap fabric (5 x 8 inches)
1 sheet of sticky back foam
1 sheet of regular foam
Sharpie
3 oz paper cup
10-12 inch 1-inch wide ribbon
Optional: Embellishments like pompoms.
Instructions
Use the cutting guide to cut the pieces -- two head pieces from an adhesive foam sheet, two hands from regular foam sheet, 5 x 8 rectangle of fabric.
Attach the two head pieces back to back at one end of the stick.
Make a face with the Sharpie on the head and set aside.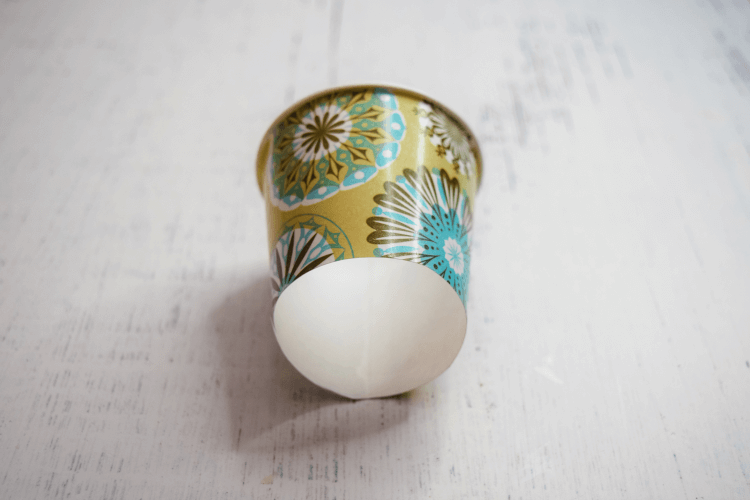 Cut the end off the cup and trim for a smooth edge.
Cut a small 1/2 inch size hole in the very center of the fabric piece.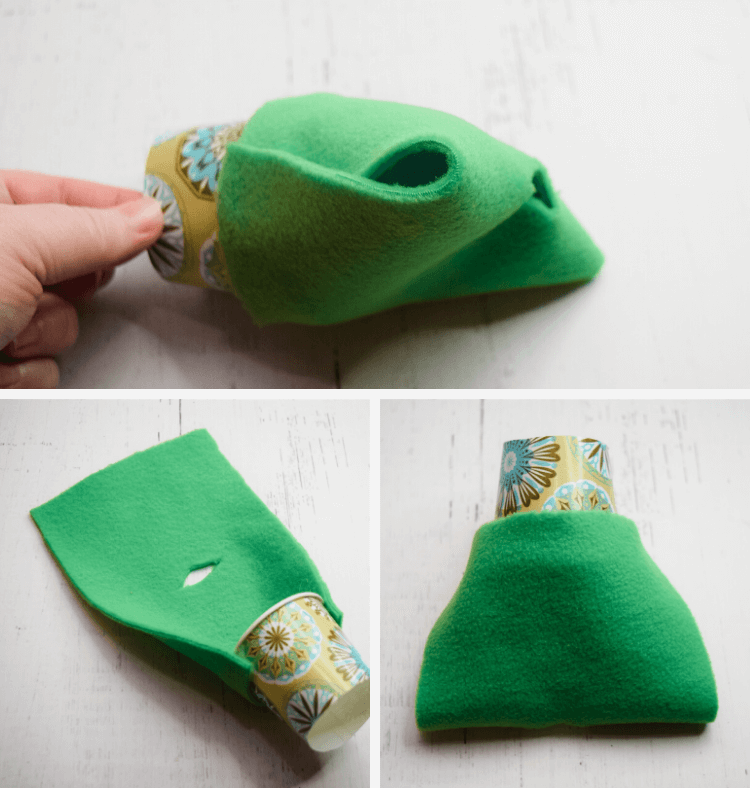 Glue the fabric to the cup to create a front and back.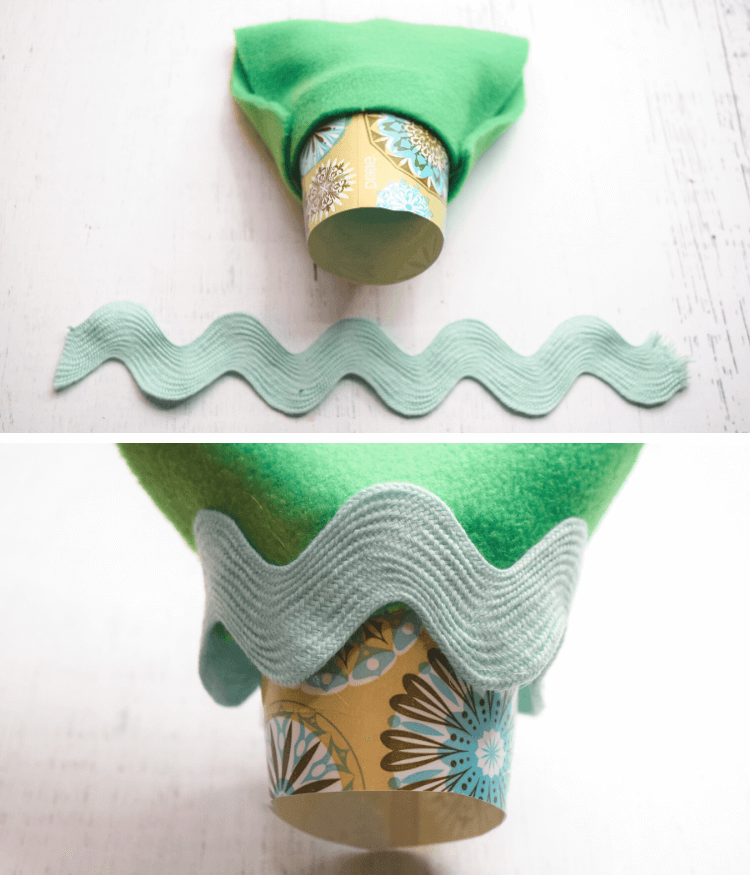 Measure and cut to size the 1-inch ribbon around the bottom edge of the fabric and then glue it on.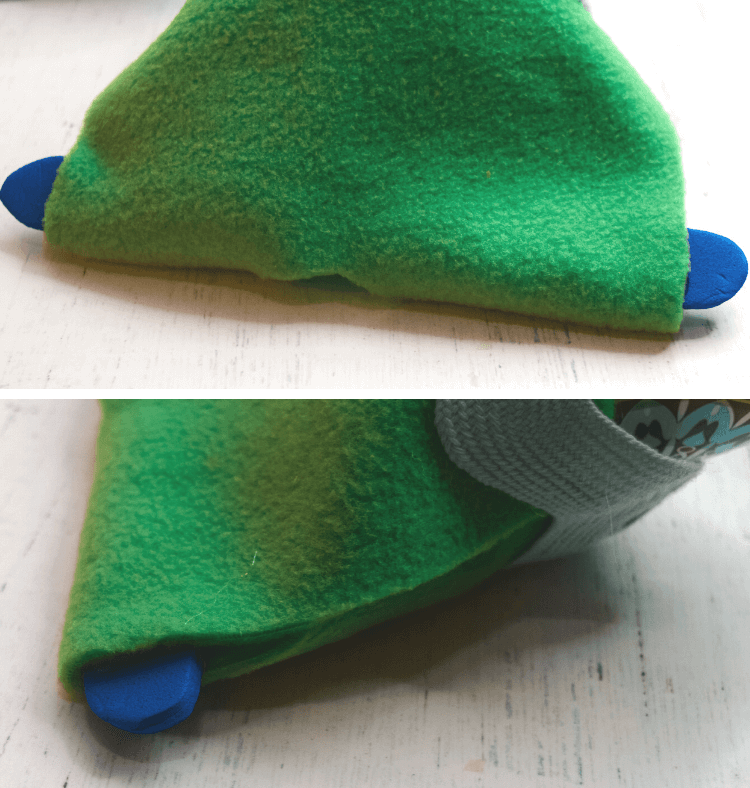 Glue each hand to each of the arm holes.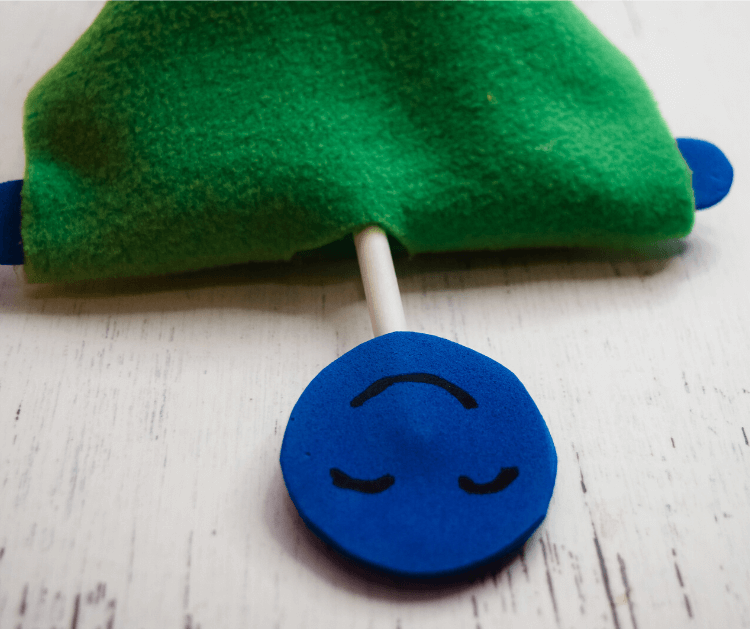 Insert the stick at the neck.
About 1/4 inch from the bottom of the head, add a drop of glue to the stick, and pull the neck fabric up to that drop and press down. Do this for both the front and back side of the puppet.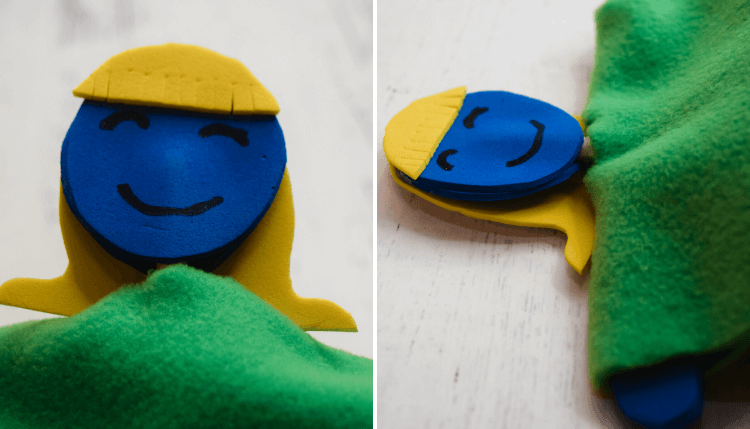 If you want to add a hat or hair, design your own and use sticky back foam sheets or just glue it with regular foam.
You're done!
Recommended Products
As an Amazon Associate and member of other affiliate programs, I earn from qualifying purchases.
Come Join Us!
Liked this article and want more? Follow along on Instagram, Facebook, Twitter, Pinterest, TikTok, and YouTube!
Come over and join us on Facebook in the group Recipes, Crafts, and more with TipToe Fairy or Sewing and Crafting with The TipToe Fairy!
Visit Our Other Blogs!