We have tons of treasure and scavenger hunts for older kids around here, but we only have a few for little kids. I created this fun Blue's Clues Paw Print Hunt for my preschooler, so she could play Blue's Clues in real life at home. It was such a hit I wanted to share it with you! This post contains affiliate links.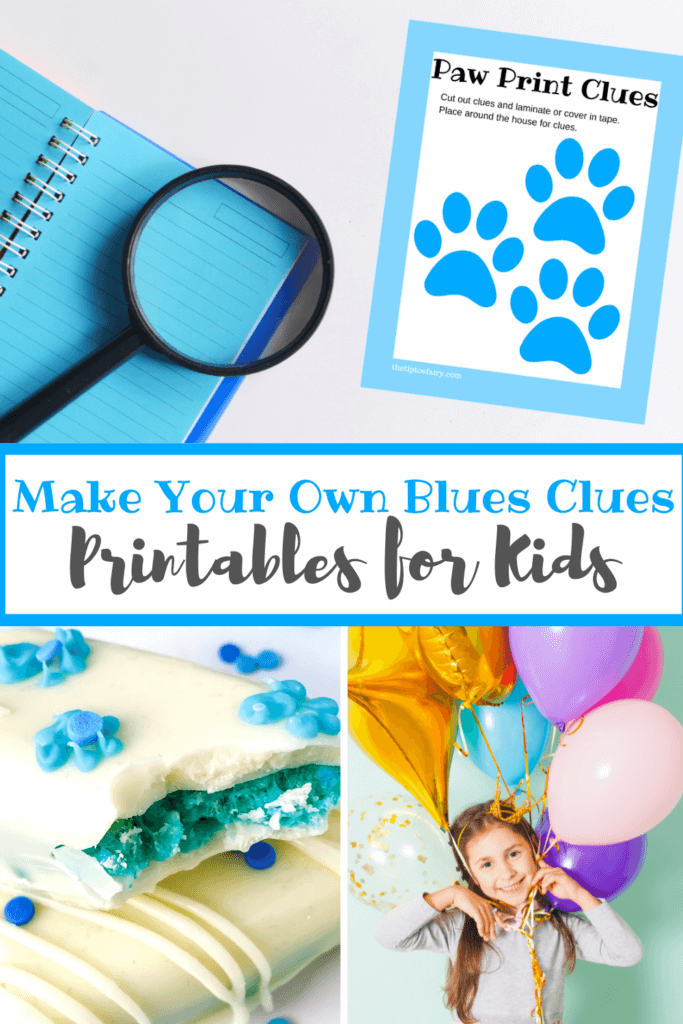 You can easily make this hunt into just about anything, for a birthday, holiday, or just for a fun activity around the house to get their brains thinking differently.
What do you need to have a Blue's Clues Paw Print Hunt?
This is a totally fun activity for the kids at Blue's Clues birthday party. But, you can also just do it with the kids for anything or even no reason at all.
Cardstock
Download Paw Print Hunt Packet
Crayon
Tape
Stapler (optional)
Laminator and pouches (optional)
Download the Files
Download your very own copy of the paw print clues to hide around the house!
How do you have a Blue's Clues Paw Print Hunt?
In the show, they hide 3 clues for what activity or thing that Blue wants to do. Then, sit in the thinking chair to figure out what the clues mean.
Use three clues to place on three different items that can lead to the answer.
You'll need to download, print, and cut out the packet of items, preferably on cardstock.
Cut out the notebook pages and tape or staple together.
I recommend laminating the clues so you can reuse them over and over again. But, you don't have to do that.
Add some sticky tack or double-sided tape or even just a regular piece of tape to the back of the clues.
Hide the 3 clues on 3 different items that will lead to the activity to do.
Grab a crayon and have the kids draw each clue on their notebook.
Sit in a special spot — a "thinking chair" — to figure out what activity you'll be doing together.
If they get stuck on the clues, give them hints, so they can figure it out!
Below, you'll find some ideas for clues and activities.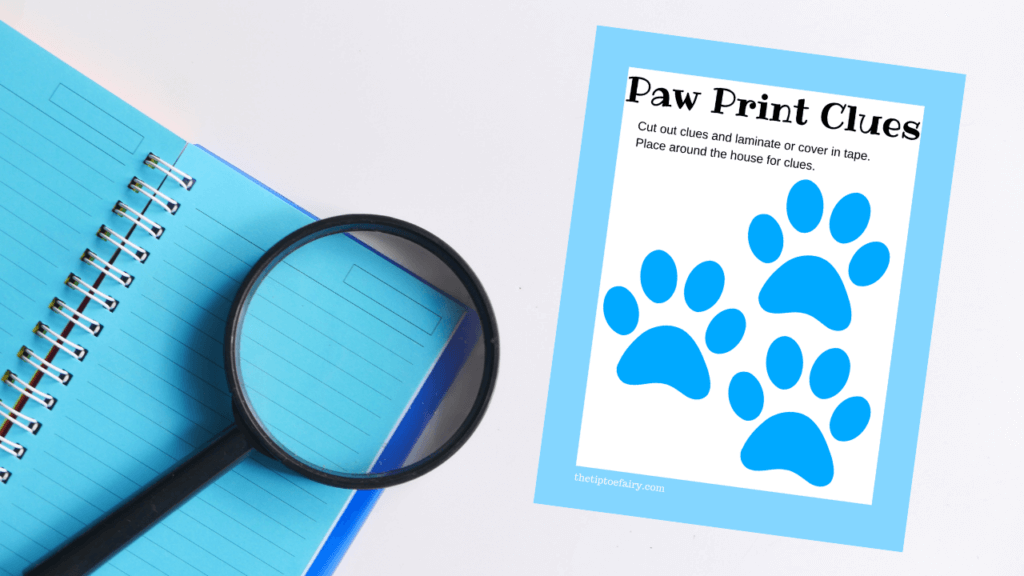 Ideas for different Blue's Clues Paw Print Hunts
Table – Plate – Piece of Food = Lunch Time / Dinner Time
Couch – Popcorn – TV = Family Movie Night
Towel – Bubble Bath or Soap – Bathtub = Bath Time
Table – Colors – Paper = Coloring / Drawing Time
Pillow – Picture Book – Bed = Bedtime / Naptime
Mixing Bowl – Front of Oven – Spatula = Baking Time
Birthday Clue Idea: Balloon – Plate – Table = Birthday Cake Time
Birthday Clue Idea: Balloon – Gift – Birthday Kid = Present Time
Birthday Clue Idea: Table – Dice – Hershey Kisses = Roll a Paw Print Game
More Doggie-themed Fun for Kids
More Preschool Fun Activities
Come Join Us!
Liked this article and want more? Follow along on Instagram, Facebook, Twitter, Pinterest, TikTok, and YouTube!
Come over and join us on Facebook in the group Recipes, Crafts, and more with TipToe Fairy or Sewing and Crafting with The TipToe Fairy!
Visit Our Other Blogs!