We love doing things together as a family. This is especially true when it involves fun games we can all play. We have a bookshelf at home full of games that we play regularly together.
There's a snow cone place we love to visit that had a bookshelf full of board games. Unfortunately, a lot of them are missing parts. Now when we go there, we bring a game of our own and usually end up closing the place down because we're having so much fun. This week it is the new Hedbanz™ Electronic!
Hedbanz™ Electronic is the fast-paced, team-based electronic version of the quick-question game of "What Am I?" In this game, you pick a partner, and then one of you puts on the headband and grabs a card. One team is blue and the other is red. The "Electronic Host" will light up with one of those colors to determine who goes first. The teams get three rounds to rack up the most points to win.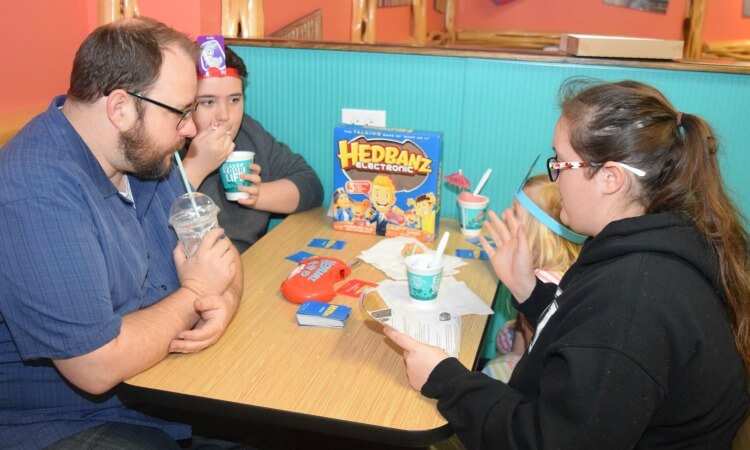 We were already very familiar with the regular version of Hedbanz as it's a favorite of ours. My teenager explained the rules for this version, and we were up in playing in just a few minutes.
During each round, the electronic host determines which game mode you'll play in that round.
1. Ask "Yes" or "No" questions
2. Describe It
3. Act it out
Act it out was the most fun because your partner can't say words. They can just make noises and do a charade. We were laughing so hard. It is very funny for everyone involved.
We loved this game and played several games. Even though each game is 3 rounds, it goes by very quickly. We are a competitive family, so it was definitely a race to beat each other. Every single time my husband and son smoked us girls by just one point. We finally won the very last game.
Hedbanz™ Electronic is an exciting family game experience ideal for children age 7+. Our youngest is 6 1/2 years old, and she did fine with everything except when it was the yes or no questions. She would need some prompting on what to ask, but she loved it as much as everyone. This is definitely a great game to play with parents and tweens and teens.
I was selected for this opportunity as a member of CLEVER and the content and opinions expressed here are all my own.