I have 4 kids from ages 22 down to 4, and they all have LOVED Blue's Clues. My youngest is about to have her birthday this month, and these Blue's Clues Rice Krispies Treat Pops are perfect for any party! This post contains affiliate links.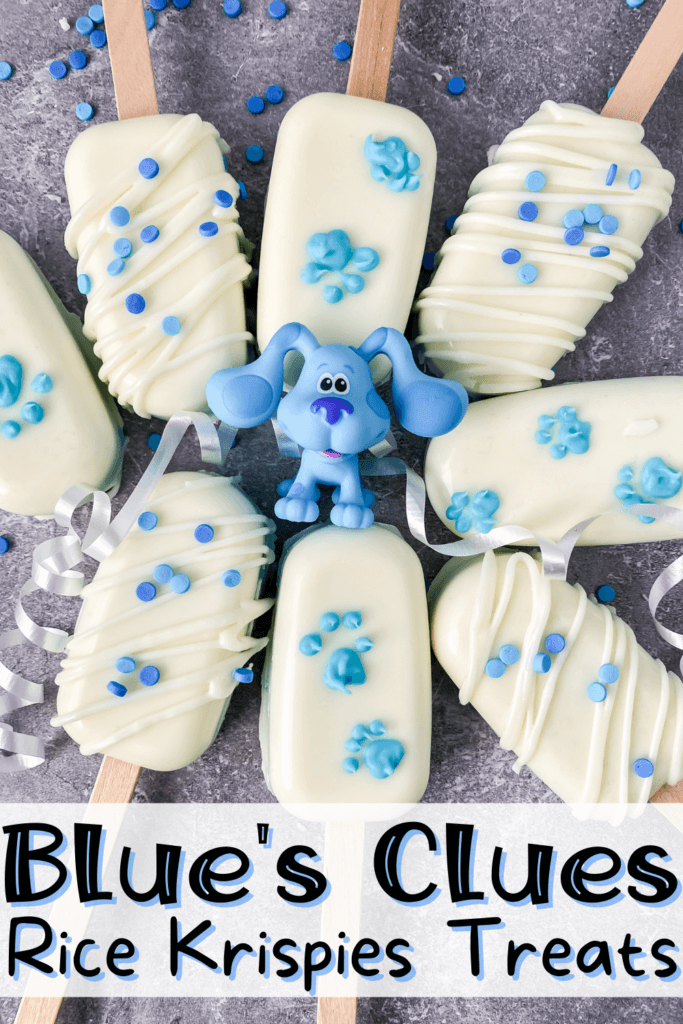 I love a treat that kids can eat on a stick. It usually means no messy hands!
What do you need to make these Blue's Clues Rice Krispies Treat Pops?
I recommend parchment paper or wax paper along with a frosting piping bag (or a ziplock bag) for supplies to make these yummy treats. You'll also need a popsicle or cake pop mold like this one.
6 Cups Rice Krispies Cereal
16 oz bag Marshmallows
1/2 a stick of Butter
1/2 Cup white candy melts
Nonstick spray
How do you make Blue's Clues Rice Krispies Treat Pops?
Lightly grease the parchment-lined baking sheet with nonstick oil spray and set aside.
Melt the marshmallows in thirty second increments with the butter. Give it a stir and continuing melting until the marshmallows are completely melted and smooth. This usually takes me about one full minute.
Add in 2 drops of the electric blue gel color. I recommend using gel food coloring as it tends to be a much brighter color versus the drops.
Mix well and then add the cereal.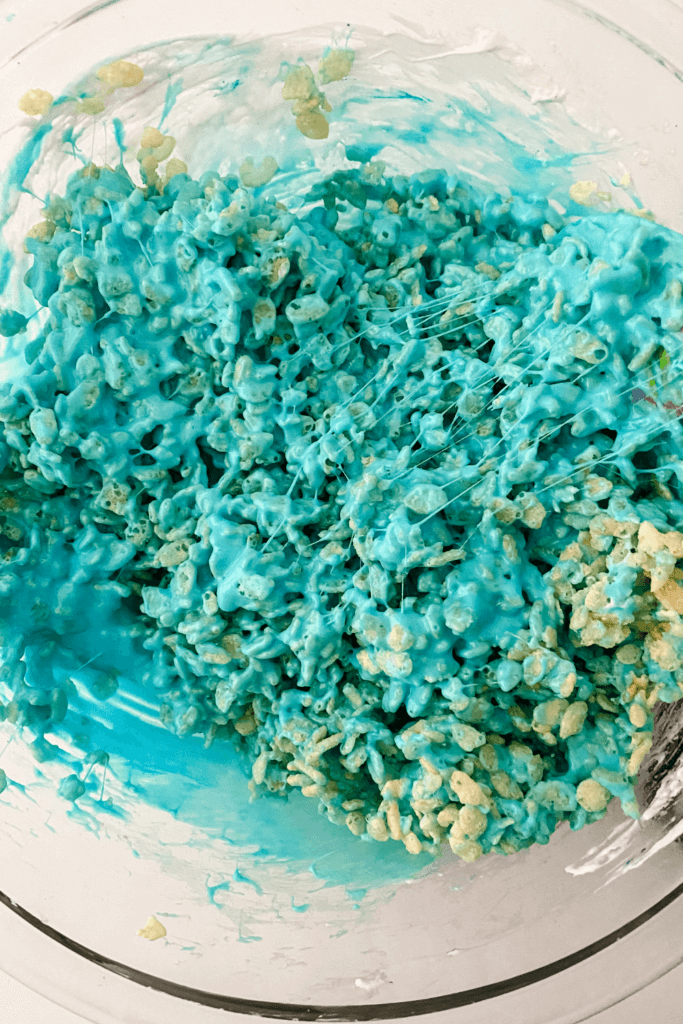 Once the Rice Krispies are fully mixed pour the mixture out onto the parchment lined baking sheet and press until flat and even.
Let it set for about 15 minutes.
While it's setting, melt the white candy melt or white chocolate in 30-sec increments. Stirring every 30 seconds. This takes me anywhere from 1 to 1 1/2 minutes, stirring each time.
When it's smooth and there are no more lumps, the white candy melts are ready.
Now if it feels too thick, these EZ Thins are my favorite thing to keep on hand to smooth out candy melts. A small pinch works wonders to thin out the candy melts.
Spoon the candy melts into the molds and gently spread candy up the sides of the mold. If more chocolate is needed to cover the center do so.
Freeze the molds for about 15 minutes. Make sure they are flat in the freezer.
Remove trays from the freezer, and portion out the Rice Krispies and be careful not to overfill the cavity.
Slide in the popsicle sticks to the center making sure they are as even as possible.
Press gently into the mold careful not to break the chocolate.
Cover the back with melted chocolate. Clean up the edges as much as possible.
Freeze for another 5 minutes so the chocolate is hardened and carefully remove from molds by peeling from the top down.
More Fun Kids Foods
More Preschool Fun
Yield:

12
Blue's Clues Rice Krispies Treats
Additional Time:
15 minutes
Come Join Us!
Liked this article and want more? Follow along on Instagram, Facebook, Twitter, Pinterest, TikTok, and YouTube!
Come over and join us on Facebook in the group Recipes, Crafts, and more with TipToe Fairy or Sewing and Crafting with The TipToe Fairy!
Visit Our Other Blogs!