This is sponsored by Acorn, all opinions are my own.
With a family of 6, our kitchen sink is always full and our dishwasher is always going. While I was pregnant and now having a baby, I have found disposable plates make life so much easier. They are so versatile and you can do so much with them, from easy clean up from meals to avoiding messes with crafts like making rainbow toast with marshmallow edible paint!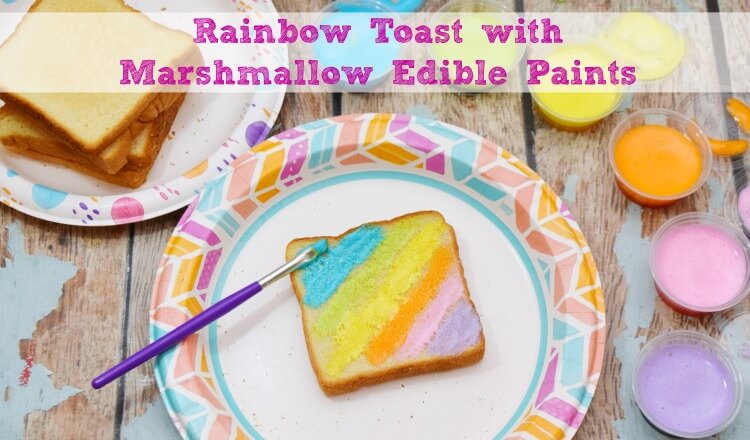 My favorites are always Dixie products. Not only do they have cute designs, but they are affordable. There's nothing that annoys me more than a disposable plate that can't do the job, and Dixie is microwavable, cut-resistant, and has a Soak Proof Shield™. I know they can handle just about anything from salad dressing to burger grease!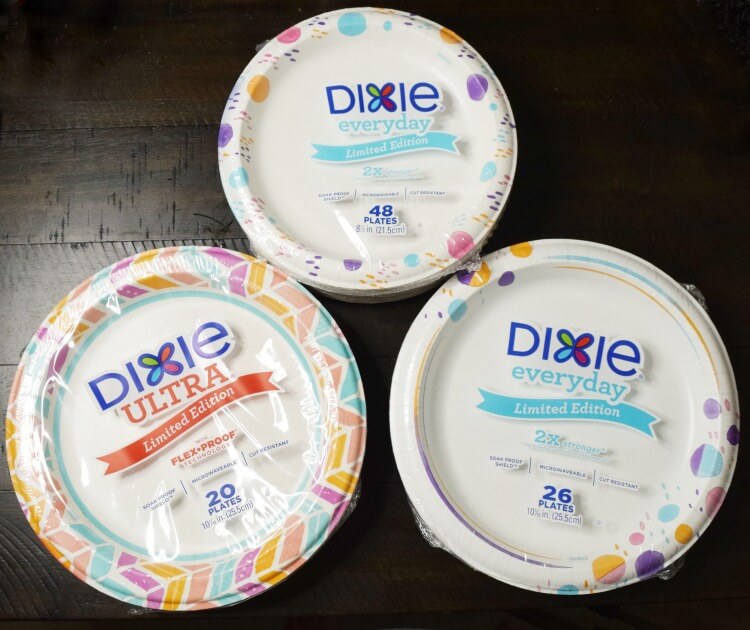 Now through the end of July, Dollar General has these super cute Dixie spring and summer designs and you can find them in the summer picnic area.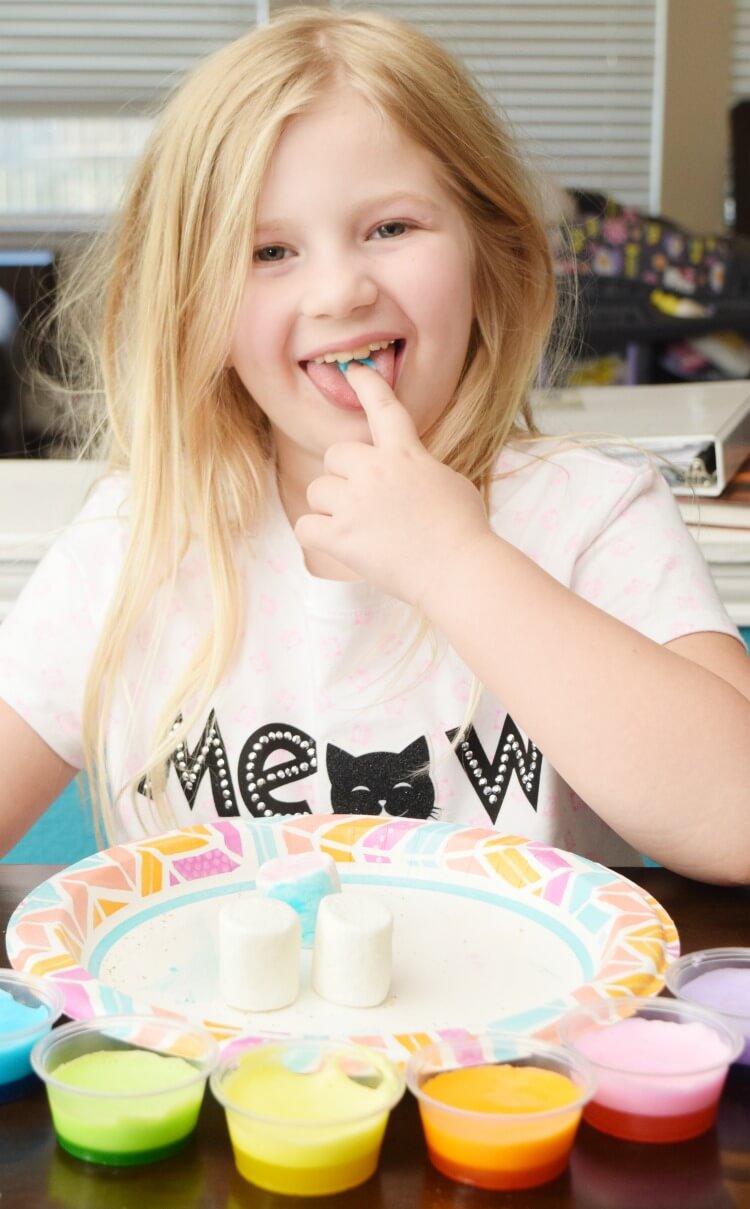 My 8 yr old is my little crafter, just like me, and when she wants to do something like painting, I always trust Dixie to keep the mess to a minimum. Recently, we made marshmallow paints so we could make Rainbow Toast with edible paint! It was great fun to paint so many things from marshmallows, sugar cookies, and even the plates themselves! The best part? This paint is completely edible, which means you can dip your finger in and sneak a bite or two.
If you can make rice crispy treats, then you make this paint.
Marshmallow Edible Paints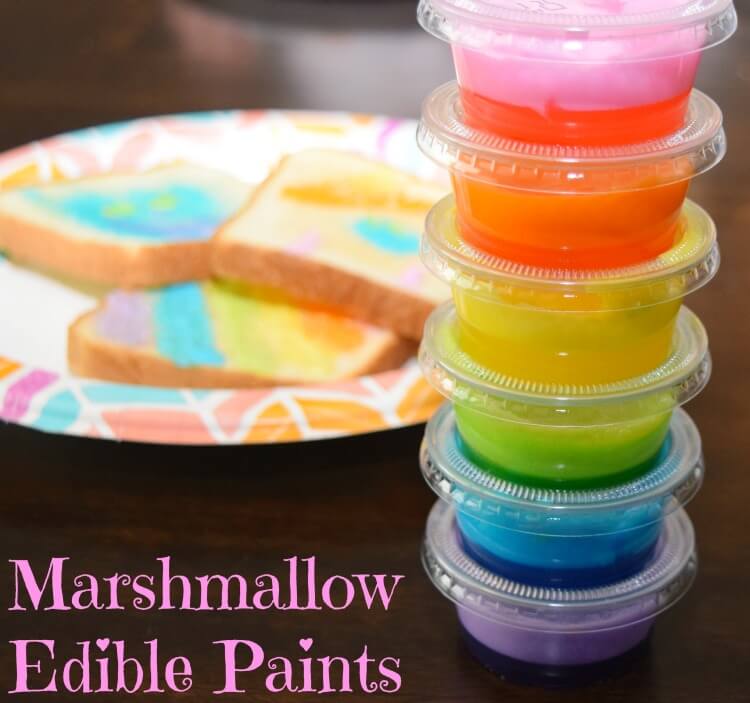 Supplies:
yields – 6 paints
about 15 marshmallows (not the mini ones)
1/4 cup water + 1 tablespoon
3 tablespoons light corn syrup
gel food coloring – blue, pink, yellow, green, orange, purple
small plastic containers with lids
popsicle sticks OR food safe paintbrushes
Directions:
In a large microwavable bowl add the marshmallows.
Heat in the microwave for 30-40 seconds.
Add the water and stir until combined.
Heat for an additional 30 seconds.
Add the light corn syrup and stir until combined. I find a whisk works much better than a spoon.
Heat for an additional 15 seconds if the marshmallows are not completely melted and smooth and stir again.
Separate the marshmallow mixture into six small bowls and add a large dollop of food coloring gel to each one.
Stir until well combined.
Paint toast, marshmallows, cookies, and more!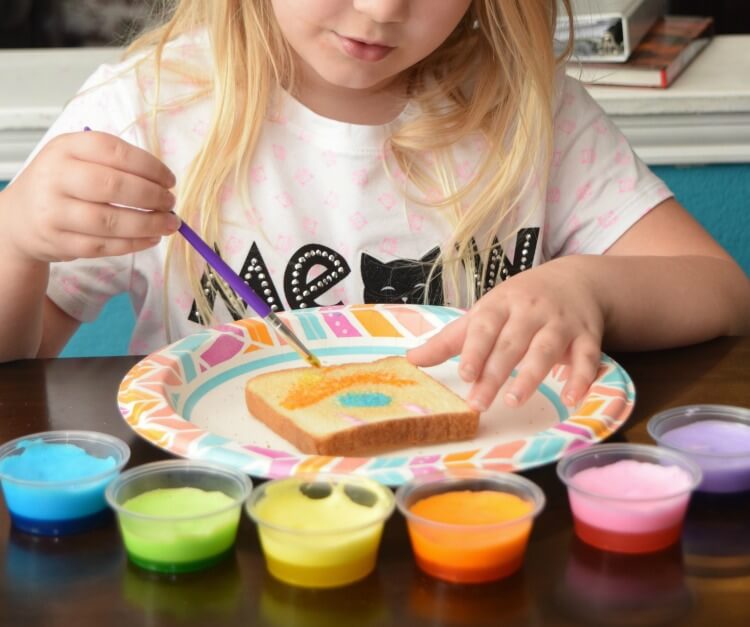 Rainbow Toast
Supplies:
marshmallow edible paints
toast
Dixie plates
Directions:
Toast the bread lightly so that it's hard, but not too dark so the toast will hold up to paint and the paint will be brightly colored.
Use Dixie plates for painting your toast or other treats to keep messes to a minimum.
Use popsicle sticks or food grade paintbrushes (in the cake decorating aisle) or even your fingers and let the kids paint away!
Once the kids have painted their toast, they can eat it immediately.
Here's a few tips for making this edible paint:
You can totally make these paints ahead of time 24 hours or so. Just keep them sealed so they don't dry out.
We found the marshmallows make the paints turn thicker by about day 3, and then they make great finger paint slime.
Next time your kids want to make a fun craft, try these edible paints and make your own Rainbow Toast with Dixie disposable plates!