Looking for something fun and super easy for the kids? Make Foaming Finger Paint with 2 ingredients! This post contains affiliate links.
My toddler is best kept busy with a selection of activities. Basically we switch her up every 30 minutes or so or she gets bored fast.
This is one activity that keeps her busy every time. It's simply regular ol' shaving foam and food coloring drops. I just squirt shaving foam in small bowls and mix in a few drops of food coloring until the color is uniform.
Foaming Paint Supplies
Foaming Paint Directions
Make sure you use the regular white shaving foam. Don't use the shaving gel.
When we finger paint with the foaming finger paint, I like to use the slick or gloss style finger paint paper. It doesn't absorb the paint like manilla or construction paper does.
I also prefer to use food coloring drops and not the gel colors because I think it does not stain skin like the gels. I have never had the finger paint stain their hands when we use the drops. The food coloring gel has sometimes stained our hands, so I like to avoid it for this activity.
You also don't have to just finger paint. My toddler loves making hand prints and footprints with this paint. We also like to use paint brushes and foam brushes for making the paint different textures.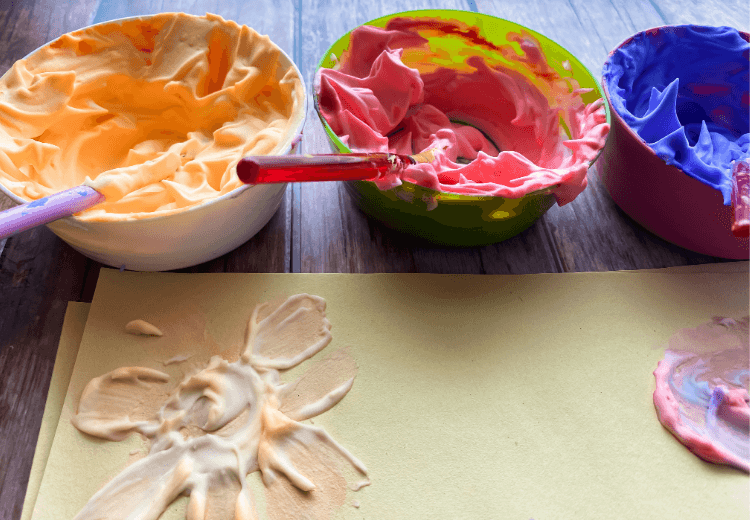 Another Way to use Foaming Paint
Two of my kids are sensory kids who don't always like to touch things. My 3 year old freaked out a little at first.
At first, she preferred the foaming paint sealed up in a big gallon-size ziplock bag, so it would not get on her hands. Before I gave her the bag, I add a few drops of the food coloring inside. She squished it around inside the bag and watching it turn colors.
After doing that a couple of times, then she was ready to try finger painting with it, and she loved it.
More Fun Kid Activities
Come Join Us!
Liked this article and want more? Follow along on Instagram, Facebook, Twitter, Pinterest, TikTok, and YouTube!
Come over and join us on Facebook in the group Recipes, Crafts, and more with TipToe Fairy or Sewing and Crafting with The TipToe Fairy!
Visit Our Other Blogs!