I gave a little sneak peek about this recipe over on Facebook the other day. I have had a love affair with El Fenix Cheese Enchiladas for as long as I can remember.
El Fenix and My Grandpa
El Fenix is a Tex Mex restaurant chain that has been around since 1918 – more than 100 years! Every Wednesday is Enchilada Day, where the cheese enchiladas are discounted super cheap.
Back in the day, my grandparents knew the Martinez family, though I am unsure how exactly. My grandma used to tell me that my grandpa would throw his hat into the original El Fenix restaurant in Dallas. If they kept his hat, it meant he could come in and eat. If they threw it back out, they didn't want him that day.
I can't tell you how many times I've heard this story. I spent a lot of time with my grandma when I was growing up. But, unfortunately, she died when I was a busy college student, and I never really asked her much about all that history.
Cheese Enchiladas at El Fenix
El Fenix has always been my favorite Tex Mex restaurant. I love those cheese enchiladas. It's the enchilada chili gravy that makes them so yummy, and I have been trying to recreate that flavor for a long time.
I've seen one recipe floating around forever that people swear by. I've tried it, but it just didn't taste right to me.
Every few years I search for a recipe. I recently started searching again.
Then, lo and behold, I found an old news article where El Fenix was celebrating their 101st birthday and were on a local news station. They released their enchilada gravy recipe on the show!!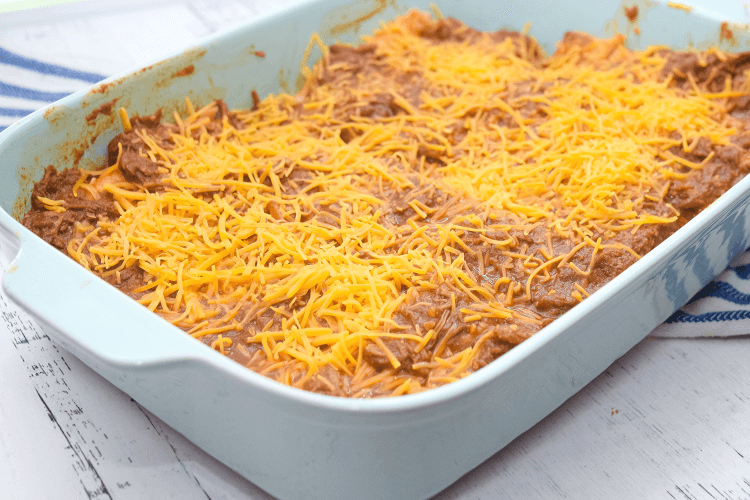 El Fenix Enchilada Chili Gravy
I went to check it out, but I think it's not the real, true secret recipe. Anyone who has ever eaten the cheese enchilada dinner at El Fenix knows the enchilada gravy has shredded meat in it, not ground beef. But, the recipe they gave had ground beef.
So, I decided to give the recipe a whirl, but I substituted chuck roast I had cooked down to shredded beef into the recipe.
The Verdict??
It's really good! When you're craving enchilada gravy for TexMex enchiladas, this is going to satisfy that craving. My husband and teenage son, who are the super Tex Mex lovers in this house, loved the enchiladas. I did, too. We found they were so good even when reheated for leftovers.
It had the definite flavor and vibe of the El Fenix enchilada gravy, but the enchiladas were a little spicier than the restaurant ones. I discovered the reason why it was spicier was that I used Old El Paso red enchilada sauce to dip the tortillas in prior to making the enchiladas.
Red Enchilada Sauce
Next time I plan to try Rosarita red enchilada sauce. It has tomato paste as the first ingredient, only includes Chili Pepper, and is not as spicy as Old El Paso, which has Red Pepper and Chili Pepper in the ingredients.
How do you make El Fenix Enchilada Chili Gravy?
This is one of those few recipes I make that takes some time. It needs to simmer on the stove for an hour.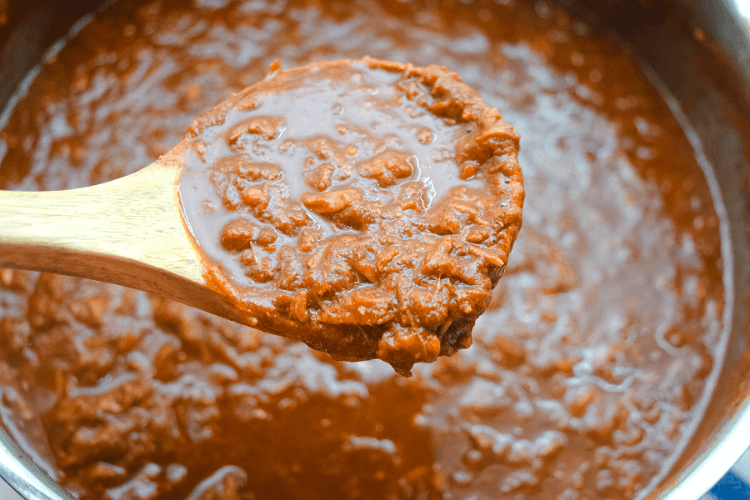 According to El Fenix, you put most of the ingredients together and let it simmer for an entire hour before adding a few more ingredients, as well as masa for thickening, and then simmering for an additional 15 minutes.
You Don't Need to Make a Roux!
It is a very easy recipe to make. It's just mixing ingredients together. I like that you don't need to watch it very closely while it's simmering. It also doesn't require you to make a roux.
Making a roux can be a scary thing for someone who doesn't know how to do it because you can easily burn it if you aren't paying attention. Then your enchilada gravy tastes awful. So, it's nice this enchilada chili gravy doesn't require that.
How to Make Authentic Tex Mex Cheese Enchiladas
Once the enchilada chili gravy is ready, you can start making those enchiladas. You'll want to preheat the oven, and you'll want to take about 1/4 cup of the enchilada gravy and smear it all over the bottom of your 9 x 13 casserole dish.
You can soften the corn tortillas one of two ways:
Warm up some canola oil and dip the tortillas one at a time into it. Then, rest on a cookie sheet.
Or, I prefer to just wrap about a dozen corn tortillas in a paper towel and microwave them for 60 seconds.
I also heat up a pan of Rosarita mild enchilada sauce on low. If you like spicier, then use Old El Paso brand. But, if you want it to taste like the real deal, I recommend Rosarita. It's what I use every time now.
I lay a cookie sheet on the stove on one side. Then, on the other side, I have the pot of enchilada chili gravy at the back of the stove and the red enchilada sauce pot in front of that on the stove.
I take about 3 tortillas at a time and lay them on the cookie sheet. Then, I dip each one in red sauce both sides, and lay them back on the cookie sheet. I add a handful of cheese, roll each one up, and place them side by side in the 9 x 13 pan.
I continue doing this until I've used up all the tortillas and filled the 9 x 13 pan. Then, I ladle chili gravy over the tops of all the enchiladas and then sprinkle cheese on top of that.
What kind of cheese do you put in cheese enchiladas?
I prefer extra sharp cheddar cheese. You can use any kind of cheddar, colby, colby jack, or even Monterey Jack cheese. My mom loves to use just Monterey Jack cheese for her enchiladas.
What else can you put in cheese enchiladas?
I prefer cheese over anything else. But, you can definitely fill your enchiladas with other ingredients like meat such as beef or chicken. You can add veggies like diced onions, cooked bell peppers and onions, and even veggies like broccoli.
More Tex Mex Recipes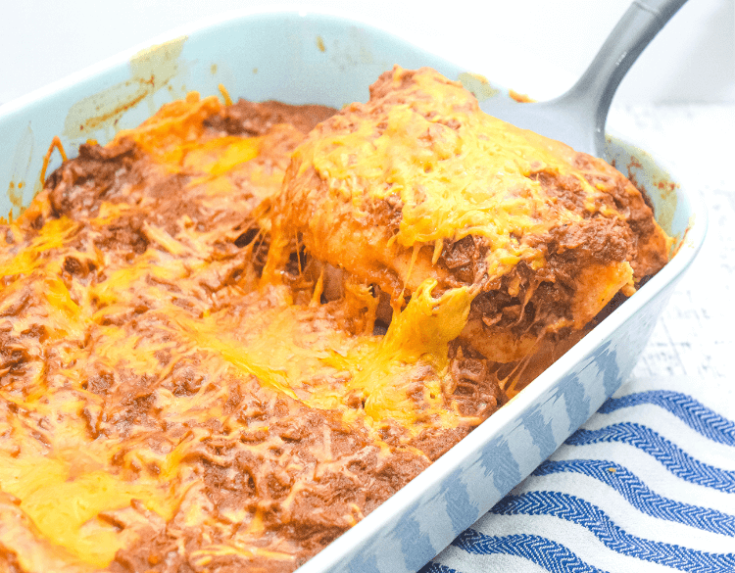 Tex Mex Cheese Enchiladas with Enchilada Chili Gravy
Cook Time:
1 hour
45 minutes
Total Time:
2 hours
5 minutes
Ingredients
Enchilada Chili Gravy
1 1/2 lbs shredded beef
3 teaspoons minced garlic
3 1/2 tablespoons chili powder
1/2 tablespoon ground cumin
1 8 oz. can tomato sauce
2 1/2 cups beef broth
1 1/2 tablespoons masa harina
1/2 teaspoon salt
1/2 teaspoon cayenne pepper
1/2 tablespoon paprika
Cheese Enchiladas
12 corn tortillas
6 1/2 cups shredded cheddar cheese
20 ounces Rosarita mild red enchilada sauce
enchilada chili gravy
Instructions
Enchilada Chili Gravy
Precook a roast or stew meat until it can be easily shredded with forks.
Add the garlic, 2 1/2 tbsp of the chili powder, and cumin, stirring in the beef.
Add the tomato sauce and the beef broth and bring to a boil.
Reduce heat to low, cover, and simmer for 1 hour.
Add masa gradually, stirring after each addition, until chili reaches desired thickness.
Simmer 15-20 minutes more, then season to taste with salt and add cayenne, paprika and last tbsp of chili powder.
Tex Mex Cheese Enchiladas
Preheat oven to 350 F degrees.
Steam corn tortillas wrapped in paper towels for 60 seconds.
Dip each tortilla in the red enchilada sauce end-to-end, set aside.
Pour 1/4 cup of the chili gravy into the bottom of a 9 x13'' pan.
Fill each corn tortilla with a handful of cheese (keep about 1/2 cup for sprinkling over the top, at the end).
Roll tightly, and place seam side down in the pan. Top with enchilada chili gravy.
Top with remaining 1/2 cup of cheese.
Bake for 20-25 minutes or until hot and bubbly.
Remove from oven and top with more cheddar cheese!
Serve immediately.
Nutrition Information:
Yield:

6
Serving Size:

1
Amount Per Serving:
Calories:

1069
Total Fat:

65g
Saturated Fat:

31g
Trans Fat:

1g
Unsaturated Fat:

25g
Cholesterol:

240mg
Sodium:

2931mg
Carbohydrates:

49g
Fiber:

8g
Sugar:

10g
Protein:

73g
Any nutritional information on thetiptoefairy.com should only be used as a general guideline. This information is provided as a courtesy and there is no guarantee that the information will be completely accurate.