Who love enchiladas? My family sure does, and they are a snap to make on a busy weeknight. One of their favorites are Sloppy Joe Enchiladas made with a can of Manwich. This is a sponsored post.
Often I will combine canned foods with fresh ingredients to make a quick and delicious meal on weeknights. Enchiladas are a favorite around here, and they are very easy to make with just a few ingredients.
What do you need to make Sloppy Joe Enchiladas?
They're full of ground beef and MANWICH and topped with red enchilada sauce mixed with WOLF brand chili. with no beans
How do you make Sloppy Joe Enchiladas?
First, spray the 9 x 13 dish with Olive Oil spray. This will prevent the enchiladas from sticking to the bottom of the pan.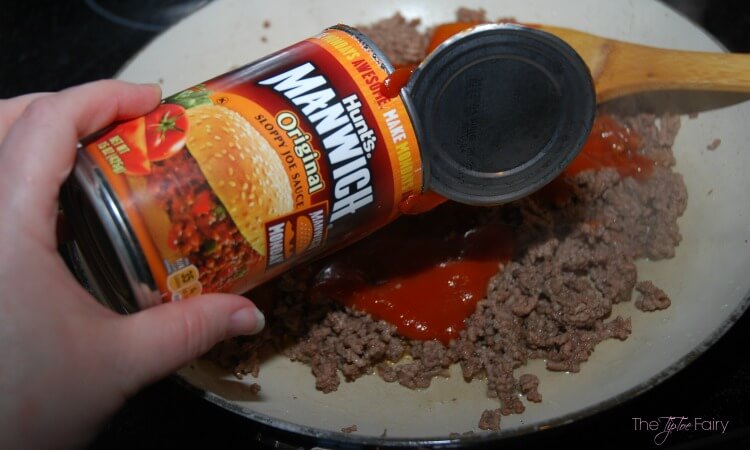 After the ground beef has been browned and drained, add a can of MANWICH. It adds such a great flavor to these enchiladas.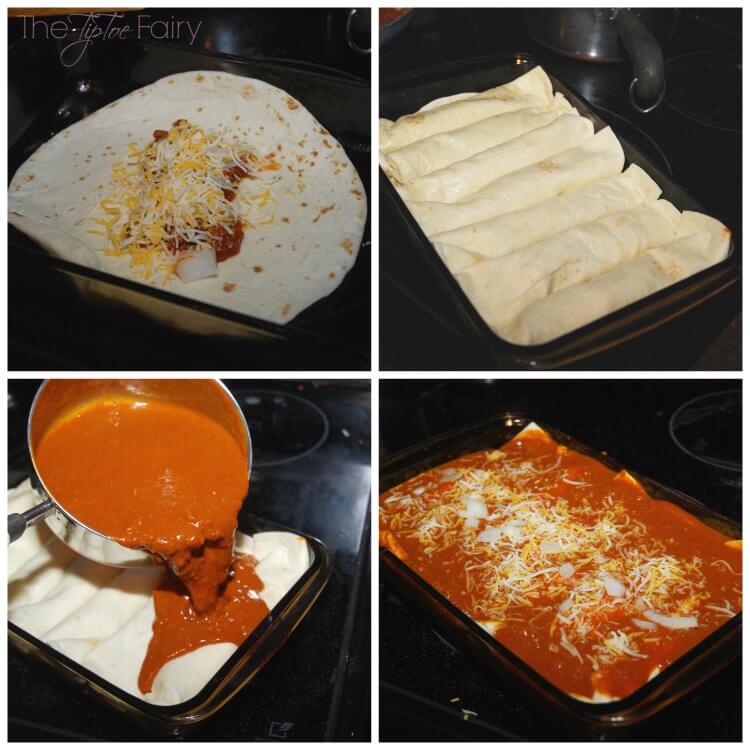 Once the meat is ready, it's time to put the enchiladas together, which takes just a couple minutes.
For the sauce, I combined WOLF brand chili without beans and about a cup of red enchilada sauce. This combo adds a really nice kick, which is perfect to warm you up on a cold winter night. My son and husband love spicy food, and they really like the heat from this combination of sauce.
Then, it's time to cook the enchiladas. Instead of baking in the oven, I cover the dish with wax paper or plastic wrap and heat for 5 minutes in the microwave, and they're perfect!
Once the enchiladas have cooled for a few minutes, I add cilantro and diced avocado.
Easy Tips for Chopping Cilantro
I have a secret tip to chopping cilantro the easy way. Instead of chopping and removing the stems, which can be so time consuming, you comb it! In just a minute you'll have a pile of cilantro to add to a dish without any stems!
Wash the cilantro in a bunch and then dry it in a paper towel.
Hold it by the stems.
Place a bowl or saucer underneath the bunch you're holding.
Then, run a fork through it quickly like a comb over and over until you have enough cilantro.
More Enchilada Recipes
Recipes to pair with Mom's Cheese & Onion Enchiladas
Yield:

10 enchiladas
Sloppy Joe Enchiladas
Ingredients
1 pound of ground beef, browned and drained
1 can of MANWICH
8 oz colby jack cheese
1/2 onion, chopped
1 can WOLF brand chili - no beans
1 small can of red enchilada sauce
10 flour fajita-size tortillas
1 ripe avocado, diced
1 tablespoon cilantro
Instructions
Spray a 9 x 12 dish with PAM Olive Oil spray.
Chop half of a large onion.
Brown the ground beef.
When the ground beef has been browned and drained, add a can of MANWICH and cook until it's hot. Then, remove from heat.
When the meat is almost done, head the tortillas in the microwave for about 30 seconds.
Add 1/10th of the meat or about 2 full tablespoons of meat, and then add the cheese and onions.
Roll up each enchilada and place side by side in the dish.
When all enchiladas have been rolled, mix together the red enchilada sauce and chili. Heat it up for about a minute in the microwave.
Then, pour the sauce over the enchiladas. Top with cheese and onions.
Cover the enchiladas with plastic wrap, and then microwave for about 5 minutes.
While the enchiladas are cooking, dice up a ripe avocado.
Use a fork and comb through the cilantro to easily chop it without stems.
Remove enchiladas from the microwave, Allow to cool for about 5 minutes.
When ready to serve, top with cilantro and diced avocado.