This post has been compensated by Collective Bias, Inc. and its advertiser. All opinions are mine alone. #GoldfishMix #CollectiveBias
Have you been thinking up fun new recipes for The Big Game? As I come up with a fun mix of recipes, I try to keep the kids in mind. My husband and son love spicy, so sometimes I come up with new recipes that are a bit too spicy for my daughters. This time around, I'm making sure to include something they're gonna love — Fried Mac n Cheese Balls made with Goldfish crackers!
When we were at Walmart the other day, my youngest asked for the big 30 oz carton of Goldfish crackers. She just loves them for snack time.
Do your kids love Goldfish crackers? I found a fun new way to enjoy them that's going to work perfect for a Big Game appetizer, and your kids are gonna love it and, so will the adults! Kids love to be part of the excitement, and this appetizer will definitely bring a smile to their face. My kids were super excited when I said I was making Mac n Cheese balls.
Mac n Cheese balls work best with cold, leftover macaroni and cheese. Just in case you don't have a favorite homemade recipe, I've included my easy homemade mac n cheese recipe below. It's very cheesy with a touch of garlic. Plus, adding crushed Goldfish crackers give it an extra cheesy taste.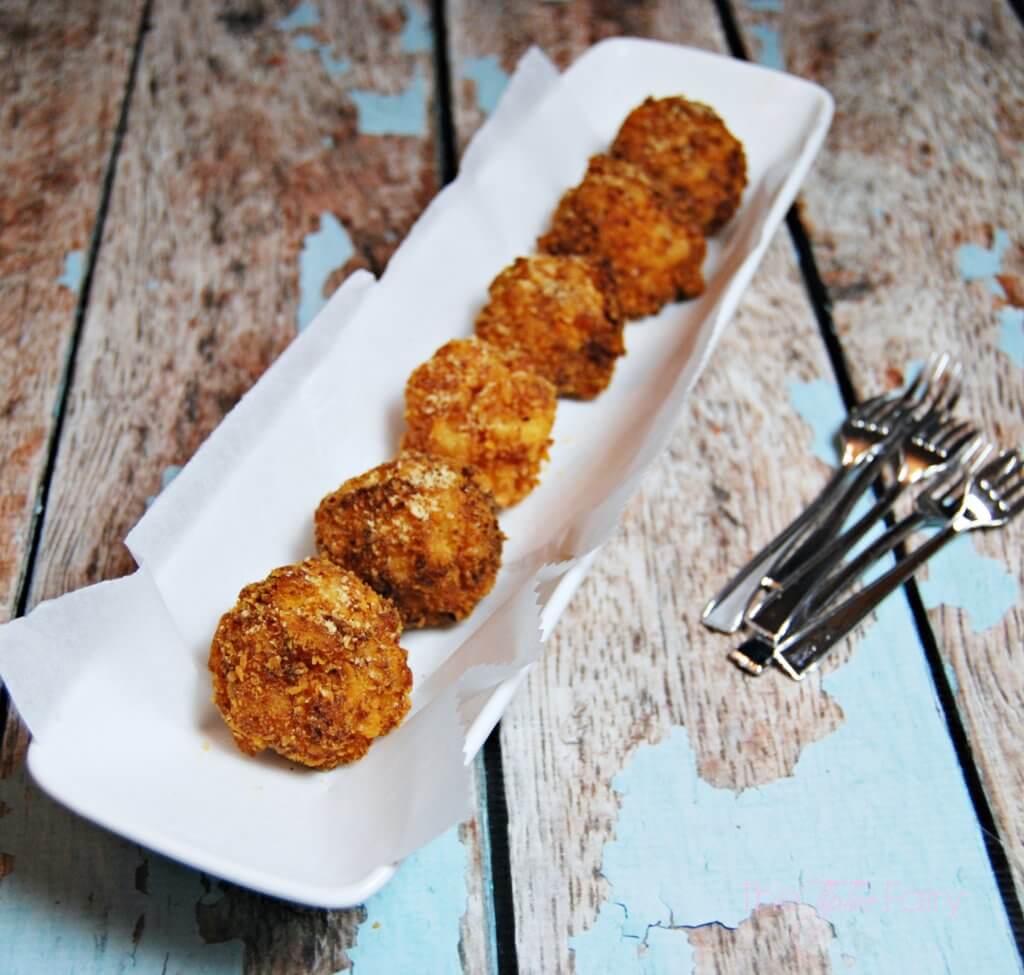 Before I got my new food processor, I usually crushed crackers in a large ziplock bag with a mason jar. I use mason jars for everything. 😉 Now, that I have the new food processor, it takes less than a minute to chop the Goldfish crackers into perfect little crumbs.
How do you make Fried Mac n Cheese Balls?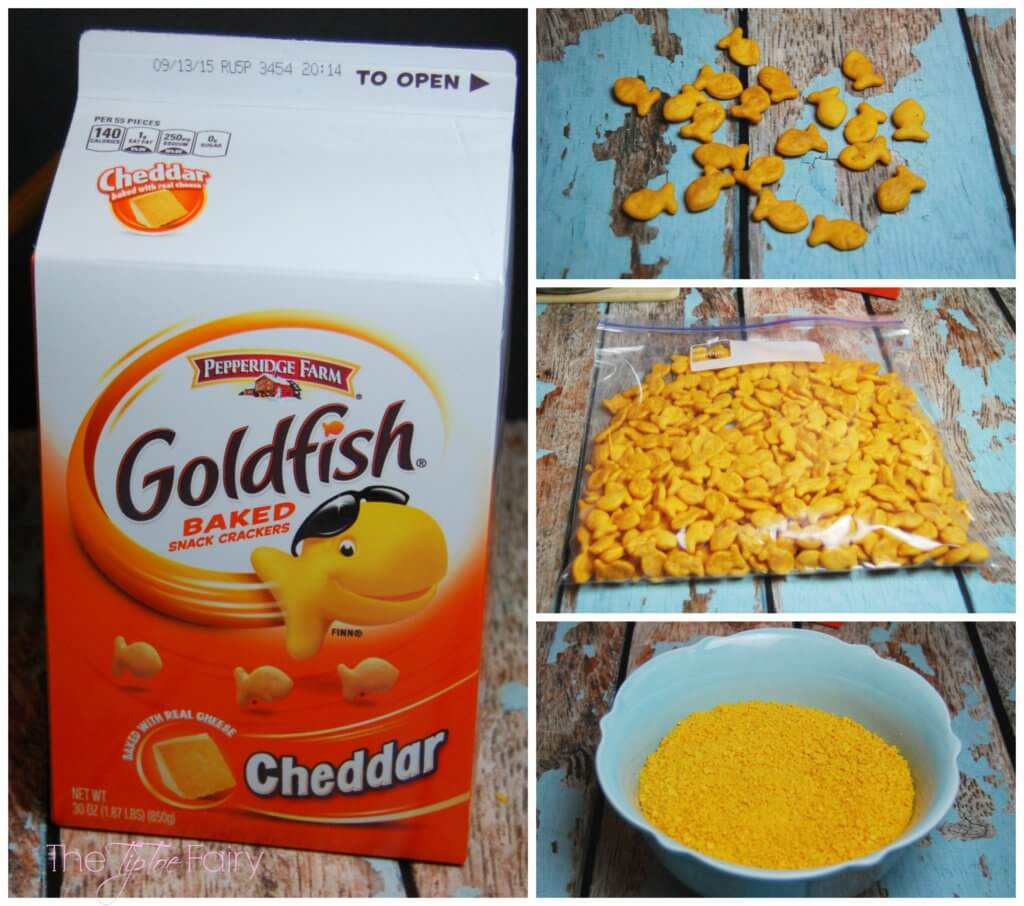 Here is a visual how I made the mac n cheese balls. This works best with leftover macaroni and cheese.
After forming the balls, I rolled them in a combination of panko breadcrumbs and crushed Goldfish crackers.
Then, it was frying time. Since the macaroni is already cooked, the frying time is very short I put 2-4 balls in the fryer at a time for just 1-2 minutes.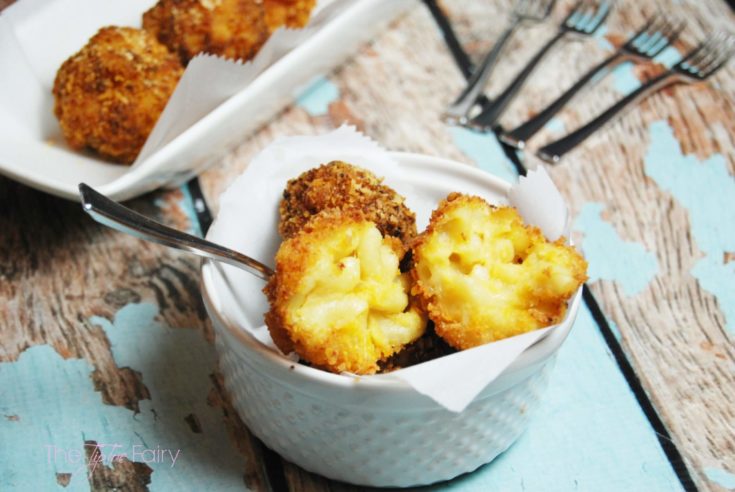 Easy Cheesy Macaroni & Cheese Fried Mac n Cheese Balls with Goldfish Crackers
A delicious mac and cheese dish.
Ingredients
1 lb elbow macaroni, cooked and drained
1/4 cup butter
1 cup half and half (or 1/2 cup milk, 1/2 cup cream)
8 oz sharp cheddar cheese, save 1/4 cup for top
8 oz monterrey jack cheese, save 1/4 cup for top
1/2 tsp garlic salt
1/4 cup ground Goldfish crackers.
Goldfish
Cold Mac n Cheese leftovers
1 tbs oil
1/4 cup flour
1/2 cup milk
1/2 cup cheese
1 cup crushed Goldfish crackers
1 cup panko bread crumbs
Cooking oil for frying
Instructions
Preheat oven to 350 and spray 9 x 13 pan with nonstick spray.
Prepare macaroni and drain.
Add butter to macaroni to allow to melt and stir occasionally.
When butter has melted, add cheeses, garlic salt, and half and half.
Stir until melted and gooey.
Transfer to the pan.
Sprinkle with both cheeses and the Goldfish crackers.
Bake for 20 minutes until cheese is melted.
Let sit for 5-10 minutes, then serve.
Combine 1 tbs oil and flour in a microwave safe bowl and heat for 30 seconds.
Whisk in the milk and microwave for an additional 30 seconds.
Add the cheese and microwave for an additional 30-45 seconds.
Check sauce and whisk together. It should be thickened. If it's still runny, heat an additional 30 seconds.
Pour the sauce onto the cold mac n cheese and mix it together.
Use a deep fryer or a heavy deep frying pan, and preheat the oil to medium high.
Crush the Goldfish crackers and mix with panko bread crumbs.
Use a medium ice cream scoop and scoop the macaroni into balls.
Then, gently roll them in the cracker/breadcrumb mixture.
Using a slotted spoon gently place in the oil for just 1-2 minutes.
Remove when golden brown and place on paper towels to soak up excess oil.
Serve.
Once I grab the mac n cheese from the fridge, I make 1 cup of a cheesy bechamel sauce in the microwave and mix it into the cold macaroni. This helps it form the ball shape. You want the macaroni to be really sticky so it will stay together for the balls.
Visit Goldfish crackers on Twitter and Facebook for more great ideas!
What's your favorite go-to food for The Big Game for your kids?