You will not believe how easy it is to make Baby Back Ribs in the Instant Pot! It takes just a few minutes to get them ready and then in about an hour or so you'll have perfectly seasoned and tender ribs for dinner! This post contains affiliate links.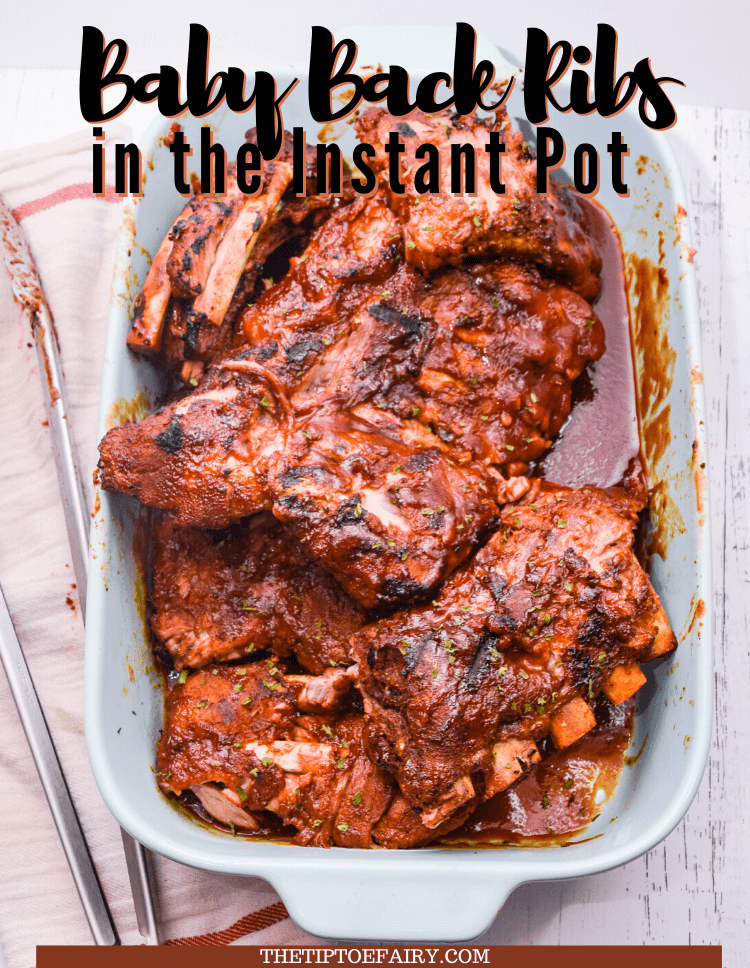 Every time my husband goes to the grocery store with me, he checks the price of baby back ribs. This weekend they were on sale at Kroger. He was thrilled and grab two packs of them.
Sunday dinners are usually the ones where I go all out and make a traditional meal that takes a couple hours instead of the normal 30 minutes or less dinners. This past Sunday we decided it was rib night.
How do you Prepare Baby Back Ribs for the Instant Pot?
My husband prefers to cut the ribs in half, so there's about 6-7 ribs per section. But, you do not have to do this. It's just his preference. You can keep the entire length of the rack of ribs together. If you have a 6 qt or smaller Instant Pot, I recommend just one rack of ribs. I have an 8 qt Instant Pot, and we easily fit two racks of ribs — which was plenty for a family of 6.
Make sure you defrost your ribs completely before cooking. I left mine out on the counter for a couple hours the day before, and then popped them in the fridge for about 18 hours.
Remove the Membrane from the Ribs
Your ribs may still have the connective tissue membrane on the back (bone side) of the ribs. It looks white and shiny. Sometimes it's still there and sometimes the membrane was already removed. Check to make sure the membrane on your ribs has been removed. If not, follow these steps to remove it:
Flip the ribs so the top (meaty part) is face down.

Slide a butter knife under the membrane and rip it off.

Use your fingers to yank it up and off the ribs
Dry Rub for Baby Back Ribs
When you're ready to make the baby back ribs, you'll need a dry rub. You can make your own, but honestly, I usually just choose a store bought rub. My husband wanted one that wasn't too spicy for our youngest kids, so he went with McCormick's Sweet & Smoky dry rub.
What do you need to make Baby Back Ribs in the Instant Pot?
You don't need much. You'll need a small white onion and a bottle of your favorite barbecue sauce. We love Head Country in the original flavor. It's always our go-to bbq sauce for our barbecue dinners.
You'll also need the trivet for your Instant Pot. I like the trivet from this Instant Pot accessory set I ordered.
Add the trivet to the bottom of the instant pot and then add the water. Next, you'll wrap the ribs circularly around the instant pot. Our 8 qt one will fit up to two racks with one rack of ribs in the middle.
Then, just toss in the chopped onion. It doesn't matter where it lands.
Saucing those Ribs
When the baby back ribs come out of the instant pot, you'll want to slather them with a bottle of sauce. For two racks of ribs, we used about 1 1/2 bottles of sauce.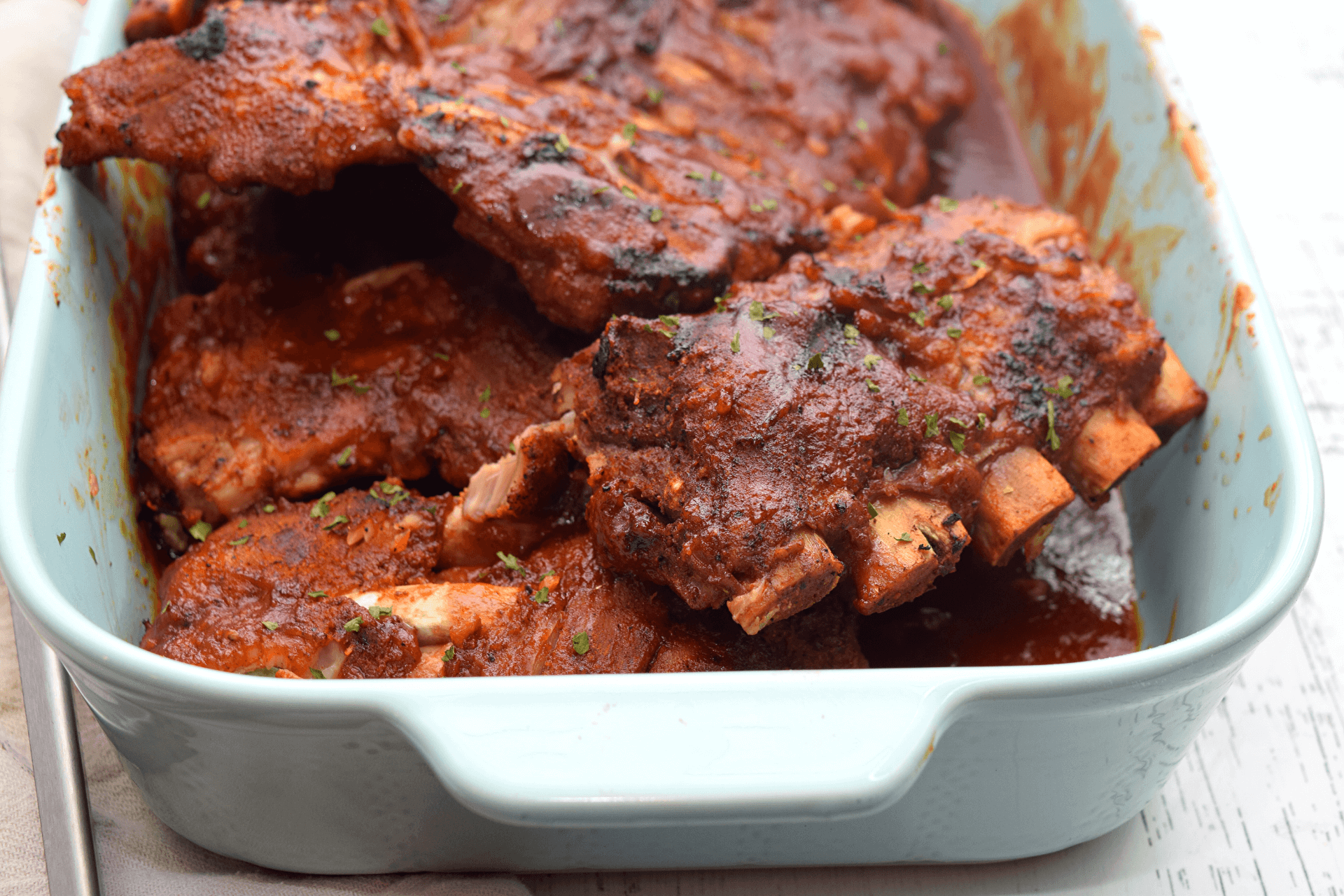 Then, you can do one of two things:
Broil the ribs – turn the broiler on HIGH and when it's ready, broil the ribs for 2-3 minutes with the meat side on top.
Grill the ribs – turn the grill on the hottest temperature you can get it and when it's ready, grill the ribs meat side down for 2 minutes.
Either method will caramelize and char the barbecue sauce on the ribs. Personally, my husband likes to grill them, but when the weather is bad or too cold, I use the broiler.
Try these Side Dishes with Your Ribs
More Instant Pot Recipes
Yield:

24 ribs
Baby Back Ribs in the Instant Pot
Additional Time:
35 minutes
Total Time:
1 hour
12 minutes
Ingredients
1-2 Racks of Baby Back Ribs
Barbecue Dry Rub
1 small white onion, chopped
1 1/2 cups water
2 bottles of your favorite bbq sauce
Instructions
Completely defrost the ribs.
Coarsely chop the onion.
Optional: Cut the rib racks in half.
Remove membrane if needed.
Rub the dry rub into all sides of the ribs.
Add the wire trivet to the bottom of the instant pot.
Pour 1 1/2 cups of water into the instant pot.
Circle the ribs around the instant pot.
Toss in the chopped onion.
Set on Manual, High Pressure, for 30 minutes.
Allow natural release for 15 minutes.
Remove from instant pot and slather with your favorite bbq sauce.
Grill on hottest temperature for 2 minutes with meat side of ribs down. OR broil on HIGH for 2-3 minutes with meat side up.
Nutrition Information:
Yield:

4 ribs
Serving Size:

1
Amount Per Serving:
Calories:

626
Total Fat:

37g
Saturated Fat:

13g
Trans Fat:

0g
Unsaturated Fat:

22g
Cholesterol:

154mg
Sodium:

904mg
Carbohydrates:

27g
Fiber:

1g
Sugar:

21g
Protein:

45g
Any nutritional information on thetiptoefairy.com should only be used as a general guideline. This information is provided as a courtesy and there is no guarantee that the information will be completely accurate.