My middle daughter is in 4th grade, and this year they decided to host a science fair. Everyone in 4th and 5th grade were required to participate. We decided to do an experiment on tooth decay, but we used eggs. Eggshells are very similar to tooth enamel in that they both are made from calcium.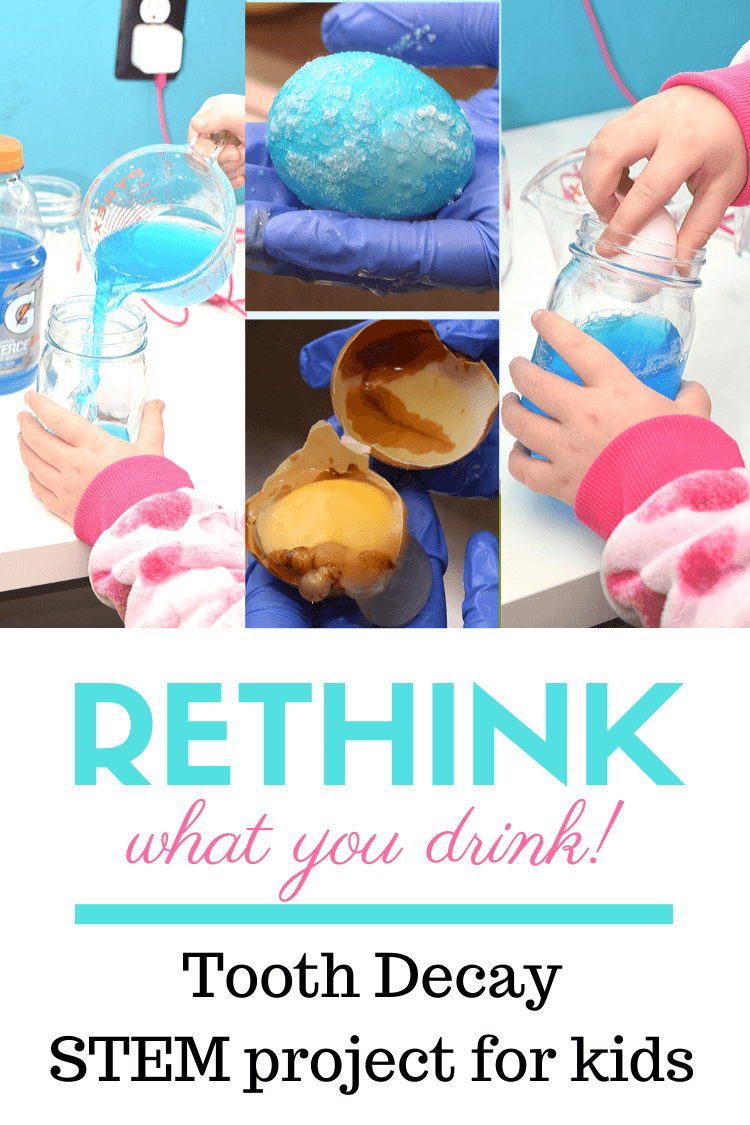 This is a fun STEM experiment that will really show your kids what can happen to their teeth when they don't brush.
The Hypothesis
My daughter thought that the drinks with the most sugar would cause the most tooth decay.
Tooth Decay Experiment
I have seen this science experiment using vinegar, but we chose to concentrate on actual drinks people like to drink. Nobody really drinks vinegar.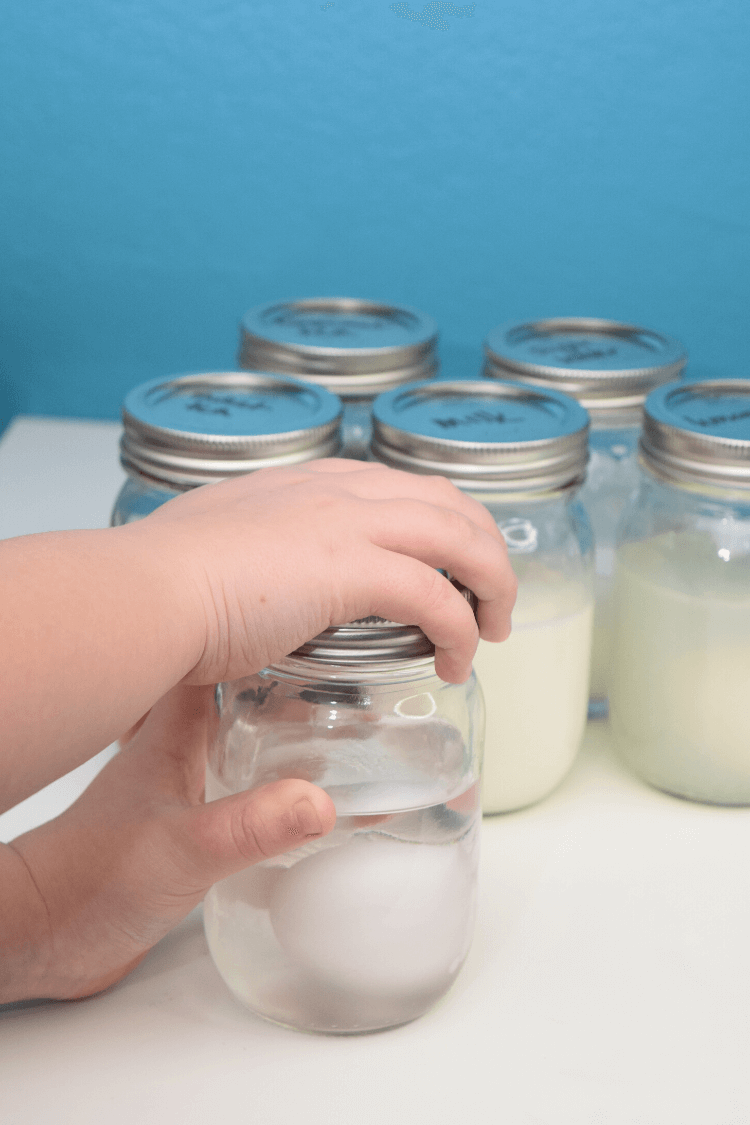 My daughter chose 10 different drinks, and then we added regular water and sugar water as controls. Here are the drinks she chose:
lemonade
cola
diet cola
milk
chocolate milk
iced tea
iced sweet tea
Red Bull
Gatorade
black coffee
We used 12 mason jars and added 1 cup of each liquid for each jar. Then, she carefully put white eggs into the drinks. We let them sit for 7 days on the counter, and then on day 8, we opened them.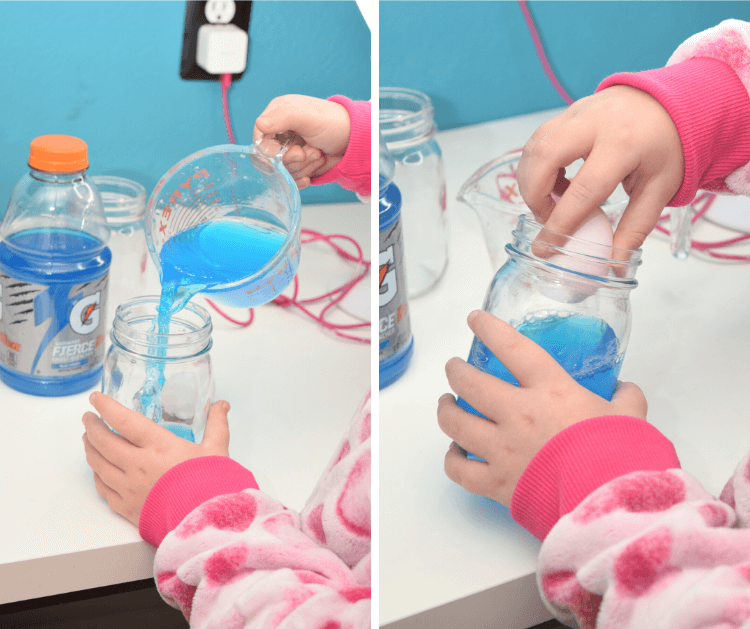 Over the course of the week, we inspected the jars and took notes on what was happening.
The Findings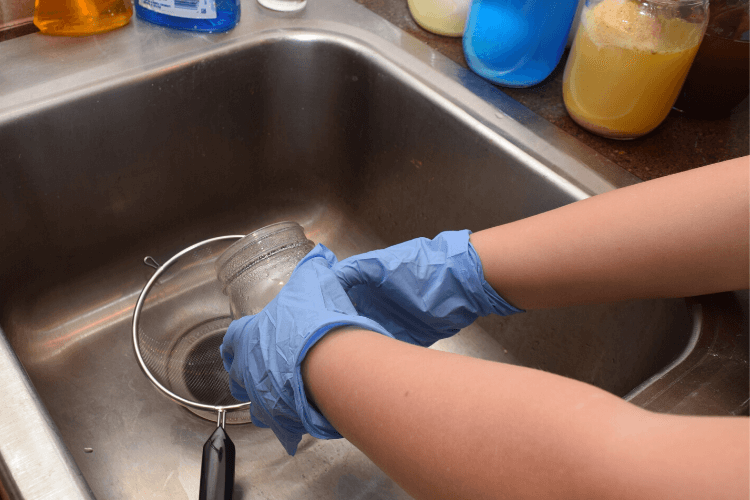 We opened each jar, poured out the content gently, and inspected each egg on the outside. Then, we cracked each egg and inspected the insides. Here's what we found:
Water – Normal Intact Shell, No Change
Sugar Water – Normal Intact Shell, No Change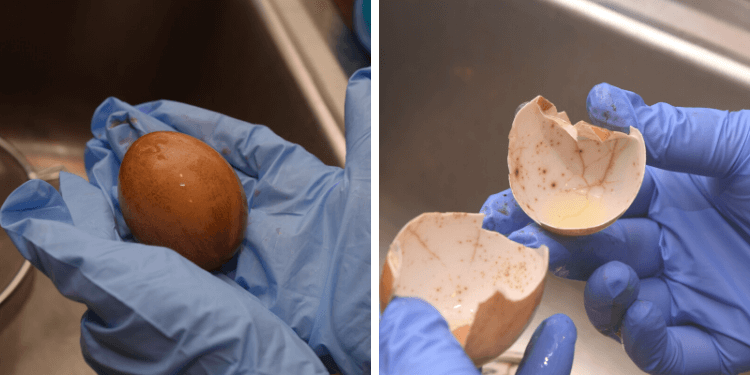 Coffee – Outside Dark Brown Staining, Intact Shell, Dark Spots inside Shell
Red Bull – Dissolved Soft Shell, Large Burst of Egg, Hard Yolk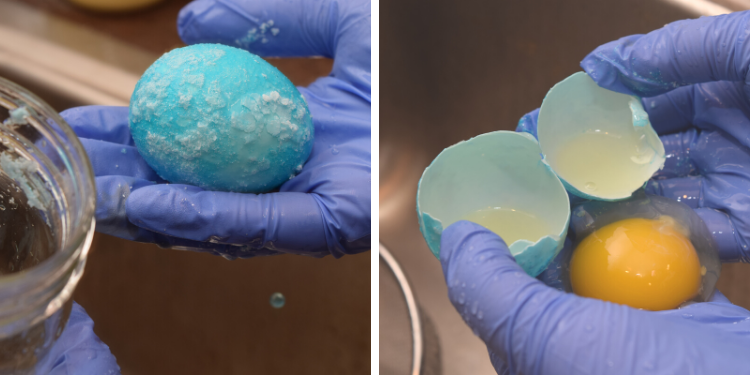 Blue Gatorade – Dissolving Hard Shell, Outside Medium Blue Staining, No Cracks
Coke Zero – Medium Outside Staining, Hard Shell, Small Burst of Egg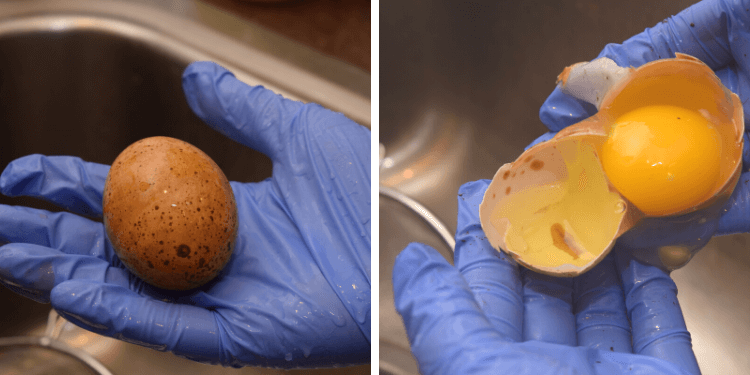 Coke – Medium Staining with Dark Speckles, No cracks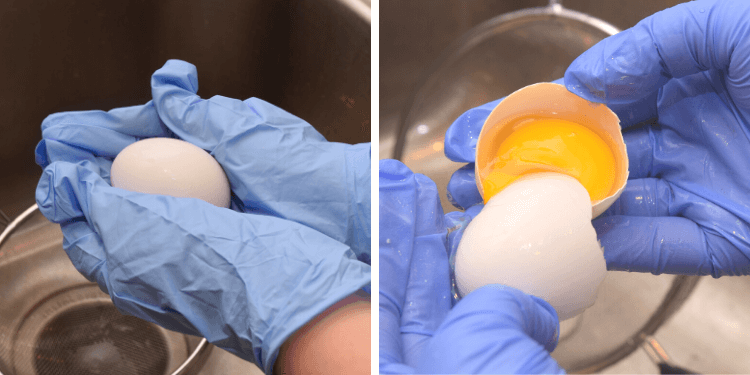 Whole Milk – Whitened Shell, Normal Intact Shell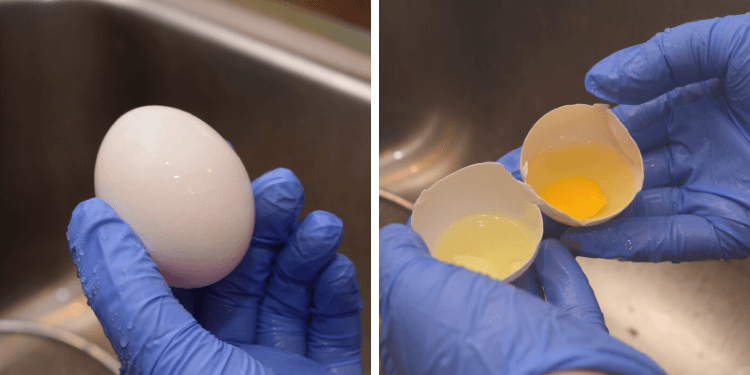 1% Chocolate Milk – Very Light Staining, Normal Intact Shell
Lemonade – Dissolving and Bumpy Shell, Cracked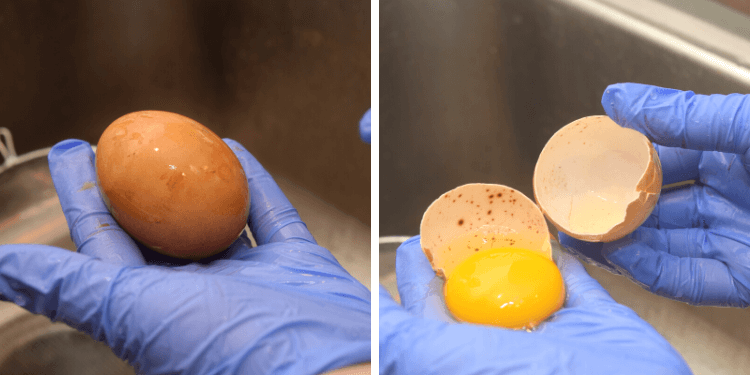 Sweet Tea – Outside Medium Dark Staining, Intact Shell with some rubbing off, but still hard, speckled dark brown spots inside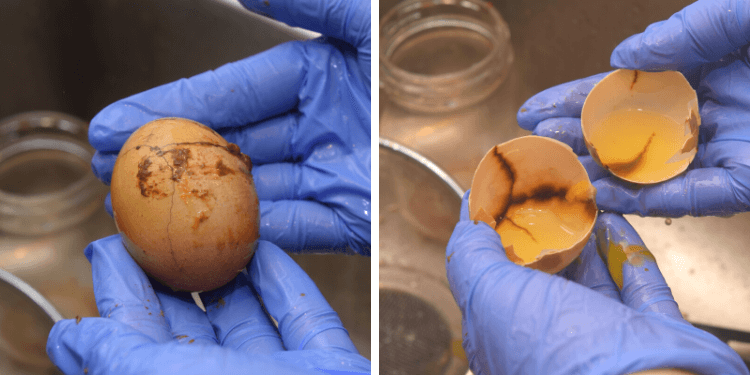 Unsweet Tea — Outside Medium Dark Staining, Cracked Shell with very dark staining inside at the cracks.
The Conclusion
Our results showed that drinks with acid had eggshells that were dissolving or cracked more than any of the other drinks. Unfortunately, companies do not have to share the amount of citric acid in a drink, so that could not be measured.
Red Bull, Lemonade, Coke Zero, and Gatorade all contained acid, and all had dissolving eggshells. Lemonade with 40 grams of sugar had the highest sugar content and had damage and a dissolving shell, but Coke with 39 grams of sugar did not have a cracked or dissolved shell.
Interestingly, Red Bull and Gatorade begin to bubble and dissolve the eggshell as soon as the egg was put into each of them.
The sugar water, which had sugar in it, did not show any damage to the eggshell. This result combined with the results from the more acidic drinks made us think that acid has a big part in tooth decay.
The darker drinks like coffee, tea, and Coke all really stained the eggshells, but this staining did not correlate with dissolving eggshell.
One thing I found interesting is that whole milk made the eggshell whiter, and it did seem a little stronger when I cracked it.
How did she do at the science fair?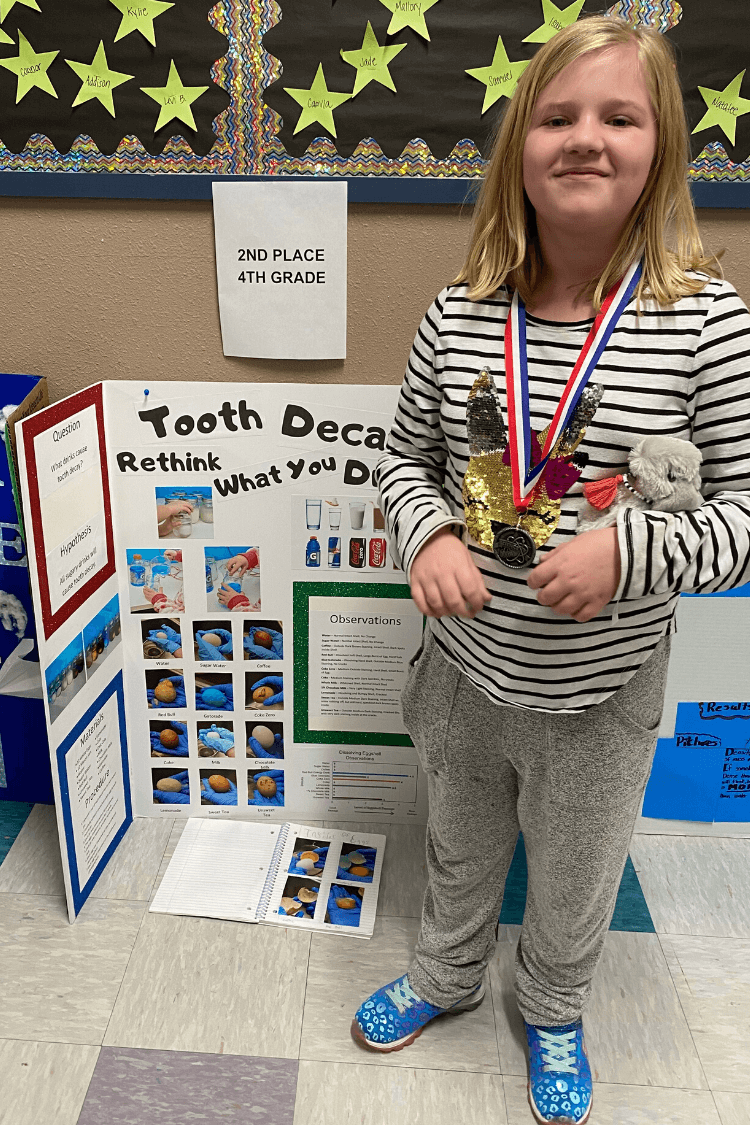 She got 2nd place for the entire 4th grade!
More fun STEM projects for Kids
Sign up for The TipToe Fairy's FREE Newsletter!