[disclaim]This is a sponsored post written by me on behalf of Chuck E. Cheese's for IZEA. All opinions are 100% mine.[/disclaim]
I remember my first visit to Chuck E. Cheese's. I was about 9 years old. We went over to visit a friend of my dad's from his work. Somehow the parents all decided we were going to Chuck E. Cheese's. I remember their daughter, who was about 12 years old, showed me her little change purse full of tokens and then filled me in about tickets and prizes. I could only imagine how wonderful this place was, and it was even better when we got there. It was just magical, and I couldn't wait to go back.
We started having birthday parties at Chuck E Cheese's soon after. Even when I was a teenager, we would have a big extended family birthday party at Chuck E. Cheese's for each kid in the family — my brother and I and all our cousins, too. The parents, grandparents, and aunts and uncles could hang out at the table and talk while all the kids went off to play.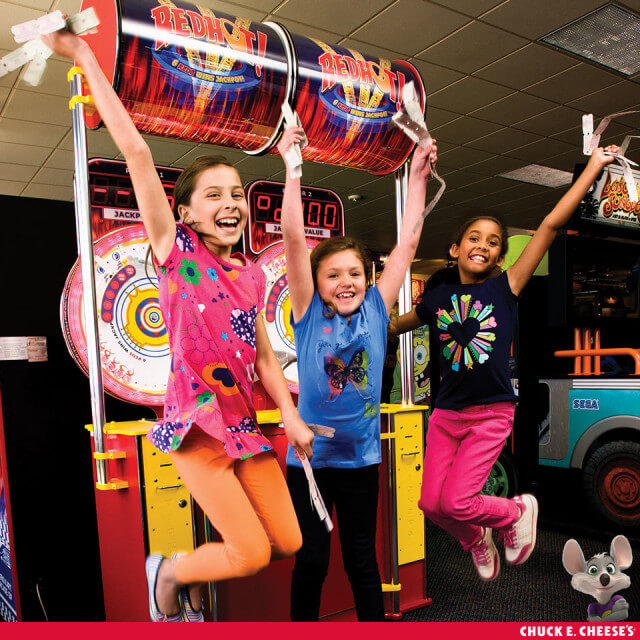 Now that I have my own kids, Chuck E. Cheese's is one of the best places to have a birthday party. My three kids have all had a few birthday parties at Chuck E. Cheese's. It's an easy no-stress way to plan the birthday party. I never have to worry about a thing. You can even create personalized email invitations for your Chuck E. Cheese's birthday party!
Chuck E. Cheese's has thought of everything, so you can have fun with your kids on their big day! You get your own host who makes the day go smoothly along with two hours at your own reserved table. The host takes your order for food and drinks and delivers it all. There's more than just pizza with items like buffalo wings that parents love, too. They even light the candles on the cake! And, the best part for moms and dads — your host takes care of clean up!
Chuck E. Cheese's birthdays are so amazing now. Your child gets to party in style with a choice of dressing up as a superhero, princess, or wearing a cool Chuck E shirt. They get a visit inside the Ticket Blaster where they can grab tons of tickets. Plus, they get a birthday shout out along with the birthday song!
We recently attended a Chuck E. Cheese's party for a friend of my daughter's, and Chuck E. Cheese's brought the energy to the party. He even did a back flip during the birthday song and dance! Find your nearest Chuck E. Cheese's to get the party started!
My favorite memory of going to Chuck E. Cheese's when I was a kid was this secret playroom that only kids could get into. It had a little mouse hole you had to crawl through to get inside, but it was huge once you entered. I remember it was three tokens to get in, which seemed so expensive, but it worth every penny. There was a maze, a giant ball pit, a shadow room, and trampoline, and there was a swing almost like a zipline that went around the entire room. It was awesome! What are your favorite memories of Chuck E. Cheese's or what are your kids most looking forward to on your next visit?