The disclosure should read: This shopper has been compensated by SheSpeaks, Inc., The Coca-Cola Company and Mondelez International group. All opinions are mine alone.
Whenever it starts to feel chilly outside, I always think of football season, sitting on the couch, and having some Game Time Snacks. My family are big time football fans. Ever since I was a kid, we always plan everything around when our team is playing.
Some of my family's favorite game time snacks are cheese balls, and they go perfectly with Ritz Crackers and Coca-Cola. In fact, you can get everything you need for this delicious spread at Walmart from the Ritz Crackers, Coca-Cola, and Coca-Cola Zero Sugar to the plates and napkins, and even all the cheese ball ingredients.
These three cheese ball recipes have been family favorites for years, and they are so easy and simple to make.
Mom's Famous Cheese Ball
My mother has been making this cheese ball for as long as I can remember. She whips this out for all kinds of get togethers, and so many people just love it. Plus, it's so easy to turn it into your own with different toppings like dried parsley, paprika, pecans, and more.
4-5 oz blue cheese crumbles
12 oz cream cheese, softened
2 5 oz jars processed cheese
1 tablespoon dried onions
1 tablespoon Worcestershire sauce
1/4 cup paprika (or dried parsley or pecans)
Soak the onions in the Worcestershire sauce for a few minutes while you put all three cheeses together in a large bowl. Then, add the onions and mix together. Form it into a ball and wrap in plastic wrap and chill. When you're ready to serve, unwrap it and roll it in the paprika.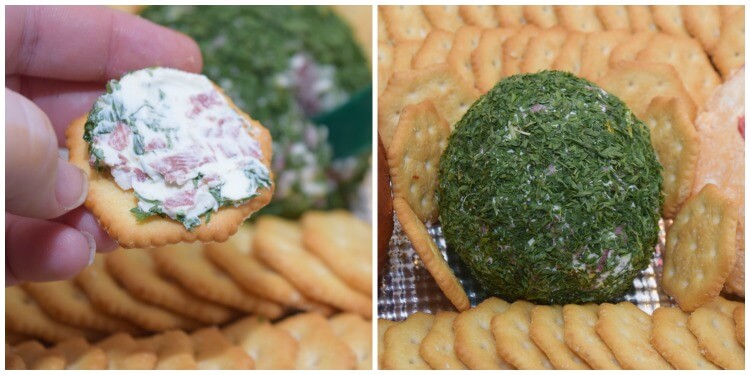 Three-Ingredient Cheese Ball
This is a super easy cheese ball that only needs THREE ingredients!
1 jar dried beef
8 oz cream cheese, softened
5-6 green onions
1/4 cup dried parsley (optional)
Cut the dried beef into 1/4 inch pieces using scissors. Then, cut the green onions into 1/8 inch pieces using scissors. Combine the beef, onions, and cream cheese until mixed up. Roll into a ball in plastic wrap and chill. When you're ready to serve, unwrap it and roll it in the dried parsley.
Pimento Cheese Ball
This is world famous pimento cheese. Every time someone takes their first bite, they are amazed at the flavor. The secret ingredient is the sugar. You can make this as a dip, spread, or as a cheese ball if you chill it.
8 oz processed cheese, well chilled
8 oz sharp cheddar cheese chunk
4 oz cream cheese, softened
4 oz pimentos
2 teaspoons white sugar
1/2 cup to 1 cup mayonnaise
Grate the chunk of cheddar cheese as well as the processed cheese. Then, combine the cheeses with the cream cheese, the entire jar of pimentos (including the liquid), sugar, and 1/2 cup of mayonnaise. Mix until creamy. If you want it to be creamier or more of a dip/spread, then add the additional 1/2 cup of mayonnaise. You can just leave it as a dip, but you can also gently form a ball and wrap it in plastic wrap. Refrigerate before serving.
I make my cheese balls up earlier in the day or the night before and let them chill in the fridge. Then, I serve them on a disposable cookie sheet surrounded by rich, buttery Ritz Crackers. I've found the best thing to do is cover the coffee table in an inexpensive tablecloth and put everything right there — utensils, plates, and napkins; the cheese balls and Ritz Crackers; as well as drinks. This way it's right near everyone.
I always love to include a couple of 6 packs of Coca-Cola products. My husband loves the refreshing taste of an ice cold Coca-Cola. Did you since 1886, it's had no artificial flavors or preservatives? I prefer the zero-calorie cola, Coca-Cola Zero Sugar. I love how it tastes like Real Coke!
Next time you're at Walmart picking up snacks for the game, make sure to grab Coca-Cola and Ritz Crackers! Do you have favorite snacks for the football game?
Click for your chance to WIN a #TogetherForGameTime Party Pack that includes a $40 Walmart Gift Card, two 6-packs of Coca-Cola and two boxes of Original Ritz Crackers.
var MathTag = { version: "1.0", previous_url: document.referrer, industry: "beverage", mt_adid: "188169", // unique MediaMath ID for Essilor
event_type: "catchall", mt_id: "1280353", // unique MediaMath ID for event type } ">