Here in Texas, our summer has been rather mild this year. A few days last week, it only reached the mid 80s! In fact, I don't even think it's topped 100 here yet, but it's coming. All this week the temperature has been slowly creeping up there.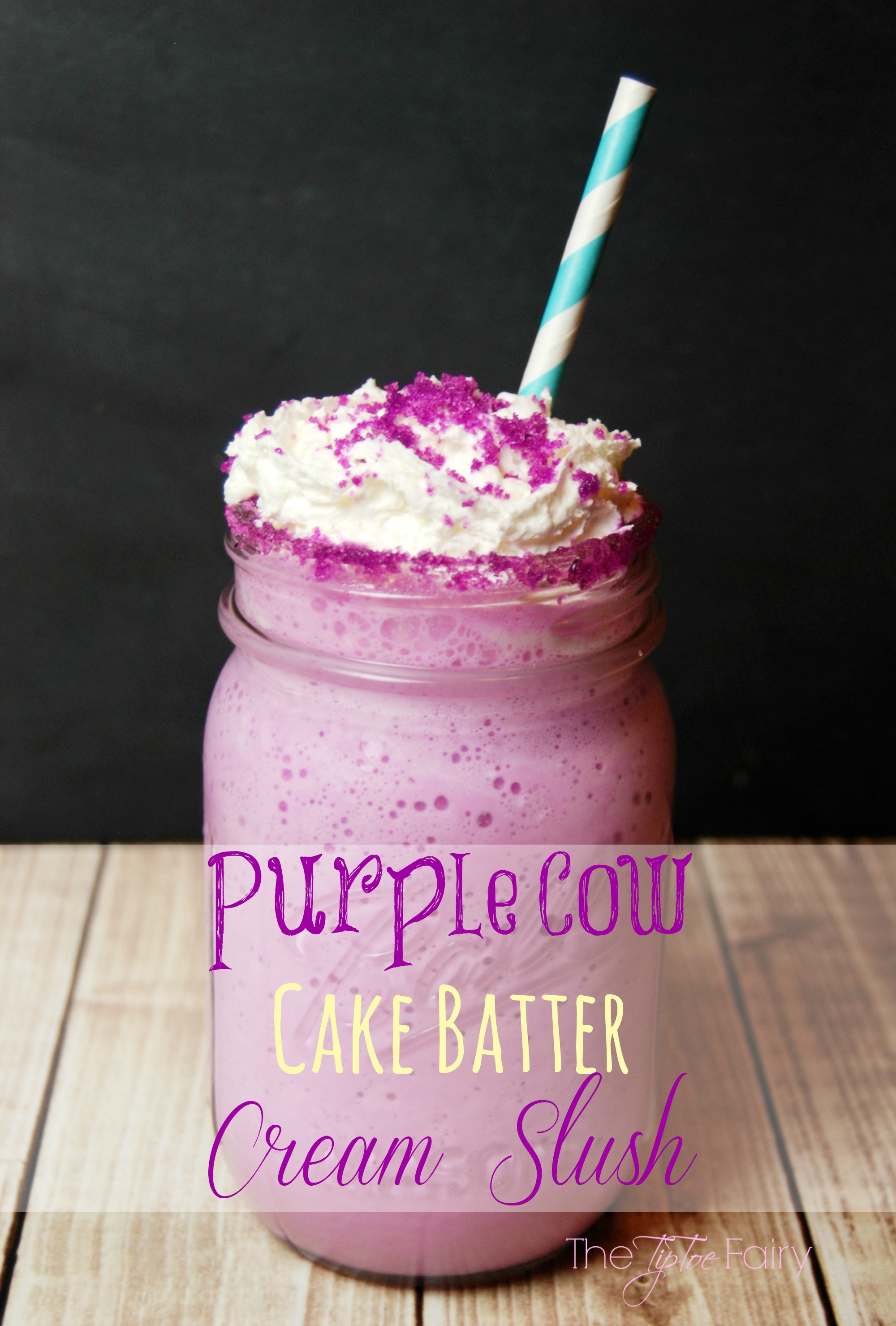 To beat the heat, I've been making fun frozen drinks for my family. Last week we had Frozen Toffee Coffee and this week it's been cream slushes in Blackberry Kool-Aid and Bubblegum. This latest one, however, is my favorite!
Today I've brought you a new Cream Slush recipe, and It. Is. Amazing!! I'm calling it Purple Cow Cake Batter Cream Slush! It's purple, it tastes like cake batter, and it's absolutely delicious. My kids liked it so much that they stole it right after I took the pictures.
Have you ever had a Purple Cow? It's milk and grape juice mixed together. It's never been one of my favorites, but my kids loved it when they were toddlers.
My kind of Purple Cow drink is a purple cow float made from vanilla ice cream and grape soda.
Do you like cake batter flavor? I'm a huge fan of cake batter. One of my favorite ice cream flavors is Cake Batter. Though admitting this is probably scaring my mother to death because now she is imagining me and my kids licking the bowl of cake batter with raw eggs in it.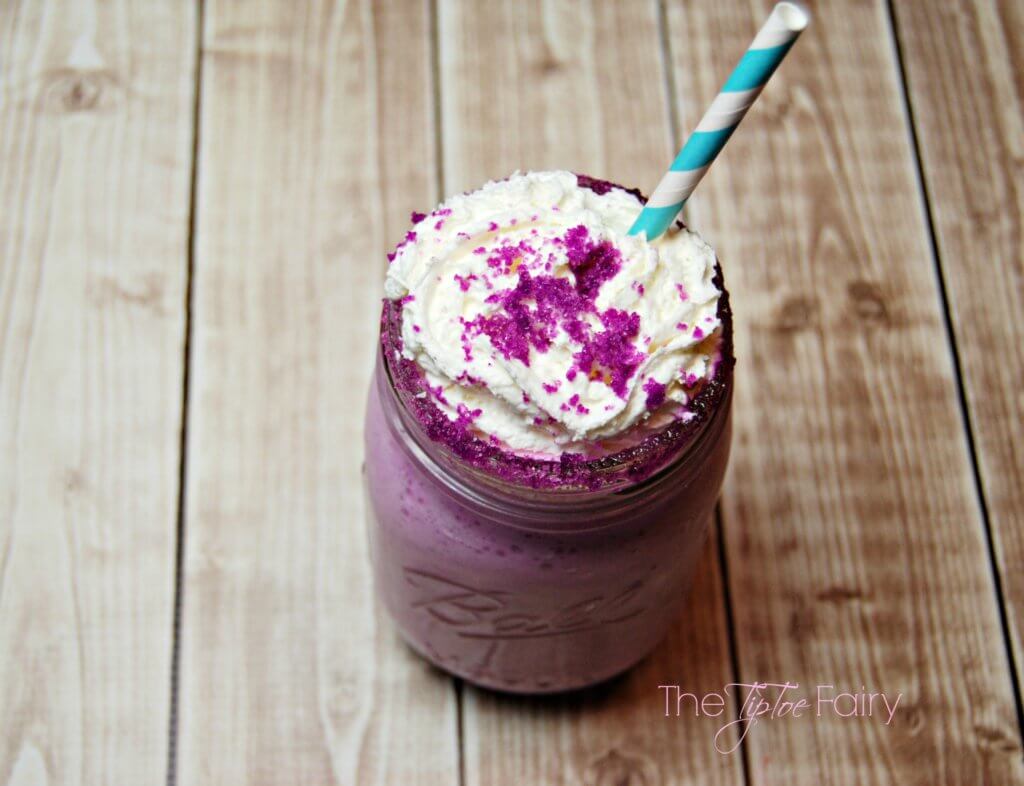 Cake batter flavor is super easy to make in almost anything. The secret is adding a bit of white or yellow boxed cake mix to the recipe.
In this recipe, which made about 4 cups, I added 1/2 cup of boxed cake mix. You can add it to milkshakes, ice cream, or other treats like fudge and rice crispy treats to get that delicious cake batter flavor, too.
More Fun Drink Recipes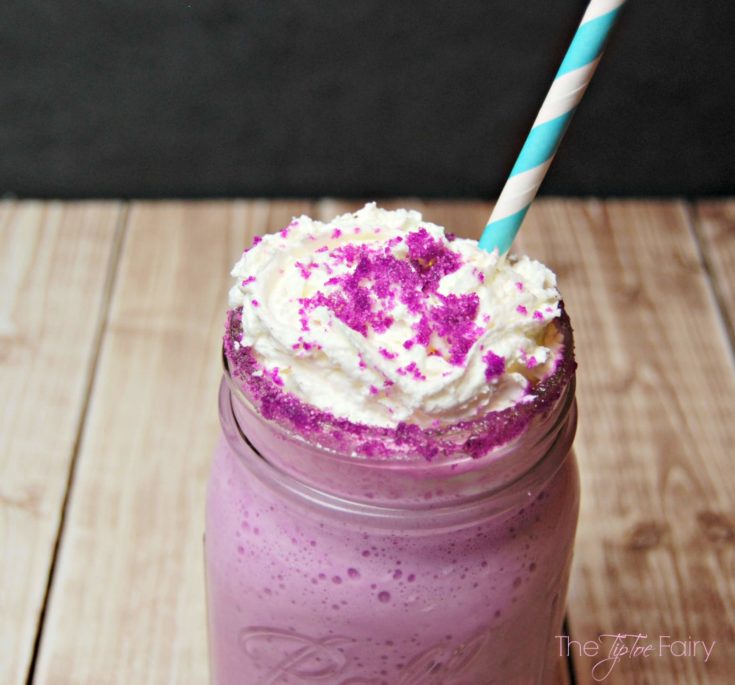 Yield:

about 4 cups
Purple Cow Cake Batter Cream Slush
Ingredients
2 cups of ice
1/2 cup whipping cream
1/2 cup white or yellow box cake mix
1 cup milk
5-6 drops purple food coloring
Instructions
Combine ice, cream, cake mix, milk, and food coloring in the blender.
Pulse on high until the ice is completely crushed.
Serve topped with whipped cream.
Nutrition Information:
Yield:

1
Serving Size:

1
Amount Per Serving:
Calories:

861
Total Fat:

65g
Saturated Fat:

33g
Trans Fat:

2g
Unsaturated Fat:

28g
Cholesterol:

212mg
Sodium:

604mg
Carbohydrates:

58g
Fiber:

1g
Sugar:

37g
Protein:

16g
Any nutritional information on thetiptoefairy.com should only be used as a general guideline. This information is provided as a courtesy and there is no guarantee that the information will be completely accurate.