I can't think of anything better than warm sourdough bread — that hard crusty outside and soft and a bit of sour inside. Melted garlic butter. Cheese. Man, I'm getting hungry just thinking about it. I think I'm going to grab a slice right now before I finish up this post.
It all started with this Pin. I saw how easy it was, and just went to town making a starter.
I decided awhile back that my next bit of education was how to make sourdough bread. I've baked some other breads before. You can check out one of my faves here – Dutch Oven Bread. But, I love sourdough bread. I think it's my favorite bread. I love that sourness of the bread. I've recently learned it has the lowest gluten and one of the healthier breads to eat.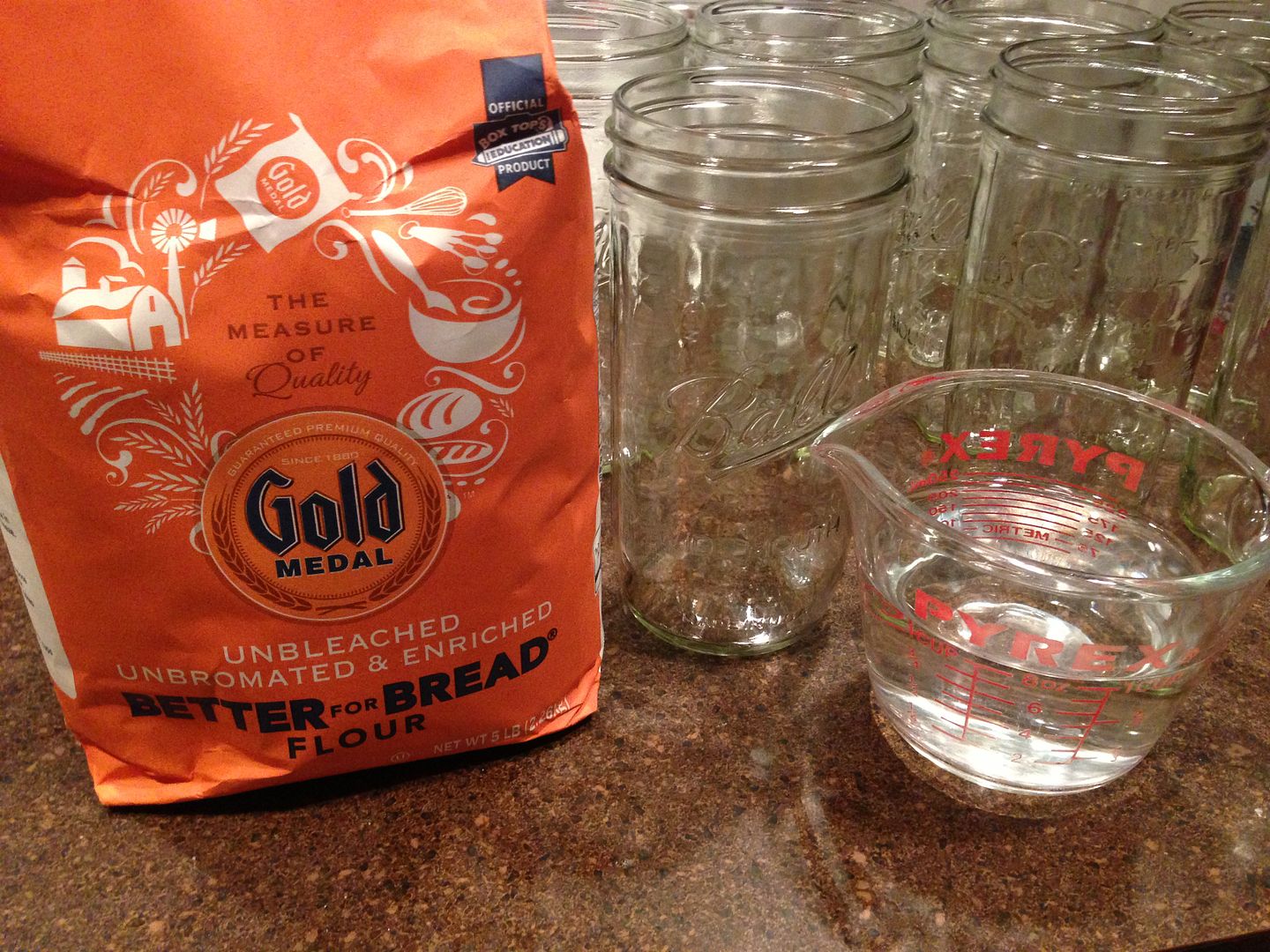 With sourdough bread, you need a sourdough starter. In doing this, you don't use packaged yeast, but you use the wild yeast where you live. A starter is simply water and flour that is allowed to aerate and gather the wild yeast in the air.
Did you know, years and years ago, bread starters were passed down generation to generation that were often more cherished than any material things? They were often many many years old – a hundred years or more. There are starters still around today that are hundreds of years old. Can you believe that? My mom recently gave me a starter that is over 200 years old. George Washington was alive when this starter was around. That is amazing! I just think that is so cool.
To begin your starter, find a glass jar. I started off with this pint size jar, but as you grow your starter, you will need to move to a bigger jar. Plus, as you feed your starter, you can give it to your friends so they can start their own. I had to buy a huge 1/2 gallon jar to contain my starter because I got tired of it always bubble out of the mason jar I had. You can find a 1/2 gallon mason jar at Michael's for about $3.49, and if you use your 40% off coupon, that's a bargain!
Pour 1 cup of water and 1 cup of flour into the jar and mix it. Don't use a metal spoon (like my picture, lol), but use a wooden spoon. It will help in gaining more wild yeast from the air to add to your starter.
Then cover it with just a cloth. I started out using a paper towel and rubber band, but switched to a scrap of fabric and a rubber band because the paper towel would get a bit messy and stick every time I fed my starter.
That's all there is to making it. You do have to care for your starter and feed the yeast, so twice a day you must stir it. AND, once a day you must remove 1 cup of starter. Then, mix into what's left of your starter 1 cup of water and 1 cup of flour.
Usually within a day or two, you can start to smell the yeast in it. Your starter will grow a lot and be full of bubbles – that's how you know it's alive and caught the wild yeasts in the air. It will smell almost like beer. Sometimes you'll find a watery layer on top. That is perfectly normal. It's actually called "hooch" because it's the alcohol the yeast is producing. You can stir it right back into the starter, or you can pour it out. I like to stir it in. I love that yeasty smell. It reminds me of baking bread.
Sourdough starters in different parts of the country, or world, will behave differently. If you don't live in San Francisco, you are not going to get the amazing wild yeasts that create such amazing bread. But, your starter will adapt to the local wild yeasts where you live. Some might rise less or more, some might taste more sour than others. It all just depends where you live. I'm in North Texas, near Dallas, and mine rose a lot and came out with that classic sourdough flavor and a very hard crusty outside.
Starters take some work, so if you want to forget your starter for awhile, put it in the fridge. You should feed and stir it once a month when it's in the fridge. I've heard people do it even once a week. I'm lazy, I do it once a month when I'm not in a baking mood, and it's been fine. When you're ready to get it out and start baking again, leave it on the counter for a few hours. Then, you'll need to start feeding and stirring it again regularly. Within a few days, it's eating and bubbling and smelling like beer, and then, you're good to go.
After feeding your starter for about a week straight, you can make a loaf or two of sourdough bread.
Here is
the recipe
I use to make my sourdough loaves. It's from
Pinch My Salt
. This recipe makes enough to have two HUGE loaves. It tasted perfectly like sourdough bread to me. She has wonderful pictures of the whole step by step process so you'll know exactly what to do.
Now the big dilemma is what to do with that cup of starter you dump every day. The easiest thing to do is give someone that 1 cup of starter, so they, too, can start baking sourdough bread. Or, you can throw it out. Or better yet — you can make other stuff with it!
I just couldn't dump it, and I didn't have anyone to give starter. So….I started making sourdough starter recipes like waffles, pretzels, biscuits, etc.
Sourdough Cinnamon & Sugar Pretzels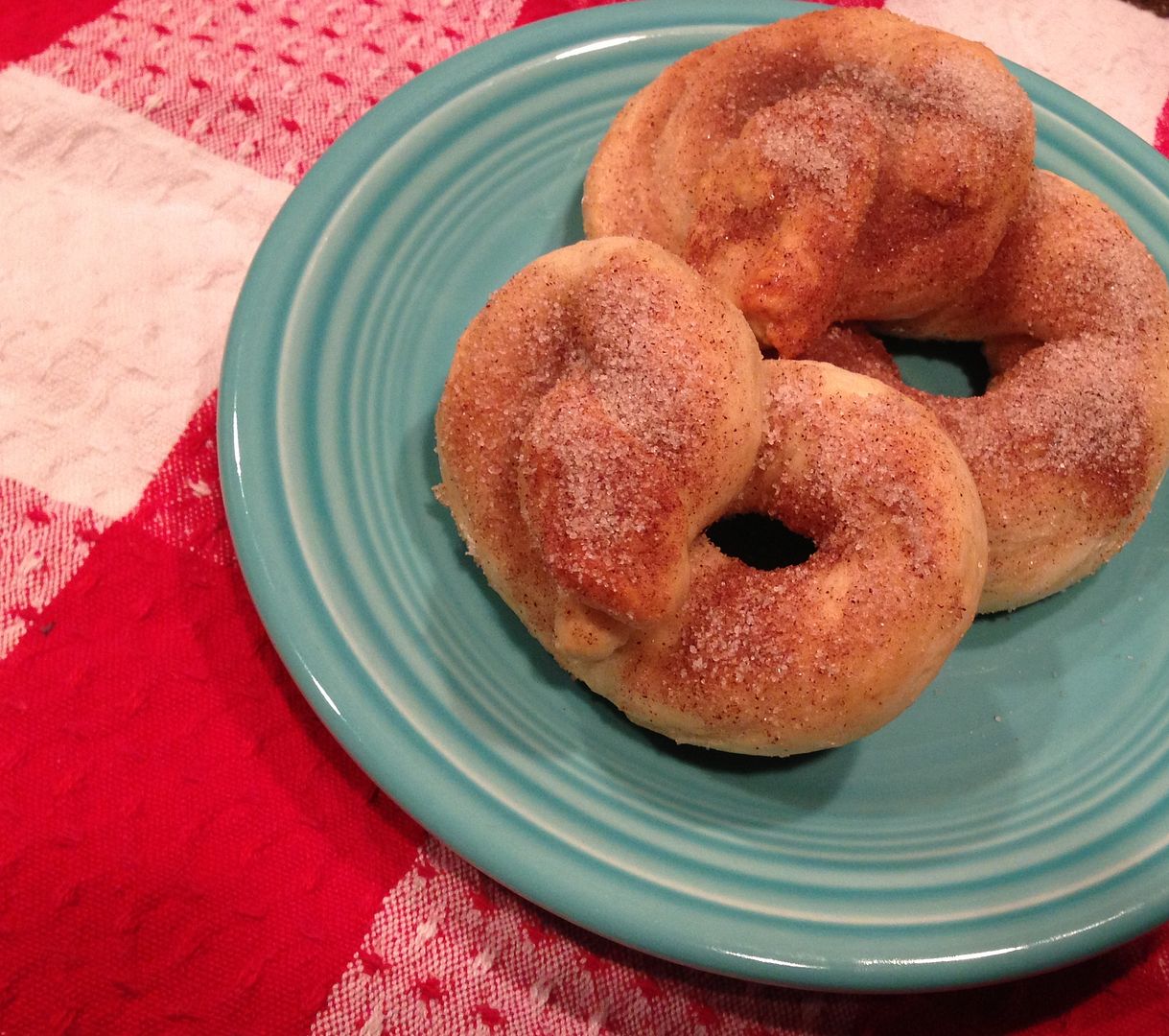 Sourdough Pretzels
– These are "technically" not real pretzels because I did not soak them in a baking soda solution. But, they tasted great. My family devoured them in an afternoon. You can also make them with salt instead of cinnamon/sugar.
Ingredients
3/4 cup lukewarm water
1 cup sourdough starter
3 cups flour
1/4 cup nonfat dry milk
1 tablespoon sugar
1 tablespoon butter
1 1/2 teaspoons salt
2 teaspoons yeast
Cinnamon/Sugar Mix
1 tsp cinnamon
1/4 cup of white sugar
Follow this link
from King Arthur flour for excellent step by step directions to make these pretzels.

Sourdough Waffles – these were very similar to a buttermilk type waffle. We don't like sweet waffle, so these were perfect.
Ingredients
1 cup sourdough starter
1/2 cup salted butter, melted and cooled
3 eggs, large
1 cup milk
1 teaspoon vanilla extract
3/4 cup all-purpose flour
2 teaspoons baking powder
1 teaspoon baking soda
1 teaspoon sugar
Make according to your waffle maker.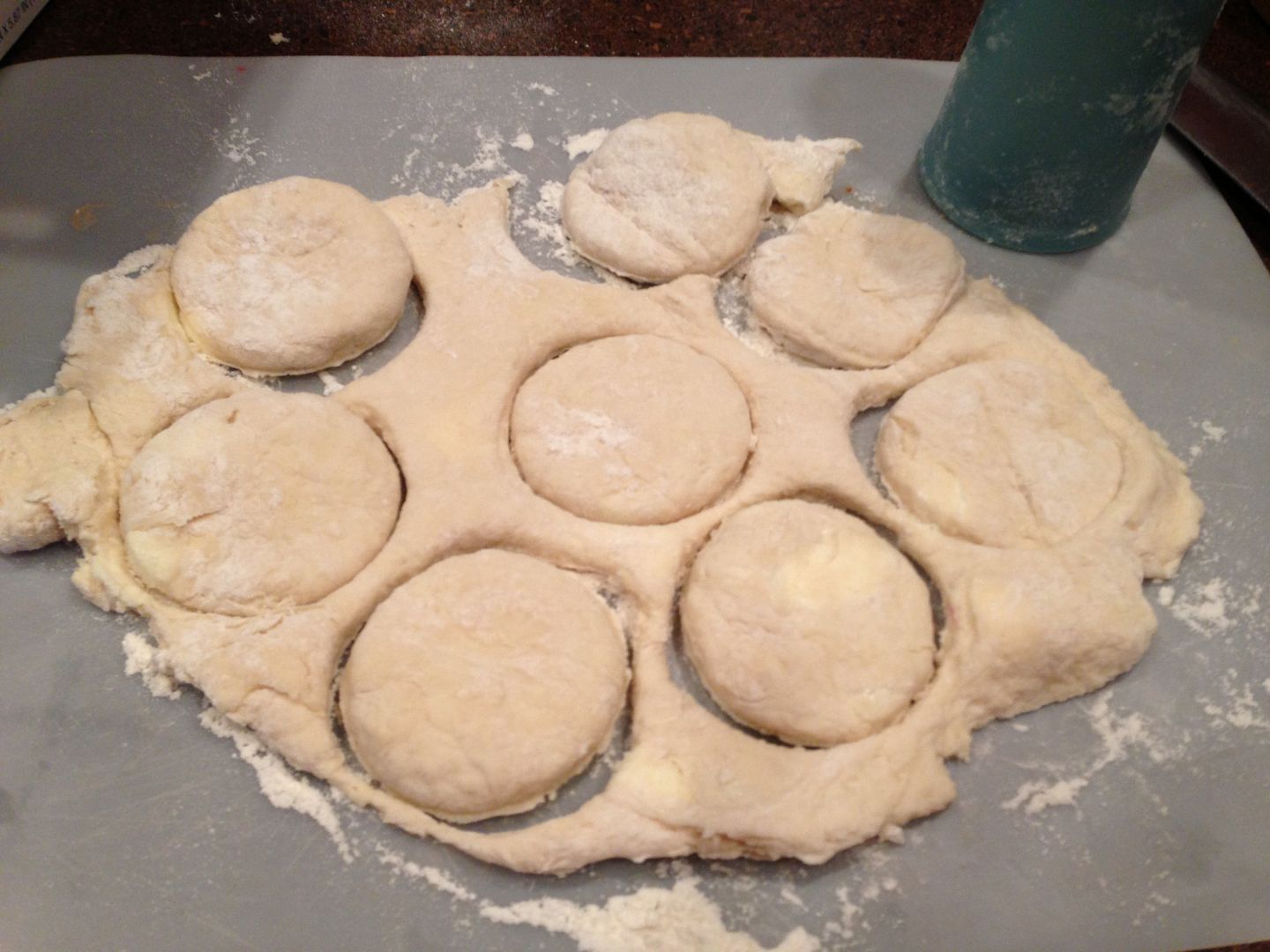 Sourdough Biscuits – this recipe I made up on the fly, and they came out delicious. I topped them with butter and grape jelly, and then promptly forgot to snap a picture.
Ingredients
1 cup sourdough starter
2 cups of flour (I added more little by little to get the dough so it would rollout)
1/2 cup cold butter cut into chunks
1 tsp baking powder
1/2 tsp baking soda
1/2 tsp salt
1/2 cup of milk
Preheat oven to 450. Mix the starter, salt, baking powder, baking soda, and flour together. Cut in the butter until it's crumbly. Slowly add the milk, not letting it get too sticky. If it got too sticky, I just add a wee bit more flour. Knead it just a bit until you can roll it out. Roll out to 1/2 inch and cut biscuits. Cook biscuits for about 10-12 minutes until lightly brown on top.
This yielded about a 10-12 biscuits.